Prior to Detroit's 129-123 overtime victory over the Timberwolves Wednesday night at Target Center, the last time Derrick Rose and Blake Griffin faced off and both scored over 20 points in a game was Dec. 30, 2011.
That night at the Staples Center, Griffin led the Los Angeles Clippers in scoring with 34 points on 25 shot attempts while Rose guided the Bulls charge with 29 points on 14 attempts. Given both players winding roads over the past seven years, really, Griffin's 34-point performance next to Rose's 33 points was quite frankly wild.
In a vacuum, if we're quantifying the unexpected, Rose's 30-point night is crazier. Since that game in 2011, Rose has only had 30-plus points in a game 22 times — 10 of which came in that 2011-12 season — while Griffin has done so 60 times, including 10 times already this season.
But perhaps that isn't even the craziest part of the comparison; what really stood out Wednesday was that Rose got his 30 almost the same exact way he would have in 2011. Of Rose's 29 field-goal attempts, 25 of them looked like a running back sprinting through the A-gap only to sidestep a barrier of linebackers at the rim. It was vintage D-Rose, as they say.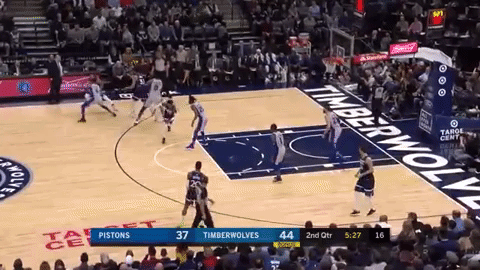 Crazy as it seems, Griffin is the one who has evolved his game not only to a modern-NBA but into a fashion that frequently avoids friction. The once high-flying and paint-bound bruiser was found dribbling through his legs, looking to find his space by frequently evading the defensive line altogether.
In that 2011 game, all 25 of Griffin's field-goal attempts came from 2-point range. Wednesday, his 10 3-point attempts made up nearly half of his 22 total attempts. It was Griffin's four made 3-pointers in the fourth quarter that left Rose and Wolves dazed just enough to be knocked out by an overtime haymaker. In the end, the Wolves just couldn't fight the math of 20 Detroit made 3s to their nine.
"It is all across the league, it's not just the Detroit Pistons," said Detroit head coach Dwane Casey before the game. "I guarantee if you ask a coach, if you put truth serum in 'em, they're getting guys to take that (3-point) shot you want them to take. And not take the bad 2s."
After Detroit took the 16th-most 3s per game under Stan Van Gundy a season ago, Casey has his new Pistons shooting a higher volume of 3s than even his Toronto Raptors did last year. Yes, that Toronto team — the one that only trailed the 3-happy Houston Rockets and Brooklyn Nets in attempts from beyond the arc in 2017-18.
"It's confidence, understanding you have the green light. Everybody thought I was crazy a couple years ago when I said (Jonas) Valanciunas is gonna be a 3-point shooter," said Casey. "They thought I was crazy this year when I said that Andre (Drummond) was gonna be a 3-point shooter."
Drummond may not yet be a 3-point shooter in the traditional sense but he did hit arguably the biggest 3 of the game Wednesday. A haymaker that Tom Thibodeau's Wolves could not counter. "If he does the other things — the rebounding, the defending and all that — hey, you got a wide open 3, take it," Casey said of Drummond — again, before the game. "That's where the league is going. If you don't get on the bus, the bus is gonna go off and leave ya."
Are the Wolves on the 3-point Shooting Bus?
It's easy to acknowledge that the Wolves were at best postmodern when it came to getting off 3s last season. That team — despite having perhaps the league's most dynamic big man shooting threat in Karl-Anthony Towns — was last in 3-point field goals attempted last season. Fueled by Jimmy Butler, Jamal Crawford and Andrew Wiggins, the Wolves attempted 2.8 more shots from 10-to-19 feet than they did from above-the-break, according to Synergy Sports' tracking data.
This season, it's gotten a little better. The Wolves are up to 24th in the league in 3-point volume and have moved down to 7th in the league in "mid-range" shots, per Synergy. But as the losses begin to pile up, the question becomes: Is that enough?
If the answer is no, they need to diagnose where those 3s can come from. And that, as odd as it still sounds, probably brings Rose back up. It's funny if you look back at that box score from 2011. In that game, Rose shot four 3-pointers; the same number he shot Wednesday.
While it feels as if Rose has become this lethal 3-point weapon, in ways, that's only partly true. Yes, Rose is shooting a blinding 47.8 percent from beyond-the-arc this season, however, his per-minute volume from deep has actually decreased from his Chicago days. Rose's 4.0 3-point attempts per 36 minutes is down 12 percent from that 2011-12 season.
While this is certainly nit-picking on Rose who is literally the league's most accurate shooter from beyond 8-feet this season, removing some those traditionally "bad 2s" Casey was talking about makes sense.
In theory, finding more 3s comes from operating beyond-the-arc more often. Rose is very rarely simply spotted up from deep. Thus far this season, Rose has attempted 45.6 percent of his 3s off the dribble — a wildly high frequency that is nearly double Andrew Wiggins pull-up frequency, for example.
If the Wolves could function Rose to be positioned to catch-and-shoot more often, they could not only increase his volume but likely his accuracy. Rose has made 49 percent of his catch-and-shoot 3s this season. No, the ball should not be taken out of Rose's hands completely to get more 3s; he could, however, be utilized like many of the other great shooters in the league and weaponize both his pull-up and his catch-and-shoot game.
This strategy would likely require the at time grating presence of Jeff Teague — or another ball-handler — next to Rose. But it's not that simple. The point guard, whoever that may be, needs to deliver Rose the ball in 3-point shooting situations just as a star wide receiver needs a quarterback to have the vision to find him. Teague has only assisted Rose on five 3s this season, per NBA.com. And Tyus Jones has only assisted on four of Rose's 3s.
Given that Rose has been flanked by one of Teague or Jones for 655 of his 859 minutes this season, the lack of Rose's 3-point volume with those players speaks to an issue bigger than Teague or Jones quarterbacking. The Wolves offense needs to slant into a new form if they are going to increase Rose's — or anyone's — volume from deep.
It's no secret — and certainly an accomplishment — that the Wolves defense is allowing 8.7 fewer points per 100 possessions now than it did before the trade. But veiled behind the improved defense is the reality that the offense has only seen a slight uptick (3.1 points scored per 100 possessions) since the dismal pre-trade days.
A step to take is boosting that offensive number. And in the modern-NBA, that answer is usually found in the 3-ball.
"It's easy to just shoot more 3s," said Casey. "But it's the quality of the 3s, the timing of the 3s. Not the off-the-dribble 3s, not just the… 'oh, it's my turn to shoot' 3s."
---