After scoring just eight points on nine field-goal attempts during his first career postseason outing last spring – a 104-101 loss to the Houston Rockets – Timberwolves center Karl-Anthony Towns was asked about his seemingly transient role within the team's offensive game-plan.
"We almost won the game, so you've got to take it as it's given," Towns explained, "Gotta go with the flow of the game. Gotta follow the game plan."
On the heels of a regular season during which his field-goal attempts decreased by nearly four per game, Towns' team-first insistence became so worn out that it almost felt scripted.
Perhaps – to an extent – it was.
After the same defeat in Houston, Tom Thibodeau responded to reporters asking about the 22-year-old's dwindling output: "It's not a one-on-one game, so everyone has to understand that […] and if we're making the right plays, the game will tell you who's going to get the shots."
Thibodeau's belief that the flow of his offense should ultimately dictate who takes a shot is one that has guided the Wolves for a majority of the coach's tenure. But against a team like the Rockets – one that employs a switch-almost-everything style of containment – refusing to move tangentially from a game plan can also mean being manipulated by the opponent.
"If they're going to switch, we have to make the right reads," Thibodeau continued, "I thought the way Jeff [Teague] attacked the switches was great […] a guy like Teague is very good attacking bigs off the dribble."
When Thibodeau compliments Jeff Teague's ability to "[attack] bigs off the dribble," he's referring to plays like this: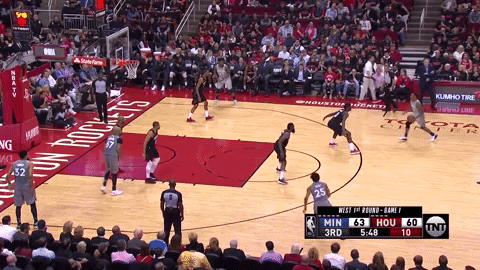 Before the video begins, Towns steps to the top of the key to set a pick on Teague's defender (No. 10 Eric Gordon). The Rockets happily oblige by switching Gordon with Clint Capela – the player who ultimately covers Teague – and inviting Teague to attack downhill.
Towns retreats to the weak-side corner in order to space the floor for Teague, who tries to use his speed and slender frame to bypass the 6-foot-10, 220-pound Capella.
In this instance, Teague doesn't gain quite enough space on Capella and Taj Gibson's presence in the paint allows three Rockets defenders to contest the layup and force a wild miss.
Meanwhile, Towns stands to the side being faintly covered by Gordon (6-foot-4).
"Well, we want space," remarked Thibodeau. "So, how we space the floor – it's similar to what they do for Harden – you know, you gotta leave some slots open. So, we usually put one big down at the baseline, in the dunker's spot, then you space the floor and you make plays from there."
Throughout the five-game series, Teague had relative success attacking Capela, Nenê and other Rockets big-men that switched onto him. But when asked about that tendency, he deviated from both his coach and teammate's remarks to respond critically: "I think that's playing into their hands of trying to eliminate [Towns]. We've got to figure out a way to get [Towns] the ball against those smaller guys. Get him some deep seals and get him some easy buckets."
The schism that seemed to develop between Thibodeau's belief that scheme trumps skills and Teague's desire to get Towns involved is emblematic of the season that was. Moving forward, it represents a proverbial fork in the road; down one path lies an opportunity to adjust at the direction of the team's veteran playmaker, down the other lies continued underutilization of a uniquely talented big man.
—
In 2016-17, when Thibodeau first took control of the Wolves' offense, viewers saw two different systems.
From the beginning of that season through the Jan. 1 game, Wiggins was run as the starting unit's go-to creator – a look seen more recently when Butler and Tyus Jones shared the floor last season. As a result, Ricky Rubio was merely a spot-up threat.
During that time, Towns averaged 21.5 points per game on .558 true-shooting; the Wolves' 106.3 points per-100 possessions ranked 11th in the NBA.
But around the New Year, Thibodeau reverted to using an offense that featured Rubio as it's primary playmaker. Because the pass-first Spaniard was emboldened to play to his strengths, Towns' numbers skyrocketed. Over the remainder of the season – 49 games – he put up 27.3 points per game on .651 true-shooting and led the Wolves' offense to 109 points per-100 possessions (eighth in the NBA).
As it relates to individual statistics, Thibodeau's unflinching strategy last season was a thorn in the side of his offensively minded big-man; it sprouted as Butler embraced the 'point-Wiggins' role and bloomed against the Rockets in the playoffs.
During the season to come, Butler's assumed departure could open a door for Towns' statistical resurgence – especially if Teague is similarly motivated.
Towns and Teague are a duo who – on paper – should excel under the right circumstances.
Nonetheless, in areas like post-ups and pick-and-rolls that require a partner to execute, Towns' offense declined last season. Following 4.4 opportunities as the roll man in 2016-17, he saw just 3.8 with Teague at the point. And after averaging 5.8 post-up attempts in 2016-17, he saw just 4.1 a year ago.
Of the 3.7 field-goal attempts per night that Towns relinquished last season, 2.1 came in these two scenarios.
Circumstance was certainly a factor; though Teague is a plus-passer, Rubio has made a career off it. Towns can do better as well — if the system he's anchoring isn't complimentary to his illustrious attack, he can still do more to demand a possession. Plus, the Wolves' primary ball handlers can be more creative in getting the ball to the post and finding Towns on his way to the rim.
Given Teague's expressed desire to further include his center in the team's offensive rapport, it's possible that Towns could naturally progress moving forward.
But Thibodeau's game plan has been generally unflinching; the only time it meaningfully evolved was during the latter half of 2016-17. And even without Butler, there is a collection of players on the roster that he sees as capable of seeing it through.
More of the Same
Through the team's first two preseason games, viewers have gotten a glimpse at how Thibodeau might operate this upcoming season.
With Derrick Rose inserted for Butler in the team's starting lineup, they first faced off against the Warriors – a defense that functions on switches in a way similar to the Rockets. From the beginning, the Wolves' attack featured more of the same.
In their opening offensive possession, Rose handled the ball at the top of the key while being covered by Warriors' shooting guard Klay Thompson. Rose starts by passing the ball to his teammate, Gibson, as part of a give-and-go.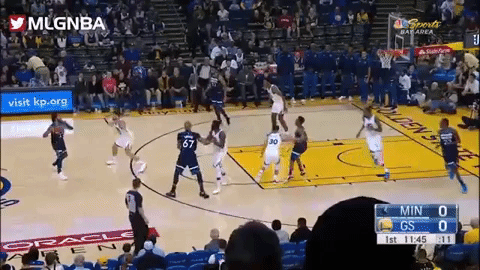 Thompson immediately switches onto Gibson and leaves Rose to attack Warriors' center Draymond Green – a small-versus-big mismatch like the ones that Thibodeau lauded during last year's playoffs.
Rose demonstrates some burst to finish a difficult floater, but the shot quality is questionable against a dominant defender.
Just over a minute later, with the score tied at two, Teague enters the half-court alone against Steph Curry. He first prods to the right in an attempt to get to the basket, but Curry moves well to contain him.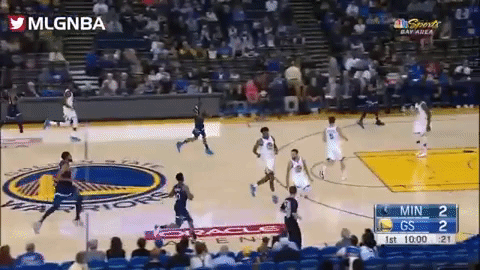 Teague then reverts and utilizes Towns' screen to be switched onto Damian Jones, a Warriors' reserve center. Because of Teague's speed and the effect of Towns' pick, the shifty guard is able to maneuver and finish an easy layup.
These two plays appear to be evidence that – at least for the time being – Thibodeau doesn't simply see Rose as Butler's logistical replacement within the starting five, but also as his functional replacement within the Wolves' offense.
Rose and Teague have attacked during these exhibition contests in ways that mirror Butler and Teague's successful combination from the 2017-18 season. In the end, they posted team-high marks of 16 and 17 points in that first matchup. And on Wednesday night, the backcourt finished 4 of 18 from the floor with just three assists combined during a dreary performance against the Los Angeles Clippers.
Towns, meanwhile, ended the game against the Warriors with 12 points and eight shot attempts in 24 minutes on the floor. His five completed field-goals were somewhat sparring, but the now fourth-year center at least saw a handful of sets designed and executed for his benefit.
His first bucket came with just over seven minutes remaining in the opening quarter – an isolation post-up opportunity.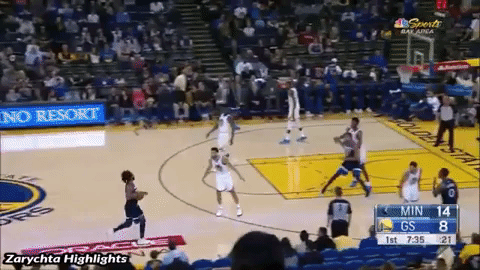 Rose gets the entry-pass to Towns – who seals off Jones deep in the post – and scatters toward the weak-side with the rest of his teammates. Towns dribbles, turns and hits a hook-shot over his left shoulder; just like he's done so many times before.
Two minutes later, a play is called that brings Towns from the left side of the floor, under the basket and to the right corner.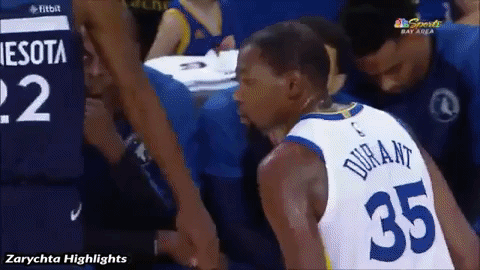 While running through traffic. Rose sets a pin-down screen on Towns' man (No. 5 Kevon Looney) to give the center just enough space for a catch-and-shoot three.

This pair of baskets from Towns is a good reminder of how uncommon his skill set remains.

Among players that were featured in 100 post-ups last season, Towns ranked fourth by generating 1.02 points per possession. LeBron James was the only player above him in those standings to also attempt more than one catch-and-shoot 3-pointer per game. James finished the season at 38-percent from deep in those situations; meaningfully lower than Towns' 43-percent.
Still, Thibodeau has scattered clues over the last several weeks that Teague and Rose are likely to be the fulcrums of his offense. In some ways, it's understandable that he leans on this perimeter creation; it's far easier to get the ball in the hands of said players and it's worked relatively well for him in the past.
But there's an inherent opportunity cost with every field goal the offense attempts. Each time Teague or Rose attack a mismatch, Towns can not. And when less efficient action so often outnumbers a more efficient alternative, questions about process are bound to arise.
Within an isolation-heavy approach like the Wolves', such a dominant and multi-faceted seven-footer could be a boon.
And though the team's starting point guard expressed a desire to shift toward Towns during last year's playoffs, Teague can only do so much to elevate his teammate's talents. For the all-star center to see his gaudy numbers grow, a shift may need to occur like we've only seen when Thibodeau briefly embraced Rubio – immediately before trading him to the Utah Jazz.
---