For the Minnesota Timberwolves, 2018 was both constructive and confounding.
First, the franchise sent a pair of players to the All-Star game in Los Angeles. Then, they finally made a playoff appearance. In that opening-round series against the Houston Rockets, they won Game 3 at home – inspiring thunderous chants of, "Wolves in six" throughout Target Center. To top it off, Karl-Anthony Towns signed a contract extension that will keep him in the Twin Cities for the foreseeable future.
And then Jimmy Butler demanded a trade – for several months, all of the antics played out in public.
Now, though, that's in the past. But before the Gregorian calendar turns to 2019, I wanted to take this chance to highlight a handful of things from the first 35 games of this brand-new campaign.
Before I get started, allow me to explain how I've constructed this list: my primary aim was to make it amusing. Beyond that, I hoped to highlight some memorable action and use specific instances to encapsulate progress or sentiment. Most importantly, it's all subjective; they aren't the best plays, necessarily – they're my five favorite 'plays' of the season to date.
No. 5 – Taj Gibson: All Sorts of Savvy
Since the day he arrived in Minnesota, Gibson has been touted as a consummate leader; a professional who knows the ins and outs of the NBA so well that he could help this roster take a number of steps forward.
But I don't think anyone expected it'd be these kinds of steps.
Do you see this? This is savvy. With his feet on the line while an opponent shoots free-throws, Gibson is technically committing a lane violation. But coincidentally – or not – his shoes camouflage that very infraction. Did Gibson design, acquire or chose to wear these kicks in order to gain this advantage? Did he look down before this free throw, realize the chameleon-esque possibilities and make a spur of the moment decision to test the referee's awareness?
This happened with just 2:15 to play in a close game against the Pistons. It may not be a 'play,' per se, but to me, it's one of the coolest things any player has done all season. Given all of the ways Gibson has helped this team over the last year and a half, it only makes sense that he'd be the actor.
No. 4 – Josh Okogie: Everywhere
Given Okogie's playing style, his best-of reel in a Timberwolves jersey could very well have mauled this column.
The 20th pick from last summer's draft has been a somewhat surprising subplot to a season full of storylines. And because of the way he approaches each possession, he's endeared himself to many who follow this team.
On defense, Okogie's motor is nearly unavoidable; on offense, he can occasionally use athleticism to overmatch opponents. In this series of events against the Sacramento Kings, he takes advantage of both facets to manufacture an individual run.
The apparently ground-breaking dunk that sends three 'Kings' to the floor, the block that hardly leaves Troy Williams' (No. 19) hand before it's swatted away, the hustle to get back on offense, the drive-and-dish to Gorgui Dieng. Maybe I cheated in calling this just one play.
And as long as that's the case, I may as well test my luck.
What is this? It's both improvised and premeditated in the best way possible. Once Okogie's pump fake gets his defender in the air, he pivots and jumps off both feet – it appears that he's looking at the backboard all the while. Naturally, he tosses it to himself off the glass and jumps over both Meyers Leonard (No. 11, 7-foot-1) and teammate Dario Saric (No. 36, 6-foot-10) to regain possession. In one fell swoop, with his head nearly level to the rim, Okogie finesses the ball into the basket.
With that combination of want-to and gusto, it's no wonder he's been such an endearing addition.
A side note: In both clips above, the camera pans to Towns on the bench – who's brimming with joy. After what was a somber start to the season, it's good to see such unadulterated glee from the Wolves' best player.
No. 3 – Andrew Wiggins: Flashing
This one might not show the same dazzling display of athleticism that Okogie does above, but comparatively, it's one of the most impressive plays Wiggins has made in some time. Plus, I have a thing for help defense – and I warned you that it was going to be a subjective list.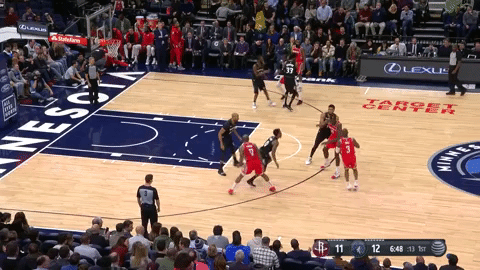 This is textbook weak-side help defense from Wiggins – and it's textbook pick and roll defense, at that.
While his man is in the corner, Wiggins keeps one eye on the ball. After Rockets center Clint Capela sets a screen on Jeff Teague, Towns shows to force a pass. But the second Capela gets the ball in the paint, Wiggins is there to resist his attempt – he had relocated to the lane just in time. By both concept and execution, this is an outstanding play.
In the past – and in plenty of games since – Capela would have gained possession and dunked the ball through the basket unopposed. The Wolves would have looked helpless – and because Capela is Towns' man, the Wolves' big man would have appeared to be at fault.  But here, everyone does their job – most notably Wiggins.
In order for him to make any sort of leap into stardom, this kind of play will need to become more reliable than remarkable.
No. 2 – Derrick Rose: Defensive Dynamo
On Halloween, Rose scored 50 points against the Utah Jazz. That night was memorable for a bevy of reasons: Rose's brilliance down the stretch, his emotional post-game interview and his teammate's celebration in the locker room afterward. On the offensive end, any number of his clutch buckets could have made this list – like the ball fake he pulled on Rudy Gobert with less than a minute to play or the counter-move he made on the very next possession.
But one of the most remarkable plays of Rose's historic performance came on the defensive end.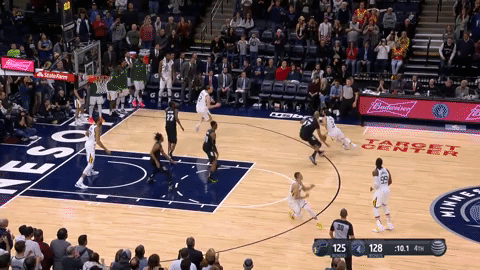 The Jazz had a couple of chances to tie up this ball game and send it to overtime – on one hand, that would have given Rose a chance to get 60. On the other, it could have – to an extent – spoiled his night altogether.
After Joe Ingles misses an open three from the corner, Rose rushes after the rebound. But before he can get there, Jae Crowder (No. 99) grabs the ball and passes it to Dante Exum (No. 11) in the corner. Rose takes three (giant) strides, elevates and dramatically blocks Exum's attempt.
A game-saving block is always going to be a highlight, but this one was more than that. It was the exclamation point on top of this season's most memorable matchup. It delivered a win in the face of Butler's ongoing sideshow – while the disgruntled star rested for precautionary reasons. And it showed just where Rose's priorities lay: he already had his 50, but that didn't matter.
He wanted the Wolves to win.
No. 1 – Towns and Wiggins: Reinvigorated
In their first game with Robert Covington and Saric suited to play, the Wolves faced off against the New Orleans Pelicans. The game came down to the wire, when Towns and Wiggins displayed a sequence of action that both delivered a win and embodied the start of something new.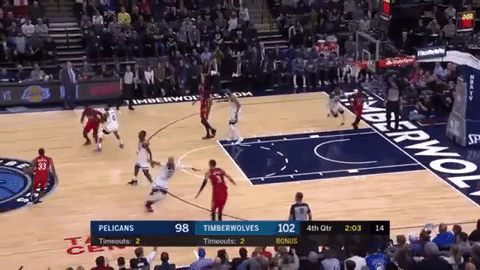 Towns maintains pace with Anthony Davis as he drives to the rim. Then, he times his jump perfectly and pins Davis' layup attempt against the backboard – leaving his fellow Kentucky alum begging for an offensive foul.
Towns immediately hands the ball to Wiggins, who ushers it past half-court with the Wolves ahead by four. Once set, he passes it back to Towns at the top of the key; immediately, Wiggins uses a burst of striking speed to execute one of his more ferocious cuts. Towns hits Wiggins on his way to the rim like a quarterback dumping off a well-timed screen pass – Wiggins then rises and slams it home.
Not only is this two-way play holistically impressive, it seemed to represent a shift at the time. During the first 13 games of this year – when Butler's theatrics sent Wiggins and Towns into their shells – that sort of vigor was nearly non-existent. The energetic nature of this progression and the contest in which it came made improvements seem inevitable – Gibson certainly approved.
---