Led by Jeff Teague, Karl-Anthony Towns and Robert Covington went to WWE Smackdown at Target Center Tuesday night. While at Smackdown, at some point in time, Towns wound up purchasing one of those big ol' championship belts. He brought it to work on Wednesday, also at Target Center. However, after Josh Okogie dropped a suplex on three San Antonio defenders in the fourth quarter of Wednesday night's 128-89 victory, Towns decided the rookie deserved the belt.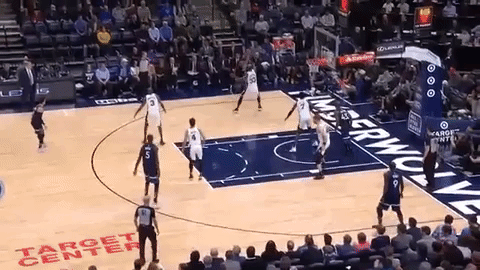 That wasn't the belt's last stop of the night. After Okogie and the rest of the team saw the final stat sheet from the win, the belt moved on to Robert Covington. Why? Because he deserved it. In the victory, the newest addition to the Timberwolves starting lineup posted a plus-44 in the box score.
"I don't know if I've ever seen that before," said a particularly jolly Tom Thibodeau after the game as he examined Covington's stat line in the box score he was holding. "It's really what you're doing when you're on the floor, how he impacts the game."
Around the league, much is rightfully being made of the way Covington has influenced the game this Timberwolves team is now playing. But most of that credit seems to be a recognition of the impact that he has had on the defensive end of the floor.
Covington's credit should go a step further. Yes, the Wolves were 29th in defensive rating before the trade and have the league's best defensive rating since replacing Jimmy Butler in the starting lineup, but the offense is taking strides as well. Before the trade, the Wolves offensive rating was 107.7, according to NBA.com/stats, and since Covington joined the starting lineup, that number is up to 108.3.
"We're gonna take what the defense gives us," said Covington in the locker room postgame, standing next to his new belt. "We're moving teams from side-to-side and that's allowing us to get a lot of looks. Nobody is playing selfishly… No one is forcing anything. No one is trying to do extra."
If Covington's offensive game has an ethos, it is that: not trying to do extra. He knows the most effective shots to look for, and those are the ones he takes. Even in the times where he appears a bit trigger happy, those firings are coming from optimal spots — beyond the arc or at the rim. Since joining the Wolves, 83.6 percent of Covington's field goal attempts come from those two areas of the floor, according to basketball-reference.com — exactly matching his frequency of the same shots in Philadelphia last season.
Robert Covington Field Goal Distribution
For the metric wonks, it's a beautiful picture, really.
To at least some degree, the rest of the Wolves should work to mimic this stylus. Particularly Covington's partner on the wing, Andrew Wiggins.
Creating an Infrastructure to Evolve Andrew Wiggins' Shot Selection
Wiggins will never have a shot distribution that looks exactly like Covington's; nor should he. The fifth-year shooting guard is this team's break glass at the end of the shot clock guy, requiring Wiggins to take whatever the defense gives him there — often not at the rim or beyond the arc.
That's no small task. Last season, Butler took 133 shots with under four seconds remaining in the shot clock (in only 59 games) and Jamal Crawford took 114. Rose will fill some of that void; Covington, a poor creator, will not.
On top of that load for Wiggins, there will also be times when he has a size or speed advantage — or is just wide open — and in those situations midrange Js are more than acceptable. What could stand to decrease are the all too frequent times that Wiggins adversely affects himself, and thus the team, by reaching into his bag for those inherently less-than-optimal shots.
Put simply, Wiggins takes far too many shots from the spots on the floor that he is least effective from. It's the antithesis of Covington. And he pushes of the snowball down the hill by reaching deeper and deeper into the bag in an attempt to shoot himself out of it. This is not only self-imposed destruction but self-perpetuating because it is is being pursued as a solution.
This year, the perpetuation has hit an all-time low. On Wednesday night, in what was probably the teams' best performance of the year, Wiggins compiled a 3-for-15 shooting night. It was the fourteenth time in the past fifteen games that Wiggins has posted a shooting performance where he missed more shots than he made. Since Covington joined him in the starting lineup, Wiggins has made 40-of-128 field goal attempts — converting 27.9 percent from beyond the arc, and 32.9 percent within it.
Yes, this is a cold streak but it is a run greatly influenced by his actions; not just a crooked scope. Nearly a quarter (24.2 percent) of Wiggins' shot attempts this season have been 2s from 10-plus feet away from the rim. In the eight game sample with Covington, Wiggins is only converting 16.1 percent of those shots, according to NBA.com/stats.
What is concerning is that this is a trend that proceeds the trade. And also one that proceeds this season.
Andrew Wiggins From Midrange (10+ feet)
The good news is that choice plays a factor here; meaning it can change. Enacting that change is the next step. Given that there is now a 345 game history of Wiggins electing these shots at a high frequency, it is probably naive to say that Wiggins will implement this change on his own. A step in the right direction would be putting an infrastructure in place that could influence change. And that is where coaching comes in.
Just as much as there is a truth in the numbers, it is undeniable that flashes of dominance also exist in Wiggins' game. So, they should become the focus. The question should be: how do you bottle up the flash so as to increase the shine?
Thibodeau and the Wolves need to diagnose where he can shine. And then, they need to duplicate it.
Even in this cold streak, there have been examples. In those instances, there have been consistent themes. One of which is catches beyond the 3-point arc. Through operating more frequently beyond the arc, the threat of Wiggins' shot itself increases. From deep, Wiggins can simply catch and then decide to shoot from distance, as he does on the handoff from Towns here.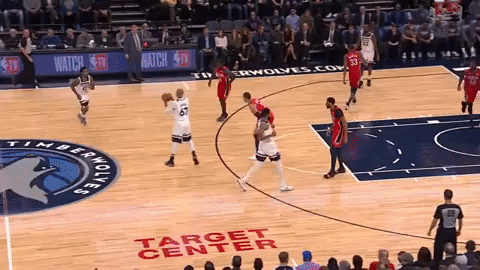 By presenting the greater threat from deep, defenses will often react with more vigor. A win for the offense. In a similar situation, Wiggins may then see the opposing big jump out at him in a way that might not have happened had he been inside the arc. If the big does bite, Wiggins has one of those speed advantages.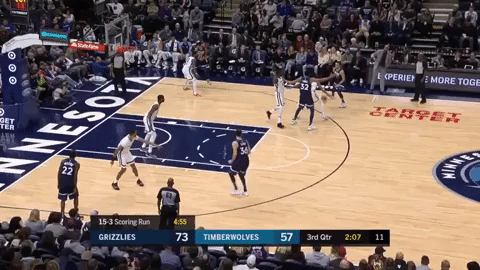 Become enough of a threat to shoot or attack, and the opposing defense may try and deny the catch beyond the arc altogether. This presents another opportunity for Wiggins to use his speed, with a backcut.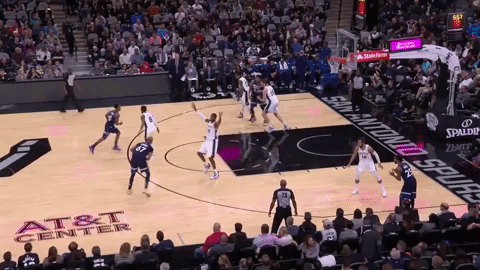 In all three of the above clips, the offense is running through Towns. It's not a coincidence that Wiggins becomes more of a threat in these situations. So bottle it up.
Through not only physically positioning Wiggins beyond the arc, but also functioning him in actions with Towns, his effectiveness theoretically increases given the gravity Towns creates.
An inversion of this idea should also work. Running the offense through Wiggins, provided that Towns is the secondary piece, can also find success. Particularly if Wiggins' action starts beyond the arc.
Here, Wiggins does not even need to use the Towns screen to create a pick-and-pop advantage. Merely the idea of the screen is enough to sway Tristan Thompson out of position.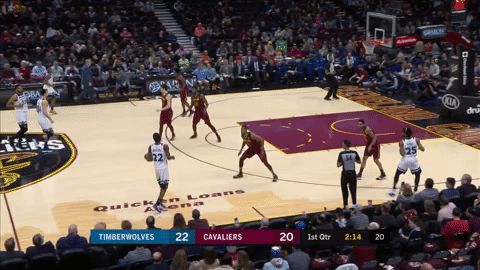 Simply including a second player in Wiggins' attacks doubles the pressure on the defense. If it is Towns, and Towns' man feels any responsibility to assist on Wiggins, the defense faces a severe uphill battle.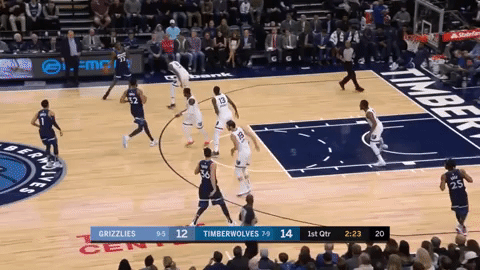 Where Wiggins is today, these types of effective actions require some digging. They don't happen often. Anyone familiar with the team knows that for every teaspoon of these types of Wiggins-related successes, there is a dallup of the rest — drives and shots that find the bottom of the net far less often than when they don't.
However, to only acknowledge that aggregation of Wiggins' stats is to be living in the moment. Yes, it's a moment that has felt the same for a long time — in fact, forever with Wiggins — but it should not detract from the notion that it could change. There is, as there always has been, a fair argument to be made that Wiggins is only a few small changes away from making his NBA life work.
What I believe we know now is that those changes can not come without influence. Continue to ask Wiggins to do the same things he has always done and there will be similar results. But if you put players, like Covington (not Butler), around him, who can illustrate a different way of doing things, change can come. Better yet, have Thibodeau enforce schematic differences that make change unavoidable and you have an even greater influence.
It has probably been the time to change for Wiggins for years now, but that doesn't make it too late. If he is to change a great deal after age 23, he wouldn't be the first to do so. Bottom-of-the-line: Time to start taking baby steps.
"I think that we all tend to measure a guy by where he is today," said Thibodeau when asked to compare the progression of Wiggins to DeMar DeRozan, a player who had his fair share of inefficient hiccups early on in his career. "If you went back and you looked at DeMar, you would see that every year — and it's one of the great qualities that he has — that he's gotten a lot better every year.
"He improved his scoring, he improved his defense, his ability to get to the free throw line. His all-around game has progressed. Hopefully, Andrew can do the same."
---