After losing to Portland, Golden State, Sacramento and Phoenix in one fell swoop last week, the Wolves returned home and found their footing in a rematch against the Kings on Monday. Let's take a closer look at four highlights — and lowlights — from this team's last week of action.
Josh Okogie: Crowd-Pleaser and Energy Provider
When Okogie checked in to Monday night's matchup against the Sacramento Kings, there was 3:24 left to play in the opening quarter. As the in-arena host announced the rookie's name, cheers poured down from a sparse Target Center crowd. Not just from the die-hards who have been monitoring Okogie's growth since Summer League; from everyone. Everyone was excited to watch the Georgia Tech product – who has seen his minutes cut since the trade that landed Robert Covington and Dario Saric – find his way to the floor.
At first, such a thunderous ovation might have seemed superfluous, or, like a message directed at the coach who has been hesitant to extend Okogie's leash.
But then he played, and he played well; just like he's tended to do when given a rare opportunity. Suddenly, the support seemed warranted. It seemed like a fan base embracing a player who embodies much of what has been missing over these last handful of years: a tireless mentality that never takes nights off.
The Wolves were ahead 27-16 when Okogie entered the lopsided victory over the Kings – their lead had ballooned to 71-36 when he checked out with 2:28 remaining in the half. Through 100 seconds of action at the beginning of the second quarter, Okogie had a steal, a breakaway dunk, a dump off assist, a breakaway layup and a backdoor alley-oop.
That alone was worth the price of admission.
Wolves Woes on the Road
The win was a refreshing turn of events after the Wolves' week on the west coast proved fruitless. Disproportionate success at home is nothing new for this group, either. Throughout the 2017-18 season, the Wolves were among the most successful NBA organizations when playing within the comfortable confines of their own arena; the 30 wins they amassed at home were tied for fifth-most of any team.
In total, almost two-thirds of the Wolves wins came at Target Center last year. On one hand, piling up victories when adversity is sparse can be valuable. On the other, failing to find any degree of success on the road can be a mark of mediocrity – or worse.
And after four losses last week, the Wolves have slid to 2-12 on the road through the early stages of this volatile 2018-19 campaign – their lone victories have come against the Cleveland Cavaliers and Chicago Bulls, a duo eastern conference foes that would (on some level) prefer to lose. As the table above lays out, 68.3 percent of the Wolves' wins since the beginning of last season have now been of the home-variety. Based on the company they keep on this list, a leading mark would seem to be an indictment of their ability to travel rather than a compliment to their performance at Target Center.
To ask an expert why any sports organization struggles on the road is akin to asking a scientist why human beings yawn: both questions have plausible responses, but authorities have never been able to answer either with certainty. Sure, factors like comfortability and experience matter in sports; meanwhile, scientists have long purported that we yawn to alleviate irregular breathing. But neither marvel has been irrefutably explained – much to the chagrin of Timberwolves fans.
That the Wolves have enjoyed such little success away from Target Center is damning, and – much like their infamous third-quarter woes from the 2016-17 season – a mystery waiting to be solved. Until that happens, it will continue to stain their reputation.
Robert Covington Slumps
Sometimes a stretch of concerning play is easy to explain. When the Wolves lost five straight during their first west coast excursion of the season, all of the drama induced by Jimmy Butler's trade demand was an obvious culprit with which to lay the blame. So, Butler was traded – then, the team won nine of its next 12 contests (most of them at home) and the chemistry seemed to be fixed. But just last week, they were swept up and down the coast once again. This time, though, no one's bound to be traded – no infusion of new talent is imminent.
So, is there reason to believe an about-face is inevitable once more?
It's possible, as detailed above, that the Wolves simply stink on the road. But it also stands to reason that they were – for all intents and purposes – without a vital contributor during their most recent debacle away from Minnesota.
The first game of this latest road-trip came against the Portland Trail Blazers. Surprisingly, Covington was deemed inactive as a result of an ailing knee. The Wolves kept things close – ultimately losing 113-105 – and Covington was only sidelined for that one game, but the defeat seemed to take some wind out of their newly risen sails. It also made the following contest – at Oracle Arena versus the Warriors; an uphill battle regardless of what happened in Portland – even more important.
Covington returned for the last three matchups, but he wasn't the same player who made such an impactful first impression in November.
"He's fine in terms of health but when you're out for five days you're out of rhythm," Tom Thibodeau explained after the Wolves' disheartening loss in Phoenix on Saturday, "We just have to let him work through it and get him going … physically now he's good and he's just got to get his basketball rhythm back."
Covington has acted as the Wolves' metronome ever since he came to the Twin Cities – establishing and monitoring a cohesive attack on the defensive end. A metronome being out of rhythm, as Thibodeau puts it, is bound to disrupt the environment it inhabits.
Where his value has been most noticeably and unexpectedly absent is in the areas of hustle and defense that have made his career such a success.
Covington did bounce back during Monday's victory; he played 36 minutes and made his presence known all the while. In total, he compiled 13 points, five rebounds, two assists, two steals and a block – finishing with the best plus/minus (plus-16) of any starter. If his rhythm is back, so might be his team; with a healthy and engaged Covington, the Wolves' next road trip could very well tell a different story.
Saric in Space
While Covington has traveled through peaks and valleys since donning a Wolves jersey for the first time, Saric has been a model of consistency. By simultaneously providing a dependable backbone for the Wolves' second unit and a boon for the starters when deployed in Taj Gibson's stead, his all-encompassing skillset has been on full display.
Among the most impressive aspects of Saric's style is his ability to create opportunities on offense without actually having possession himself – an invaluable skillset within a roster mauled by other, more ball-dominant threats.
As the offense has shifted toward Karl-Anthony Towns in the wake of Butler's departure, post-ups – for both Towns and Gibson – have become an integral aspect of Thibodeau's scheme. But as became apparent throughout last season, the Wolves don't excel in their proclivity to be active when one of their teammates is working one-on-one.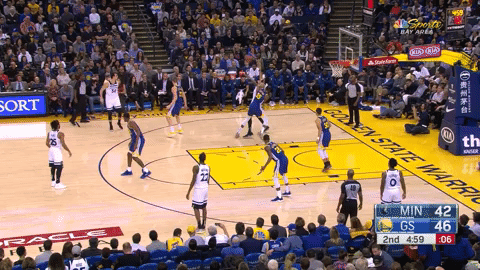 After Towns catches the ball in the post, the Warriors send Steph Curry along the baseline to double-team the Wolves' big man – a counter that has become routine. While Towns frantically examines his options, Jeff Teague, Derrick Rose and Andrew Wiggins stand flat footed along the perimeter; not only do they fail to create a lane, they hardly look ready to catch a pass.
Saric, meanwhile, notices that his teammate is in trouble. First, he stands in an athletic position clearly prepared to be an outlet for Towns. And when his defender — No. 21 Jonas Jerebko — moves to cut off that option, Saric springs to action. He decisively cuts to the basket and slides between Jerebko and Towns to manufacture an alley for Towns' assist.
Moving to the basket isn't the only way that Saric embraces his off-ball role, either. Throughout his 16 games with the Wolves, he's attempted 5.7 3-pointers per 36 minutes of action – connecting at a greater than 36 percent clip. He shoots with confidence and fashions attempts with creativity, making the space around him his friend.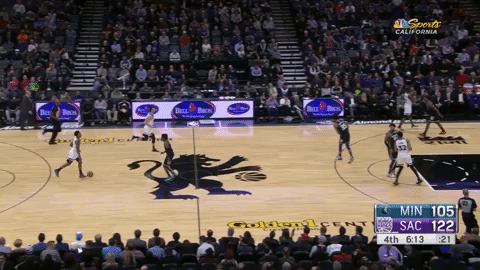 Once he approaches to set a screen on Teague's defender (No. 5 De'Aaron Fox), Saric immediately escapes toward the top of the key with his hands – again, importantly – ready to catch and shoot. But he doesn't just step away, he shuffles continuously in order to put ample room between himself and his opponent. Even as Teague begins to make his pass, Saric is still moving away. Ultimately, this kind of forward-thinking creates a wide-open three-point attempt; it really is about the little things.
Saric may never be the fastest, nor the strongest, player on the floor. But his mind is always functioning full-speed; he's constantly thinking about how he can make life easier for his teammates – how he can make winning easier for the Wolves. In contrast to Covington's brawn and in unison with Covington's brain, the former Philadelphia 76ers duo is providing a measure of proactivity that's slowly changing the Timberwolves tune.
---