Take your eyes off of Karl-Anthony Towns – who possesses the ball in the post – and watch how the rest of the Minnesota Timberwolves offense functions when their most potent threat works one-on-one against his defender.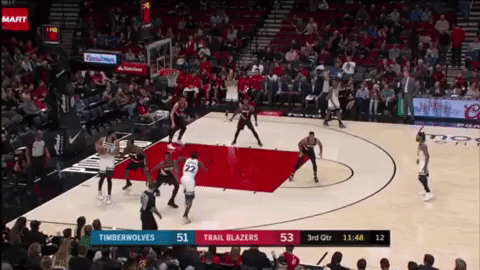 Now, take your eyes off of center Nikola Jokic – who possesses the ball in the post – and watch how the rest of the Denver Nuggets' offense functions when their most potent threat works one-on-one against his defender.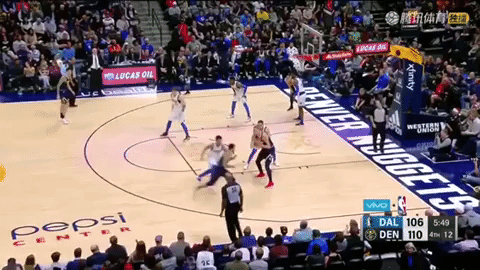 Does anything stand out to you about the difference between these two plays – sans the result?
Both begin as traditional post-up opportunities for a duo of rising stars; both lead to almost immediate double teams by their respective opponent. But while the former action – or lack thereof – run by the Wolves ultimately stalls, the latter features a bevy of decisive weak-side player movement that delivers a wide-open three-point shooter.
The post up has been a staple of the Timberwolves offense ever since Towns was drafted first overall in 2015; year after year, the big-man cements himself as one of its most dangerous users. And though Jimmy Butler's presence last season waned the Wolves off of this vice, his departure has pressed the group to re-embrace its virtues.
Still, the Wolves' effectiveness in the post is often subdued by their stagnant off-ball tendencies – the ones highlighted by that turnover above. But by mimicking the scheme of competitors like the Nuggets – and even taking a page out of Thibodeau's past playbook – the Wolves can better exploit the attention Towns demands and implement a more versatile inside-out attack.
___
Five years ago – during the 2013-14 NBA season – Thibodeau was head coach of the Chicago Bulls. That year, Derrick Rose played just 10 games before tearing the meniscus in his right knee; his team was ultimately led in minutes by Butler, in scoring by Luol Deng and in assists by its boisterous big man – Joakim Noah.
Noah – at a time when centers were typically less versatile than they can be today – was a fulcrum of Thibodeau's attack. He ended the season averaging 5.4 dimes, mostly because of the way he was deployed in the post.
When he was in Chicago, Thibodeau depended on Noah and a slew of other big men to wear down opponents deep in their own end. But as the table above makes statistically clear, the Bulls of that era weren't especially successful in their ability to score when employing this play type; instead, they used it habitually by emboldening the pass.
And since Thibodeau was hired to be boss in Minnesota, his offenses have continued to depend on the post. But because of the personnel that inhabits his roster – namely Towns and his teammate, Taj Gibson – the Wolves have produced via buckets instead of assists. While their field-goal percentage out of the post is vastly superior to Noah and the Bulls', their pass-percentage is meaningfully lower.
___
Thibodeau's Wolves run two primary actions when getting the ball to Towns on the block – there's only one meaningful difference between them.
Either the player who enters the ball to the post stays put where they stand in order to – theoretically – provide an immediate outlet for Towns, as seen here.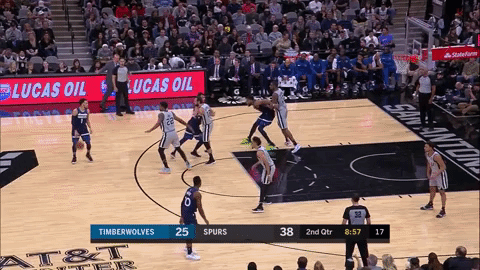 Though it's Tyus Jones in this instance, Jeff Teague and Rose operate this way most frequently.
Or, the inbounder casually jogs away from the play – thus creating a true isolation setting; seen more often with Andrew Wiggins.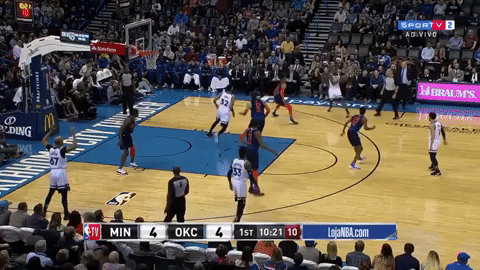 Both options ultimately rely on Towns to create offense all on his own; whether he gets up a shot or maneuvers to find an open teammate, the onus is on him to make something happen.
But since the Wolves fell to the Rockets during last year's playoffs, a guideline has been adopted to stifle Towns in the post. Throughout that series, the Rockets exasperated the big man by sending a baseline double-team whenever he got position. And it's not something that's stopped since the start of this new campaign; instead, defenses are mimicking the Rockets' approach.
And that strategy seems to be working. For the first time in his career, Towns is finding it difficult to produce in this manner.
But the NBA is one, continuous race to adapt. Just like defenses have altered to slow Towns, so must the Wolves to reinvigorate his success; the most obvious way that this can be accomplished is by enacting more proactive tertiary action.
Let's rewind that play from Sunday against the Thunder – despite the made field goal, it embodies some problems that should be amendable under different direction.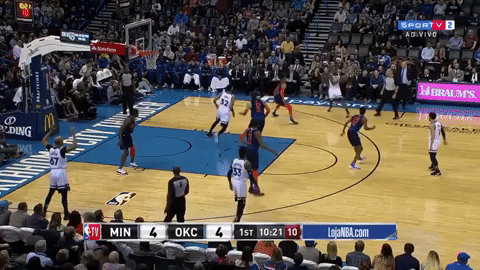 Immediately after Wiggins feeds it to Towns, he slowly retreats toward the opposite corner. Instead of doing so with such glaring lethargy, Wiggins should cut swiftly through the play and force defenders to account for his whereabouts. Not only can this cause confusion for an opponent and open up breathing room for Towns to produce, but it can also lead to quick give-and-go opportunities.
When Thibodeau was in Chicago, this was routine.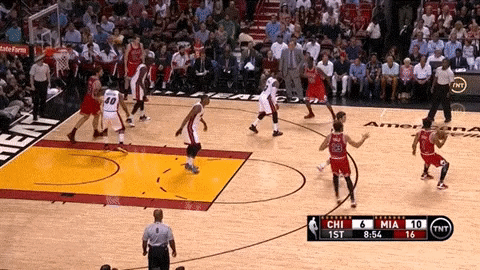 And its commonplace among the Wolves' competitors as well – look no further than what the Nuggets have done to optimize Jokic's talents as a distributor.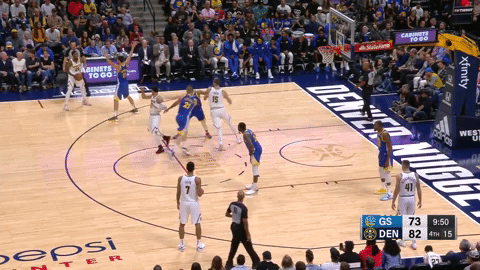 Though this is the simplest wrinkle the Wolves could adopt, it isn't all that modern offenses do to make post-ups a more efficient weapon. Movement doesn't have to be limited to the space around the player with possession; it can happen all over the floor. Not surprisingly, Denver is especially adept in this regard.
Jokic – like Towns – is worthy of a defense's focus when handed the ball. In order to counteract this fact, the Nuggets run creative off-ball sets to free up their big, confuse the defense and engender easy field goals.
Below, Nuggets guard Jamal Murray enters the ball to Jokic in the post. But instead of quickly cutting to the rim, as he normally would, he runs to the corner and sets a screen on Paul Millsap's defender.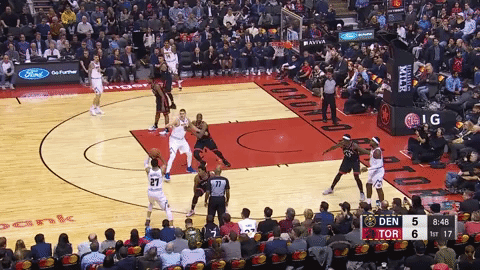 This allows Millsap to cut to the basket where Jokic finds him for a layup. And once a defense is privy to this tactic, they'll tend to send help from the other side of the floor – but this leaves an open shooter in the corner.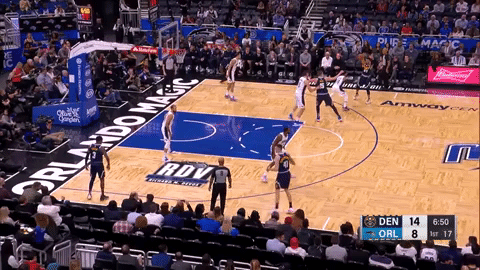 Still, this kind of outside-the-box thinking appears foreign to those who have followed the Wolves over the last handful of years. Because he enacts such a predictable strategy, Thibodeau relies on Towns' individual brilliance to save the day time-after-time. But defenses are catching up; exhibiting a willingness to smother the Wolves' big man with the confidence that nothing is happening behind their backs – because it isn't.
A more proactive post-up scheme – like that of the Nuggets and Thibodeau's Bulls – could help this group re-identify itself around the All-NBA center who will be their cornerstone for the next half-decade.
Nonetheless, this isn't to say that Towns' shortcomings this season have been a wholesale indictment of the system he captains; even in an offense predicated on movement, the big man will need to personally improve.
As double-teams have amounted, so have instances of panic from Towns. Here, he's being guarded by Pelicans guard Jrue Holiday (No. 11) – a comparatively slight but unduly feisty opponent.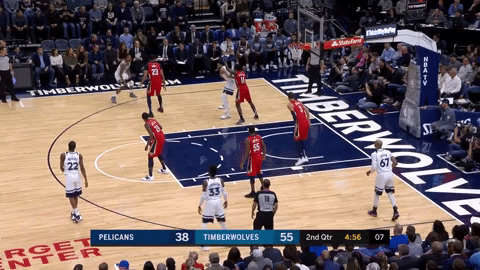 Towns senses a help defender (No. 3, Nikola Mirotic) shading toward him from the baseline (as the Rockets did so often during the playoffs) so he looks over his head but finds no open passing lanes.
Because he can't locate an available teammate, Towns loses his balance and puts the ball on the floor – but after just one dribble, he immediately picks it up and asphyxiates his options. Recognizing that Towns has trapped his own play, Davis shades toward him to make it a triple-team. Caught in a fluster, Towns forces a pass that's easily intercepted.
Yes, this play does highlight the Wolves' off-ball woes. But a tenet of any accomplished post player is the poise they display when entrusted with the ball. Basketball – as almost any football or hockey fan will tell you – is more or less a no-contact sport. Towns should stay calm to avoid costly turnovers (a declaration easier made than enacted); after all, an over-aggressive defender aiming to force a steal will also have to worry about committing a foul.
When the double does arrive, Towns should remember that the dribble is his friend. There's no rule that says his pass must be flashy or his action completed in a matter of moments; the easiest antidote for a poisoned post-play would be for Towns to dribble back toward the perimeter and reset the offense.
Any time one facet of a player's production drops as precipitously as Towns' post play has, there are bound to be a bevy of culprits. And responding to the way teams are doubling Towns is an inherently tricky task for an up-and-coming center.
But if the 23-year-old All-Star can work through this slump – and if the Wolves can implement changes that allow him to become a more versatile player – it should be a blessing in disguise for his long-term development.
Frankly, Towns has always scored with the best when left to work mono e mono; if an element is added that emboldens his passing and allows teammates to get more involved, it will be damn near impossible to stop the Wolves in the post.
---
How Well Do You Know The Twins?
Take the Twins quiz and test your knowledge!
Take Quiz