When Jimmy Butler being traded became an inevitability, the most pressing question facing the Minnesota Timberwolves was about what sort of return they could fetch. Would the powers that be pursue a package that fortifies their future – like the reported offer including four first-round picks – or would they place a premium on helping the core remain competitive now?
The trade they executed accomplished a little of both. Robert Covington (27) and Dario Šarić (24) are both productive players at present. Still, while Covington – a defensive-minded wing – has already entered his prime, Šarić is a piece who could meaningfully raise this team's long-term ceiling.
But with the dust finally settled around months of turmoil, the Wolves are left with an abundance of power forwards – raising new inquiries about the allotment of playing time we'll see moving forward. Not only does a pair of complimentary 33-year-olds — Taj Gibson and Anthony Tolliver — remain healthy and active, Šarić enters the fold as an alternative laced with upside. And given that the Croatia native can be offered a new contract during both of the next two summers, evaluating his potential is a pressing concern.
He's just begun his third season in the league; with only 172 NBA games played, he'll be among the team's most youthful prospects. But that's not to say that Šarić is unproven; the 6-foot-10 forward has started in all 13 matchups for the Sixers this season. Through last year's 10-game postseason run, he averaged 17.2 points, 7.3 rebounds and 3.5 assists on impressive efficiency.
If the Wolves have uncovered a dogged frontcourt partner for Karl-Anthony Towns to embrace moving forward, the deal will have been a resounding success. But the only way to make that proclamation is to loosen his leash and let Šarić bark – even at the expense of more proven talent.
The plead to embrace Šarić begins off the court.
Though Gibson has demonstrated his gargantuan worth through his role on the floor and serenity off it, his contract will expire when this season is over. If the writing on the wall transcribes Thibodeau's departure, what are the odds that Gibson sticks around?
And if No. 67 does decide to stay, should he still be a starter after this year?
The same goes for Tolliver, who signed a one-year deal with the Wolves last offseason. Even if these players could produce a few more wins, is it really prudent to prioritize their roles?
That's not to say they should be anywhere near out of the rotation; Gibson and Tolliver are among the team's most reliable options. An optimal deployment of the roster's new faculty could see Šarić with the starters while Gibson takes over reserve center duties. Though this sort of maneuver would ostracize Gorgui Dieng, it may be the ideal formula of long-term evaluation and talent optimization.
"This is the only time I'm answering this question," Gibson explained emphatically once the trade was officially announced. "I can come off the bench or I can start. It doesn't matter." The long-time Chicago Bull has been a second-unit player for exactly half of his career. A consummate professional, Gibson's priority is to "win games and compete."
Conversely, Šarić is still trying on NBA personas. And though he came off of the bench on occasion in Philadelphia, he ultimately indicated a preference to start: "I like starting in the first lineup," he said during an introductory press conference on Tuesday. "But … I'll respect every opportunity coach puts in front of me."
To tinker with his confidence by installing him with backups could be a headache the Wolves would do well to avoid. Too much of this season has been a destruction of development; a preference for the now has appeared to transcend any futuristic focus. Stifling this newcomer's high-upside game behind veterans who may not be long for this city would be yet another splash in a shortsighted puddle.
And beneath every argument to let Šarić run for the organization's long-term health is a basketball reason he makes sense on the floor.
Šarić isn't just a stretch-four. Yes, he can shoot despite volatility – his career 35.1 percent from deep on meaningful volume is nothing to scoff at. But he can also pass – the big man has dished more than two assists per night throughout his career; dribble and attack – his 64.1 percent finishing at the rim last season was a dependable outlet; or post-up smaller bigs – his 0.88 points per possession in those situations was a mark both palpable and improving.
As an offensive weapon, there are few holes to poke in Šarić's game. There will be plenty of room for growth in these areas, but what he's demonstrated already is a solid foundation. To insert his skill-set in a lineup next to Towns would create an offensive front court overflowing with talent.
The Possibilities with Šarić + Towns

A game plan designed around a versatile center would ideally include a flanking of threats that can shoot from deep and play without the ball. For Towns to operate as a post-up paraná – or even in a smattering of pick and roll sets – the floor needs to be spread out with weapons around him.
Assuming the offense does teeter toward Towns in the wake of Butler's long-awaited departure, Šarić is the kind of player who makes sense on the floor – the instances of success he enjoyed next to Joel Embiid lays a roadmap for the Wolves to maximize this pairing.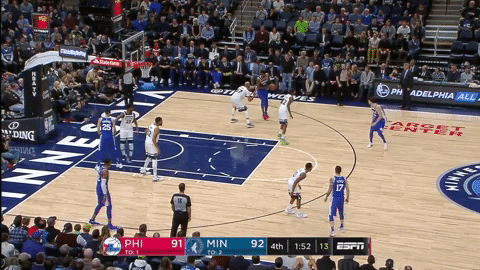 Here's a play against a familiar opponent. After Šarić brings the ball into the half court and feeds it to Embiid with position in the post, he immediately maneuvers away from the play – ultimately standing more than a yard beyond the arc. This gives Embiid the space to back down Gibson until Andrew Wiggins shows a hollow double team.
The second that Šarić sees Wiggins turn his head, he shuffles to his right to open up a passing lane. Embiid easily spots his teammate standing alone with hands ready to catch and shoot. (Here's an album of similar plays).
It's not just an asset that Šarić fires with confidence, what's important is the way he spaces the floor. Not all opponents will leave open deep threats in order to fend off a post-up opportunity; with a player of Šarić's ilk at the four, it gives everyone's individual talents more room to breathe.
But he also has a knack for getting to the rim – when he doesn't possess the ball, he monitors his defender and pounces the moment they let him out of sight.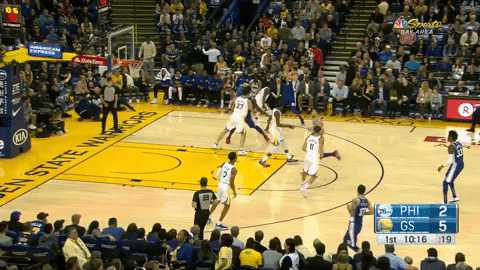 Hounded by Warriors center Draymond Green, Šarić lobs the ball to Embiid in the post – familiarly, he scatters away almost immediately. But the second he sees Green shift toward Embiid, Šarić cuts to the rim and receives a pass – ultimately finishing the difficult floater. Not only are his instincts effective in this instance, his swift action also allows Embiid to release the ball before Green even arrives. (Here's an album of similar plays).
For a player of his build, Šarić's off-ball game is holistically impressive. But what makes him rare at the end of the day is what he could become with the ball in his hands. He's a functional highlight reel when passing out of the post – especially if an opponent decides to send help. And when left alone to operate on the block, he's strong enough to work against smaller defenders.
Off of the dribble, Šarić can be crafty.
When he receives this pass at the top of the key, his defender (No. 22 Kris Middleton) immediately lunges toward him, presumably thinking about his ability to shoot. But Šarić instead chooses to attack; his drive to the hole draws the opposing big (No. 31 John Henson) out of position and opens an avenue to an easy assist. (Here's an album of similar plays).
Šarić the distributor isn't limited to frantic attacks toward the rim, either – he has the poise to operate in a pick-and-roll setting.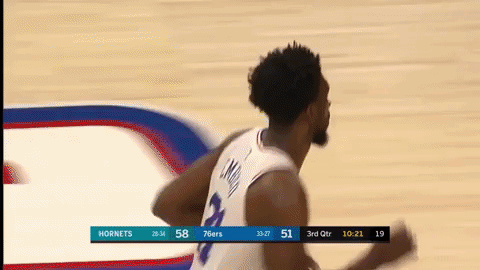 Few NBA frontcourts employ the personnel to run a 4/5 screen play like this. It certainly keeps a defense on its toes – as the Hornets illustrate above, it's just not realistic to expect burly players to defend this kind of action.
Nor is this something that Šarić has been allowed to do with regularity in the past. Behind Ben Simmons in the 76ers hierarchy, he handled just 30 pick-and-rolls last season. That being said, it's the sort of talent that could unlock the Wolves' offense if established, emboldened and refined. (Here's an album of similar plays).
"[Towns] can sometimes pull up. I can sometimes pull up or roll," Šarić's imagined in front of local media Tuesday, "You know? I think we can find a way how to play together, and if I find a way how to play with Joel [Embiid], I think I can find a way how to play with KAT."
His established success in conjunction with Embiid makes it easy to imagine Šarić's fit in this Wolves' offense. The area in which his addition will require careful evaluation is the dreaded defensive end – while Embiid was able to mask his teammate's two-way shortcomings, Towns has demonstrated no such propensity.
Šarić is not a sieve on that end – in fact, he's far closer to average than in any way destructive. He's smart enough to read what an offense is doing and he uses his size against certain opponents. But he doesn't have the brawn to be a reliable anchor nor the quickness to contain wings on the perimeter. This in-between attribute can make him a liability, especially in the playoffs when the game slows down and mismatches are exploited.
To pair him with Towns and cross your fingers is a proposition that carries risk. But just how much could it possibly impact the Wolves' bewildered 30th ranked defense?
Thibodeau's history suggests he'll deploy whatever player helps him win now. It's possible that the duo of Šarić and Towns will be just that, but it also stands to reason that their containment could combust so rapidly that this column becomes a farce. Either way, let's see enough of a sample size to make that decision.
Dane Moore contributed to this story.
---