LAS VEGAS — Summer League in Vegas is suped-up pickup basketball. And with the Minnesota Timberwolves summer squad featuring Josh Okogie and Keita Bates-Diop they possess two of the quintessential pickup hoops characters: The Freak and The Finesse.
"He's like old-school," is how Okogie described his draft class contemporary after Bates-Diop dropped 24 Sunday afternoon — detailing a game reliant on artistry rather than athleticism.
An old school, old man game.
Okogie is the opposite: a blur, invigorated by athleticism. Kris Dunn's rookie season comes to mind as a comparison after watching the first handful of Summer League action of Okogie. Like Dunn, he's just faster than everyone.
Not only on the Wolves roster but, literally, everyone out here.
"I knew he was super athletic before," said Bates-Diop of his new bud. "And now we're seeing how he can guard everybody."
Now, neither is perfect.
Summer League is also full of hyperbole. To that comment, I would say could someday guard everybody rather than can. But this is supposed to be fun. It's a time to get excited about two players who have not disappointed.
While Tom Thibodeau, who spoke to Minneapolis media in Vegas on Monday, dismissed the process of drawing comparisons of either player to another current player — suggesting that is something to do after their careers are over, looking at things in "totality."
Wolves summer league head coach John Lucas III acknowledged seeing some Marcus Smart in Okogie's game. This is an even dreamier comparison than Dunn, and one I draw myself.
For the Boston Celtics, Smart has proven to be an invaluable piece in spite of shooting numbers that scream inefficiency — a career 29.3 percent shooter from deep on a whopping 5.3 attempts per 36 minutes.
For context on that volume, Andrew Wiggins at 4.1 attempts per 36 minutes was the most voluminous starter in the Wolves starting lineup last season.
If Okogie can be close to Smart defensively there is room for even more optimism through the notion that he shot 38 percent from 3 on Wiggins-ish volume at Georgia Tech. However, much like Okogie's defense, his shooting is only a theoretical skill at this point in time.
To duplicate his college shooting efficiency, Okogie will need to make adjustments. The line is deeper; finding space on the floor is different, as everything moves faster.
Josh Okogie said the biggest adjustment to this new level is "speed"

"You have to do the same thing you were doing in college as far as decision making but you have like five less seconds to do it"

— Dane Moore (@DaneMooreNBA) July 8, 2018
Okogie will likely need to seek catch-and-shoot opportunities rather than the off-the-bounce treys that took up a heavy fill of his college shot profile. That will take time. But as a baseline, the Smart-esque effort and aptitude for securing way more loose balls than he should are there.
"Gotta be the first one on the floor and get everything with two hands," said Okogie of the easy ways he can come in early and consistently impact the game. "Defense is something I feel like I can always control."
Defense is the ticket to playing time for Okogie and Bates-Diop and they know it — acknowledging as much each and every game in Vegas. But that lip service only goes so far. Neither player will regularly be thrown out to the wolves this season until they have proven an ability to execute.
Let's go over how their defense, then offense has looked in the admittedly flawed summer league pickup-style setting.
NBA-Ready Defense?
Bates-Diop has stood out. Other than Okogie's athletic prowess, the single-most distinguishable NBA-level skill on display has been Bates-Diop's ability to contest his man's shot on D. Most encouraging was Sunday afternoon in his matchup against OG Anunoby — a bonafide NBA starter, with playoff experience under his belt.
On this play, Bates-Diop stays squared — sternum-to-sternum — with Anunoby and, most importantly, he does this with his hands elevated. When squared with high hands and a 7-foot-3 wingspan, no shot is going to be easy for Anunoby — or anyone else.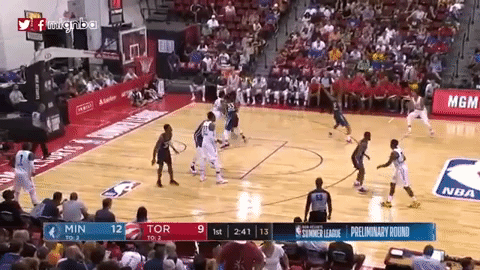 "I think he's ready," Wolves Summer League head coach Lucas told Zone Coverage when asked if Bates-Diop could play defense at an NBA level today. "And he can play multiple positions. He can play the four and the three."
Positional distinctions are basically just semantics in this NBA. Really, it's about how many positions you can defend — and that's what Lucas was getting at. In the game against the Raptors, Bates-Diop was able to check Anunoby (Toronto's 3-man) and even slid all the way to the five, handling 6-foot-10 Augusto Lima — a monster of a man.
"He has so many deflections, taking away the pocket pass. [From] being in the right spot," said Lucas.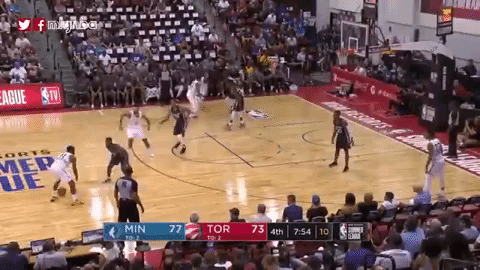 If there is an area of concern with his defense, it would be off-ball. The Anunoby play and all the other blocks were in one-on-one defense and he was also in the action for the Lima pick-and-roll. This concern, again, manifests in concerns about speed — crucial for help and recovery.
What is unclear, at this point in time, is if Bates-Diop's this isn't my problem he has illustrated when not involved in the defensive play is a true flaw or a product of unfamiliarity with his teammates.
But it's there.
Which brings up another odd juxtaposition: Okogie has been great off-ball. Whenever the opponent — any player — has the ball, Okogie is obsessed with getting it back. This is not the case with Bates-Diop; there isn't the same fire. While this burn may be influenced by falling tiers below Okogie in burst, it has been a noticeable differentiator.
This play — or lack thereof — by Bates-Diop in the first game came to mind after Okogie had the massive run-down block the following game. Bates-Diop either gave up here, or physically could not keep pace with the speed of the break. That said, the more important aspect of defense is often the on-ball element and Bates-Diop has far exceeded the effectiveness of Okogie there. He could handle Anunoby; Okogie could not, often confused about where exactly to be.
Carving Out A Spot On Offense
The natural roles parallel to draw for Okogie and Bates-Diop are of the recently departed Jamal Crawford and Nemanja Bjelica but the analogs don't perfectly match up. It seems unlikely, particularly under Thibodeau, that either rookie — given the coach's track record — would be granted anywhere near the same volume of shots or minutes Crawford or Bjelica received.
While the total minutes of the starters were much maligned this season, Crawford and Bjelica were the most-used bench players — 21 minutes per game for both.
And on a per-minute basis, Crawford shot more than anyone on the team last season — save Derrick Rose who got 'em up in nine regular-season games. So, that breaks a bit of the Crawford-Okogie line. The Bjelica to Bates-Diop matching also doesn't totally work because Bjelly had such a tendency to be timid. That does not appear to be in Bates-Diop's ethos — it certainly was not at Ohio State.
While there are some connections to be drawn there, for sure, it will likely be a bit of a cocktail of roles for both players.
Sometimes roles can be better defined by where a player is physically lining up on the offensive end rather than just arbitrarily going off height. And for Okogie in summer league, his spot has often been the weakside corner — almost never functioning as the point of the offense.
On the actual Wolves roster the past few seasons, we have seen this spot filled by a handful of different — relatively short — players.
Spinning back to Thibodeau's first year in Minnesota, Zach LaVine and Ricky Rubio began possessions in the corner during much of The Point Wiggins experiment. LaVine came off from the weak side looking to fire and when it was Rubio, he was a secondary creator — often through dribble penetration looking to pass.
As Dunn grew in favor with Thibs later in that same season and the Wiggins experience finally ended, Dunn received a longer leash that allowed him to play alongside Rubio. He too was positioned in the corner, to start possessions. This was functionally similar to the Tyus Jones role when asked to play off-ball — alongside Point Jimmy or the few occasions he played with Jeff Teague.
But the best comparison for Okogie is how Rose was utilized out of the corner after coming aboard this past season. This is because, like Rose, Okogie is a downhill rim attacker.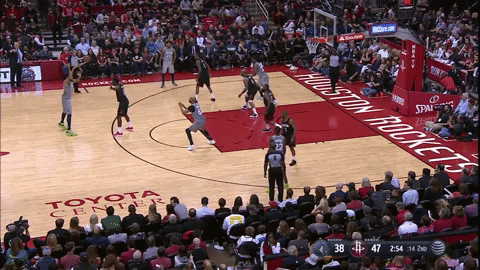 "A guy like me that likes to get downhill, I draw a lot of guys and I draw a lot of attention when I'm getting to the rack," were Okogie's words after his third summer league game and likely was music to Thibodeau's ears.
While players like LaVine, Rubio, Dunn and Jones have functioned in that spot to varying degrees of success, this is Thibodeau's preference for off-ball action: isolation opportunities when the defense is moving.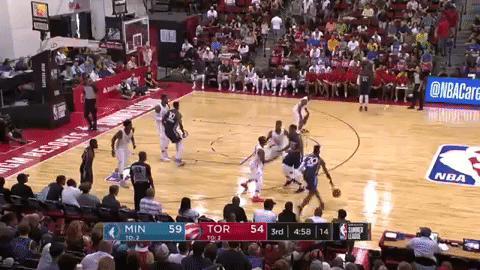 So much of the Georgia Tech offense ran through Okogie but possessions often did not start with the ball in his hands.
"I played off-ball at Georgia Tech as well but it's just that a lot of times when I was off-the-ball it was passed to me," said Okogie. "It's the same thing to me, just trying to make plays looking to score."
In Minnesota, Thibodeau has never had multiple attackers in his bench arsenal. While his allegiances to Rose are clear — likely making the rook a tertiary option — it is possible that Okogie does still get a good chunk of the run here. Perhaps both Rose and Okogie could even play at the same time in the small ball lineups with Jimmy Butler at the four.
Additionally, it is that Butler at the four option that further muddles what exactly Bates-Diop's role can be. If Thibodeau is, in fact, interested in trying to run those smaller units out more often, all bigs — including Bates-Diop — will have less opportunity to see the floor.
But that doesn't mean zero opportunity.
When Butler was hurt at the end of the season, Bjelica, as a jumbo 3, had the ball in his hands a lot. This could be Bates-Diop's role, but with more of a focus on shooting and less so on creating.
A parallel to draw is the role of floor-spacer that Brandon Rush filled two seasons ago. On the floor, this role is about moving away from the ball and into space and being ready to catch-and-shoot 3s within the flow of the offense.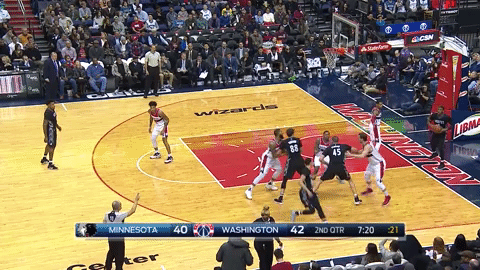 While summer league can be fools gold, Bates-Diop has looked very confident in catch-and-shoot situations. Good shooters in the league have shots that are difficult to effectively contest. This comes from either a quick release (like Rush's) or from a very high release (like Bates-Diop's).
Through finding space and a ridiculously long wingspan — that he uses every inch of in his stroke — Bates-Diop has had no problem firing from deep in Vegas.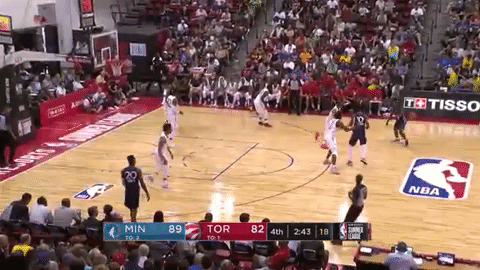 Effective Role Players
Here at summer league, the players that are catching headlines are the DeAndre Aytons and Wendell Carters because those players have flashed star potential. But they were lottery picks and, ideally, that's what they're supposed to do.
The Wolves rookies have also done what they're supposed to do: appear capable of filling a role.
At some point in time, franchises have their core and then they simply need high-quality filler. While this is a new concept for the Wolves — who have been swinging for the fences on lottery rookies for over a decade — it is an important one.
And it comes with the territory of drafting 20th and 48th.
With Karl-Anthony Towns, Butler and Wiggins in the fold, it can be argued that the Wolves don't need a home run out of Okogie or Bates-Diop. A double to the gap would more than suffice. Even if just one of the two are able to consistently contribute in a positive fashion, that will do a world of good for a team that desperately needs second unit help.
Further, it is enticing to see some diversification in the skillsets of the two. After the draft, the initial notion was that Thibodeau simply took the best wings available at 20 and 48. And that may be the case, but these two wings, given what they appear capable of bringing, are more. Not only from the individual versatility but from the summation of their differences.
One part freak, one part finesse is the Wolves new bench wing cocktail.
---
Think You Know Your Minnesota Sports?
Take the Minnesota sports quiz and test your twin cities sport knowledge.
Take the Quiz