The Minnesota Timberwolves' first-round pick (20th overall), Josh Okogie, had the best vertical leap at the NBA combine (42 inches), has a wingspan (7-feet) that stretches eight inches longer than his height (6-foot-4), and he ran the 3/4 court sprint at the combine in 3.04 seconds.
That's a way bigger vertical than Donovan Mitchell, the same wingspan as Andrew Wiggins and a faster sprint than both John Wall and Russell Westbrook were timed at when they were rookies.
Okogie may be the best athlete in the draft.
He also, statistically, appears to be a shooter. Both seasons he was at Georgia Tech, he shot 38 percent from 3 and as a sophomore shot an excellent 82 percent from the free throw line. In many ways, drafting the 19-year-old out of Georgia Tech feels like all of the boxes of both '3' and 'D' have been checked.
But there is a reason that, before the draft, Okogie was ranked 27th by The Ringer, 28th by Sports Illustrated and 31st by CBSSports: He hasn't put it all together. Right now, Okogie lacks polish.
Will Okogie be able to play at a high level in the NBA someday? Sure, he very well could.
Is that day anytime soon? Probably not.
"Playing time is something that is earned; not just given to you," Thibodeau told members of the media shortly after the draft went final when asked about the role Okogie will play this season.
For a player rough around the edges, earning that playing time could take awhile. But he certainly has the opportunity. The Timberwolves entered the draft with two total wings on their roster (Jimmy Butler and Andrew Wiggins).
To jump on that opportunity, it starts with defense.
Butler cut his teeth on the defensive end when he entered the league as that was his path to cracking Thibodeau's rotation in Chicago. With plenty of assertive offensive players already in Minnesota, that also has to be Okogie's path.
"I think the way (Okogie) has come on from where he was ranked coming into college and what he was able to achieve; sort of that all-around game," Thibodeau said reminded him some of Butler. "The ability to guard multiple positions and score in different ways. When Jimmy played as a rookie it was because of his defense and the ability to get to the free throw line. (Jimmy) didn't take bad shots."
That is discipline Thibodeau is describing. And Okogie, a raw athlete without polish, did not have discipline in his game in college. At Georgia Tech, he flew all over the place as a sort of beautiful mess. Okogie played basketball with the electricity of a downed telephone wire still on full blast. How he controls that energy next year will determine his impact on a Minnesota franchise that needs a jolt on the wing right now.
Okogie's Role Next Season
Entering the 2017-18 campaign, the Wolves were desperate to find one extra wing to offset the minutes when Butler and Andrew Wiggins were off the floor. Jamal Crawford was one of the answers but the other backup wing role was a winding road.
Initially, that second wing role went to Shabazz Muhammad, who even started in place of Butler when he was sidelined with a respiratory infection early on in the season. Muhammad was supposed to be the offensive weapon he had flashed in prior seasons, and Thibodeau was hopeful he could play passable defense. But the offense was selfish and ineffective and the defense was indefensibly awful.
Once that hand was folded by Thibodeau and Muhammad was completely removed from the rotation, Marcus Georges-Hunt got a shot. But Georges-Hunt's leash was shorter. The results were inconclusive — due to lack of run — but they definitely were not positive for MGH.
It is this role, a fusion of the Muhammad and Georges-Hunt minutes, that will serve as Okogie's baseline entering the season. The role could certainly expand if the Wolves do not further address the wing position beyond the addition of 48th overall pick Keita Bates-Diop, but Thibodeau and Scott Layden likely will.
"I think we'll take it in steps," said Layden, of continuing to craft the wing position. "We'll try and forecast a bit, but there are no guarantees."
In ways, drafting Okogie to guard wings who fall on the smaller side of the scale and Bates-Diop to defend the bigger wings would seem to cover up many of the needs, but there is more to do.
"We were able to address some of our needs," said Thibodeau. "Versatility is very important for our team. The ability to guard both forward positions. The length to play both sides of the ball."
The Wolves have the midlevel exception to use in free agency to assure those needs are met. The MLE could potentially be the signing of a wing the likes of Avery Bradley or Kentavious Caldwell-Pope. They also have a strong allegiance to Derrick Rose, who played almost exclusively on the wing for the two months he was in Minnesota. And then there is Nemanja Bjelica — a restricted free agent — who began playing on the wing after the Muhammad and Georges-Hunt experiment failed and played 30 minutes on the wing a night after Butler went down with an injury.
Jump on even a couple of those options and Okogie precipitously moves down the wire.
If that happens, it isn't the end of the world. The pick won't have been wasted. Regardless of exact role, the selection of Okogie is a wait-and-see project, just like Justin Patton a year ago. The Wolves drafted Patton because he was the best player available on their board, and again this year Thibs and Layden asserted that same strategy with Okogie.
"With the 20th pick, we knew that we were going to take the best player that was available there," said Thibodeau.
A non-Wolves parallel to draw — related to fit — is Terrance Ferguson, drafted 21st overall by the Oklahoma City Thunder in the 2017 draft. Entering that draft, Oklahoma City was desperate for wings — specifically wing shooters — to surround Russell Westbrook. Following that logic, the Thunder took the best shooter available in Ferguson. But the summer played itself out and happenstance kicked in that landed OKC both Paul George and Carmelo Anthony. Thus: the need for a rookie wing decreased.
The Wolves surely will not acquire two All-Star wings like the Thunder did, but something could happen that lessens the need to play Okogie. This further sets that the Muhammad/Georges-Hunt role — a low bar — is the baseline for Okogie.
Okogie's Player Comparisons
If the Wolves do not strike gold on any free agent wings or swing any meaningful trades, then maybe they just run it back with Rose and Bjelica as the supplementary wing pieces. If that is the case, and Okogie is given a meaningful role, I could see him functioning as a cutter and capable shooter on the offensive end. Maurice Harkless' tertiary role in Portland comes to mind.
Harkless is a great athlete that defends numerous positions and slashes when he's not spotting up from 3. However, the comparison isn't perfect given how offensively headstrong Okogie was at Georgia Tech, where he dropped 18 a game on 13 shot attempts per contest. It would be a major adjustment for him to take on a Harkless or Robert Covington — another popular comparison — background role.
In college, it was Okogie's job to always attack splits in the defense. And he was great at it. Okogie was not only capable of finishing but got to the free throw line at a ridiculous rate (.539 his sophomore year — a higher number than foul-drawing wizard James Harden). In 61 career college games, Okogie shot 10-plus free throws in 13 contests.
Here, he shows no hesitation and cuts through the Duke zone before it is set. Whenever Okogie saw the rim at Georgia Tech he became magnetized to it.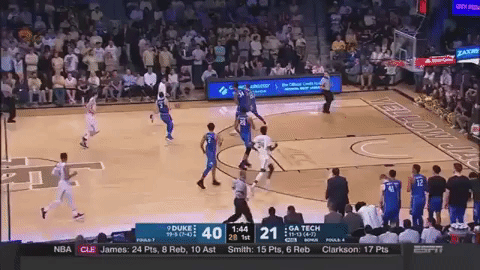 The adjustment for Okogie, at the next level, will be implementing patience. The ball is not going to be in his hands anywhere near as often as it was in college. His touches will be far fewer and further in between while playing for Thibodeau. Surrounded by an infantry of pass second guys, this could be a learning curve that leads to some forcing it.
Okogie has always been a forcer, even when he was getting fed. And sometimes it got ugly.
He's just a really wild player. But again, in a fun sort of way. There will be offensive possessions that he scores that will make it feel like he can just do that every time. And that part of his game, coupled with his tireless effort, is great but, unfortunately, brings back the Muhammad comparison.
Some of Okogie's antics, on the offensive end, will be that of a maddening. "no, no, no, yes!" guy.
But give it some time and, eventually, the comparisons to Muhammad will stop at shot selection. There should be optimism that Okogie can polish himself in a way that Muhammad never figured out.
That polish will also need to be applied to the defensive end, however.
From what I've watched, Okogie gets a little confused on defense. Screens really throw him for a loop and he can easily be distracted. But again, those things can be buffed out. And some of them won't even need tweaking because his athleticism is so powerful, even by NBA standards.
Here, he does not recognize the screen and gets clobbered by it — a bad start — but his strength and speed allow him to get through the screen to recover and contest the shot as well as you could hope.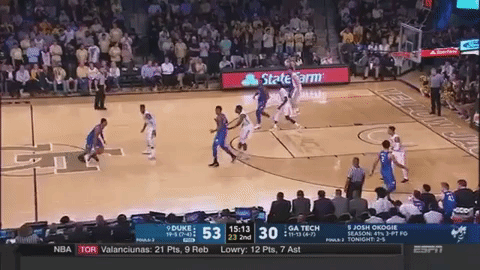 There's so much to be excited from Okogie's game. A real 3-and-D player that revolutionizes the offensive and defensive end is in there. What more could you ask for in the 20th pick?
The catch is that it's going to take a while. And the catch 22 is that it doesn't feel like the Wolves — and specifically Thibodeau — have a lot of time to work with. If Okogie is another prospect in the Patton vein — destined for the G League to start — then this could be one of the final black marks on Thibodeau's resume in Minnesota. Expedite the process of buffing out the rough spots and there is potential that Okogie saves the day. The athletic freak has to come through, and he has to do it fast.
---