"We have to battle… We have more than enough to win."
Those were Tom Thibodeau's closing remarks during his media availability Tuesday afternoon, prior to the Minnesota Timberwolves victory over the Los Angeles Clippers. These words and this belief of the Wolves' head coach aren't new.
'More than enough to win' were the same words used to describe withstanding a month without Nemanja Bjelica earlier this winter. And the same words used to describe how the Wolves would stay in contention when Jeff Teague went down in late December.
In both of those situations, Thibs was right — the Wolves went 9-6 while Bjelica was on the mend, and 6-4 while Teague recovered. This situation is, of course, different; Jimmy Butler's injury is far more daunting.
But Thibs is steadfast; he believes it. It's clear that in his mind, this team has more than enough to make it to the playoffs, regardless of Butler's return date.
"That's what this is all about," said Thibodeau. "The guys who are out there, we have to get it done."
Derrick Rose, One of The Guys
While Thibs was being surrounded by the media circus of reporters and cameras — that seems to be growing by the day in Minneapolis — Derrick Rose was waiting patiently and alone on a stool not more than five yards away. Rose was next up to address the media. As Thibs spoke, Rose peered through the cameras spinning an off-green medicine ball in his lap as he listened.
As soon as Thibs muttered 'we have more than enough to win,' Rose stood up from his chair — seemingly knowing this was a closing remark. As Thibodeau cleared the circus, Rose entered with medicine ball-in-hand.
The move was distinctly familiar. It was the same air of ease and confidence that Butler would enter the limelight with. A move made with a comfort that said: I know what I'm doing. I belong here.
A look at Rose's aggregated statistics would make this sentiment seem silly. As a whole, Rose has maimed the Wolves when he has taken the floor.
In his first three games in Minnesota, Rose played a combined 32 minutes and in that time the Wolves were outscored by an almost unfathomable 37 points. But Rose's confidence did not wane. Perhaps this was the case because Rose knows that his coach has an almost blind faith in him.
Despite the dismal beginning, Thibodeau increased Rose's role in his fourth game with the team — Sunday night against the Rockets. In that game, and back in Minneapolis, Rose played the entirety of the fourth quarter and in that stint galvanized a surge that took what was once a 25-point deficit down to five. Rose's energy levels were off the charts and his often questioned athleticism was on full display. Simply put: Rose made Thibs look smart. "I haven't played in a long time, so of course, I'm going to look rusty the first couple of games," was Rose's explanation for the quick pivot to effectiveness. "It's onto the next. You're gonna be on a rollercoaster where you have great games and bad games."
For a Wolves team that currently sits on the fringe of playoff contention, the quantity of those great Rose games versus bad Rose games could be the difference between landing in the fifth or sixth seed and missing the playoffs. That difference is — in part — controlled by the way in which Rose is utilized by Thibodeau.
Rose's Playing Time
When Rose was signed, the move spurred all sorts of questions. In the questions pertaining strictly to his utilization, two were key: Will Rose be part of the nightly rotation? Will Rose take away from Tyus Jones' playing time?
The answer has been yes to the former and no to the latter — a holistically surprising development. The belief was that with Rose, a point guard, could not play without affecting Jones' playing time.
While Rose's minutes have increased game-over-game (seven versus Golden State, 11 versus Washington, 15 versus San Antonio, 19 versus Houston and six versus Los Angeles before spraining an ankle), Jones' minutes are the same.
Since the Rose signing, Jones is averaging 14.6 minutes per game.
His season-long average is 17.8 minutes per game but that number is inflated by the 33.7 minutes per game Jones averaged while starting in place of Teague. In non-starts, Jones' average is 15.2 minutes per game.
While it would be fair to say that Jones deserves a bigger role and that Rose's playing time eliminates that possibility, it would be untrue to say Jones' playing time has been decreased since Rose was signed.
The reason Jones' minutes have not decreased is that, apparently, Rose is not a point guard. Every minute Rose has played has been alongside one of Jones or Teague. The term to use is probably shooting guard because Rose is always the shorter of the two wings next to Jones and Teague.
"It's my 10th year, I think I can adjust to any team," Rose said when asked about playing a different position. "I think I can play with anyone. That's not being cocky or that's not me boasting, it's just the confidence that I have. It's all about rhythm — just like everything else in life."
Whether or not it bears out in the numbers, Rose's new teammates agree. Every player who has commented on Rose makes it a point to dismiss not only this season's numbers but the statistics of Rose's recent past. After the signing, Jamal Crawford said: "I trust what I see."
Rather than lurking in the depths of player efficiency rating or real plus-minus, the thought is that when comfortable and — more importantly — when healthy that the 29-year-old Rose can still hoop.
Their play alongside Rose is a physical manifestation of this idea; they don't treat him as a washed up vet that is limited to a specific role a la Mike Miller stroking 3s from the corner. Instead, there is a belief that Rose can flash the player he once was, so long as the role is right.
Anecdotally, this end of the first quarter sequence is a prescient example of Rose initially playing the wrong role and faltering.
It features Crawford — a late clock specialist — relegating himself to the corner as time winds down. Twenty-five percent of Crawford's total field goal attempts have come "late" in the shot clock this season — as defined by NBA.com/stats — clearly indicating that this is his job with the second unit. Yet he relents to the former MVP who fumbles the drive — ironically — into the hands of Crawford.
Here is Crawford — without Rose on the floor — demanding the ball late shot clock; back in his role.
This is one example of the over-arching problem of Rose's first few games: his teammates were giving him jobs that were already filled. If those games can be compartmentalized as the adjustment period, then the fourth and fifth game — where Rose's role and play were effective — can be viewed optimistically.
Thibs too should be blamed for Rose's ineffective role in those games because he played him with Jones, Crawford, Gorgui Dieng, and one starter. This apparently put too much stress, and too big of a role, on Rose.
But Thibs should equally be lauded for adjusting. The rotations have been tweaked and in the last two games — Rose's good games — he has had more than one starter in that group; most notably playing alongside Teague, rather than Jones, appears to help.
When Rose's role is one of an on-paper tertiary option, there has a been greater success — notably the fourth quarter of the Houston game (4 of 6 shooting for Rose) and the second quarter of the Los Angeles game (also 4 of 6 shooting). Uncoincidentally, the majority of those minutes came alongside Jeff Teague along with another starting big man.
When Rose is surrounded by superior offensive weapons, he is inherently freed. On this play, Rose is defended by the Clippers weakest defender on the floor, Milos Tedosic, because Los Angeles is rightfully more concerned with defending Karl-Anthony Towns and Crawford. Through this gravity to Towns and Crawford, Rose is put in a position to attack Tedosic without any help.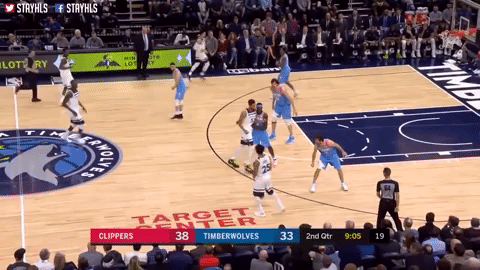 Rose is definitely still dangerous in one-on-one isolation, particularly if the rim defender is not in the lane — as will often be the case playing alongside Towns.
"Thibs is doing a great job of putting the right group in with me when I'm out there," said Rose.
This seems to be true, now. Initially, Thibs leaned too much on Rose by asking him to be a primary scoring option for the second unit but he has relented. With Rose, now, playing with more starters — through rotational adjustments — the fit is no longer awkward. Rose even appears to be freeing up those teammates.
Just as much as Crawford and other teammates gave Rose a healthy serving of respect early on, opponents seem to have a similar dissonance towards Rose.
At times, he is still treated by defenses as an elite weapon. When this happens — when the defense forgets in the midst of a play that a Rose penetration is less effective than a drop-off to Towns — the Wolves and Towns eat.
When Rose was signed, the move didn't make sense for a number of reasons but perhaps the biggest reason was that there just did not appear to be a role for Rose given his skillset. The concept of helpful role player is typically informed by the ideology that said player can fill a void. For the Wolves, the void was shooting and defense — two clear weaknesses for Rose.
What the Derrick Rose experience has informed is that there can be helpful roles out there that don't fill specific voids. Would it be better if the Wolves would have signed a wing defender who can also knock down 3s? Probably, but given the market after Butler's injury there were not a ton of those options to be found.
Rose at a minimum salary is filling a different role that lies somewhere on the margins. Through purely on-court contributions, Rose's recent performance seems to glean the possibility that this could work in the right and limited role. The former MVP has shown flashes of ways that he can help the team without throwing the rotations off their axis.
"I mean that's why I'm here," said Rose. "Whatever the team needs. Like I said coming in, 'I'm not trying to step on anyone's toes.' My job is to come in and push everyone and to support the team."
This sentiment has been present of late. While there could be issues with playing time and ball dominance once Butler returns, for now, Rose seems like a piece that could help bridge the gap to that return.
Thibodeau deserves credit for the move. It's a vision few had in a player who appeared to be on his way out of the league. He also deserves credit for fostering an environment that Rose feels comfortable in. Given Rose's history, that comfort may be the most important variable.
If Rose continues on this rollercoaster with more ups than downs, Thibs may be right again. The Wolves may have more than enough to win.
---