With the fewest 3-point attempts in the league and the league's ninth-slowest pace, the 2017-18 Minnesota Timberwolves were the antithesis to pace-and-space. Much to the chagrin of the fan base and definitely those who opine on the team, this style received the labels of 'grating' and 'hard to watch.'
But now the 2018 playoffs have happened and there has been a referendum on this 'ugly' style of basketball.
Threads of Tom Thibodeau's coaching scheme were present from all four conference finals teams. Most notably: The leveraging of isolation scorers on offense and the defending of ball-screens with only two defenders.
The pace-and-space era evolved this spring into isolation-and-switchability. Being capable of switching defenders on screens is a strong (arguably the strongest) counter to the spreading of the floor and the relative rush into possessions to which viewers have become accustomed. Switching's core strength lies in the fact that it allows the defense to guard a ball-screen or pick-and-roll with just two players.
Here, Draymond Green and Steph Curry switch this sideline pick-and-roll without forcing any of the Warriors' three surrounding defenders to shift towards helping the ballhandler. With Klay Thompson staying at home, he is in the passing lane of Harden's skip pass.
Switching is a counter to pace and space, which leads to a second counter: isolation, with elite one-on-one scorers. When choosing to isolate, an offense is saying: okay, you're going to switch. We are going to make sure the ball ends up in our strongest scorers hands while defended by the smallest of your switch-y defenders. Timberwolves Focus On Isolation
Much like the Warriors, Rockets, Cavs and many other teams in the playoffs, so much of the Wolves offensive ethos this season came from prodding for isolation. The team's strongest option to score is, was and always will be touches for Karl-Anthony Towns; but the Wolves — and their fourth-ranked offense in the league — supplemented that weapon with the isolation abilities of Jimmy Butler, Andrew Wiggins, Jeff Teague or Jamal Crawford.
All four of the Wolves' wing isolators were in the top-33 of the NBA in field goal attempts out of isolation. While this often had the feeling of a possession devolving, the reality was that isolating was simply higher on the Wolves priority list of scoring options than an average NBA team. The Wolves opted for one-on-one where another team would have been more prone to quickly swing the ball at the end of the shot clock to find a 3 — even if it was contested.
While these type of Minnesota possessions often received the label of grating or gross, the reality is that it worked as a complementary piece to the league's most prolific offensive big.
However, for the Wolves — when compared to the teams who made deep runs in the playoffs — their isolation scorers, as a group, were not a great option:
| | | | | |
| --- | --- | --- | --- | --- |
| | Isolation Frequency | Isolation Field Goal Attempts | Isolation Points Per Possession | Isolation Effectiveness |
| Crawford | 19.8% | 152 | .87 | 55th percentile |
| Teague | 14.3% | 129 | .98 | 74th percentile |
| Butler | 12.8% | 120 | .93 | 67th percentile |
| Wiggins | 8.7% | 113 | .67 | 18th percentile |
The reasoning for this lack of proliferation is likely two-pence:
Reason 1: Isolating More Than Talent Suggests
Both Butler and Teague were more than effective in isolation this season, and therefore their usage in those situations was fine. The same cannot be said for Crawford and Wiggins.
A player like Crawford does not have the skillset to be a scorer who uses isolation on a fifth of his possessions like he did. At 38 years old, Crawford does possess a high-level pull-up game in isolation — he made 46 percent of his 2-point field goal attempts when defended "tight" or "very tight," per NBA.com/stats — but does not have the physicality to get to the rim and finish in those situations. Crawford took the 20th most shots in the league in isolation this season but only drew fouls on 6.3 percent of those iso possessions. To find a player who drew fewer fouls than Crawford in isolation, you have to go down to the 56th player on the list in total isolation shooting volume (Buddy Hield).
For Wiggins, the physical tools may be there in strength and athleticism but the execution is not. Wiggins has never been able to make mid-range jump shots — in either isolation or catch and shoot — at a high level. For his career, Wiggins has made 37.3 percent of shots from 8-to-16 feet, and this season that number plummeted to a career-low 34.8 percent on 230 attempts. Only Ben Simmons, Dwyane Wade and De'Aaron Fox took 150 mid-range jumpers and made them at a worse clip than Wiggins this season, per NBA.com/stats.
Getting to the line is also an important factor in effectively isolating. Wiggins was actually great at drawing fouls through his first three seasons in the league, but this season that frequency also plummeted; perhaps due to his ineffective free throw shooting this season (64 percent). It seems likely that Wiggins will excise those free throw shooting demons next season, but his surrounding skillset suggests he is unlikely to ever be even a Jamal Crawford-level isolator due to his shot selection and inability to make contested jumpers.
Wiggins fell in the 18th percentile of the NBA in isolation efficiency this season despite shooting the 33rd most such shots. No other player in the top-33 was lower than the 35th percentile. Reason 2: Not Finding Isolation Mismatches
Scoring in isolation can be intoxicating. It's one of the game's few opportunities to assert one individual's dominance over one player; an opportunity to go back to the hoop in your driveway or the park in your neighborhood as a kid. That intoxication can be addicting, and when striving to be successful in the NBA that dependence can be a problem. For the Wolves, their isolations seemed to grasp onto that intoxication and became a stumbling block in terms of finding efficiency.
Just trying to get buckets, ignorant of who is guarding you, is a poor tactic.
To effectively utilize isolation in a team concept, you have to pick your spots. Again, this has been the type of effective isolation that has been taking places in the playoffs. Whether it was all 275 pounds of LeBron seeking out Rozier or Kevin Durant shooting over the top of a player that would have to jump to give him a high five, the playoffs were a leveraging of elite isolators over defenders who couldn't match wits. For the Wolves isolation style, this seek-and-destroy tactic against modern defenses provides a blueprint that is fairly easy to implement. Rather than simply trying to destroy with Butler and Teague — and situationally Towns — the Wolves can be more proactive in implementing changes that allow for the seeking to happen.
One key piece that stood in the way for them this past season was time. There are only 24 seconds on the shot clock to seek with, and the Wolves struggled mightily to execute in a timely manner. Only the Memphis Grizzlies — who lost 60 games — attempted more shots in the final four seconds of the shot clock than the Wolves, per NBA.com/stats. If Thibodeau wants to run an iso-centric offense that's fine, but he needs to find a way for his team to get into their offense quicker. Too often the ball was walked up the floor at the speed of dripping molasses.
This season, as a subsidization for multiple big men who prefer to score in the post, New Orleans head coach Alvin Gentry implemented a six-second half court violation rule for his Pelicans team and reprogrammed the shot clock down to 18 seconds in practices. The result: The Pelicans played with the fastest pace in the NBA.
The Wolves may not have the shooters to run a space-based offense, but they do not need to neglect pace. Expediting the process into their actions could leave time to seek. In turn, they could pursue the isolation they want rather than just taking what is there with four seconds remaining on the shot clock.
Steve Nash put it best when describing what the Seven Seconds Or Less Suns were about:
"It was a relentless willingness to run when it was there, and if not, don't walk the ball up the court."
Timberwolves Defending Ball Screens With Two Defenders
While the playoffs have seen players like LeBron and Durant leverage their isolation prowess, the defensive style of switching has also largely been successful. Again, this success has come from not needing to pull a third defender into a pick-and-roll. The dream is to have five capable defenders who can seamlessly switch each and every screen. If a team can switch without losing a beat, no advantage is being given to the offense.
When LeBron or Durant wasn't involved in the action, this style largely worked for the defenses of Boston and Houston, respectively.
Al Horford switches pick-and-roll onto George Hill: Clint Capela picks up Steph Curry in transition: Another tactic for not involving a third defender in ball screen action is implemented by Thibodeau and the Wolves. Against the Rockets, the Wolves had success "dropping" Towns against Harden ball screens, so long as Butler was the defender at the point-of-attack (Harden's initial man).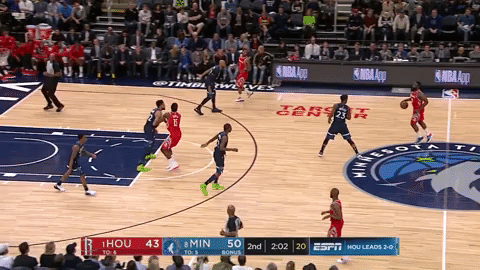 By dropping Towns all the way to the edge of the restricted area, Butler has time to recover to the play. In ways, the drop is a concession that the big man (Towns) cannot fully switch onto the ball handler (Harden) but it also forces Harden to take a mid-range jumper or come into the paint, where Towns becomes a plus-defender.
Now, this did not work to its fullest against the Rockets. Houston quickly countered by peppering Clint Capela with lobs, but that is a matter of executing the next step of the defensive process. The initial pick-and-roll defense was largely a success for the Wolves. Harden made only 15 of 42 (35.7 percent) of his shots taken in the paint during the series.
Thibodeau's Chicago Bulls implemented this dropping style to perfection earlier in the decade. They were one of the first teams daring enough to attempt defending a pick-and-roll with only two defenders.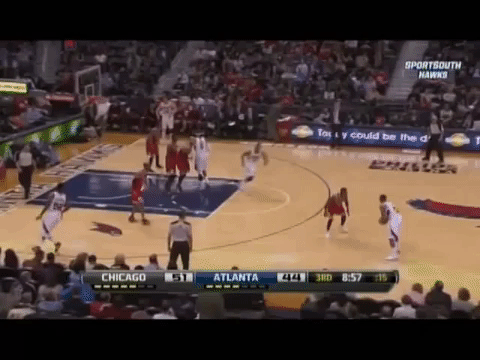 The reality in 2018, where we have high definition feeds unlike the above clip, is that many teams are now defending pick-and-rolls with two defenders. Again, that is most often happening through switches. The teams that are not switching are the teams that do not have the personnel to do so. The most recent example being the Cavs, who can't switch due to the slow feet of Kevin Love and Kyle Korver.
For the Wolves, it's not as clear that they do not have the personnel. Certainly, the bench — which played Crawford and Nemanja Bjelica a combined 3024 minutes — did not have the manpower to effectively switch, but the starters may have what it takes.
Of the group, Teague is the one who would be most apt to be exposed in a switching scheme. But it isn't uncommon that switching base defenses have a weak spot at the point; the Celtics certainly had this during the regular season with Kyrie Irving and then Rozier in the playoffs, yet they switched incessantly.
Crawford is reportedly gone for next season and Bjelica, a restricted free agent, could certainly be shown the door. Replace those two in free agency with players who have shown a switching pedigree, and the Wolves have a full rotation of players who could theoretically get by with a switch-heavy base defense — and thus a second way to defend pick-and-rolls with only two defenders.
The Thibodeau scheme — on both sides of the ball — was ribbed throughout the season for its seemingly antiquated nature, and in ways that was fair. The lack of pace and the dearth of 3s attempted needs to change. However, if those areas can be addressed, the Wolves have threads of their system that make a lot of sense in the playoffs. Thibodeau has an offensive system that can punish mismatches with a few tweaks, and they also have the defensive personnel — along with one already decent defensive scheme — for winning playoff basketball. Now is the time for adjustments, and the playoffs have informed how and where those adjustments can be applied.
---
Think You Know Your Minnesota Sports?
Take the Minnesota sports quiz and test your twin cities sport knowledge.
Take the Quiz