When Jimmy Butler's trade demand went public in September, Andrew Wiggins' brother used social media to express some sort of relief: "Hallelujah" is all he said, presumably on behalf of his sibling. Almost immediately, Butler quipped back with an Instagram post of his own in which he directed Wiggins to "keep that same energy," a not so subtle jab at the player's oft interrogated motor.
Butler's internet-dig was a culmination of sorts; an apropos encapsulation of what made his Twin Cities tenure so volatile throughout: whether a result of porous leadership, fleeting chemistry or something else, Butler never felt that his fuming competitive fire was matched by a number of his Timberwolves teammates.
But ever since he was dealt to the Philadelphia 76ers in a trade that returned Robert Covington and Dario Saric, energy – or, more bluntly, effort – has gone from bane to boon for the Wolves. Maybe it's just been a long honeymoon phase; maybe a more favorable schedule has helped this group's appearance; maybe it's all a statistical anomaly. But right now it's real – both the eye-test and the numbers substantiate what viewers have noticed of late: this previously apathetic bunch is playing with heart.
At large, that evolution is bearing out through defensive performance; since the trade, the Wolves have improved from 29th to second in terms of efficiency on that end. More specifically, it's corroborated by their success in transition containment – an aspect of defense that relies on wholesale commitment to hustle.
Defending in transition – or before a team has time to get set – is a fundamental aspect of providing resistance against an opponent's attack. As the Wolves know well, the easiest way to limit time in transition is to cut down on turnovers on the offensive end – mistakes that often lead to quick counter-punches.
Through the Wolves' first 13 contests of 2018-19, this was a strategy they seemed to employ. Before Butler was finally dealt, they sat third in the league by turnover rate; rarely conceding a possession for free. But nevertheless, the same group was allowing 17.1 (15th ranked) points off of turnovers; opponents scored with ease after their mistakes.
And since Covington and Saric were added to the fold, that turnover mark has actually worsened: over the Wolves' most recent 11 game stretch, they've slipped to 17th by turnover rate – a precipitous regression from where they previously stood.
But staggeringly – despite said uptick in quantity of lapses – the new-look Wolves are allowing fewer points off turnovers than almost any other team.
In this specific area, the Wolves have been stout — the before-and-after film tells a tale of two teams.
___
There are several stylistic pillars of defense in transition that almost any basketball team will uphold. First and foremost, the goal is always to defend the basket. Subsequently, the leading player back in such a situation is instructed to sprint toward the hoop. In doing so, they limit the layup and an offender's ability to find a breakaway pass.
In the play below from October against the Cleveland Cavaliers, the Wolves demonstrate what not to do.
After Karl-Anthony Towns' turnover puts the Cavs in transition, Kevin Love gathers possession with an eye down the floor. Jeff Teague, meanwhile, makes a costly mistake that allows Cedi Osman to score an easy layup.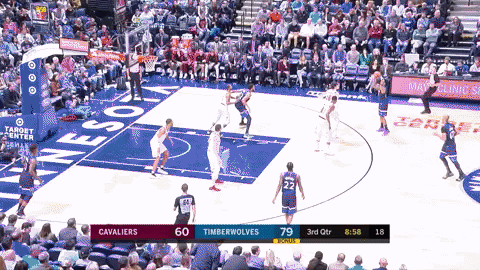 As the Wolves first player back in defense, Teague should move quickly to get out in front; instead, he chooses to backpedal and focus on the ball. While Teague is preoccupied, Osman sneaks behind him and gets to the basket before anyone else.
Teague's gaffe in this instance is an unwillingness to hustle – but he wasn't the only player making similar mistakes early in the season.
The second defender back in a transition situation normally slows down whoever has the ball. From there, the remaining three players use their own swift discretion to identify a threat to match up with in space. In the modern NBA, this latter phase is integral; it's the only way to prevent a transition three.
As Wiggins will illustrate in this play against the Pacers, everyone must execute their designated responsibility.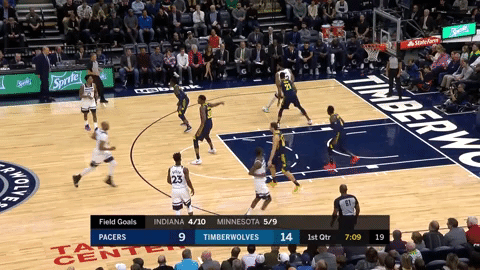 When Indiana sprints into transition, Butler retreats toward the basket, taking away the Pacers' easiest option. Teague, meanwhile, does a good job to keep up with the opposing ball-handler, forcing him (no. 2 Darren Collison) to make a pass to the wing. But Wiggins – who should be rushing back to cover Bojan Bogdanovic (no. 44) on the perimeter – is merely jogging toward the action; his lethargy allows the wide-open bucket.
Different play callers will implement a strategy that varies on the margins, but this is an outline that guides a majority of teams; its simplicity makes clear that effort is paramount.
"Right now in the NBA, the hardest part is transition," Charlotte Hornets head coach James Borrego said before Wednesday's contest at Target Center, "Like, how do I get matched up when there's just flow? … And you can't just run back to the guy coach said [before the game]. Like, 'you get [Andrew] Wiggins tonight.' You don't just run back to Wiggins, because other guys are open."
In the pace-and-space era, everyone in transition must be accounted for quickly. And as a result, it often boils down to just how much a team is willing to care; through the first calendar month of this up-and-down campaign, evidence amounted that the Wolves were falling short. But over the last several weeks – since this downtrodden group got a much-needed shake-up – that capacity has begun to show signs of expansion.
At the beginning of last week's 39-point rout over the San Antonio Spurs – before the game was eventually blown off its hinges – the Wolves allowed an early transition opportunity. But contrary to what was common early in the season, they executed well to prevent a counter attack.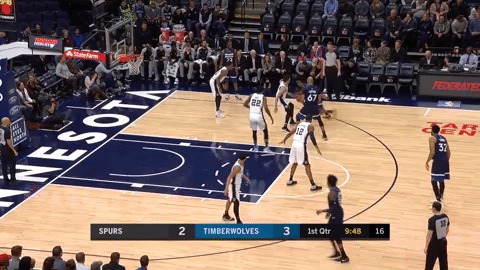 Immediately as Teague loses the ball, Towns, Wiggins and Covington put their heads down to hustle – that their first steps are with purpose is a breath of fresh air. Towns stays ahead as a last line of resistance, but focuses on the ball-handler (no. 22 Rudy Gay) so nothing comes simply. Wiggins, meanwhile, is attached to Gay at his other hip and ready to contest any shot he can fashion. Ultimately, Covington makes another stalwart play – stripping the ball as it's passed to the Spurs' center (no. 12 LaMarcus Aldridge).
"Guys are watching me a lot, watching the little things I do on the court," Covington recently explained, "Whether it's hustle plays, guarding your man, stuff like that is contagious."
But it's not just Covington's individual brilliance that's leading to the Wolves' recent advancement; though he may be its catalyst, the group as a whole is deciding to make plays.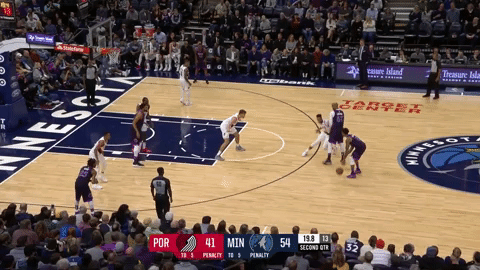 Nor does this progress rely on the sort of flash that Wiggins shows here. Instead, a positive outcome can often be defined by a shot that is never attempted.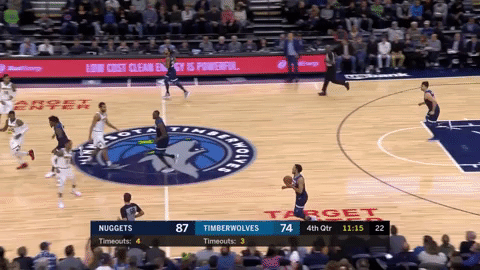 After Tyus Jones coughs the ball up to the Nuggets, Derrick Rose, Covington and Saric begin to sprint back. Because of their quickness, the Wolves end up having three players in position and the Nuggets are forced to slow to a halt.
Covington is right. Hustle is contagious, that much has become clear in this short span of time.
"I think we're starting to realize … the importance of communicating and sprinting back," head coach Tom Thibodeau explained when asked about this growth. "I just think it's gotten better."
And none of this is to say that the Wolves' success on the break is what's spearheading a majority of their defensive 180; strides have been made all across the board – from pick-and-roll execution to protecting the paint to grabbing the rebound that caps off a possession.
Rather, the sturdy clamps they're applying in transition are a refreshing juxtaposition against the perception of indolence that Butler bemoaned. Moving forward with a newfound identity, the Wolves will look to keep this same energy and prove that it hasn't been a flash in the pan.
Dane Moore contributed to this story.
---
Think You Know Your Minnesota Sports?
Take the Minnesota sports quiz and test your twin cities sport knowledge.
Take the Quiz