The 2017-18 Timberwolves unearthed a dichotomy of emotions. On one hand, a reassembled roster finally ended the 14-year playoff drought that had plagued this franchise since the days of Kevin Garnett. On the other, a five-game thrashing by the Houston Rockets revealed the steep climb that remains.

"I mean, when you haven't done something for 14 years, it's a major step for our organization," Tom Thibodeau said during a press conference after their defeat, "and it's not easy to do… When you lose for 14 years, that says a lot. And to change it, it's a massive change in your culture."

When free agent acquisitions are introduced to local media, no longer will they be asked about bringing an end to their new team's historic incompetence. For players considering any contract in Minnesota, this is now an ascending group that has made tangible progress. And for Karl-Anthony Towns and Andrew Wiggins, finishing just one win away from their conference's fourth seed should help introduce an every-game-matters mentality.

Even so, the additional spotlight illuminates a team with glaring holes. A fundamental lack of outside shooting dampened their ceiling as an offensive unit, they finished 22nd across the league in terms of defensive efficiency, per NBA.com/stats, and Thibodeau trusted just three players to chew up minutes on the wing. Still, they lack financial flexibility to address all of these problems at once; continuing down this path of progression will rely on modest but astute transactions by a front office still in its infancy.
The Wolves are not alone in their monetary restraints. Portland and Denver — two key western conference foes — began the offseason in similar situations. The Blazers, in the end, parted ways with fan and team favorite Ed Davis, signed Seth Curry rather than extending the qualifying offer to Shabazz Napier, resigned Jusuf Nurkic and got Nik Stauskas on a minimum contract. The Nuggets, in order to avoid the luxury tax, traded away Wilson Chandler, Kenneth Faried, Darrell Arthur and three future picks.
Under the shadow of an increasingly daunting Western Conference playoff picture, the Wolves' 2018-19 off-season opened with myriad pressing financial questions to answer themselves. Thibodeau had to make decisions — with zero cap space — on Cole Aldrich, Nemanja Bjelica, Derrick Rose, two draft picks, potential free agents, contract extensions for Towns, Jimmy Butler and even Tyus Jones.
The summer began at the NBA Draft, where a year of improvements left the Wolves with the 20th and 48th picks. Such an obvious need on the perimeter made it easy to pinpoint the type of prospect that Thibodeau would covet. To his benefit, the 2018 class was littered with wings that showed both defensive and shooting aptitude.

After a run of such players flew off the board from 17 to 19, the Wolves selected Josh Okogie – a sophomore shooting guard out of Georgia Tech – with the 20th pick. Okogie is an unwavering on-ball defender who utilizes his 7'0" wingspan and strong frame to defend multiple positions and bust through screens. In the ACC and at the Las Vegas Summer League, he displayed the sort of non-stop motor that his new head coach seems likely to reward.
At Georgia Tech, he was forced into the role of primary creator for a limited offense. As a result, a very unrefined ability to attack the rim plummeted his efficiency as a scorer. Nonetheless, he converted on 82 percent of 6.8 free throws per game and 38 percent of 4.2 3-pointers attempted as a sophomore.
His size, play style and numbers at the amateur level strike similarities to fellow GT alumni Iman Shumpert. An ineffective scorer in college, Shumpert' defense acumen, and athleticism convinced the Kings to select him with the 17th pick in 2011. Okogie, to his benefit, has shown more touch as a shooter than Shumpert ever has. But at just 19 years old, it will still be a project to help him unlock his high potential.
Several hours after the Okogie pick, the Wolves took Keita Bates-Diop, last year's Big Ten player of the year, in the second round. When the night concluded, Thibodeau explained that "[Bates-Diop] was in the discussion at 20 for a long time, sometimes it just works out that way and we felt we were very fortunate."

Bates-Diop played four years of college ball at Ohio State University. Standing 6'8.5" with shoes on, sporting a 7'3.25" wingspan and weighing in at 224 pounds make this combo-forward an intriguing specimen for the modern NBA. Though he connected on a middling 36 percent of 5.4 attempts from beyond the arc during his final season at OSU, his length, fluidity and confidence from deep are promising attributes. He was also a tenacious defender in college; his 1.6 percent steal rate and 5.9 percent block rate as a senior are excitable numbers despite his relatively old age. Okogie, by comparison, had a higher steal rate of 2.9 percent as a sophomore, but a far inferior block rate of 2.8 percent. Bates-Diop's ability to use his length and disrupt a shooter's motion was on full display in Las Vegas.

But a lack of explosive athleticism that also surfaced at summer league raises questions about Bates-Diop's upside as a two-way contributor. He's never been especially prolific creating for himself with the ball in his hands, and a tall, slender frame may hinder his ability to match up against multiple positions on the defensive end.
Still, the Wolves wound up with two perceived first-round talents who are both in position to bolster an area of need. For a generally middle-of-the-road team with hopes of improving, finding a diamond in the rough through the draft may be their best chance to make a jump.
Immediately, focus turned to free agency. Though they've only come to terms with one new player, a handful of dealings – given that financial bind – had to be executed to make that move possible. First, Wolves brass waived and stretched Cole Aldrich's contract before its final year. At this point, the 29-year-old Bloomington native will be owed about $2M spread out across three seasons ($685K a year) from his former team, but releasing Aldrich created an additional $5 million in space below the luxury tax line. With Derrick Rose agreeing to return on a minimum contract and Nemanja Bjelica's qualifying offer being withdrawn, Thibodeau had room to maneuver. Minutes after dismissing Bjelica, reports surfaced that the Wolves were set to sign veteran free agent Anthony Tolliver to a one-year, $5.75M contract.
Tolliver, a 33-year-old combo-forward, has played for nine different teams throughout 10 years in the league. A consummate professional, leadership qualities may be his most appealing characteristic to a team that just lost both Aldrich and Jamal Crawford. On the floor, Tolliver is a sound two-way player, though he's especially potent as an offensive threat.
During three of the last four seasons, he's averaged more than seven three-point attempts per-36 minutes; each year connecting at over a 36 percent clip. In 2017-18, he shot a career-high 43.6 percent from deep on 7.5 takes per-36 minutes. Tolliver's improvement was aided by a newfound efficiency and confidence from well beyond the arc.
Here, his decisive nature and quick release are on display; both delineations from Bjelica's tepid tendencies.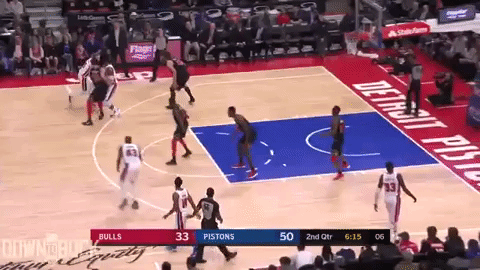 But Tolliver shouldn't be expected to duplicate a career-year. Throughout his NBA tenure, he has experienced the turbulence of shooting as much as anyone.
| | | |
| --- | --- | --- |
| Season (Team) | 3PA Per-36 minutes | 3P% |
| 2010-11 (MIN) | 3.0 | 40.1% |
| 2011-12  (MIN) | 4.1 | 24.8% |
| 2012-13 (ATL) | 5.0 | 33.8% |
| 2013-14 (CHA) | 6.9 | 41.3% |
| 2014-15 (PHO/DET) | 7.3 | 36.6% |
| 2015-16 (DET) | 7.3 | 36.0% |
| 2016-17 (SAC) | 5.6 | 39.1% |
| 2017-18 (DET) | 7.5 | 43.6% |
Whether 2018-19 is an up or down year, though, he'll enter Mayo Clinic Square as the Wolves most dangerous threat. What's especially captivating about Tolliver's fit on this team is his willingness to stay within the confines of his strengths. Among players who appeared in more than 50 games last season, Tolliver ranked 11th of 311 by the portion of points generated from three-point range (67.9 percent). By that measure, he finished ahead of well-known three-point specialists Trevor Ariza (65.2), Joe Ingles (65.1) and Ryan Anderson (63.7). Staggeringly, almost all (4.5) of Tolliver's 4.6 attempts per game came via catch-and-shoot opportunities, an encouraging addition to a team that has relied on creators like Wiggins, Bjelica and Crawford to fashion shots for themselves.
At the other end, Tolliver has never been elite. He's not a stopper on the wing, nor does he possess the athleticism required to block shots or make flashy plays. But as a team defender, he can be counted on to read an offense and make smart decisions. With the Pistons – under Stan Van Gundy – Tolliver gained experience within a system that is similar to Thibodeau's. Both head coaches employ a style of pick and roll defense (drop coverage) in which the person defending the screener 'drops' and meets the ball handler, allowing the individual being screened to fight through and avoid switching into a mismatch. Systematic familiarity, as seen below, was likely a key driver in Thibodeau's motivation to target Tolliver.
As Pistons' point-guard Reggie Jackson gets screened, his teammate Eric Moreland (24) demonstrates the first step of drop-coverage by staying square with the Knicks ball-handler and allowing Jackson to recover. Enes Kanter receives a pass in the lane and is immediately met by Anthony Tolliver after a well-timed rotation. Tolliver will be asked to make similar plays as a member of the Wolves, and whether this kind of comfortability allows him to thrive in Minnesota or not, he'll be a key cog for Thibodeau's second unit.
Though it may appear a sideways move from Bjelica, agreeing to terms with Tolliver eliminated the risk of losing out on both forwards should Bjelica have been offered a lucrative deal in restricted free agency.
All but strapped for cash, an outline of the 2018-19 roster is rounding into form:
| | | | |
| --- | --- | --- | --- |
| PG | Jeff Teague | Tyus Jones | |
| SG | Jimmy Butler | Derrick Rose | Josh Okogie |
| SF | Andrew Wiggins | Anthony Tolliver | |
| PF | Taj Gibson | Anthony Tolliver | Keita Bates-Diop |
| C | Karl-Anthony Towns | Gorgui Dieng | Justin Patton |
Though they'll continue to add marginal talent, inferences can be made based on what's already been done. To what extent do all of these moves address their three most obvious weaknesses from a year ago?

In terms of wing-depth, another campaign will begin with an abundance of concern. Can Rose be a reliable option in multiple guard lineups? Will one of the rookies crack Thibodeau's rotation on a consistent basis? Does Tolliver — who played a majority of his minutes at power forward last season — provide more flexibility than Bjelica to fill in on the wing? Will the front office sign an experienced and affordable small forward in the waning weeks of free agency? If several of these questions are answered "no," there will be little in the way of production behind Butler and Wiggins once again.

The addition of Tolliver — a statistically more prolific marksmen than anyone the Wolves employed last season — gives reason to hope that the Wolves' three-point shooting will continue to tick up. While it seems unrealistic that Tolliver will shoot the same volume of 3s that he did a year ago, it is feasible to expect an increase in attempts from Wiggins, Rose or Teague. But according to last year's statistics, the team as constructed lost 11.6 3PAs per 36 minutes when Crawford and Bjelica left, while only adding 9.4 with Tolliver and Rose. Despite a league-worst 22.5 attempts per game a season ago, it's difficult to imagine a seismic leap in the Wolves' long-range success barring an uncharacteristic schematic shift from Thibodeau.
If this team is going to take another material step forward in 2018-19, an overdue jump on the defensive end will be nearly unavoidable. The year before Thibodeau — an acclaimed defensive savant — was hired in Minnesota, the Wolves ranked 27th by defensive rating (DRTG). His first season as head coach, they finished 26th. In 2017-18, they were 22nd best — just one-tenth of a point ahead of the 25th ranked Brooklyn Nets. In evaluating this stagnation, blame can be spread across several key factors.

But last year, you could also point to a starting five that mostly held its own on both sides of the floor. Over 1,131 minutes playing together, they posted a respectable DRTG of 103.5 (seventh best in the league amongst starting units), far superior to the team's overall mark of 107.9.

Most noticeably, Jamal Crawford was the league's worst shooting-guard as ranked by ESPN's Defensive Real Plus-Minus (DRPM). Further, the 38-year-old sixth-man ended the season with a defensive rating of 112.9, the worst mark among any key contributor whose team made the playoffs. While a portion of that variance should be attributed to the fact that Crawford tends to play with other backup-level talents, he did see nearly 21 minutes per game.
Based on the evidence, their defensive production should enjoy some level of addition by subtraction. Though Rose — Crawford's assumed replacement — isn't heralded on that side of the ball, he's not nearly the level of turnstile that his predecessor was. Even so, the clearest road to improvement for this group lies at the feet of its 22-year-old center. Though Towns has struggled to protect the rim through the first three years of his career, the Wolves' ceiling will rise considerably if and when he starts to figure it out.
However, much remains to be done before training camp begins in the middle of September.

Towns is reportedly in talks about a maximum contract extension. The deal would pay him $158M over five-seasons (like Devin Booker, his draft class contemporary, signed), though if he's named to another All-NBA team in 2018-19 it would increase to just under $190M.
Butler, meanwhile, turned down his own four-year, max-extension, choosing instead to bet on himself for another year. Fiscally, the deal may not have made much sense for the 28-year-old; while Thibodeau could offer him almost $110M, he can get up to five years and $190M from the Wolves in 2019. Even if he opts to leave, he can sign elsewhere for up to four years and $141M. Though he'll be 30 years old at the beginning of his next contract, a relatively healthy season would likely lead to a larger payday than he could have guaranteed now.
The decision was announced after concerning rumors swirled about his reluctance to stick around long-term, originally stemming from a report in the Chicago Sun Times.
Another determination, albeit smaller, will have to be made on Amile Jefferson – the Duke big-man who played a majority of last season on a two-way contract for the Wolves and was a part of their team in Las Vegas this summer. With 12 players already signed, and the possibility of a 13th in Jefferson, it's possible that Thibodeau will add just one more contract.
After beginning the offseason with little hope for meaningful transformation, the Wolves' front office has done relatively well to round out the jagged edges of their roster. Still, they will tip-off another campaign with a largely similar unit; if your philosophy is championship-or-bust, this won't be the season for you.
But if you enjoy the excitement and agony of an NBA marathon, there's ample reason for intrigue around this year's group: two exciting rookies, hope for development from Towns and Wiggins, a last-ditch effort to retain Butler and a boss whose job security may depend on taking another step forward.