Believe it or not, Tom Thibodeau and his 2018-19 Minnesota Timberwolves have answered questions this season other than, "So what's the deal with this Jimmy guy?" Yes, that's been a prevailing narrative and led to questions about "The Butler cloud" and largely futile attempts at quantifying "distraction." 
Those were common refrains from Sept. 18 (when Butler's trade request was first reported) until this past Monday (when the Butler deal became official). But there has been a secondary line of questioning that was relevant with or without Jimmy: What are you guys going to do about this defense?
With Butler in a Wolves uniform last season, the Minnesota defense ranked 27th in defensive rating — their same standing in the league as the year prior. This truth made questions of scheme prescient. Because how does a team add an elite defender and not improve?
For the Wolves, it didn't seem to matter who was playing as the defense oozed points on the regular. Raising the necessary question of why?
And here, unlike the responses to the Butler questions, there was some clarity. The players on the Wolves roster wanted to switch more. There have been oodles of responses from almost every player on the team discussing the ways in which switching has to become a bigger part of the Wolves' defensive diet.
After Minnesota's Monday night victory over the Brooklyn Nets, who did not start a player taller than the 6-foot-7 Rondae Hollis-Jefferson, Jeff Teague was asked if Brooklyn's small, switch-heavy defense surprised him at all.
"No," he responded flatly. "That's every team besides us. We're the only team that don't switch like that."
This wasn't the first time Teague had brought up the notion of his disillusionment with his team's defensive scheme. Though it was the first time he brought it up basically unprompted. It's been a rock he's been pounding all season.
"Yeah, we could," was Teague's response when asked at a preseason practice if this team could benefit from switching more this season. "We're all, what, 30 at the most? I think Taj is the oldest guy in the lineup. We're all still young and athletic. We need to get up. Every other team does it."
Again, Teague hasn't been alone. In October, Anthony Tolliver, who is new to the team, laughed when he was asked if this switch-less system the team had been running in games was a bit bizarre in the modern NBA.
"It's very odd. In today's NBA, it's so much different," said Tolliver. "We definitely have some unique players this year that can play multiple positions, and guard multiple positions. We might be able to get away with it a little bit more than maybe in years past."
While it hasn't shown up on the floor a ton, to defend Thibodeau for a second, he too has been pumping the narrative of evolving defensively this season. From the drafting of Josh Okogie and Keita Bates-Diop to signing Anthony Tolliver, Thibodeau's roster construction moves dispell some of the notion that this is merely lip service. And in their practices, since training camp, the Wolves have been running drills where everyone is required to "switch five" (all players switching all ball-screens), according to Tolliver.
The progressive style has only peaked its head through the Butler cloud partially. But it is happening. The frequency that the Wolves defense is willing to let the big men roam to the perimeter has ticked up some.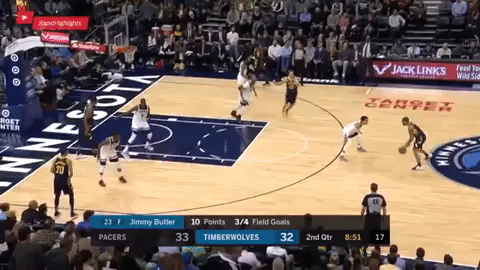 But Why So Little?
Put simply, Thibodeau did not feel comfortable with allowing his players this freedom a season ago. And while some of that sounds illogical in the modern NBA, in other ways it made sense given the Wolves personnel.
The roster last season couldn't effectively switch much, according to Gibson, because the second unit was filled with players who didn't have "as many switch partners." It was a weaker group and Thibodeau wanted to limit the on-ball defensive duties of those players. This is both frustrating because Thibodeau literally constructed that bench himself but also logical with the presence of Jamal Crawford and Nemanja Bjelica — the two players receiving the most bench minutes.
The reserves are revamped this season. Crawford and Bjelica are gone. Still, the defense has not improved. Entering the Wolves' Wednesday night victory over the New Orleans Pelicans, Minnesota ranked last in the league according to NBA.com/stats' defensive rating metric. Again, wildly frustrating for players and the fanbase alike. However, it does not mean change has not begun to happen. What's happened is the style is at best being instilled slowly or at worst ineffectively.
"I think it's just effort," said Teague, walking back some of his comments about the Wolves odd corner of the NBA defense landscape that they own. "We could switch every time and still not improve [our defensive rating]."
Thibodeau is less inclined to mention the lack of effort. He points to communication as a weakness, and hold up, in defensive progression. Also mentioning that "understanding the terminology" is difficult for players who have been forced into playing different roles through the injuries — or general soreness — that have plagued the Wolves pursuit of continuity. Teague, Derrick Rose, Andrew Wiggins and of course Butler have each missed numerous games.
I believe it's fair to speculate that the injuries, and general lack of continuity from having a discombobulated locker room, have limited Thibodeau's pursuit of a more progressive scheme. The coach has at least said as much; admitting that players have been comparatively limited with what they are allowed to do thus far compared to what they will eventually be allowed to do on the defensive end.
The most recent example is Thibodeau stating that he gave Robert Covington and Dario Saric a "simpler package" in their first action in a Timberwolves uniform Wednesday night. The same idea with last season's bench applied here: the simplicity of understanding one job, in theory, would limit full-on breakdowns.
One play that stuck out as something that will allegedly change in time came in a dribble hand-off that included both Covington and Saric as the main defenders. When Covington and Saric become switch partners, you'll likely see this play handled differently. Thibodeau says all of "the 6'8″, 6'9″ guys with long arms," a group Covington and Saric fall into, will do "a bit more switching." In the future, it sounds like the plan will be to have Saric jump out on dribble hand-offs like the above play; switching Covington onto the popping Mirotic, and seeing if Saric can scramble alongside the driving wing.
"The thing I do like is the size of Andrew, Robert, Taj and Dario," said Thibodeau. "It gives you the opportunity to do more switching, which I think will be very effective."
What About Towns?
A name frequently left out of Thibodeau's switching comments is Karl-Anthony Towns. The assumption seems to be that the tentpole of the Wolves defense will still be asked to "drop" back into the lane against screening actions.
Occasionally, there will be situations — particularly against great shooting ball-handlers — where Towns, and also Gorgui Dieng, will have to show on screens. Like this play against Victor Oladipo.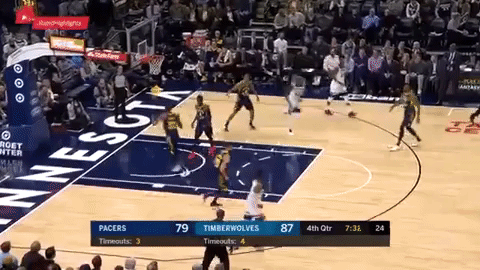 But largely, the big man will continue to be asked to drop back into the lane. This invites ball-handlers to take mid-range jump shots on the move — a staple of Thibodeau's Chicago defense (and always a good idea).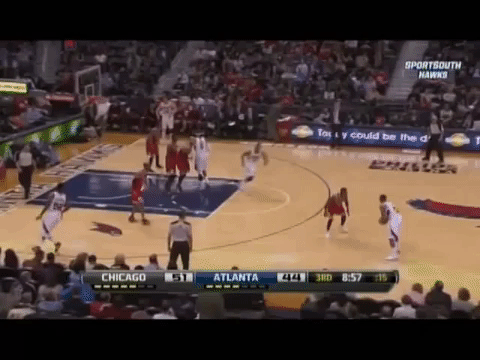 What we've come to learn is that many of those ball-handlers that are being beckoned into the lane these days now know the ruse. This is why we saw James Harden, Chris Paul and their lob partner, Clint Capella, often find success in last season's playoff series. Harden and Paul would almost intentionally stall in the mid-range so as to make Towns (or Dieng) make a decision.
Sometimes it worked for the Wolves.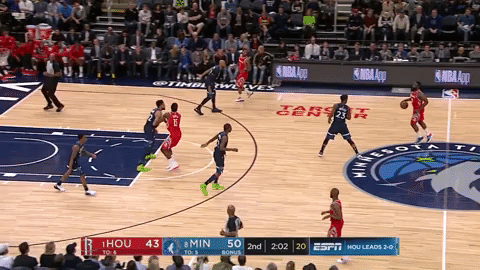 Often, it did not. Capela finished 73 percent of his shots in the restricted area during that series, and 77 percent of those looks were assisted. Of Capela's 27 assisted buckets, 22 were delivered by Harden or Paul. Meshing Switch Partners With The Drop
This ties back into switching, and specifically Covington and Saric. Both shared the floor with Joel Embiid — a center who thrives when asked to play a drop scheme — for more than half of their minutes last season. The thing Philly did so well, propelling them toward a top-five defense a year ago, was incorporate switch partners while also letting Embiid feast in those drops. (You can see a glimpse of the partnering between Covington and Jerryd Bayless in the bottom corner while Embiid defends by dropping.)
The Philadelphia defense was just far more fluid than Minnesota's. Players switched in the middle of sets all willy-nilly. There was a freedom that empowered Embiid to recognize what the opponent was targeting — in this case a Jaylen Brown post-up — and impose himself as a stopper. There was tranquil communication to the Philly defense that represents the antithesis of the Wolves anxious defensive tendencies. The Sixers style is the theoretical goal for the new Wolves: a barrage of big wings and forwards that can switch on the perimeter, and Towns filling the role of Embiid.
Which leads to a huge question: Can Towns even be a poor man's Embiid?
The assumptive answer to that question is no. And that is fair, in many ways. But there should also be a glass-half-full consideration that enters the equation. What if, through a greater quantity of switch partners, coupled with a coaching scheme that permits an increased volume of switches, the intensity of Towns' duties are decreased? Maybe better insulation alone will provide a defensive stride forward even if Towns himself does not bound in his own defensive aptitude.
It's fair to be critical of Towns' defense since Thibodeau has been at the helm, and it is beyond fair to wonder why Thibodeau waited so long to make any sort of sweeping adjustment. But it is not fair to assume that Towns and Thibodeau's defense will forever stay bad just because they were previously woeful statistically.
It still needs to be determined if Thibodeau's comments about defensive evolution have just been lip service. But it is undeniable that there are more pieces on this roster than ever before that can deliver those services.
For now, though they are not executing, there is some reason for optimism that comes with the notion of everyone at least saying the right things.
"We'll see," said Tolliver. "We're going to do what [coach Thibodeau] tells us to do and try and get stops however we can."
---
Think You Know Your Minnesota Sports?
Take the Minnesota sports quiz and test your twin cities sport knowledge.
Take the Quiz