Throughout Tom Thibodeau's tenure with the Minnesota Timberwolves, the matter-of-fact boss came off somewhat standoffish when talking about Karl-Anthony Towns' role on his roster. At the same time, Jimmy Butler was publicly deriding his teammate, writing a negatively dramatized narrative about Towns' mental makeup.
But the big man never once lost his cool. Like a member of the United Kingdom's famed Queen's Guard, he proceeded resolutely while a bevy of passersby tried to elicit his response. Maybe it can be argued that the public's perception of Towns would be improved if he had been willing to clap back through sources. Presumably, though, the all-star assumed that his measured approach would pay dividends down the road; that by maintaining the moral high ground, he would eventually be the last person standing.
Enter Gersson Rosas, Thibodeau's functional replacement as president of basketball operations at Target Center. Ever since assuming that title last month, Rosas has refreshingly referred to Towns as his front office's focus — as a player worth building around and taking risks to support.
The long-time Houston Rockets executive communicates honestly about how he plans to remake a Wolves roster fraught with complications. He's spoken about adding defense and shooting; he's highlighted a desire to be aggressive when plausible. But regardless of the specific tactic he's discussing, Rosas has thematically focused on the idea of optimizing Towns' time with Wolves.
"What we need to do in order to maximize [Towns'] window forces an urgency to do things the right way," Rosas explained before last week's NBA Draft. "Not just right now, but the right way."
That window is being wedged-open by the five-year contract extension Towns agreed to last summer — a deal that will keep him around through 2024. But such a prolonged runway doesn't excuse apprehension. Like Rosas insists, the deadline only heightens an already obvious need to proceed prudently.
And now Rosas is putting those plans into action. In his first major move at the helm in Minnesota, he traded stretch-forward Dario Saric last week in order to move up five spots in the draft. When all was said and done, the Wolves selected Jarrett Culver, a sophomore combo-guard out of Texas Tech, sixth overall. And the moment it was clear that Culver is here to stay, the 20-year-old's development became a pivotal factor as it relates to Rosas' goal of "maximizing" Towns.
Culver's fit within a Towns-centric organization
Time and again, Rosas has referred to the operation of evaluating and selecting prospects as being aimed at the future.
"The draft is a three or four-year decision for us," he said after landing Culver and also grabbing Jaylen Nowell 43rd overall. "We're not meeting needs here tonight. We're continuing to build this program."
It seems that Rosas' principal aim in moving up for Culver wasn't to improve next year's depth chart. If that were the prerogative, it's unlikely he would have been willing to unload Saric, a productive player despite any concerns around fit or the salary-raise he's due to receive next summer.
"As we look at that window of time for [Towns], we want to make sure we've got pieces in place that can grow and develop with him and can peak at the right time," Rosas said, hinting once more at the notion that 2019-20 is not at the center of his purview.
Trading for the sixth pick, then, was an investment in the belief that Culver has a shot at becoming an elite perimeter player who compliments Towns. And certainly, his past provides enough evidence to support cautious optimism.
___
When he decided to play collegiately at Texas Tech, Culver was a three-star high-school recruit; just two seasons later, he was the center point of an NCAA Final Four run, averaging 18.5 points, 6.4 rebounds and 3.7 assists per game as a sophomore. What's more, he was productive containing the point of attack as a member of Texas Tech's world-class defense.
Culver stands 6'5.25" without shoes, sports a 6'9.5" wingspan and weighs 195 pounds. Those measurements, in context, would label him an NBA guard — as such, there is some reason to be skeptical about his potential versatility within a defensive scheme.
Here, Culver is defending a wing at the top of the key. And despite his best efforts, he's pushed all the way under the rim by an opponent (227 pounds) who's willing to lean on superior size; it doesn't take much to envision small-forwards treating him similarly as he transitions to the next level. But Culver's broad frame and improvements-to-date mean there's hope that he can progress in this regard. Plus, he's been far more successful when asked to defend guards who are slighter.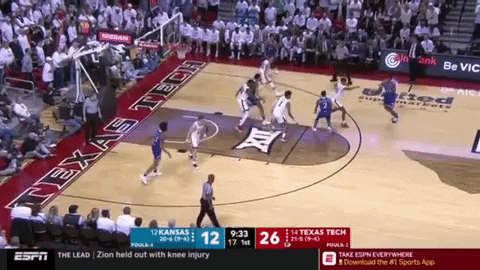 In the above clip, Culver stays connected with a more shifty ball handler (199 pounds) by quickly shuffling his feet, staying low to the ground and taking proper angles. Then, his length and sense of timing lead to an under-the-basket block — these are the kind of instincts that scouts rave about when discussing Culver's defense at large.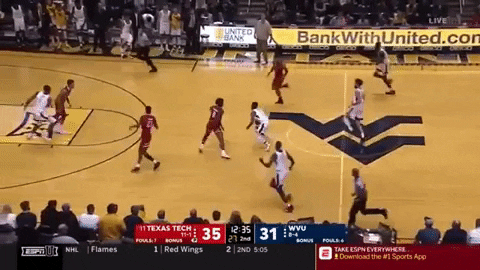 In this situation, his sense of space puts him into perfect position: Culver uses one hand to force the ball handler into a pass toward the perimeter and the other to intercept that very exchange. Without exerting all that much effort, he effectively flips the script on a transition situation.
Certainly, that confluence of present value and upside as a defensive prospect was appealing to a Wolves front office that's prioritizing two-way improvements.
"We need more defenders," Rosas adamantly explained after being hired by the Wolves, a team that hasn't ranked better than 24th by defensive rating since 2013-14. And with the addition of Culver, this franchise has taken another step toward attaining an identity on that end. But he isn't just a defensive specialist — with sound development, Culver has the tools to become a modern difference-maker on the offensive end.
A difficult shot-taker during his time in the Big 12, Culver led the conference in free-throw attempts, field goals and total points scored in 2019. He's crafty on his way to the rim and can fashion looks from all over the floor, a pair of traits the that Wolves have lacked since sending Butler to the 76ers.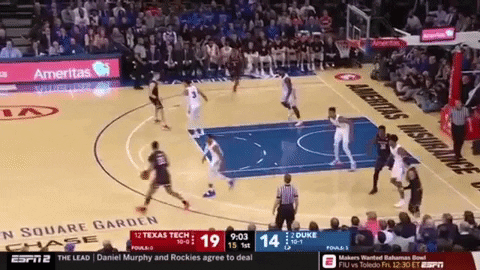 But the potential that Rosas identified in Culver is more multifaceted than that. It stands to reason that the combo guard was picked ahead of other draft entrants (like North Carolina's Coby White) because, along with his defensive capabilities, Culver does demonstrate the upside of becoming a pseudo-primary-playmaker. The worry, though, is that he may not have the elite athleticism required to intimidate NBA defenders. So to keep opponents honest, it's important that he improves upon the middling shooting prowess he demonstrated in college.
"I feel like a big reason why [my shooting percentages] dropped is just because I had the ball in my hands more," Culver remarked in his first media appearance as an NBA player. "I was guarded different by a lot of teams, and if you know the numbers, my freshman year […] it was more kick-out 3s. Then this year I was really having to take tougher shots and teams were guarding me different."
As Culver implies, it's fair to suggest that his 3-point percentage could naturally tick up as he assumes more of a secondary role with the Wolves. But it doesn't all boil down to posting percentages in this instance. It will be crucial that defenders are at least somewhat concerned about his ability to shoot in order for Culver to amplify his impressive basketball IQ.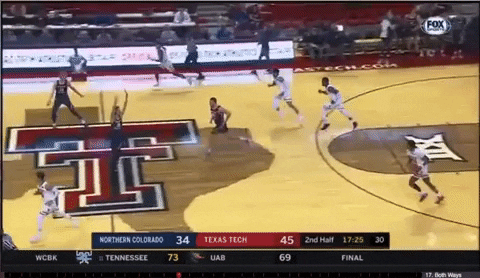 Here, Culver is asked to initiate a pick and roll at the top of the key. After dribbling around his teammate, it becomes apparent that his defender (No. 11) is going 'over' the screen, or forcing his body in between Culver and the pick. This provides Culver the room that he needs to burst into the lane and toward the rim before his opponent has a chance to catch up.
In similar situations, he's also proven somewhat skilled at making crisp passes to cutters and shooters.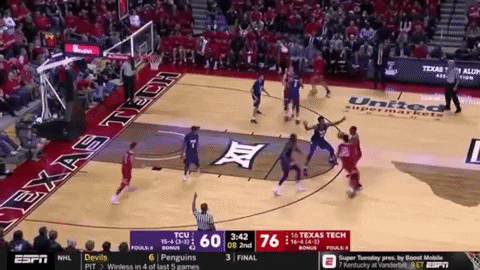 The first of these plays shows Culver taking advantage of his height to quickly locate a rolling teammate. In the second, his poise on the drive forces three different opponents to contest his attack, opening a lane for a smooth pocket pass. It's easy to imagine a fully-developed Culver manipulating a pick-and-roll in tandem with Towns.
But as these highlights begin to allude, Culver benefited from the fact that collegiate defenders were worried about his willingness to pull up from deep. Nevertheless, until he more thoroughly demonstrates an ability to connect on those 3s, adept NBA teams will make his life difficult by containing him loosely and stifling his desire to drive.
Still, that's more an evaluation of his long-term prognosis — of one thing Culver needs to improve upon to become a menacing playmaker at his peak. In all likelihood, he won't be asked to initiate that many pick-and-rolls until he gets some experience and tightens his handle. But if, right away, he can make catch-and-shoot 3s, cut off the ball and serve as a peripheral initiator, he can add immediate value to a Wolves offense that's built around Towns.
When Ryan Saunders was the Wolves' interim head coach last season, Towns averaged a league-leading 14.6 post-ups per game. And given that defenses normally send double-teams in such a situation, he passed out of the post almost half of the time (43 percent), per NBA.com. Even if this play type is featured less often moving forward, it will continue to be a mainstay of Towns' diet on some level. To optimize its effectiveness, the Wolves would benefit from surrounding him with players who excel in catch-and-shoot or catch-and-attack situations — that's where Culver could do some offensive damage in the short-term.
His jump shot isn't all that smooth, swift or silky, but he's aided by a very high release point. If he hones that motion through repetition this summer, it stands to reason that Culver could hit spot-up shots when opponents are preoccupied with Towns' whereabouts. To go a step further, that could liberate Culver's ability to attack closeouts as a secondary creator, especially in comparison to more limited alternatives like Robert Covington and Josh Okogie.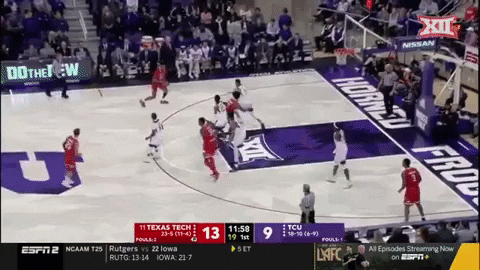 Even though it isn't derived from a post-up situation, this is an example of what Culver could do as an outlet for Towns. Before the clip begins, he receives a pass beyond the 3-point line. And without giving the defense a chance to react, Culver is already on his way to the rim. Though his first step isn't deadly, it's quick enough to blow by a closeout; then, he uses his vision to find an open man or get to the hole if the opportunity arises.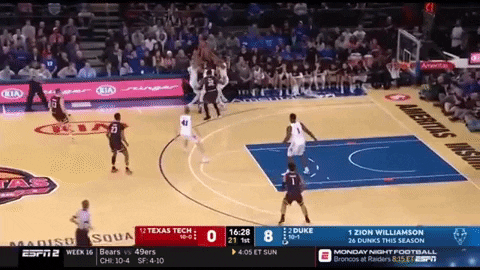 All of that said, 2019-20 is just year one. Years two, three, four and beyond are when the Wolves hope that the fruits of this decision really pay off. Provided Culver adds size and, subsequently, positional versatility on the defensive end, he could join Covington and Okogie to form a trio of two-way wings that make life easier on a player like Towns. And if Culver can sharpen his shooting and playmaking abilities with the assistance of a franchise focused on player development, he could become the high-level perimeter player the Wolves desperately need to accompany their center.
Of course, it should be viewed as a highly realistic possibility that Culver never becomes a force in this league. That he doesn't quite have the requisite touch or explosiveness. But from Rosas' standpoint, that's a calculated risk worth bearing for an organization intent on maximizing its superstar's prime.
Dane Moore contributed to this story.