There was shoo-ing happening in the Minnesota Timberwolves locker room.
Yo, go shower! … Put your socks on! … The Chick-fil-A will be on the plane!!!
The last thing anyone on the Minnesota Timberwolves wanted was to get stuck in a Milwaukee snowstorm after falling to the Bucks 140-128. Time was of the essence for a clearly exhausted group.
It has only been two games since the All-Star break, but both games — that came on a Friday and Saturday on a road-road back-to-back — took a toll on the team. That's what happens when your best player is forced to sit out.
Karl-Anthony Towns remained in the league's concussion protocol for the second consecutive game, and the Wolves were forced to make up for his absence. In both the victory over New York and the loss in Milwaukee, the Wolves remaining bigs did plenty to fill in the gaps. Taj Gibson scored 39 points and Anthony Tolliver scored 33 points (converting nine 3-pointers on 12 attempts) in the two games.
"We don't lack talent," Tolliver said, soaking in sweat, postgame. "That's one thing for sure. We don't lack the ability to score the ball. We have plenty of guys who can put the ball in the hole."
The Wolves do have that. On Friday, the Knicks were befuddled when it came to determining whether to put their focus on Gibson in the post or to try and run the stretchy bigs off the line.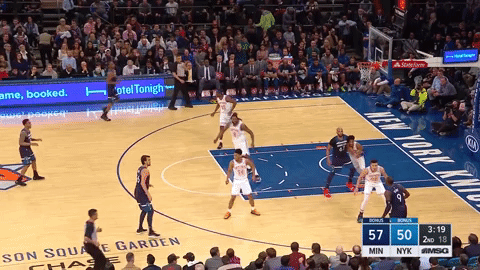 Against the Bucks on Saturday, it was more of the same. Offensively, the Wolves bigs aggregated into something that looked something like peak KAT.
However, it was on defense where the Wolves missed Towns. Against Giannis Antetokounmpo, you need a rim defender. It wasn't enough without him. But again, the Wolves remaining bigs performed admirably there as well.
After Gibson struggled on Antetokounmpo early — Giannis scored the Bucks' first 11 points — the defensive approach turned more team-centric. Slowing a player of that caliber requires numerous defenders.
Seemingly out of nowhere, that came from the triumvirate of Tolliver, Luol Deng and Keita Bates-Diop — all at the same time. The high IQs of Deng and Tolliver use spatial awareness to combat athleticism, and Bates-Diop followed suit. The bigs weren't afraid to switch off Antetokounmpo even if their switch partner was the diminutive Tyus Jones or Derrick Rose. Giannis' inability to pull-up for a shot when he is given space allowed ample time for a big to switch back, at least slowing a drive.
Anthony Tolliver on blocking Giannis:

"He's dunked on me plenty of times in his career. Finally I was able to get one back on him… I basically just said, 'hey, if he spins baseline, I'm going and jumping.' If you don't have that though process, it's going to be too late." pic.twitter.com/pHTrCHdpq5

— Dane Moore (@DaneMooreNBA) February 24, 2019
The Tolliver, Deng, Bates-Diop, Rose, Jones lineup was excellent against both New York and Milwaukee. But still, the Bucks hung 140 on Saturday.
Why?
"I think it was more the starting five that had a lot of problems defensively," said Andrew Wiggins, taking some blame postgame. "The people coming off the bench, I didn't feel like we did as good as them."
The discrepancy certainly showed up statistically in both of the weekend's games. Twice, the starters got crushed while the bench dominated.
Against New York, the discrepancy made more sense because, well, the Knicks bench is not stellar. But against Mike Budenholzer, who shuffles his starters in and out frequently, the Wolves starters hold more blame (and the bench deserves even more credit).
In a larger sense, distinguishing the Wolves KAT-less identity is pretty academic. The big man will be cleared soon and will very likely be re-starting a new iron man streak. Still, the information gathered from what the Wolves bench was able to do — particularly if we're looking for positives — should not be overlooked.
For years, Towns and Wiggins have had little backup support. This year, when the squad is healthy, they do. The aforementioned Tolliver, Deng, Bates-Diop, Rose, Jones lineup could be a real weapon — particularly if Robert Covington is able to log the Bates-Diop minutes when he returns from injury.
When Covington was completely healthy in his first 11 games with the team, the Wolves tallied eight wins and outscored opponents by 9.4 points per 100 possessions. Better yet, Covington played a lot with the second unit in that run — subbing out first and re-entering at the start of the second.
Initially, I had some concerns that this grouping wouldn't work as well with Saric now plugged into the starting lineup. Now, however, Deng appears to be a great option as a Saric second unit replacement. Saunders may really have stumbled onto — or found — something here.
That fully-healthy Wolves team is close to back. Teague, Rose and Jones have all been cleared to play in back-to-backs — which the Wolves have four more of in the final 23 games — and Covington and Towns are both close.
Of course, there was a disappointment in the locker room after a loss. But the vibe was anything but deflated. There is still an opportunity in this team's eyes to make a push. Splitting a back-to-back without their best player certainly didn't subtract from that.
---
Think You Know Your Minnesota Sports?
Take the Minnesota sports quiz and test your twin cities sport knowledge.
Take the Quiz