The night started with the Minnesota Timberwolves in discussions with the New Orleans Pelicans to acquire the No. 4 pick in Thursday evening's draft. There was a bidding war for that pick; one that ultimately saw the Atlanta Hawks come out victorious. New Orleans was demanding the Wolves include Robert Covington in the deal, sources say, but Gersson Rosas and his new front office did not oblige.
It was decided that Covington was a more valuable asset in the Wolves' coffer than Dario Saric. And understandably so; Covington is under contract for the next three seasons at an average annual salary of $12 million, where Saric is entering the final year of his rookie deal. If there was a time to move Saric it was now — because Saric would be due a major raise a year from now that the Wolves could only justify, in their financially pinched state, if his pairing with Karl-Anthony Towns was deemed ideal. Because the jury was still out with that, keeping Saric would have been a risk.
So they did trade Saric. Attached to the 11th overall pick, Saric was flipped for the sixth pick from Phoenix. This is where, before the Wolves actually made their selection at six, that things got a bit weird. As it turned out, by the time the sixth pick rolled around, De'Andre Hunter and Darius Garland were off the board, going fourth to Atlanta and fifth to Cleveland, respectively. This gave the Wolves pause, and they began shopping the sixth pick themselves.
"We had different options at different places," said Rosas after the draft. "And we had an idea of who's is gonna go where, and that's why we were able to pull the trigger when we did."
Ultimately, potential wheeling and dealings aside, the Wolves wound up with Jarrett Culver and without Saric — which creates a fascinating, and fairly massive, shift in how the Wolves roster has begun to shake out. After swapping Culver — a not-that-tall and not-that-thick wing from Texas Tech — for the 11th pick and Saric, the Wolves, all of a sudden, became flush with wings and were lacking frontcourt depth. Only a few months removed from rolling with a roster that was comprised of a metric ton of bigs, the only true bigs left under contract are Towns and Gorgui Dieng. Which brings us back to Covington — apparently the team's new starting power forward.
"Robert Covington is a guy that has the most success at the four offensively," said Rosas — reclassifying how Covington is going to be viewed under this regime — when he was asked if the roster is now unbalanced. "For us to be able to put a group of wings like we're going to be able to put on the floor at certain points this year gives us a lot of versatility, gives us some shooting. Gives us playmaking. That's how we want to play. For us to be able to execute that vision, we have to be built differently."
More moves are yet to come. Rosas made that clear — stating he won't be finished tweaking the roster until the season starts, and that this is just step one of that progression. But to asses the roster as it stands today, the assumption should be that the starting lineup will be the same as last season with a simple swap out of Saric for Culver — Andrew Wiggins and Covington will be sliding up a position to the three and four, respectively.
"For us, positionally, it is a different game. We talked about where we're at in the NBA now. You have four perimeters. Point guard, three wings and a big," said Rosas. "It's just the game is played differently now. We feel like our wings are versatile."
So there you have it — Guard: Jeff Teague, Wings: Culver, Wiggins, Covington Big: Towns
Life Without Dario Saric
Moving forward without Saric will be different. Save a brief little stint in the 2017-18 playoffs where Towns was flanked by Jimmy Butler, Towns' frontcourt partners have always been traditional bigs ranging from Kevin Garnett, to Gorgui Dieng, to Taj Gibson, to Saric.
The Towns-Saric pairing was a bit clunky last season; they just never found a synergy that got Saric going. It was a relationship where Saric's floor spacing helped Towns more than Towns' playmaking assisted Saric. (Literally — Towns only assisted on 34 of Saric's made baskets last season, per Second Spectrum. How is that even possible?)
That said, it's not as if the pairing was unsuccessful. The contrary. Of Timberwolves two-man pairings who shared the floor for over 900 minutes last season, Saric and Towns were the team's second most successful two-man lineup.
If the Saric and Towns duo was more successful than the Gibson and Towns pair, it is likely because of that spacing Saric provided that Gibson could not. The hope is that the frontcourt pairing of Covington and Towns doesn't lose a step in that capacity.
Rosas and the coaching staff have been meeting to discuss the idea of this new balance. Even before the Saric trade, they were working on weighing playing a stretch big next to Towns versus sliding a wing up.
"Karl is a bit of an anomaly in that he's a big who can play inside and out," said Rosas. "We talk a lot about putting a perimeter next to him or a guy that can play both spots to space the floor for him.
"But at the same time, his uniqueness in terms of being able to be a center who can step out and shoot 3s, and us having the ability to have, whether it's a 4 or a 3, who can roll to the basket and be athletic, that puts a lot of pressure on the defense and that's a dimension that we're going to take advantage of this year. It's very rare that you have a 5 on your team like Karl that you can do those things with."
There will be particularly burly lineups the Wolves will face next season that they will likely need to play Dieng — or an acquired big — against. But Covington, in today's NBA, should be fine handling many of the fours that will come his way.
Losing Saric is a pill, and it's certainly debatable whether it was "worth" dumping him to slide up five spots, but it's not as if this roster can't compensate. Wiggins is either going to develop or present his usual problems. That was always going to be the case. The real question mark is whether Culver and Josh Okogie can handle a role that appears to have been vacated by Covington's shift. So let's look at who Culver is.
What Can Jarrett Culver Be?
Much like Okogie was oddly shaped at a thick 6'4″ with a 7'0″ wingspan, Culver's body type is one that doesn't scream one specific position. I parsed the physical measurables from the past ten NBA pre-draft combines, and the players who measured similar to Culver play an array of positions from point guard to small forward. These were the ten best physical comparisons — of players that have hung around in the league — that I could find:
It's the weight here that makes comparisons tricky; Culver is pretty skinny — weighing in 17 pounds lighter than former Wolves second round pick Glenn Robinson III did at his pre-draft combine. Many who scout the draft closer than I do say Culver has "the shoulders" to put on some weight. That will probably be a requirement if he is going to be able to hang against taller and stronger wings in the league.
To contribute immediately on the defensive end, because of the lack of strength and length, Culver will need to rely more on quick and smart hands. He showcased those at Tech.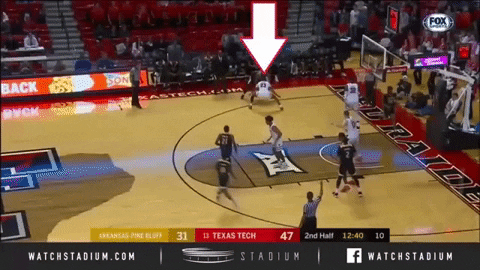 "We do need to improve our defense, and that starts by me helping the program with getting personnel in here," said Rosas. "Our personnel staff did a great job of identifying targets tonight, and we were able to do that. In reality, as we go through it, you're fortunate when you find talented guys that can defend."
Culver said over a phone call Thursday night that he believes he is the type of defender who can guard "one through four at the NBA level right now." He's also aware that the defensive side of the ball is his calling card right now.
"Coming from Texas Tech, I had to play defense," said Culver. "That's one of the best parts of my game, is the defensive side. I feel like I can make an impact on the defensive side and come in and do that. Also, playing with some great players over there I feel like I can make an impact on the offensive end and be another threat."
How Culver fits in offensively might be the greatest question worth pondering. On the phone call, Culver noted the dip in his 3-point percentage this past season — down to 30.4 percent — was a product of a Texas Tech offense that asked him to take a bunch of tough shots. He was quick to point out that as a freshman, when he was taking more catch-and-shoot 3s, that he shot a higher percentage (38.2 percent).
Culver's comfort zone in college, though, was similar to Wiggins' in the NBA: the midrange. In the Texas Tech offense, Culver looked for his pull-up game often. Before cringing, know that as far as college pull-up games go, Culver's was smooth.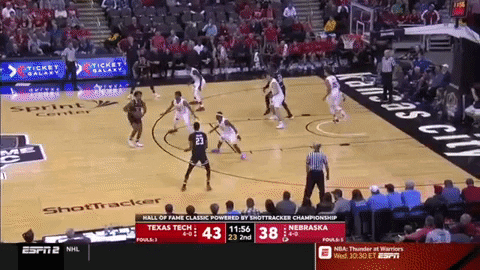 With an ability to make some more contested and difficult shots off-the-bounce, the Khris Middleton comparisons make some sense.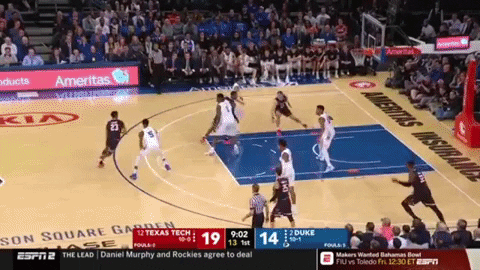 "We've got to improve our shooting. Bottom line," said Rosas. "We have to take better shots. We have to have better shooters on the floor. We gotta play with better pace and be more strategic. It's not just a personnel-based process. It's a philosophy."
Nothing will be more fascinating this season than seeing how Rosas, via Ryan Saunders, enacts change in Wiggins' shot selection. He must be up for the challenge because those same "Wiggins shots" are very much in Culver's bag.
I was probably premature crowning the starting lineup. Teague-Culver-Wiggins-Covington-Towns will almost certainly get run as a unit, but they may not start. And that is because Rosas also made it very clear that he's not done Play-Doh-ing this roster together. Culver for Saric is just move No. 1.
"I can't emphasize this enough, getting (Jaylen) Nowell (in the second round) and the other things we do here at the draft are good, but they need perspective as well," said Rosas. "How we build out this roster will come in free agency. It will come during the trade portion (of the offseason). The roster won't be set till October."
So let's look at what could be coming.
Rounding Out the Roster
The Wolves may have shed Saric's $3.5 million cap hit with the trade, but the cost of Culver's contract in the sixth slot ($5.8 million) is $1.8 million higher than the 11th slot would have been. Additionally, deleting Saric from the books requires adding a minimum roster hold ($900k), which is to say that the Wolves only cut their total salary cap hit by $800k with the move.
This means things remain largely the same, financially. Without another cost-cutting move, the Wolves are still limited to the power of the midlevel exception ($9.2 million) when it comes to adding high-leverage pieces to the roster in free agency.
Assuming the Wolves sign their second round pick, Nowell, they now have nine players on the books. So the question becomes how they divvy up the midlevel. Do they spend it all in one place? Perhaps a point guard, like free agent Patrick Beverley. Or, do they split the midlevel into pieces to address multiple positions?
Beyond the midlevel, Rosas has the option of continuing to go further above the cap by using the bi-annual exception ($3.6 million) or retaining the team's incumbent free agents — Tyus Jones, Derrick Rose, Gibson, etc. But he can't go crazy with all of this; the luxury tax line of $132 million is still a loose line in the sand. If Glen Taylor mandates staying below the tax, Rosas only gets $16.7 million of post-draft Play-Doh.
Draft night's ripple effect doesn't really affect the point guard position; Teague is still the only point guard on the roster, and Jones or Rose aren't any more or less attractive after the move. (Maybe Rose because he can play a position outside of point guard.) The real ripple hits the big man position.
Covington may be the new starting four but it's not like Towns and Dieng are enough in the frontcourt beyond that. The attraction of acquiring a free agent like Jared Dudley or Dewayne Dedmon — two-way bigs who can hit the 3-ball — definitely increases. I also wonder if this makes unrestricted free agent Anthony Tolliver more likely to return next season. Luol Deng also makes more sense now than ever as a poor man's Covington.
Draft night was only step one for Rosas. He knows he still has work to do.
"The draft is a three or four-year decision for us," said Rosas. "We're not meeting needs here tonight. We're continuing to build this program. I think a lot of our roster will be done in a couple of ways, either in development over the summer as our guys come together and they play in a new system, and through trades and free agency. I think that's where we'll impact it more than anything."