ATLANTA — You wouldn't know it from checking the 16 box scores the Minnesota Timberwolves have compiled this season, but Ryan Saunders does have a preferred starting five. That group is Jeff Teague, Andrew Wiggins, Treveon Graham, Robert Covington and Karl-Anthony Towns.
It was that five-man group that started the first four games of the season, and it was in that fourth game against Philadelphia that Saunders's best-laid plans were thrown awry. The two-game suspension for Towns after the fight in Philadelphia triggered a sequence of events that broke up the continuity of the group. When Towns returned, Teague was sidelined with an injury that kept him out of the starting lineup for five games. Teague's absence ended with a return to the starting group on Nov. 15, which just so happened to be the first of three games Wiggins missed (two for personal reasons, and one with an illness). The full group was finally back together this past Wednesday for a home game against the Utah Jazz, but that streak lasted only one game. On Saturday, Covington missed the 16th game of the season for personal reasons and Graham was sidelined with a forearm contusion.
All in all, the five "starters" have only shared the floor for 70 minutes this season. Compare that to the first Jimmy Butler season for context, where Butler, Teague, Wiggins, Towns and Taj Gibson shared the floor for 354 minutes in the first 16 games of that 2017-18 season and you have a pretty clean anecdotal example of just how discombobulated this start to the Wolves season has been.
In the 12 games that have transpired since Philadelphia, the Wolves have tallied a 5-7 record but stability, at least from an availability standpoint, should be coming. Graham is the only one of the five that is still dealing with a physical ailment — he's questionable for Monday against Atlanta — but the other four are back with no reason to assume they should be missing any more time. Because of that, it's worth taking a look at these five players. Even though they haven't played together much, each player has racked up somewhere between 345 (Teague) and 465 minutes (Towns) — which means there's plenty to analyze on an individual basis.
With that, below you'll find a quote, a shot, and a thought (of mine) on all five of the Wolves starters. These are your discombobulated, yet fairly effective, 2019-20 Minnesota Timberwolves, which come to Atlanta with eight wins and eight losses.
Karl-Anthony Towns
"He made some shots. I mean, he made the most shots he's ever made. It was the most 3s he's ever made in his career. We just gotta keep doing what we do, and try to lower the percentage. I think we keep doing what we do a little better and, if we execute a little better, I think it's going to be a different game." — Rudy Gobert
The Wolves and Jazz played consecutive games against each other this past week — a Wolves win in Utah and a Jazz win back in Minnesota. And this Gobert quote before the second matchup proved to be astute. He was right, the second game was very different.
After Towns peppered Gobert with seven made 3s in Utah on Monday, Gobert and the Jazz limited KAT to seven total shot attempts in the first 44 minutes of the rematch. Even after getting up three desperation 3s in the final four minutes of that game, Towns finished the night with 10 shot attempts — his lowest total of any game he wasn't ejected from this season.
As Gobert suggested they might, Utah did execute better in the second game. But they also adjusted the way they had Gobert check Towns. Literally, a check of the hand version. Note here how Gobert "touches up" with Towns as soon as KAT enters his shooting zone (which we now know is about 35-feet from the hoop).
That wasn't the case in the Monday game. With Gobert being such an important part of Utah's back line of defense, the Jazz gifted Towns space on the perimeter in exchange for the ability to keep Gobert near home. KAT punished that.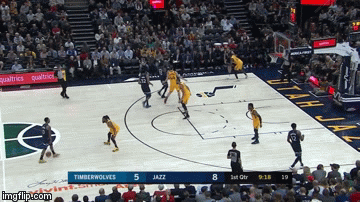 In these two first quarter 3-balls from Towns, you can see Gobert's existential struggle: Do what I do best vs. Limiting what he does best.
The thought I have on the adjustment we saw in the second game comes from wondering if Towns being face-guarded on the perimeter will now become the norm rather than the exception. Particularly for teams whose center is not a shot eraser of Gobert's quality (which is every team), why not just prioritize taking away KAT's 40% 3-point shot?
Sure, the Wolves could theoretically take advantage of opposing centers being pulled all the way out to the perimeter. But at what cost? Outside of Wiggins, who on the Wolves roster has shown they can consistently take their man off the dribble well enough to put meaningful pressure on the rim?
The answer is probably Towns himself. He's going to have to be the one taking his face-guarding man off the bounce, and that has only happened occasionally this season. Of the 52 players in the league who have isolated on opposing defenders most this season, only Lou Williams has isolated at a lower overall frequency of his shot mix than Towns, per Synergy's tracking data. Put differently, Towns has been seeking spot-up 3s and post-ups more than he has isos.
Not only due to the way he is likely to be defended going forward, but because he's damn good at it, KAT should be isolating more. Of those 52 frequent isolators, only nine of them have been more effective isolators than Towns this season. Permitting him to isolate more from the perimeter is the easiest way for Saunders to increase Towns's shot volume. And given the dearth of creators this Wolves team has, increasing the volume of possessions he is creating will likely improve the Wolves' overall offensive effectiveness. In the first four seasons of Towns's career, the Wolves never ranked lower than 13th in offensive efficiency (peaking at fourth). This season they currently rank 22nd, per NBA.com.
Andrew Wiggins
"I feel like Jeff was hurt and Shabazz was hurt and I was the point guard for that time. While I was out there, I feel like I just kind of opened up and have seen more and learned a little bit in that short period of time, so now when they're back I can still do my thing and I know where the help is coming from, I know where the open man is going to be." — Andrew Wiggins
The blessing in disguise of needing to run out makeshift lineups comes from finding something. Saunders has definitely found something in Point Wiggins. Of the 435 minutes Wiggins has played this season, 232 have come with Teague and Shabazz Napier on the bench. Better yet, the Wolves have outscored opponents by 3.7 points per 100 possessions in those Point Wiggins minutes, according to Cleaning The Glass's lineup data. (For context, the 2018-19 Denver Nuggets, who won 54 games, outscored opponents by 4.0 points per 100 possessions last season.)
But numbers aren't the most important thing here. As Wiggins said, the opportunity to orchestrate the offense has opened his eyes. The Point Wiggins experiment has been toyed with in previous seasons, but in those runs it felt like more of a gimmick. This season Wiggins doesn't look like a square peg being shoved into the circular point guard hole. He's looked smooth distributing out of penetration situations.
This play was spectacular: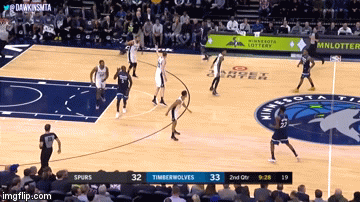 The natural thought to have here is pondering what this will look like once both Teague and Napier are back. Can those point guards settle into off-ball roles that permit Wiggins to continue cooking? Or will the fear of Wiggins going pear-shaped be instigated by his role again becoming circular?
Napier has a substantial track record playing off-ball. Playing for Portland in 2017-18, the Blazers destroyed opponents (+12.3 net rating) in the 580 minutes Napier shared the floor with Damian Lillard. And in Brooklyn last season, the Napier and D'Angelo Russell pairing were also very effective in 315 minutes of action (+5.9). But what about Teague?
The Wiggins and Teague pairing has been profitable for the Wolves in previous seasons — +2.6 in 2017-18 and +0.8 in 2018-19 — but that's fairly irrelevant given that Teague was very much the point guard those seasons, while Wiggins played off-ball. If this is going to work with Wiggins continuing to initiate, Teague will need to embrace a spot-up shooting role. And the question there becomes: Will Teague actually shoot it?
Teague's hesitancy to fire from deep has bubbled back up since he returned to the lineup. (More on that in his section.) Still, it's irresponsible to dismiss the truth that Teague is one of the better spot-up shooters on this shooting-starved Wolves roster. While Teague has only converted 21.4% of his catch-and-shoot 3s this season, he did convert 39.7% of his catch-and-shoot 3-pointers in the two previous seasons.
Robert Covington
"Yeah, you're tempted (to put Covington on the best player). But we also have our reasons within the system for right now. That's something that we probably will eventually move towards — Robert being a guy who is guarding a ball-handler like that. But you also gotta remember, we're smaller. So a lot of times, if he's guarding [a power forward], they're good rebounders, so if we put a smaller guy on him, it's tough for us down there and we know we have to get rebounds." — Ryan Saunders
This Saunders quote came after Kyrie Irving dropped 50 on the Wolves in the season opener in Brooklyn, and it has stuck with me all season. After Covington was such an impressive point-of-attack defender last year, his placement in the paint, defending power forwards, while the likes of Irving, D'Angelo Russell, Bradley Beal and James Harden have gone off against the Wolves has been a real test of that temptation.
Covington's rebounding value has only been theoretical this year. The Wolves have been a below league-average defensive rebounding team, and they are grabbing essentially the same amount of defensive rebounds when Covington has been on the floor compared to when he is off the floor, according to Cleaning The Glass. And considering that the Wolves have, for the most part, replaced Covington's off-the-floor minutes with other small-ball power forwards (mostly Jake Layman), it's hard to argue he's bringing a ton to the table there.
And that's perhaps why Covington has started to defend more of those lead ball-handlers. Covington frequently drew the Harden matchup in the Houston game.
As you can see in the above play, it's been a damned if you do, damned if you don't proposition here. Covington stymies Harden at the point of attack but Isaiah Hartenstein grabs the errant Harden shot over Jarrett Culver.
On the surface, a natural adjustment here would be to shift Covington back down to small forward and to start Noah Vonleh, Gorgui Dieng or Jordan Bell next to Towns in the frontcourt. But Saunders doesn't want to do that due to the negative externalities those non-shooting bigs apply to the pace-and-space system. By necessity, with Covington sitting out the last game against Phoenix, Saunders's hand was forced to try this. He started Vonleh, and that experiment lasted three minutes before Saunders eagerly jumped at the first opportunity to take Vonleh out once Dario Saric went to the bench with two early fouls. Vonleh played eight total minutes that night and was a minus-6 in the plus/minus column of the box score. Dieng next to Towns was equally wonky (minus-13). The lone bright spot was Bell, who gave the Wolves energy and effectiveness (plus-8) in his 17 minutes that all came next to Towns.
Maybe Bell deserves a longer runway given the burst he gave. But would his limited skill set, that includes a real inability to space the floor, eventually squash whatever is gained by shifting Covington to the three? This feels like a rock and a hard place situation. My guess would be Saunders and the staff will stick with Covington at the four, hoping Graham and Josh Okogie can handle the defensive duties at the point of attack.
Jeff Teague
"I think with Jeff, when he's not hesitating, he's a real danger to opponents. When he's not hesitating, he's shooting his shot fluid and not thinking twice about taking extra dribbles, he's at his most effective. I've told him that multiple times." — Karl-Anthony Towns
Jeff Teague is a creature of habit. He knows what he likes and he knows what he doesn't like. One of those likes is the volume of 3s he took back in his Atlanta days. While the rest of the league, particularly at the point guard position, has demonstrably increased the percentage of shots they take from beyond the arc, Teague is shooting 3s at the same rate he did back in the day. In his last year in Atlanta (2015-16), 27.8% of his field goal attempts were from deep. In his one year in Indiana (2016-17), 27.7% of his shots were 3s. And in two years and change in Minnesota (2017 through 2019), you guessed it, 27.4% of the shots he's taken have been 3-balls.
Put simply, Teague prefers to probe the lane for dimes or last second bursts toward the rim. And a lot of the time it works.
The thought I have on this is simple: Get used to it, Teague ain't gonna change. He'll take a quarter of his shots from 3, and if you want more from him there, well, you're not gonna get it.
So if Towns, Saunders and the rest of the Wolves want to maximize Teague — who pretty much has to play a lot on this thin roster — they need to use him in Jeff Teague Ways. Pick-and-roll with Towns is probably the best bet here. Teague has enough gravity on the attack after receiving a screen to draw the defense in enough to free KAT on the roll or pop. They have to let him probe.
The margin is thin, though; the action has to be decisive. Once the pick-and-roll plays out long enough to the point where Towns has entered full-on post-up mode, things get weird. Teague doesn't like that. He quickly becomes allergic to post-entry passes after a few seconds.
Plays like this, where Towns has Tyler Johnson sealed on the block don't work because Teague consistently refuses to enter the ball to the post. I don't know why.
Is the obvious move to drop it to KAT on the block? Yes. Is it something Teague will begin to do? Highly unlikely. There is over two seasons of tape on Teague rejecting these actions. What did Albert Einstein say about doing the same thing over and over again while expecting different results?
Treveon Graham
"When you're chasing the best player around and your usage defensively is very high, a lot of times when that ball is kicked to you, it might be tough to get your legs under you. And I recognize that. But hey, we gotta make shots, too." — Ryan Saunders
Marred in a very poor shooting stretch to start the season from deep (9-of-50), Saunders has received many questions about Graham's shooting abilities. And every time, Saunders has brought up the notion of Graham's very high defensive usage rate. From point guards (like Kyrie Irving) to power forwards (like Blake Griffin) Graham has been tasked with the toughest defensive assignment every night.
The point totals players like Irving and D'Angelo Russell have put up against Graham and the Wolves don't do Graham justice. So much of those failings were schematic loopholes sought out by Irving and Russell. To the eye test, Graham acquits himself well defensively. He's a bulldog; a poor man's Marcus Smart. But the lack of shooting is a serious problem, exacerbated when he shares the floor with Okogie.
Together, Graham and Okogie have attempted 83 shots from beyond the arc and have only converted 19.3% of them. The book is out on this, as opponents have begun to ignore both players on the perimeter. In the 113 minutes those two have shared the floor this season, the Wolves have a putrid offensive rating of 91.7 points scored per 100 possessions — the worst offensive combination of the 32 two-man lineups Saunders has put out there for 80-or-more minutes this season, according to NBA.com.
On this play, Bojan Bogdanovic twice goes beneath the Towns screen, unconcerned by the threat of Graham from deep. And on the other wing, Royce O'Neale is denying the passing lane to Wiggins, which forces Graham to decide if the 3-point look is a good idea or not.
Graham made two of the nine 3s he's made this season against this Utah tactic that night. But it took him seven attempts to get there.
The thought I have here is that this is another rock and a hard place situation brought to you by a roster ill-fitting of a system that is heavily reliant on spacing the floor. More and more teams are going to leave Graham open on the perimeter until he proves their strategy to be unwise.
In the meantime, it would be wise for Graham to more frequently attack the space teams are giving him rather than obliging by taking the free look. He actually has a pretty nice bully-ball game when he starts going north-south toward the rim. Much like Okogie has made up for his lack of shooting with a hunger for attacking the rim, Graham would do well to duplicate some of that. And if he can find little drop-offs to Towns or Noah Vonleh — again, much like Okogie has — then the offense effectiveness may just uptick enough to justify playing him for what he brings on the defensive end. The Wolves are outscoring opponents by 11.0 points per 100 possessions when Okogie has played without Graham and are being outscored by 5.4 points per 100 possessions when the two share the floor, according to Cleaning The Glass's tracking data.
Once Layman and Napier, who have both shown defensive chops this season, return to health, it will be interesting to see how much their presence shortens Graham's rope. He's the fifth starter for now. But as Saunders likes to say, the starting lineup is "fluid."
It will be a boon for this Wolves team once that fluidity comes from choice rather than necessity. For the first sixteen games of the season, the Wolves have had anything but continuity in their starting lineup. What the Wolves get from their starting five in this next chapter of the season will play a large role in determining whether or not this team's playoff hopes are real or just a figment of a discombobulated imagination.