What can you change? What will be different? Those were the questions posed to Ryan Saunders when he took over as the interim head coach of the Minnesota Timberwolves on Jan. 6.
A hopeful answer: Andrew Wiggins.
With not only the salary of a star but also the role as such on the team, Wiggins was and remains a variable in the Saunders assessment. He, however, should not be the determining factor. If there is one known attribute of Wiggins, now four-and-a-half seasons into his career, it is his volatility. For the powers that be to make a decision determined based on a volatile variable would at best be misinformed and at worst foolish.
Further, making the playoffs also should not be the determining variable. This is because, again, doing so would very likely be determined by Wiggins' performance. For the 27-30 Timberwolves to ascend into the playoff fray, which they sit four games out of at the break, Wiggins almost certainly would need to play excellent for the rest of the season. And that is an unreasonable expectation.
"To change guys after they're getting paid millions to do something that they do and say, 'that's not quite right, we wanna change it.' It's not easy," Mike D'Antoni said of the challenge Saunders faces of shaping not only Wiggins but the entire team.
The Houston Rockets head coach, who was in town to face the Timberwolves Wednesday evening, would know. D'Antoni took on the Houston job in 2016 tasked with a renovation. It was his job to create a team that bombed 3s while furnishing an offensive system that plays in isolation at a rate that never had been seen. Oh yeah, and D'Antoni had to do this while convincing his players that all those shots they watched Jordan and Kobe take when they were kids were kinda bad. No more midrange-ers.
As he said, "It's not easy."
It took D'Antoni three years to get his team to where he wants to be.
The Rockets, now, only attempt only 3.4 percent of their field goal attempts from the midrange — down 56 percent from where they were when D'Antoni took over.
They lead the league in 3-point frequency — 138 percent of their volume from 2015-16.
Nearly half of their shot attempts — 46.5 percent — are unassisted.
"Everybody kind of has their blanket of comfort and they go to it," D'Antoni said of breaking the mold. "It's tough to change a player's mentality. If you're a midrange player, and you're really good at it, it's tough."
Which is all to say, even if Saunders has not yet shaped Wiggins in his image, or even if it hasn't happened by the end of the season, that this should not be viewed as a failure on the coach's part. Wiggins is a more complicated egg to crack.
The fifth-year swingman has had an unbreakable will to play basketball as he sees fit. Saunders has made changes to how this team is coached but it hasn't made a noticeable difference, on the floor, in Wiggins' game. Sure, there was the energetic 40-point performance in Saunders' coaching debut and a bright flash of playmaking in the win over the Lakers on TNT. But that one in every eight-or-so games rate is about par for the course for Wiggins historically.
Saunders has demarcated different areas on the practice court with different point values — including negative points for the midrange — and it has become a requirement to have the ball cross half court in two seconds, so as to condition some additional pace. But again, little has changed for Wiggins.
Since the coaching change, Wiggins shot volume from the midrange (10-to-19 feet) has increased while his 3-point volume has decreased by 23 percent. And the Wolves' pace has drooped from 12th in the league under Thibodeau to 20th under Saunders, per Second Spectrum's tracking data.
"I don't think about it too much, to be honest," Wiggins said when asked specifically about the shot selections Saunders is pushing. "I just play my game. Really, if the 3 is open, I'm going to shoot it. The long 2s, I'll shoot it. The layups, I'll shoot it."
This definitely is not some sort of slap to the face from Wiggins to Saunders. The two are friends. No, Wiggins has just seriously and classically conditioned himself to play how he plays. After all, that style made him the first overall pick and also landed him a $148 million contract.
My assertion is not that Saunders should be absolved of blame for the perpetuation of the enigma. Instead, as D'Antoni posited, the truth may be that this sort of wardrobe change takes time. The test for Saunders is a question of how hard can he effectively push Wiggins. It is a coach's duty to not only inform his players how they want them to play but to enforce the style they see as the best fit.
"The main thing is try and take out maybe contested long-2s within two, three feet in front of the 3-point line," said Saunders of not only Wiggins but the entire team.
"Everybody is gonna be a little bit different but we're still gonna stress what we stress," was Saunders response when I asked about Wiggins specifically. "We understand that some guys are more comfortable, and it might take a little more time.
"I think it's one of those things that players they've been playing for so long that it's hard to tell a guy completely 'like, hey you don't ever take that shot.'"
The request for time is for time is fair. But Saunders doesn't have that luxury. The franchise's ownership needs to make a decision on who the coach is going forward in two months. The regular season ends 49 days after the All-Star break.
Thus, the scope for assessing Saunders must be widened. The idea of a Wiggins skeleton key or a playoff mandate needs to be set aside. The process should be all-encompassing; everything needs to be assessed, the good and the bad.
In Saunders' first 17 games as head coach, there has been both. An inability to enact change in Wiggins is a bold mark against Saunders, even if it is in pencil. Beyond Wiggins, the defense has regressed from Thibodeau to Saunders, as I wrote about here. But the good, that has come on the offensive end where Saunders, like his father, has begun to craft his identity.
Even if Wiggins isn't buying in, the analytically-focused 32-year-old coach has admirably threaded the needle of managing the personalities on the roster while instilling offensive adjustments. Those changes are probably best described as tweaks, as they certainly are not as blatant as D'Antoni perpetually running high pick-and-rolls that lead to James Harden step-backs. But positive externalities of Saunders' impact do exist when you pull back the veil a bit.
Ryan Saunders' Offensive Adjustments
A good place to start is with the (new) starting lineup. Dario Saric has been unleashed in a new role under his new coach. The 6-foot-10 power forward has been empowered through not only an increase in his involvement in the offense but also when he is being utilized. Like Nikola Jokic in Denver, Saric isn't the point guard of the Minnesota offense, but under Saunders, Saric's presence at the point-of-attack has been far more dynamic.
Saric explained the style of plays in Tom Thibodeau's playbook as "short." There was less of a flow than what he was used to in Philadelphia. The Thibodeau system was star-focused, in Saric's eyes.
"They don't have short plays, like here," Saric said of the difference between the offense in Philadelphia and Thibodeau's in Minnesota. "We have unbelievable individual players, like Wig and KAT. You need open space for them. You need to give the ball to them to make decisions, to make the right play.
"KAT is amazing. And he really, when he scores 30 points, you can see he scored 30 points. You can see, sometimes with Joel, he's scored 30 and he's got a lot of easy buckets."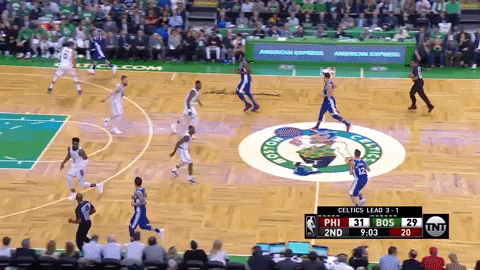 Saric's role under Saunders, as the playstyle has slowly begun to evolve, has become more Philadelphian. "We've been trying to do more things where he actually touches the ball at the beginning of the set," said Saunders of trying to get more out of Saric. "I think you see that with a lot of players who have been well coached over the years, and he's one of those guys, he is able to do different things."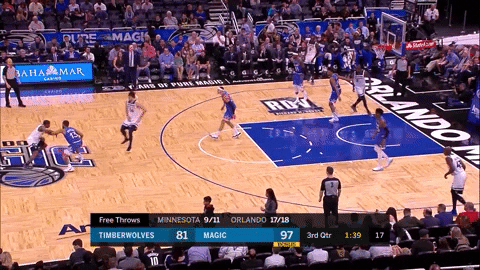 Saunders is also implementing actions specifically for Saric that use his floor-spacing ability in a more impactful way than simply as a spot-up shooter. The eye test certainly suggests that far more plays are being run with Saric in mind. Plays like this pick pump fake into catch-and-shoot action.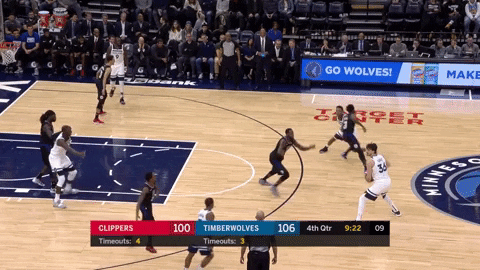 "I like how Dario spaces the floor, especially with Karl," Saunders said of the rationale of moving Saric into the starting lineup. "Karl is commanding a ton of attention down there. Sometimes, at this point in the season, you need to shake something up a little bit."
Towns' post touches have increased by 125 percent, up to over 14 per game, since Saunders took over, per Second Spectrum. In the Saunders era, when Towns has opted to attempt a shot out of a post-up situation he is converting them at a 57.1 percent clip — the best rate in the league of players who post-up at least six times per game. That is up from 49.6 percent under Thibodeau, which was also the best rate of high-volume post-up players.
A better, albeit imperfect, balance of how to use Towns is being struck by Saunders. Perhaps the most enticing statistic from the above numbers is Towns nearly doubling his assist frequency out of the post. Since Saunders took over, Towns has assisted in post-up situations more than any player in the NBA.
Towns' struggles against double teams left the Wolves crippled in the playoffs against Houston last season. Thibodeau simply relied on Towns "trusting the pass" while Saunders is making the pass out of the post a dynamic part of this Wolves offense.
Watch Towns' decisiveness here. He sprints into a seal in the congested post, knowing a double is likely coming. He has zero hesitation on the kick to Jerryd Bayless after the catch.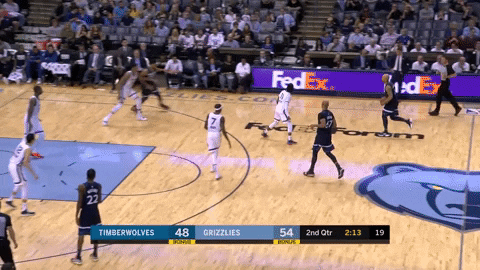 Credit to KAT for his improvement in his decision-making but there is a regimented flow to that action that suggests coaching played a role.
"I think one of the things I like to keep building toward is the ability to attack mismatches," said Saunders on Sunday afternoon, before the Wolves most-recent two-game winning streak. "Also the ability to really give guys freedom in terms of trying to put your talented offensive players in a position to make a play and score. So I've encouraged that."
But the encouragement doesn't stop with the starters, or the "talented offensive players," as he put it. Perhaps Saunders' greatest skill doesn't specifically pertain to basketball. He's an elite connector. Relationships matter to him. It's abundantly clear to see, and a night-and-day difference when juxtaposed upon his predecessor. His players love him.
"I believe in him," said Taj Gibson who is actually a year older than Saunders. "I just got to keep trying to have his back."
"I'm not necessarily looking for the opportunities," said Tyus Jones who theoretically should be having only played over 30 minutes in a game 16 times in his career. "Ryan has been giving me plenty of opportunities since he took over."
"There's no difference," said Luol Deng of Saunders and the other coaches he's played for in Chicago, Miami, Cleveland and Los Angeles. "He's just young."
Even Isaiah Canaan, who has known Saunders for all of two weeks, smiles when he speaks fondly of his new coach. For Canaan, Saunders is "young" and a "player's coach" just like his college coach, Steve Prohm, who was 34-years-old when Canaan was at Murray State.
"He used me, for example, tonight," said Canaan after the Houston game. "Told me at halftime, he was like, 'be ready, I may come to you.' Him just alerting me, kept me engaged in the game."
Saunders did go to Canaan to start the fourth quarter after not playing him for the entirety of the first three quarters. With the game tied at 89, Canaan sprinted the floor in transition and hit the only shot he attempted of the night.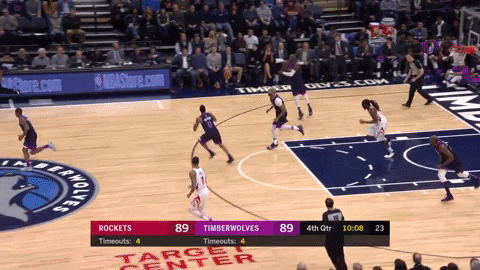 "Anybody who we think can contribute, we're open to," Saunders said after that Houston game. "We saw something we liked in a possible Isaiah matchup, and Isaiah being able to spread the floor and just really push the pace. We knew that transition was something that we were really trying to force in the fourth quarter."
---
It's not that Saunders deserves a crowning for what has unfolded in his first six weeks on the job, but the good parts of what has happened also should not be dismissed. Just because there were injuries doesn't mean the first 17 games of the Saunders era were void of information. Instead, the contrary: Wolves management should be using every data point, gleaning everything they can. Games are the scarcest resource in the Saunders assessment process. They hired a coach without a résumé. Now he has one.
All that said, there is much more to come. Derrick Rose and Jeff Teague just got back in the lineup and Robert Covington and Jones are close behind.
Gibson put it best at practice on Sunday: "It's like going over a project and you're missing key components, you're missing everybody that you really need to finish the project."
Like a group project in school, a grade comes once you turn it in. It's not the time for that yet. Though Saunders' name may be at the top of the paper, there are plenty of other people, other components, that factor into the grading of the Wolves second-half of the season and thus the grading of Saunders himself. But that grading must be dynamic.
In this case, win-loss record or what one specific player is not doing doesn't paint a fair picture of who Saunders is as a coach. And if the intention was never to give Saunders a fair shake, well, that is a slap in the face to a fanbase that obviously has ties to one of their own.
It's undeniable that there is a burden of proof Saunders must triumph and that the verdict lies in the jury's hands. Whoever comprises that jury, they should be taking into account every bit of evidence they can get their hands on. After all, choosing who will coach Karl-Anthony Towns into his prime is only one of the biggest decisions in franchise history. Maybe it's Ryan. As it stands at the All-Star break, he still deserves a shot.