In 33 years since the NBA and ABA merged, no player has committed a personal foul … if you ask them.
It's become so commonplace for both competitors and their coaches to challenge a referee's whistle — almost every single one of a referee's whistles — that countermeasures have been taken to ensure spectators feel the game is being monitored effectively.
The NBA began releasing a "Last Two-Minute Report" after each tightly-contested matchup; as such, the league can make public explanations as to whether certain calls were made correctly or not. The referees also have a Twitter page they use to interact with fans about different decisions.
Tune in to a Minnesota Timberwolves game and you'll see extensive, emotional discussion between the team and that matchup's officials. The Wolves have a number of players — most notably Karl-Anthony Towns — and even a former head coach with a passion for arguing calls. You'd never guess that they've been assessed the sixth fewest fouls so far this season, or that they were whistled less often than 27 competitors in 2017-18.
Towns has committed nearly 20 percent of this team's personal fouls since the beginning of last season — and more than any individual around the league.
The All-Star center was recently asked about this trend. He began his response by expressing a desire to avoid being fined — something that happens when a player publicly criticizes officiating. Upon being pressed about whether he can do anything differently to avoid such costly penalties, Towns seemed to be intentionally ambiguous: "I could do some better things. Be fundamentally sound. But, you know."
He's committed 38 fouls over his last eight games (4.75 per), the officiating hasn't felt in any way partial, and those penalties are beginning to become problematic.
___
Basketball-adversity was abundant when the Wolves traveled south to take on Russell Westbrook, Paul George and Steven Adams — the 'big-three' in OKC. Not only was it 32-year-old Ryan Saunders' first game helming his own squad, but Robert Covington and Derrick Rose were also sidelined due to injury. In the end, though, what nearly derailed this team's dramatic pursuit of victory was a mostly self-inflicted wound.
Eighty-two seconds into Saunders inaugural game as Wolves head coach against the Oklahoma City Thunder, Towns picked up his first personal foul. Two rebounds and 127 seconds later, he picked up his second. Just like that, the Wolves best player had to take a seat at the 8:31 mark of the opening frame. In a more normal situation — well, I suppose it's hardly normal these days — in a situation where Towns doesn't pick up a couple of early infractions, he would tend to play for at least five more minutes.
Given that he had plenty of time to rest, the big-man re-entered that tilt as the second quarter commenced; the Wolves clinging to a narrow lead. It's atypical for Towns to play during that stint, when most teams deploy a largely bench-oriented group, but early foul trouble made it a feasible option and my, oh, my did Towns cash in.
First, he took Thunder backup center Nerlens Noel – a normally solid defender – off of the dribble.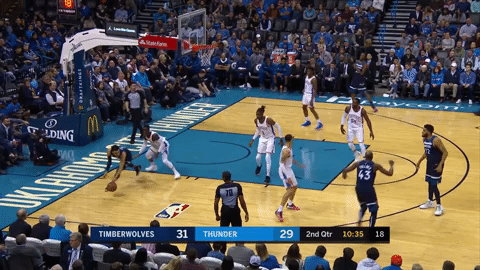 A minute later, he out-hustled a bevy of white jerseys to grab an offensive rebound and put-back layup. A minute later, with his team ahead by four, he threw down a dunk off of a Dario Saric assist. A minute later, he found himself open out of an inbounds set. Then, Thunder coach Billy Donovan yanked Noel from the game and replaced him with Adams, presumably hoping to slow down Towns. But that didn't help, either, as Towns connected on a difficult running hook-shot.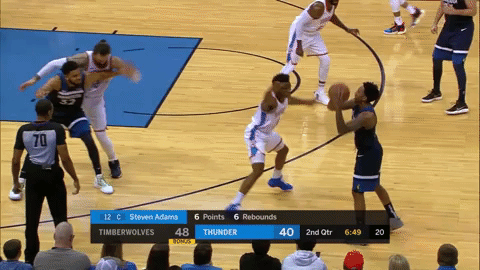 All of a sudden — thanks to Towns' dominance — the Wolves were ahead by double digits. No one was going to stop him; no one except for himself. Just eight seconds after that bucket over Adams, Towns registered his fourth foul of the game — forcing Saunders to pull him once again.
And that — Towns' departure — was all the Thunder needed. Over the ensuing four minutes of play, Adams and George initiated a 15-6 run that brought the score back to within one. The second half, then, was a dogfight. And while the Wolves went on to win, they were never able to re-register any degree of separation.
Towns still put up 20 points and nine rebounds in just 24 minutes of action. But because of his incessant fouling — a trend that's shown no signs of slowing — he missed meaningful portions of this game. Had the Thunder come away with a victory; had Westbrook connected on one of his late three-point attempts; had Saunders lost his coaching debut, those gaffes that sent Towns to the bench may have been a storyline.
___
Ever since the Wolves left the Jimmy Butler situation in their rear, Towns has trended toward tantalizing two-way stardom — at least when he manages to stay in the game.
The Wolves have outscored opponents by 8.3 points per-100 possessions when Towns is on the floor since the middle of November. But when he sits, they're being bested by 3.2 points. Quite simply, Towns' presence in a game is spearheading success.
It was inevitable that the Wolves would revert toward the big man as their offensive focal-point when Butler left town; time has proven that he's up for the task.
Before the trade, 24.1 percent of the Wolves possessions on that side of the ball ended with Towns making a play (USG%); since then, 27.1 percent have revolved around the seven-footer. Before Nov. 12, he was given the ball in the post 9.5 times per game; subsequently, that number has grown to 12.5. He's gone from attempting 14.6 field goals on average — fourth on his team — to 17.2, more than any of his teammates. And with such a stark uptick in usage, he's only become a more efficient threat: his true shooting percentage has risen from 58.8 percent to 60.1 percent.
But Towns always been great on the offensive end; the reason he's now more important than ever — the reason his on/off splits have become so staggering — is because of his improving defensive instincts.
Over the Wolves most recent 30 games, Towns is holding his opponents to 61.3 percent shooting from within the restricted area — that number slots him in-between Joel Embiid and Marc Gasol, two touted rim-protectors, within the ranks at his position.
He still has plenty of lapses on that end, but he's appeared to contribute positively toward the Wolves' improved unit in a majority of their matchups. It's far less common to see Towns pursue blocks only to be embarrassed when his assignment is standing wide-open — it's becoming more and more normal to see him shuffle his feet, wall-up and force a miss.
But all of that — all of the inspiring improvements that have delivered a respectable 17-13 record since the trade — is only relevant when Towns is on the floor. Thanks in no small part to his fouling woes, he's is averaging just 7.8 fourth quarter minutes; in 2017-18, he averaged 9.6.
When a player swings the fortunes of their team's success like Towns does for the Wolves, their priorities must in some way adjust. It's good that he's become more functional defensively, but his being on the hardwood is far more important than any particular play he might make on that end. And it's impressive that he's enjoyed such a statistical resurgence, notwithstanding habitual offensive fouls.
"I think Karl is going to be fine in that department," Pelicans head coach Alvin Gentry said before his team matched up with the Wolves on Saturday night. "I think sometimes he's an aggressive player … And I don't think if you asked a coach, 'Would you want to take that away from a guy,' I don't think they would ever want to take that aggressiveness away."
"He still has a tendency to find a way to get 23 a game in foul trouble so, I think that's pretty doggone good. I think it's good for the league that he does get in foul trouble because that's still pretty good numbers for a guy supposedly in foul trouble. Really good numbers."
It may be good for Towns' opponents, but it isn't optimal for the team he suits up with.
He was excellent again over the weekend. Versus Anthony Davis and the Pelicans, Towns posted 27 points, 27 rebounds and 4 blocks. In that contest, he avoided any early whistles, played more than 37 minutes and helped his team pull out an important win. On Friday against the Mavericks, Towns finished with 30 points, 12 rebounds and 4 blocks – but he got into foul trouble and played only 30 minutes while the Wolves narrowly lost.
If it hasn't already, Towns' rift with the refs is going to influence this team's game-to-game fate; he's simply too vital, especially with Covington sidelined indefinitely.
"This is [Towns'] best stretch of basketball," Tom Thibodeau touted shortly before his dismissal.
Now, it's time for the big man to get out of his own way.
Dane Moore contributed to this story
---
How Well Do You Know The Twins?
Take the Twins quiz and test your knowledge!
Take Quiz