Every NBA team has 19,680 minutes of playing time — plus instances of overtime — to allocate throughout its roster each season: five players are on the court at a time, games are 48 minutes a piece, 82 matchups in total. 19,680 minutes.
Well, the Minnesota Timberwolves enter their 2019-20 campaign without a smattering of players that made up nearly 48 percent of last year's total minutes distribution. Among the most notable outgoing options are Tyus Jones (1,560 minutes) and Derrick Rose (1,392), two ball handlers capable of organizing a relatively productive offense.
That duo, and their minutes, will be replaced for the most part by Shabazz Napier and Jarrett Culver. But the Wolves also acquired Treveon Graham, Tyrone Wallace and Jaylen Nowell — three other guards — throughout their offseason pursuits.
These are the players who can be expected to initiate an attack that hasn't ranked worse than 13th by offensive rating since Karl-Anthony Towns' rookie season. An offense that Gersson Rosas and Ryan Saunders are expecting to modernize moving forward. So, before their efforts commence, let's highlight the area of the game where each newcomer could add the most value to the Wolves.
Shabazz Napier
Ball handlers around the league are leaning on the pull-up 3-point jump shot with more and more frequency. And why shouldn't they? If taken by the right player, it's a shot that produces a high number of points-per-possession. If executed around a high ball screen, it invites a relatively low probability for turnover. On the right team, it can lead to offensive rebounds. Some players have a knack for making it look like such a simple play — an effective way of creating clean, efficient and consistent looks.
Napier, who averaged 17.6 minutes per game with the Brooklyn Nets last season, is one of them.
And he's joining a Wolves roster that hasn't featured many players who lean on this action in the past; Teague, Jones and Rose would do it once in a while last season, just not with a whole lot of volume or consistency. Napier should add a steady dose of that shot type to these Wolves' attack.
Even though he wasn't the most efficient three-point shooter in the world last season (33.3%), his career numbers are a plenty efficient 35 percent; what's more, Napier rarely hesitates if the opportunity to pull-up is presented to him. Last season, the 6-foot-1 point-guard averaged 2.3 pull-up three-pointers each contest, the most of any player to see fewer than 20 minutes per game. In total, he connected on 34 percent of those heaves, generating 1.02 points-per-possession for the Nets' offense — coincidentally, a Towns post-up produced the exact same 1.02 points-per-possession for the Wolves last season.
This isn't something that Napier can only lean on in half-court sets, either; he has a history of pulling-up from three in transition as well. Given that it's a stated prerogative of Rosas and Saunders' that this team gets out and run, Napier will be expected to hit shots like this: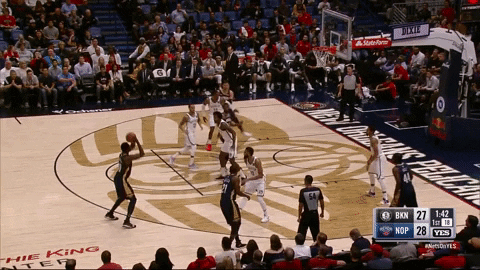 Assuming that he ends up playing most of his minutes with the Wolves' second unit — a group that could highlight less excitable offensive threats like Josh Okogie, Noah Vonleh, Jordan Bell and Gorgui Dieng — Napier's desire and willingness to create shots for himself will be relied on. And to the extent that he plays alongside or in place of Jeff Teague with the starters, the gravity Napier creates by virtue of his quick trigger could open things up for Towns, and the rest of the Wolves, to operate with more freedom.
Jarrett Culver
In a different vein from Napier, it's Culver's potential as a playmaker that makes him an appealing addition to this roster.
Culver was the offensive focal-point of a Texas Tech team that made an NCAA National Championship run last season — he posted 18.5 points, 6.4 rebounds, 3.7 assists and 2.7 turnovers on average throughout his 38 game campaign. While he may not have quite the handle or nearly the range that Napier does, Culver's past predicts that he could be an effective creator by attacking downhill, getting to the rim and making difficult shots.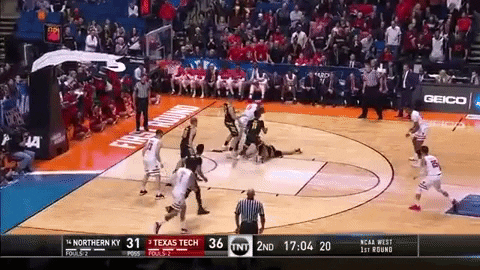 Or, should his game translate as a rookie, he can use that ability to collapse a defense and make plays for his teammates.
Though Culver did not act as a true point guard and oftentimes leaned on his mid-range game at Texas Tech, the Wolves will expect him to utilize his athleticism in getting to the rim. At times, he may be asked to do this as a lineup's primary creator — in the pick and roll or off of dribble hand-offs. But more frequently, he can make himself invaluable by doing so as a secondary outlet for the Wolves — by catching and attacking out of a Towns post-up or identifying a seam in the defense when the Wolves' initial action breaks down.
While it's far from a given, Culver being a productive playmaker as a rookie is the kind of break that this Wolves team could use.
Treveon Graham, Jaylen Nowell and Tyrone Wallace
Graham is a shooting guard who played in just 35 games for the Brooklyn Nets last year as a result of injuries to his hamstring and back. Before that, the 25-year-old played two seasons with the Charlotte Hornets. Throughout his career to date, Graham's most intriguing trait has also been his most volatile: three-point shooting.
While it's very concerning that his efficiency from deep declined so precipitously in 2018-19 as his volume took a jump, Graham can point to the injuries he sustained as a reasonable excuse. And given the fact that — outside of Towns and Covington — no players on the Wolves roster shot greater than 34% from deep last season, the most obvious way for Graham to demand playing time will be by taking a step toward the three-point shooting success that he demonstrated a few short seasons ago.
Nowell, who the Wolves drafted with the 43rd pick in June's NBA draft, is a difficult rookie to evaluate. He posted excitable three-point shooting splits (career 40%) during two amateur seasons at Washington, but he did so on pretty low volume (3.9 attempts per-40 minutes). He's a decent enough defensive prospect, but he played in a zone-scheme at Washington, making it difficult to evaluate his individual abilities. He scored pretty efficiently from all over the floor, but his assist to turnover ratio (2.9:2.7) was uninspiring for a guard.
As always, getting anything of value out of a rookie second-round pick should be considered a major win. And Nowell appears to be behind Teague, Napier and even Culver on the point-guard depth chart. In all likelihood, he'll spend a good chunk of time developing with the G-League Iowa Wolves in 2019-20. But the quickest way for Nowell to play himself into the rotation would be by proving himself as a sort-of three-and-D guard; willing and able to knock down 3s and capable of containing the point of attack. These Wolves are starved of both those skill-sets.
Wallace, who the Wolves claimed off of waivers in early July, has played for the Los Angeles Clippers during each of the last two seasons. He's never shown much on the offensive end, but he's a pesky defender at the guard spot. Given the nature of his non-guaranteed contract, it appears that Wallace will serve as an insurance policy of sorts for a team with a relatively shallow backcourt. Behind Teague and Napier, the Wolves don't really have any other true point guards to boast — should one of those two miss meaningful time, Wallace is the kind of fail-safe option that could be relied on in a pinch.
More concerning for Wallace is the fact that the Wolves' roster already boasts 15 guaranteed contracts, the maximum amount permitted once the regular season begins. Wallace's non-guaranteed deal makes 16; Tyus Battle and Jordan Murphy have also agreed to Exhibit 10 deals with the Wolves. In order for Wallace to be around on opening night, he will have to turn heads during camp and then see if this front office is willing to cut someone who's salary will still need to be paid. If not that, hope for a preseason consolidation trade.