I found the task of writing this — some sort of article about the almost incomprehensible passing of Kobe Bryant — to be very difficult. Hell, I had a really hard time just thinking about it all day — as I'm sure many of you reading this did. It doesn't make sense.
But, for me, my brain did what it does when things don't make sense: take the bits and pieces I can comprehend and attempt to attach them to a previous experience — something I've come to understand. Those bits were: Kobe, basketball and tragedy. Pretty quickly, my mind then went to Flip Saunders: his tragic death, the similarly incomprehensible timing and the basketball that followed.
Boom — I remembered the Minnesota Timberwolves played against Kobe and the Los Angeles Lakers in their first game after the passing of Flip. I remembered Ricky Rubio walking away with the ball as time expired, pointing to the sky for Flip. I didn't remember, though, exactly how that game ended. Did Kobe take the last shot? He probably did, I thought. I mean… it was Kobe.
Down the rabbit hole I went. Turns out Kobe didn't take it. Turns out he was just the in-bounder, defended by Andrew Wiggins. Turns out the final shot was taken by Lou Williams, defended on a switch by Karl-Anthony Towns (in the first game of KAT's career). Turns out it was Kevin Garnett, a fierce rival of Kobe's and dear friend of Flip's, who came over to help KAT contest Williams' shot. Turns out, in this rare instance, Kobe was just an onlooker during closing time. Not what I expected, and a bit underwhelming.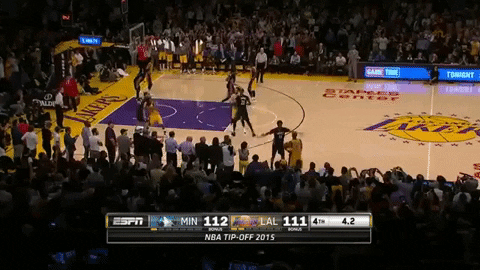 For some reason, I then looked up the box score of the game. And there it was: the poetry I was hoping for. Kobe made *8* shots that night, leading him to score *24* points. That made me smile.
no. 8 vs. the timberwolves (1996-97 – 2005-06)
This all made me think back on the battles of Kobe vs. KG back in the first decade of Kobe's career — when Kobe wore the No. 8. I remembered the Timberwolves squaring off with Kobe and the Lakers in the first round of the 2003 playoffs. I also remembered 13-year-old me being furious it was that year that the NBA happened to change the first round to a best-of-seven series (up from best-of-five). A strong shift in the competitive balance of a series the Wolves had home-court advantage in, I thought.
I didn't remember that series explicitly, so I looked it up. Of course, Kobe dropped 39 points in Game 1 at Target Center — a win for those damn Lakers. Of course, Kobe averaged 32 points, seven assists and five rebounds in that series — a 4-2 series victory for those damn Lakers.
The next year in the playoffs, the Wolves drew the Lakers again. Of course. This time it was in the Western Conference Finals — the pinnacle of Minnesota Timberwolves basketball history. I looked that one up, too. Another 4-2 victory for Kobe and crew. He played 256 of the 288 minutes in that series because of course Kobe did.
When The No. 8 Decade was said and done, Kobe bested KG and the Wolves in 31 of their 48 matchups (23-13 in the regular season, 8-4 in the playoffs).
no. 24 vs. the timberwolves (2006-07 – 2015-16)
Kobe aged in the next decade, The No. 24 Decade. But he didn't get worse. Not against the Wolves, at least. I came to find that the Wolves only beat Kobe and the Lakers six times that decade — in 35 total games. But some notes on those six losses clarify what is perhaps the single-most dominant decade-long performance by one player against a single franchise.
Okay, the Wolves beat Kobe once in four games during that 2006-07 season. But Kobe had 40 points, 13 rebounds and 8 assists that night. Kobe 3, Wolves 1 that year.
The Wolves wouldn't again beat the Lakers until 2014. And they didn't even beat him that year — they beat the Lakers twice. Kobe was sidelined with an achilles tear for both victories by the Wolves.
Early in the following season (2014-15) when Kobe was just returning from the achilles was the only time, not just that decade but ever, that the Wolves beat Kobe in a game that KG did not play in. Rookie Zach LaVine, who wore No. 8 in honor of Kobe, led the team in scoring that night (28) as the Wolves overtook Kobe, Jeremy Lin, Jordan Hill, Carlos Boozer and Wesley Johnson. Not kidding, that was the Lakers starting five.
The final two times the Wolves ever beat Kobe came after KG returned to Minnesota as a part of the 2015-16 team. They won that previously-discussed game on opening night, and they also won back at Target Center on Dec. 9. Kobe got his revenge, though. His highest-scoring game of that final season was, of course, his 60-point performance in his last game ever, but his second-highest scoring performance that year came against the Wolves — a cool 38-point night that included seven made 3s.
Every NBA fan that didn't rock purple and gold suffered a different Kobe experience. He kicked everyone's butt. The Timberwolves experience was just particularly bruising. For the better part of two decades, Kobe crumpled up the Timberwolves like a piece of paper… leaned left… leaned right… faded back… and sunk that paper ball into the trash …
"KOBE!"
I thought that act we've all done — The Kobe Trash Toss — was one of the clearest cut examples of Kobe transcending the constructs of the NBA and into our lives. We literally embodied Kobe when we would throw away stuff. That's so weird. Obviously, we emulated him on the basketball court, too. I mean, who didn't count down the shot clock at the park (3… 2… 1…) and pretended to be Kobe?
He was more than a champion; Kobe was the basketball player of our dreams, literally. When you dreamed of hoop triumph you were not yourself; you were briefly taking over Kobe's body. And when you shot that ball and it ripped through the net, your dream became an audible part of the real world, as you would let it be known to everyone that was listening that you, yeah you, were …
"KOBE!"
I don't know — I think that stuff, the embodiment, was about something more than replicating someone who was really good at basketball. I think we were obsessed with how he did it. We all thought pretending to be Kobe made us cooler, even if just for a moment. And I think we were.
Kobe Bryant, the person, is gone, robbing us of what he still had left to give to the game and to the world. But Kobe The Dream is not gone. Today, tomorrow and every day — forever — someone will still back their way into the post, fade back and dream of hitting The Kobe Shot. Those Kobe highlight reels we would watch before our own basketball games — on our phones, or on our laptops, or at the library — those aren't going anywhere. Those memories don't die.
Kobe and Gianna Bryant leave behind a wife and mother in Vanessa, and daughters and sisters in Natalia, 17; Bianka, 3; and Capri, who was born last summer. But Kobe is survived by all of us as well; just as Flip is. Death leaves us with pain but it does not leave us hopeless.
To paraphrase one of my favorite Kobe quotes:
"Pain is the little voice in year head telling you to stop because it's afraid if you don't that you'll change into something great."