As this Minnesota Timberwolves season winds down, the losses are likely to continue to stack up. Development is clearly being prioritized over maximizing the chance to win each individual game. With Karl-Anthony Towns sidelined, the players the Wolves are giving time to frequently pale in comparison to their opponents. This can cloud a lot of the assessment process, particularly for the coach.
In this week's mailbag, in the shadow of Kenny Atkinson's dismissal from Brooklyn, I received numerous questions that connect to coaching — both in the immediate future and looking forward beyond this season. What Ryan Saunders is able to get out of the group in terms of motivation, connectivity and adjustment is the best lens to look at his capabilities through. We'll get into a few questions about how that can be done, and what that could mean for the future.
Question: With Kenny Atkinson being fired, I went into thinking about all the Nets connections this team has. And on the same subject, it is no secret that Mike D'Antoni does not appear to be returning to Houston. Is it possible, given both of their connections, that Gersson Rosas would hire one of them? — Cal Knickerbocker
'How will you impact the next chapter of our story?'
I think that is the question Gersson Rosas poses when thinking about all of his Timberwolves personnel — coaches, players, executives, etc. Eventually, that question will be applied to Saunders. That said, I also think Rosas' track record indicates that he lives in the current chapter, affording every member of team personnel to be objectively assessed within the current moment.
How Rosas approached the first half of the season — before the trade deadline — and how he then approached the deadline itself serves as a good micro-example here. The since-departed Andrew Wiggins, Robert Covington, Jeff Teague, Shabazz Napier, Gorgui Dieng, Treveon Graham, Keita Bates-Diop, Noah Vonleh and Jordan Bell were all given opportunities — to varying degrees — during that first 50-game chapter of the season. In time, it was determined that those pieces would be more impactful as outgoing assets.
You may be thinking, how much of a shot were those players really given if all of them were eventually traded? That's fair, but only to a degree. Josh Okogie was deemed a tertiary piece worth keeping — one that certainly would have fetched value on the market. The same goes for Jarrett Culver and Jake Layman — and to a lesser degree Naz Reid. They were also assessed and deemed worthy of keeping around.
Covington serves as the most prescient example of Rosas' discernment process. As a player who thrives on the side of the ball the Wolves are weaker on — and locked up long-term on the cheap — Covington was still determined to have more value as an outgoing asset.
Eventually, Rosas and Co. hit the nexus of needing to ask themselves how the 29-year-old fit into the Wolves' next chapter.
Being nearly six years older than Towns was one straw. Another was the fact that Covington was a high-level individual defender but one who did not synergize well with Towns on that end of the floor — maybe not his fault, but true. Statistically speaking, Towns' worst defensive partner this season was Covington, allowing a ghastly 117.0 points per 100 possessions in the 747 minutes the two shared the floor.
A similar microscope will, in time, be applied to Saunders.
The difference here, though, is that not all chapters are the same in length and nature. Decision time for Rosas with Covington was impacted by his contract's asset value losing utility by the day. That's how player contracts work. Coach's contracts are different. The nexus as it connects to Saunders will coincide with when Rosas is ready to put the chips into the middle. When his roster is ready to surge, I think that's when Rosas will consider the possibility of a coaching change.
My best guess is that will not be until the 2021-22 season. I would be pretty shocked if Saunders is not the coach for at least next season. Whenever the time comes, Saunders' merit will be weighed against the merit of other coaches available on the market. Just like player trades. Making a move for Atkinson or Mike D'Antoni before the roster is ready to ride would be a behavior counter to what we've seen from Rosas thus far.
Yes, the connections to Brooklyn and Houston with the Timberwolves' personnel are obvious. It's fair to speculate that a previous connection of Rosas' could be brought into Minnesota. But to expect that before the other pieces are ready is a step too far, given how we've seen Rosas operate.
—
Question: Should players be allowed exceptions from coaching/scheme if they're talented or forceful enough, a la D'Angelo Russell? What's the threshold for such an exception? — Blamber
This is a fascinating question as it connects to D'Angelo Russell.
Before the trade deadline, the Timberwolves were dogmatic in their style of play on both sides of the ball. Offensively, shot selection has been analytically-driven, all but demanding that shots be taken at the rim or from beyond the arc. And on defense, the team's motto was "solid is enough," all but demanding that each player does their job — the same job — possession after possession.
However, certain players — the best ones — were granted additional freedoms. Wiggins was tasked with cutting down the volume of the midrange jumpers he took. He did that. But still, 13.3% of Wiggins' shot selection in Minnesota came from the midrange — not exactly sparse. Covington was also afforded additional bandwidth to freelance defensively. Rather than simply defending his zone, Covington ventured into a free safety role that netted him 1.7 steals per game in the 48 games he played for the Wolves this year, but also came with baggage in the aggregate.
Exceptions to the scheme should be allowed.
The game of basketball is too variable to do the same thing over and over. That said, when deviations happen, they should come from positions of strength. To again use Covington and Wiggins as examples, Wiggins venturing as far from the scheme's shot selection principles as he did and Covington venturing as far as he did from the principles of defensive solidarity came at a cost.
Wiggins only made 34.3% of his midrange jump shots in Minnesota, driving down the team's offensive efficiency when he was on the floor. Covington's freelancing too often came out sideways, causing breakdowns that led the Wolves to a dismal defensive rating when he was on the floor (particularly with Towns).
As I dug into earlier this week, how Saunders strikes a balance with Russell's desired style of play and the team's principles is going to be a critical calculus. Russell can and should have the freedom to deviate from the shot selection principles because his being a threat from the midrange opens up other looks for his teammates.
Take this play as an example. The threat of Russell pulling up from the midrange pulls in the Boston defenders enough to leave Juancho Hernangomez wide open for a 3 off the pop.
It's the seeking midrange looks that bring no positive externalities that Russell would do well to limit from his game. This play against Dallas serves a good example.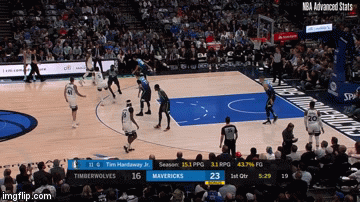 Russell shakes his man near the perimeter but decides to pull-up from 17 feet. Now, Kristaps Porzingis, an elite rim defender, is lurking near the rim, but only sort of — he's clear of the lane on the far side. In this situation, Russell would have done well to go towards the rim and judge Porzingis' reaction time. Had Russell deemed it was likely Porzingis would have blocked his layup attempt, then he can kick to Porzingis' man, Okogie, who would be wide open in the corner.
Now, in Russell's defense, Okogie is the Timberwolves' worst 3-point shooter (26.6%), so the math says that an Okogie 3 is only worth .798 points. If Russell thinks he can make that midrange pull-up more than 40% of the time (worth .800 points), the math checks out. Russell has made 42.3% of his shots from 17 feet in his career. So yeah, that's the "better" shot. But it's not a "good" shot. Taking non-"good" shots early in the shot clock is bad business in today's NBA, even if it's better than the immediate alternative.
There are bigger problems at play here that are not all Russell's fault. Minnesota needs to surround Russell with better 3-point shooters to maximize their offense. In an optimized world, Russell is only taking or threatening midrange shots that have positive externalities and passing out of them when a better shot exists. Shots like that look against Dallas should only be taken when there is nothing better to be had.
It's a process — and one that Saunders has said he plans on working on with Russell in the offseason.
—
Question: Where do you see the shooting of Malik Beasley, Juancho Hernangomez and Jordan McLaughlin normalizing at? — Logan Alten
Since the trade deadline, Beasley, Hernangomez and McLaughlin have combined to make 42.9% of the 219 3-point attempts they have taken — Beasley 42.6% (49 of 115), Hernangomez 42.0% (29 of 69), McLaughlin 45.7% (16 of 35). It's a big reason the Wolves rank 14th in offensive efficiency since the deadline. Before the deadline, however, those three players combined to make 32.8% of the 262 3-point attempts they took — Beasley 36.0% (58 of 161), Hernangomez 25.0% (15 of 60), McLaughlin 31.7% (13 of 41).
Where the numbers of not just those three players but the entire Timberwolves roster normalizes at for next season beyond the arc could be the difference between being a playoff team or not. If we assume Minnesota will remain below-average on the defensive end next season, they are going to need to be one of the league's best offenses to make the playoffs. Take the Dallas Mavericks this season as an example. Behind a potent Luka Doncic and Porzingis-led offensive attack, Dallas has the best offense in the league but only ranks 17th in terms of defensive efficiency. This levels out to Dallas only barely being a playoff team in the West — they are currently the No. 7 seed.
If Minnesota's offense is only good but not great next season and their defense is Dallas-level, we're talking about something that more looks like the New Orleans Pelicans of this season — who rank 15th in offense and 20th in defense, and are currently on the outside looking in of the playoff picture.
So much of Minnesota's offense next season will be driven by the pair of Towns and Russell. But connected to that pair are three other players. There's a world where those three players are frequently Beasley, Hernangomez and McLaughlin — if they're all re-signed. If those three players combine to make over 40% of their 3s next year, being the best offense in the league is not out of the question.
Most likely is that those three normalize at something between their combined 42.9% post-deadline rate and their 32.8% pre-deadline rate. If we split that in half, we're at 37.8%. Only two teams in the league are shooting over 37.8% from deep this season. We'll see how that plays out. Given where the defense has been this season, having elite shooting surrounding Towns and Russell feels like it may be a prerequisite for playoff contention next season.