After running relatively hot for a week, winning two of four games when Andrew Wiggins was sidelined with an illness, the Minnesota Timberwolves have taken a step back since his return (two wins, three losses). The Wolves defense has regressed back to below-average and the offense hasn't shown much burst. Worst of all, Wiggins just doesn't look the same.
To dig into this recent stretch and what's changed, let's do some Wiggins-centric mailbag questions before jumping around the roster.
—
Question: Any insight into why when they brought Andrew Wiggins back that they've mostly had him be the second and sometimes third ball-handling option on the court? — Justin Pinotti
What has changed about the way Wiggins is being used? That is an important question to answer because Wiggins' production certainly has changed since he returned.
I asked Ryan Saunders about this seemingly different usage for Wiggins prior to the Wolves' loss to Oklahoma City, and the answer was probably what you'd expect: They were pacing Wiggins after he missed substantial time with what I've heard was a really gnarly illness. The other big factor here, as it pertains to Wiggins' usage, was the ascension of Shabazz Napier's play during Wiggins' absence.
"He was out for a number of games, so you want to get him back," said Saunders of Wiggins. "And in that time, Shabazz had played well too. So it's one of those things that you don't necessarily wanna deviate from where you had some success."
In the third and fourth games Wiggins missed, Napier combined to score an efficient 42 points while leading the offense (14-for-22 shooting, 6-for-11 from deep). Napier was bringing what had slowly been evaporating from Wiggins' game prior to the illness: aggression attacking the rim and distributing chops when rolling downhill.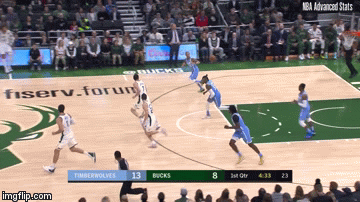 Napier also played well against Cleveland in Wiggins' first game back — 21 points, 8-for-10 shooting (2-for-3 from deep). This seems to have inspired some belief that if Napier could sustain something close to this productivity that he would alleviate some pressure off Wiggins. Instead, it does feel more like Napier has usurped some of the ball-handling responsibilities that get Wiggins rolling.
Napier's play also has not sustained. In the four games following Wiggins' return in Cleveland, Napier is shooting 30.8 percent from 2-point range and 26.3 percent from 3. Worse, the pair haven't really found that synergy in that time. Napier has played more minutes with Wiggins than any other player on the team over these five games, and the Wolves have been getting outscored (net rating: -0.4) while they share the floor. Conversely, Napier's success with Gorgui Dieng and Jarrett Culver has stuck. Since Wiggins' return, Napier and Culver have a net rating of +12.7 and the Napier-Dieng pair has a net rating of +7.0 — which means Wiggins' presence since his return has been killer when those four share the floor.
Now, what should this mean for the Napier-Wiggins pairing going forward? Should Saunders still target a large volume of minutes for the two? Or should the Point Wiggins experiment — with Culver and Wiggins sharing the backcourt — get another real shot? Maybe both?
Statistically, that Point Wiggins lineup has looked good this year. Wiggins and Culver have shared the floor with Napier and Teague both on the bench for 481 minutes this season, according to CleaningTheGlass.com, and in that time the Wolves have outscored opponents by a very solid 4.0 points per 100 possessions. This is bounds better than the 127 minutes Wiggins and Culver have shared the floor with Jeff Teague (-14.4). That drop off has not happened with Napier, though. In the 230 minutes Wiggins, Culver and Napier have shared the floor, that trio has a point differential of +5.3 — even better than the Point Wiggins backcourt.
As the roster is currently constructed, Wiggins needs to make it work with various backcourt partners. It's Saunders' job to create an environment that fosters that success. What's likely best for Wiggins is more time as a lead ball-handler — again, likely in a pairing with Culver — but the Wiggins-Napier backcourt should be able to work, too. As far as Teague goes, Saunders is probably best staggering Wiggins' minutes away from him as much as possible.
—
Question: Is Andrew Wiggins back to floating and not doing much else? — Miguel Angel
Since he returned from his illness, it's definitely fair to say that Wiggins' play has been more stagnant. I'd describe his performance on Monday against Oklahoma City as stale. It was a scary flashback to Disinterested Wiggins of yesteryear.
But I don't think it's fair to say that Wiggins is back to floating for good. We've seen too much activity from him this season in the aggregate to assume this has become the expectation rather than an exception. Even after a downturn in overall production, the sum of what Wiggins has put together this season suggests that this has been the most proactive season of his career on the offensive end. According to Synergy's tracking data, Wiggins is cutting more this season than he ever has, initiating more pick-and-rolls, and rarely spotting-up. That isn't floating stagnation.
Let's go through those three areas of Wiggins' game — cutting, pick-and-roll, and spot-up shooting.
Andrew Wiggins Cutting
This action between Wiggins and Towns became a staple of the Wolves' early-game offense when KAT was healthy.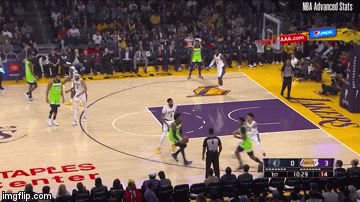 The Wiggins backdoor cut is most dangerous when Towns is quarterbacking the offense from the top of the key, due to the attention KAT generates. But even with KAT sidelined, that action has been duplicated in different fashions with different passing partners.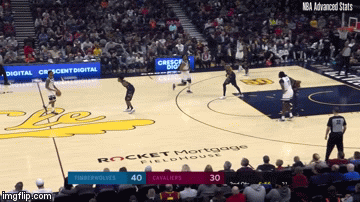 Of the 55 most frequent cutters in the NBA this season, only Devin Booker has been a more effective cutter than Wiggins. The 1.56 points per possession a Wiggins cut is rendering this season marks a career-high for efficiency. Wiggins is also cutting with at a greater frequency than any other season of his career (more frequently than Booker, too).
I will say, though, that the majority of these cuts feel like very scripted pieces of the offense. It would be a positive development if Wiggins found more ways to find freelanced cuts. Anything to boost his cutting volume higher is a win.
Andrew Wiggins Pick-And-Roll
Prior to this season, Wiggins' most-effective season as a pick-and-roll ball-handler was his sophomore season, when he was coached by Sam Mitchell. That year, Wiggins-led pick-and-rolls registered 0.85 points earned per possession. This season, the Wiggins pick-and-roll is generating 0.86 points per possession. That is obviously only a small increase, but when you factor in that the frequency in which Wiggins is running pick-and-rolls has more than doubled from that 2015-16 season, there's some reason to be encouraged. Wiggins has become a high-volume pick-and-roll ball-handler. Only 12 players initiate pick-and-rolls at a higher per game volume than Wiggins this season, according to Synergy's tracking data.
Part of the reason Wiggins' effectiveness has perked up here (by his standards — he's not as effective as those other high volume PnR guys) comes from his newfound willingness to take 3s in ball-screens actions.
The reason this hasn't led to more overall success is that Wiggins is getting to the free-throw line out of pick-and-rolls with far less frequency than he did that season under Mitchell. Old Wiggins pick-and-rolls often looked like this:
We rarely see that out of Wiggins' pick-and-roll game anymore. The most concerning negative externality that seems to connect to Wiggins' more modern shot selection is that he is getting to the free-throw line, not only in pick-and-roll but all actions, at a far lower rate than he did early in his career. During that sophomore season from Wiggins, he took 565 free throws compared to 1294 field goal attempts, good for a free throw rate of .437. That's almost been slashed in half this season (.257), with only 157 free throws attempted compared to 610 field goal attempts. More free throws for Wiggins are the path to greater offensive success not only in the pick-and-roll but every element of his offensive game.
Andrew Wiggins Spot-up Shooting
Another residual effect of Wiggins initiating the offense as much as he has is that this has become Wiggins' lowest volume and least-effective spot-up shooting season of his career. It's been an almost equal split of catch-and-shoot 3s and off the dribble 3s for Wiggins this year. This hasn't led to effectiveness — Wiggins is creating a career-low of 0.83 points per possession in spot-up situations — but it is a good indicator that he isn't standing around as much as he used to.
When the Wolves acquired Jimmy Butler for the 2017-18 season, Wiggins was moved into more of a spot-up role. The stats bear that out: Nearly twice as much of his offense that season (20.8 percent) compared to this season (12.9 percent) came from possessions he was spotted-up, according to Synergy.
But catch-and-shoot situations are good, so it is a bit concerning that Wiggins has gotten away from it as much as he has. The Wolves would do well to better toe the line of activating Wiggins when he is on the ball while also putting him in a greater volume of profitable spot-up situations when he is off it. One of those spots should be the corners. In a poor overall 3-point shooting season last year (33.9 percent), Wiggins made 47.4 percent (!) of his corner-3s. He's good from there; a career 41.1 percent shooter from the corners.
A big part of the reason Wiggins spot-up numbers are down this year is that he has only made 29.6 percent of his 3s from the corner. But he's only taken 27 corner-3s, compared to 176 from above-the-break. If that can bend a little more toward a balance, and if Wiggins can again find his corner-3 stroke, then his overall spot-up shooting will balance out. They could use more actions like this:
The one very encouraging stat within Wiggins' spot-up numbers: He's only taken two catch-and-shoot 2-point jump shots this season, per Second Spectrum. In his first two seasons in the league, Wiggins shot 152 catch-and-shoot 2-point jumpers.
—
Question: What are reasonable expectations for Andrew Wiggins in the second half of this season? — Josh Behnke
I think the single biggest expectation should be that flat performances like Monday's game against Oklahoma City don't linger. If Wiggins shows a propensity over multiple games in a row to float, Saunders needs to hold him accountable. Earlier this season, Wiggins said he wanted that accountability from Saunders. For a while there, that seemed like it might not be a need. But this play of late should remind Saunders that Wiggins has a historical propensity of turning into a floatation device. That's on Saunders to handle with Wiggins.
As I mentioned above, I think getting to the free-throw line is a must. Even when Wiggins was rolling in November, free throws weren't a major driver of his production. After losing confidence at the line the past two seasons, shooting 64.3 percent and 69.9 percent, Wiggins has re-established his ability to knock those down at a high rate. During his first three seasons in the league, Wiggins shot 76.0 percent from the line. He's shooting 75.2 percent from there this season. The volume just has to increase.
Continued growth on the defensive end should also be an expectation. Wiggins appears to have bought into what David Vanterpool is selling defensively. He's been a far more active defender. These types of blocked shots are special and need to continue to happen: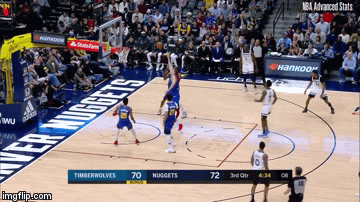 I think Wiggins should also be expected to take on more meaningful defensive assignments. Part of the reason Wiggins takes the opponent's lesser offensive weapons is to save energy for offense, which makes some sense. But watching the coaching staff hand the duties of defending James Harden and Russell Westbrook on Saturday to Robert Covington and Culver felt like a bit of an indictment of Wiggins' defensive abilities. He should be able to contribute there when healthy. If the Wolves ever make a playoff series with Wiggins on the roster, he'll need to be able to help limit the opponent's best offensive players. It would be good to see — and should be an expectation — that Wiggins shows the ability to deal with big-time offensive creators for the rest of this season.
—
Question: Do you see a future here for Shabazz Napier? He's been a surprise but I'm not thrilled with him or Jeff Teague. He's played well but I just think this is a one and done. How do you see it? — Kevin Brennhofer
Moving away from Wiggins, let's hit on a couple of quicker hitters — like this Napier question.
Before considering bringing back any free agents, Gersson Rosas and the Timberwolves front office will have to decide if they're attacking the summer looking to create cap space below the salary cap or if they want to plan on being an over-the-cap team. Without major roster moves at the deadline (like moving Gorgui Dieng for a player with an expiring salary), the more likely path looks to be the Wolves pursuing the summer as an over-the-cap team. This is because — even after Teague's contract expires — the Wolves are currently looking like they will only have somewhere around $5 million in cap space, due to raises of currently rostered players and the likely addition of a lottery pick.
If the Wolves operate over-the-cap, they then would be able to use the mid-level exception this summer. The MLE will provide nearly $10 million in spending power (double the cap space route). That said, to be an over-the-cap team, the Wolves would need to get over the cap. To do that, they'll need to re-sign at least one of their free agents this summer — Teague, Noah Vonleh, Napier, Treveon Graham or Jordan Bell. Bell is a restricted free agent, making him one of the more likely candidates to come back given the power a team holds over a player in restricted free agency. But Napier feels like the most likely of the rest of the group (all of whom are unrestricted free agents).
The Wolves have what are called "early bird rights" on Napier, allowing a player's incumbent team to exceed the cap to sign him to an annual salary for up to 105 percent of the league average salary the previous season. That number will be around $10 million this summer. Napier should be able to be signed for far less than that in annual salary. A deal though, of course, requires a mutual interest on both sides.
Saunders clearly has an affinity for Napier, illustrated by Napier's consistent presence in the starting lineup. But how does Rosas see it? That's the more important question — and a question that will likely be answered by the market value of the other point guards made available this summer.
For what it's worth: If I'm betting, I'm betting on lots of roster turnover this summer. It's not a coincidence that only seven players have guaranteed salaries on the books for next season. This front office craves flexibility.
—
Question: Why are Treveon Graham and Noah Vonleh seeing the floor? We get better productivity from Jarrett Culver, Naz Reid, and Jaylen Nowell — so why not run one of those three? — Joe Parkhurst
The reason Graham and Vonleh play is defense. For his offensive warts, Graham acquits himself well as an on-ball defender. And Vonleh has been a very solid defensive center. He has great defensive vision, communicates well, and understands the team's defensive scheme. That's why Saunders plays both of them.
To the second part of the question, I'll respond with another question: Don't Culver and Reid already play a lot?
Culver has been playing 32 minutes a night over the last eight games, never registering less than 28 minutes played in any of those games. And Reid, he has played 17 minutes a night over the last eight, never playing less than 10 minutes in any of those games. More minutes for Reid would have to come at the expense of Gorgui Dieng (who has been playing great defense) or Vonleh (who, again, provides defensive wherewithal). Reid is not a good defender at all right now. His shooting has been super exciting, but even 17 minutes a night for Reid feels like Saunders is playing with the devil defensively. We'll see if Reid falls out of the rotation completely once KAT returns. If that happens, then maybe you have a fair complaint — but only in the name of development.
As for Nowell, he has not been more productive than the other wing options. He's still learning the system down in Iowa, and, like Reid, has a long way to go defensively. Nowell not getting a substantial shot when nearly every other Wolves wing got hurt or sick tells us a lot about where the organization currently views Nowell's game. He remains a project.
I think we should hold off on pounding the table for playing time for the rookies until March.
—
Question: What's the realistic best-case scenario for the Wolves? Tank and play rooks while getting deals for the vets? Or really fighting for the 8th spot? Your personal opinion on what you think is best.  — Elijah Hartsell
If we assume Towns is going to be back for the majority of the second half of the season, there is a high floor — by relative terms — for this team. In other words, real tanking is impossible if KAT is playing.
With that, I think the best-case would be grabbing the eighth seed. I'm not betting on it, or saying it's likely, but I do think a playoff berth would have more of a positive residual impact than going, say, 13-28 in the second half and grabbing a better lottery pick. The eighth seed in the West would still render the 15th or 16th pick in this summer's draft. To me, making the playoffs would be worth falling, say, six or seven spots in the draft.
That said, I think you'll still see moves made on the margins that foster more and more playing time for young guys. That will probably end up being some low-key tanking. Guys like Teague, Graham and Vonleh are nothing special, but if they are moved and replaced in the rotation by Nowell, Kelan Martin and Reid, that will almost certainly lead to less winning.
As is always the case with the trade deadline, the market will dictate the best path. If a move can be made that meaningfully moves the needle for future seasons, that should be taken regardless of how it impacts winning this season.
There was a lot of trade deadline-specific questions that I didn't get to. In theory, those will be answered with my deadline-specific column later this month. Until then, this has been the Timberwolves Mailbag.