The last week has been nothing short of a whirlwind for the Minnesota Timberwolves. We'll be chasing our tails to catch up on everything for… well, I hope not forever. But the games don't stop. Let's hit on a few of the new pieces on this ever-evolving roster while acknowledging that incumbent pieces, like Jake Layman, are still here too. How is this all going to come together? I do not know, but let's do a mailbag anyway.
Question: The Wolves were hiding D'Angelo Russell on low-usage guys against Toronto, but in crunch time they made Russell's man set picks on Pascal Siakam. On several consecutive possessions, D'Lo ended switching onto Siakam. I don't think this is what the Wolves coaches want. How can the team cover for that? — KB
If it wasn't already, the Wolves defense is going to be a major talking point post-Russell acquisition. As I wrote about after Karl-Anthony Towns' and Russell's debut together in Toronto, this team's winning formula has shifted. With Russell in the fold, winning now banks on the power of the offense this roster should be able to create, acknowledging that the strengths of this group — particularly in their two best players — do not come on the defensive side of the ball.
To my eye, I thought Russell was actually pretty solid in his individual assignments in the first half of that Toronto game. Russell is not a physical defender but he is tall and long relative to other players who play his position. But as KB points out in his question, it was in pick-and-roll coverage that things really fell apart against Toronto for the Wolves, and specifically for Russell.
We should acknowledge, though, that this Toronto attack was very different than the traditional pick-and-rolls that have been cookin' the Wolves all year. What did them in was a 4-1 pick-and-roll, where Pascal Siakam (the 4) was the ball-handler and Kyle Lowry (the 1) was functioning as the screener. But yes, it was drawn up in that way to attack Russell. Watch on these two plays how Lowry, the man Russell is guarding, intentionally sets super sturdy screens on James Johnson with the goal of forcing Russell to switch onto Siakam.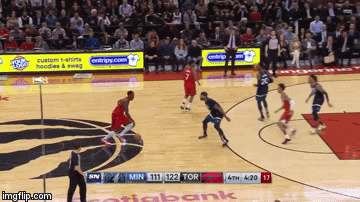 A lot of times in the playoffs we hear how Player X was "played off the floor" defensively. What that means is that Player X's opponent is so effectively attacking that player's defensive shortcomings that Player X's team is forced to bench the player simply to survive defensively. This was a theme in the Cleveland Cavaliers playoff runs with Kevin Love and it was something opponents also tried to do against Stephen Curry and the Golden State Warriors.
The reason Love was at times played off the floor and that Curry was not came from how Golden State found ways to effectively hide Curry. This was particularly true in last season's Warriors-Rockets series. Houston wanted to get Curry to switch onto James Harden on every possession. The Rockets craved this because Curry was Golden State's weakest option for defending Harden, just as Russell was the Wolves' weakest option for checking Siakam.
To counter this, what Steve Kerr and Golden State employed was a wild misdirection. Because Kerr knew Houston would just have whoever Curry was guarding go set a screen for Harden, Golden State made it unclear who Curry was even guarding. Watch here — this isn't a broken-play scramble, it's making everything looked scrambled so Houston doesn't know who to set the screen with.
Kerr termed this defensive coverage "bumping off." Functionally bumping off is off-ball switching that bumps Curry off whoever appears to be tasked with going to set the screen for the ball-handler.
"It's sort of a mini-zone," Kerr said of those situations of clustered switches. "If you do it well, it stagnates the offense."
That's one answer to the question of how the Wolves can cover for Russell in pick-and-roll situations. But again, I want to point out that Toronto being able to run pick-and-rolls with their power forward is rare. For example, I highly doubt you'll see Charlotte running this sort of action with Miles Bridges in Russell's home debut on Wednesday. That's not in Bridges' skillset. Few bigs can do what Siakam can do.
More commonly, the coverage adjustment you'll see Ryan Saunders implement is just tucking Russell away off the point guard in an effort to keep Russell out of as many pick-and-roll actions as possible. That broadly happened in Russell's debut, with Josh Okogie checking Lowry and Russell defending whichever lesser wing option Toronto had on the floor. But when Saunders went with Johnson over Okogie down the stretch of that Toronto game, Russell was forced to check Lowry. Toronto coach Nick Nurse recognized this and fired 4-1 pick-and-roll after 4-1 pick-and-roll until the Wolves were finished.
At practice on Tuesday, I asked Saunders about the decision to go with Johnson over Okogie to close the game. Saunders said he went with Johnson because "James gives you an element of confidence out there." When asked about the 4-1 pick-and-rolls specifically, Saunders said that "communication and time" will help Johnson and Russell better negotiate that type of action. But Saunders did acknowledge that he "did not like the communication late (in the game)."
How the Wolves navigate pick-and-rolls with Russell going forward is a massive question Saunders and the Wolves have to answer. Siakam was trial by fire.
—
Question: Where does Jake Layman fit in when he returns? — Paul Hartman
More news from Timberwolves practice Tuesday was Layman looking as active as I've seen him. I posted this video of what looked to be a full-on shooting drill. Layman will be discussing his injury with the media on Wednesday.
I think it's definitely a very interesting question about where Layman fits in when he returns. He's definitely going to play. Both Saunders and Gersson Rosas frequently reference how much this team has missed Layman on both sides of the ball.
The Wolves use their wing positions interchangeably shooting guard through power forward, and Layman is the player on the roster who can best slide between all three of those slots. According to CleaningTheGlass' tracking data, Layman has played 15% of his minutes this season at shooting guard, 54% at small forward and 31% at power forward. Layman will likely cut into minutes at all three positions. On the post-trade Wolves, the shooting guards have been Malik Beasley (30.2 minutes per game) and Allen Crabbe (16.7 minutes), the small forwards have been Josh Okogie (23.3 minutes) and Jarrett Culver (22.1 minutes), and the power forwards have been Juancho Hernangomez (26.2 minutes) and James Johnson (24.0 minutes). I think it's both natural and logical, in this case, to think that the players of that group with the lowest minute totals are the most likely to lose time when Layman returns to the rotation. That would be Crabbe and Culver.
If winning was the priority above all else, Culver's production and wonky fit in this system would make him the most likely casualty. But development probably trumps winning the rest of the way. Still, it's just hard to justify giving Culver minutes over Layman or really any of those other guys. We'll see, but I'd guess Crabbe is the most likely to receive the ax. Gotta say though, I've really liked Crabbe's fit with this new group. I loved this play, and specifically the extra pass by Crabbe.
—
Question: A lot of people seem to base impressions of D'Angelo Russell off his most recent stop in Golden State. Wouldn't it be more reasonable to think of his trajectory in terms of his growth in Brooklyn (similar system, even some similar coaches)? What can that tell us about how he's going to fit in Minnesota? — Dan Hylton
This is a loaded question, but to pick at one part of it, let's look at Russell's utility in the pick-and-roll at his last two stops.
In Brooklyn last season, Russell initiated more pick-and-rolls than any player in the NBA other than Kemba Walker. The difference between Russell and Walker, though, was that Walker was much more efficient, generating 1.01 points per pick-and-roll ball-handler possession, per Synergy Sports' tracking data. Of the 17 players to initiate over 500 pick-and-rolls last season, only Waker and Damian Lillard generated more than a point per possession in those. At 0.89 points generated per possession, Russell ranked 12th amongst those 17 high-volume pick-and-roll initiators. High volume for Russell, but not high efficiency.
That trend has sustained this season. In his time in Golden State, Russell remained a high volume pick-and-roll initiator — one of only 10 players to run 10-plus pick-and-rolls per game. The lacking efficiency has sustained, though. Of those 10 high-volume pick-and-roll initiators, Russell has been the least efficient of the bunch, again generating 0.89 points per possession.
The optimistic thought is that running that pick-and-roll with Towns rather than with Jarrett Allen or whoever was playing center for Golden State this season will unlock greater efficiency for Russell. That might be true, but I'm more intrigued to see if Russell's high volume sustains.
The Timberwolves as a whole this season do not run a lot of pick-and-roll; they rank 23rd in the league this season in pick-and-roll frequency, per Synergy. That's not exactly high volume. Also, it's worth noting that the Wolves generated that same 0.89 points per possession in 1,019 pick-and-rolls they have run this season without Russell — the 10th-best efficiency in the league. I'd bet on that volume going up with Russell in the fold, but his track record doesn't suggest it will necessarily lead to better efficiency.
Another note: Andrew Wiggins initiated 358 of the 1,019 pick-and-rolls the Wolves have run this year, and generated 0.86 points per possession within those actions. Of the 23 players to initiate over 325 pick-and-rolls this season, Wiggins' production ranked 22nd. Now, you can indict Wiggins individually for that lacking production, but isn't some of that on the pieces Wiggins was surrounded by? Related: Are we sure Towns is a great pick-and-roll partner?
—
Question: Malik Beasley and Juancho Hernangomez both seem like great fits for our system. Will the cap space This summer be too tight to sign both? what do you project those two to get offered in the offseason? — Henry Hellman
The free agency negotiations of both Beasley and Hernangomez are important portions of grading the Timberwolves trade deadline. Like Tyus Jones last year, both players are restricted free agents this summer.
First, let's pin down how the Wolves landed these two dudes. In the four-team trade between Minnesota, Houston, Denver and Atlanta, the Wolves sent out Robert Covington and functionally received two 2020 first-round picks for him — Brooklyn's via Atlanta and Houston's. The lesser of those two picks — Houston's, currently the 22nd pick — was sent to Denver for Beasley, Hernangomez and Jarred Vanderbilt. Keita Bates-Diop, Jordan Bell, Noah Vonleh and Shabazz Napier also went out of Minnesota in that deal. In short, the Wolves gave up the No. 22 pick this summer to give Beasley and Hernangomez a rest of season tryout and to have their restricted rights this summer.
With restricted rights on those two, Minnesota has the right to negotiate a deal with them or match any contract those two are offered on the open market this summer. In other words, the market will determine their next contract, allowing the Wolves to decide if they like the price point.
Understanding this summer's market is critical here. Currently, only five teams project to have cap space this summer — Atlanta ($49.6 million), Charlotte ($24.3 million), Detroit ($32.4 million), Miami ($26.4 million) and New York ($31.4 million). To offer a contract with an annual salary of over $9.8 million this summer (the mid-level exception), a team needs cap space. Beasley turned down a 3-year, $30 million contract extension from Denver this past summer, suggesting he is looking for over $10 million annually on his next deal. If that's the case, the teams that can bid over that $10 million are limited to Atlanta, Charlotte, Detroit, Miami and New York. It only takes one, but that's a pretty damn restricted market.
Oddly, Hernangomez, who will likely have a far lower market value (under that $9.8 million line), is more of a flight risk due to the notion that far more teams — almost every team — that can be in the sub-$10 million marketplace. It's going to be the Summer of the Mid-Level Exception. Any team out of the luxury tax could use all of or part of their mid-level to concoct an offer sheet for Hernangomez. Now, that doesn't mean the Wolves won't match that offer sheet for Hernangomez — they traded for him knowing the risk proposition — but it's just likely going to be a different marketplace with more bidders than Beasley's is likely to have. Crazy salary cap stuff.
With their own lottery pick and the Brooklyn pick currently factoring into their projected cap situation, the Wolves are looking like they'll be something like $26 million below the luxury tax line entering the summer. This serves as a functional hard cap if we assume the Wolves aren't going to pay the tax (very likely considering they are in the tax this season, and that the repeater tax charge is harsh).
If the Wolves use their own mid-level exception on another free agent, that leaves about $16 million left in wiggle room under the tax line. Beasley, Hernangomez and other necessary free agents (at least at the minimum salary) will be digging into that pot. To me, that suggests only one of Beasley or Hernangomez is likely to return. A million different things can change between now and then — this front office has shown us they're clearly willing to shake up the roster — but there is only so much room. Given the marketplace Beasley is likely to live in, it seems like he is more likely to be retained by the Wolves, leaving Hernangomez to take a path similar to Tyus last summer.
—
Question: Which is more likely? A.) The Timberwolves use both of their 2020 first-round picks to draft players? B.) They use one or both of those picks to acquire a veteran talent  — TW
The Wolves are not allowed to trade both of the first-round picks they have in this summer's draft (Brooklyn's and their own). They can't trade them both because they already traded their 2021 first in the Russell trade, and The Stepien Rule prevents a team from not having a first-round pick in consecutive drafts. One of those two picks has to stay.
With that established, I think moving one of the two picks is very likely. Again, this front office has shown a major willingness to wheel and deal, and draft night presents a major market for trades. I don't think anything outside of Towns and Russell is bolted down, so the pick could conceivably be attached to any of the team's other salaries.
If the Wolves want to go hunting for more expensive game, they could attach one of the picks to James Johnson's $16 million in salary for next season. Say the front office acknowledges the possibility of Hernangomez leaving in free agency, intriguing them to trade Johnson plus one of the firsts for a younger combo forward. In this case, Aaron Gordon's $18.1 million salary could match up.
Or maybe they avoid trading out "bad salary" in Johnson and put Culver's $6.1 million on the table along with one of the firsts. Would that entice Orlando to let go of Jonathan Isaac's $7.4 million in salary? What about Lauri Markkanen's $6.7 million from Chicago? If the Wolves have a top-five pick and they're willing to put that on the table, teams will listen. I know everyone thinks this draft stinks, but it's still a top-five pick.
Maybe not with Johnson or Culver specifically — all indications are that this front office is really into both of those players — but there's definitely reason to think some sort salary-plus-picks deal could be worked. Let's chill out on the Devin Booker talk, though. Booker is set to earn $29.5 million next season. How are you matching up salaries on that without sending out one of Russell or Towns?