The Minnesota Timberwolves entered Trade Deadline Week with their chests as inflated as a 25-27 team could. What exactly general manager Scott Layden, would do at the deadline — buy, sell, stand pat — remained ambiguous, but the message from all levels was that this team was pushing for the playoffs.
Now that's confusing, right? We desperately want to make the playoffs but we're not sure if we want to make moves that improve the roster today.
Amidst that confusion, a fitting result unfolded: three straight losses and zero trades.
The Wolves fell to an injury-riddled Memphis team (without Marc Gasol, DNP — 'bout to get traded) the day before the deadline.
Then, 19 teams involved themselves in trades on Thursday while the Wolves sat on the sidelines.
Four hours after the deadline, the Wolves played Orlando and lost.
The next day, another loss to New Orleans.
With that, the playoffs look like a distant dream and the fanbase's chests have been deflated. In the deflation, it was only reasonable to wonder why no moves were made. So let's explore that. We know what didn't happen this week, but it's worth examining the why.
---
The Rationale For Not Selling
On the simplest of levels, selling made sense before the trade deadline because the Wolves owned a bevy of 30-somethings on expiring contracts. In theory, those pieces could have been moved for future assets. As it played out, that market never came together.
Moving Taj Gibson was on the table, league sources told Zone Coverage, but a market never materialized. Teams like the Milwaukee Bucks, who unloaded numerous second round picks and Thon Maker, for the services of power forward Nikola Mirotic, were interested in a stretchier big; not a player like Gibson who is now functionally a paint-bound center.
Derrick Rose would have been a rental to any team pursuing his services. But Rose's injuries along with his no-trade power muted his market.
Which brings us to Anthony Tolliver, who did have a market. However, that market was not voluptuous in terms of asset return. As learned in separate reports from Jon Krawczynski at The Athletic and Darren Wolfson at SKOR North/KSTP, understanding the value of said return required looking at the Wolves financial picture beyond this season.
Layden was reported to have spoken to more than three teams about Tolliver's service but specifics of deals were laid out (by Wolfson) in offers from Oklahoma City, Toronto and Dallas.
Trading For Patrick Patterson + Second-Round Pick
Trading for C.J. Miles + Second-Round Pick
Trading for JJ Barea + Second-Round Pick
A deeper look at those three deals drives a reasonable rationale for deciding to stand pat. It also highlights how tight adding any players in free agency will be for the Wolves this summer. Let's dig in.
Trading For Patrick Patterson + Second-Round Pick
On the surface, this meets the sellers logic for the Wolves: grab a pick for Tolliver's services, even if Patterson is a downgrade.
The main catch with this specific swap is that Patterson has a player option for next season at the price of $5.7 million. Again, Tolliver's contract is expiring. Adding the potential of Patterson's money is a costly proposition for the Wolves given that they have $108 million in guaranteed salary for next season.
If the Wolves were to add Patterson's $5.7 million next year as just a ninth salary, the team's total salary would swell to $114.4 million. If Karl-Anthony Towns makes an All-NBA team this season, add another $5.5 million to that total. With either figure, the Wolves would be very close to the 2019-20 luxury tax line ($132 million). That pinching, with the roster constructed as is, would all but prevent the re-signing any of their upcoming free agents (Tyus Jones, Taj Gibson, Derrick Rose, Luol Deng, Jerryd Bayless). Additionally, if the Wolves added Patterson, the midlevel exception (up to $9.2 million) — the greatest tool the Wolves have to supplement the roster this summer — could not be used while staying under the luxury tax line.
In short: The opportunity cost calculation asks if that extra second-round pick and Patterson is worth punting on free agency.
My personal opinion: A resounding no. The Thunder are good, and with Paul George (28) and Russell Westbrook (30) the odds of that 2020 or 2021 pick stinking are high.
Trading for C.J. Miles + Second-Round Pick
Toronto trading the Wolves C.J. Miles and a second-round pick to the Wolves — an offer reported by Wolfson — is even more financially onerous. Miles' deal is structured the same as Patterson's: a 2019-20 player option, only Miles' is for $8.7 million.
That additional $3 million that Miles would earn over Patterson only further extends the Wolves pressing beneath the luxury tax line. Had the Wolves made the move for Miles and if Towns ends up making an All-NBA team, the Wolves would have had $122.9 million in team salary for next season — again, only to nine players. Additionally, the earliest second-round pick Toronto could offer is their own in 2023.
Personal opinion: This offer is even worse. While Miles was once upon a time an interesting piece for the Wolves to pursue in free agency, next season will be his 15th in the league and his production has fallen off substantially. The 6-foot-8 swingman has always been a minus on the defensive end, he's playing a career-low in minutes on a deep Toronto team (14.1 per game) and this year he has lost his shooting touch (31.4 percent from deep). Having him on the books for $8.7 million would likely be sub-optimal even without the luxury tax concerns.
Trading for JJ Barea + Second Round Pick
This deal is different. Wolfson reported that Dallas' offer for Tolliver would have been JJ Barea — who is out for the season with a torn achilles tendon — and a second-round pick.  Barea would thus be nothing more than cap filler as he is on an expiring contract; there would not be the long term salary cap ramifications. Therefore, a new question: Is dumping Tolliver worth gaining a second-round pick?
That likely depends on the value of the pick. These are the second round picks the Mavericks could have offered:
Their own in 2019, 2021, 2022, 2023, 2024
Miami's in 2023
The greater of Golden State and Houston's in 2020 (not good)
What pick was made available is currently unknown. Layden turning it down means he didn't like the value. But that lies in the eye of the beholder. Perhaps there was a mandate from owner Glen Taylor to receive both a player and a pick. Who knows?
Personal opinion, in a vacuum: I'd take almost any of those picks for Tolliver. I love Tolliver the player but if there is a position on the team the Wolves do not need now or in the future, it is power forward. Tolliver has been square-pegged into a round hole at the small forward position this season and it just isn't working. Opponents are relishing the opportunity to put Tolliver in space. He doesn't have the foot speed to keep up.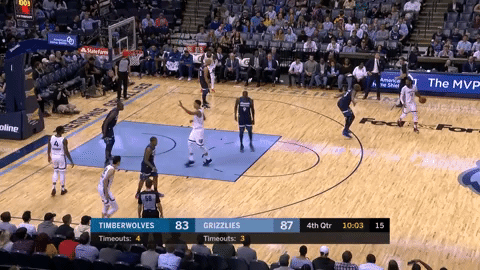 No other Tolliver deals were specifically reported.
There were, however, other functionally similar deals that happened. James Ennis was "sold" by Houston to Philadelphia for the return of a future second-round pick swap. That's just about nothing in value. It was a luxury tax move by Houston. New Orleans also "sold" Wesley Johnson to Washington for Markieff Morris and a 2023 second-round pick. Morris, like Barea, is hurt. Washington took on Johnson and his lesser salary for a tax saving of their own. Conceivably, the Wolves could have been New Orleans in this example — grabbing a distant second for Tolliver.
Long story short, reporting and the trades that occurred suggest Tolliver could have been had for one of two things:
Future salary plus a second-round pick;
An injured player plus a second-round pick
In Layden's eyes, neither was worth it. It's fair to disagree with that assessment but don't pretend a haul for Tolliver was out there.
Personally, I think disagreements are better directed towards asking for something bigger. Given what played out, here are a few options.
If Not Sellers, Why Not Buyers?
Through a Wolves lens, I think three deals served as examples of effectively threading the needle of logical "buys" — giving up future value for immediate (and, perhaps, long term) benefit:
Raptors get: Marc Gasol; Grizzlies get: Jonas Valanciunas, Delon Wright, CJ Miles and a 2024 second-round pick
LA Clippers get: JaMychal Green, Garrett Temple; Memphis Grizzlies get: Avery Bradley
Chicago Bulls get: Otto Porter Jr.; Washington Wizards get: Jabari Parker, Bobby Portis, 2023 second-round pick
Buying Marc Gasol
Arguably the most valuable piece headed to Memphis in exchange for Gasol was Delon Wright — a point guard, semi-buried on the bench, who will become a restricted free agent at season's end. Sound familiar?
Tyus Jones very well could be the point guard of the future for the Wolves. However, if the front office forecasts a financial crunch that prevents them from meeting Jones' contract demands this summer, considering trading him made some sense. The Wolves could have put together a fairly similar — arguably better — deal for Gasol's services than Toronto did.
Jonas Valanciunas ($17.6M '19-'20 player option) — Jeff Teague ($19.0M '19-'20 player option)
Delon Wright ($2.5M '18-'19 salary, '19-'20 RFA) — Tyus Jones ($2.4M '18-'19 salary, '19-'20 RFA)
C.J. Milles ($8.7M '19-20 player option) — Jerryd Bayless ($8.6M '18-'19 salary, '19-20 UFA)
Sure, Gasol may have not had interest moving from the 14th seed Grizzlies to the 12th seed Wolves. Additionally, Memphis may have preferred Wright to Jones. But the offers are comparable, and that's with Toronto only offering a 2024 second round pick. To sweeten the pot, the Wolves could have put forth multiple picks. Minnesota's seconds — at least the immediate ones — are also just more valuable because, well, they're a worse team.
You may be thinking, What about all that luxury tax stuff? Fair.
However, in my opinion, Gasol — who, like Patterson and Miles, has a player option for 2019-20 — would be worth punting on free agency for. That's informed by the notion that I just don't think the Wolves will be able to do anything better than him with the midlevel exception (~$9.2 million).
In fairness, the extra $6.6 million Gasol can opt into over Teague's $19 million would likely force the Wolves to dump one of Andrew Wiggins or Gorgui Dieng this summer. Are we sure that's a bad force, though?
Buying JaMychal Green and Garrett Temple
All the Clippers had to give up for Green and Temple was Avery Bradley and his $12 million contract. Bradley is having a down year and has $2 million of his $13 million guaranteed next season. Memphis general manager, Chris Wallace, said they basically gave up Green and Temple to create a trade exception (whoopee!) and to create a roster spot for the Gasol deal. That's not a joke:
Wallace on what he likes about the Green/Temple trade

He doesn't mention Bradley until asked, take that for what it's worth pic.twitter.com/MG3PPn0g5B

— Grizzly Bear Blues (@sbnGrizzlies) February 8, 2019
In other words, if you could cobble together $12 million in salary, Green and Temple were there for the taking. The Wolves have that in expiring contracts: Bayless ($8.6M) and Tolliver ($5.8M).
Green is another big man — not ideal. But he brings a defensive toughness that the Wolves lack. Temple is a functional wing on both ends of the floor — the Wolves hardly have that, even when their roster is healthy. Likely, neither Green or Temple would be brought back after this year. Still, there is some value in a test run. Maybe one of them become their midlevel exception guy next year.
Buying Bobby Portis and Jabari Parker (Translation: Dumping Andrew Wiggins' Salary)
This would be a different type of buy. Even to those lowest on Wiggins would admit, in fairness, that this would hurt the Wolves this season. Portis would further muddle a big man rotation. And Parker, well, he wasn't playing for the Bulls…
Washington absorbed Portis and Parker's expiring contracts for the opportunity to get out of Otto Porter's $26 million salary. The Wizards acknowledged the ominous financial reality they are entering and opted for change. Andrew Wiggins is making $25.5 million this year and contributes to a similarly problematic financial future in Minnesota.
The difference between Porter and Wiggins is that Porter's deal is two years shorter than Wiggins'. Chicago knows they'll be bad for the next few years, making a tough salary palatable. Wiggins is a whole bigger, longer question. Porter also has at least one night-in-night-out skill: shooting (a career 40 percent shooter from deep). A specific, consistent skill that drives winning from Wiggins is still unknown.
(But a reuniting with Zach LaVine… Bounce Bros, amirite?)
For the Wolves to make this type of move it would have been an absolute punt of the former No. 1 pick. They also likely would have had to attach more than a 2024 second-round pick to get Chicago to bite. Perhaps that's a self-indictment the Wolves organization isn't ready to wear.
Still, if moving Wiggins is going to happen eventually, this was a theoretical opportunity to do so without taking back any long term money. Toiling with an identity that could eventually be pivoted off of is a dangerous line to walk, particularly with KAT.
---
The Wolves stood pat. That's what happened. These ideas are thought bubbles that blew away with Thursday's deadline, now, a piece of history. Still, it's a point of reference. By rolling with the status quo, as Krawczysnki put it in his report, the Wolves continue to wander through the wilderness. The moves, or lack thereof, aren't indefensible. They're just uninspiring. And to many Timberwolves followers, well, that's all just classic behavior of a Wolf.
How Well Do You Know The Twins?
Take the Twins quiz and test your knowledge!
Take Quiz