The Minnesota Timberwolves need a lot more, and they have limited resources to address those needs this summer. Almost any assessment of the incumbent pieces on the roster suggests there are three types of players that they simply own too little stock in: defenders who can excel in execution within a variety of defensive concepts, capable shooters — preferably both off the catch and off the dribble — and playmakers who can create space to distribute or in finding their own shot.
Turning 31 on July 12, Patrick Beverley is an unrestricted free agent this summer who boldly checks those first two boxes (defensive aptitude and shooting prowess) while receiving partial credit in the latter box (playmaking) — making him perhaps the most attractive, within reason, free agent for the Wolves to pursue this July.
Of course, the preference is always to add a player who checks every box, but that is far easier said than done. With the context of the Wolves' salary cap situation, it would be a coup for their new president of basketball operations, Gersson Rosas, to check anything more than even one of those boxes.
With the Wolves having $108.7 million dedicated to eight players and an additional $4.0 million reserved for the 11th pick in the June 20 draft, the midlevel exception — functionally a gift card worth $9.2 million that teams, like the Wolves, who are not in the luxury tax have access to — is the most powerful free agency tool Rosas has in his arsenal.
The Wolves existence on the fringes of the projected luxury tax line ($132 million), with incumbent free agents unsigned (Tyus Jones, Derrick Rose, Taj Gibson, Luol Deng), crafts a logical argument that the Wolves should not use the full amount of that midlevel gift card — so as to avoid the tax. There is also an argument to be made that splitting the midlevel into two or three pieces, so as to round out a thin roster, that makes sense.
But it is the productive profile of Beverley and how he would theoretically fit on the Wolves current roster that detracts from those arguments for more conservative maneuverings. Provided the midlevel would attract him to move to Minnesota, Rosas and his new-look front office would do well to consider Beverley — a round peg that would fill so much of the Wolves roster's round hole of needs.
A Defender in a Variety of Defensive Concepts
While Beverley is almost criminally underrated as an offensive player, the place to begin crafting an argument for adding him to the Wolves roster has to be on the defensive end.
Not only is the defensive end the place where Rosas has his work most cut out for him, but it is also the side of the floor where Rosas has, in my opinion, made his most low-key curious move. Hiring David Vanterpool to be Ryan Saunders' defensive coordinator is by no means curious on merit; the sentiment around the league is that Vanterpool was maybe the best defensive-minded assistant on the market. (One league source said they were "shocked" to see Vanterpool leave Portland for a job that was not a head coaching gig.)
The curiosity of the move, instead, is born out of the scheme Vanterpool had the Blazers running these past few years. Since acquiring Jusuf Nurkic two-and-a-half years ago, Portland — and thus Vanterpool — found success running a scheme that asked Nurkic retreat to towards the rim in what is often referred to as a "blue" or "drop" defensive tactic against ball-screen actions.
"Frankly, Nurk was a big part of our defense," said Portland's head coach, Terry Stotts, when I asked him earlier this season about the success his team had found in having Nurkic attempt to avoid switches. "He would protect the paint. If you look at our numbers when he's on the floor, our defense was markedly improved. And, to that point, that's been three years in a row; when we first got him mid-season, our defense improved; all year last year we were top 10; this year has been even better with him."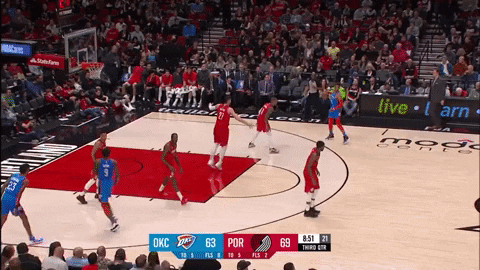 Of course, it was this same scheme — one that broadly avoids on-ball switches — that Tom Thibodeau brought to Minnesota and imparted on Karl-Anthony Towns. While Towns certainly made strides this past season in his ability to read and react on that end as a dropping big, the aggregated reality of the situation was the opposite of the success Vanterpool had with Nurkic. The Wolves were statistically worse defensively with Towns on the floor than they were when he rested in all three seasons Thibodeau coached.
While it is unclear whether or not Vanterpool has trappings on having Towns function similar to Nurkic, it is known that Beverley has ample experience in this scheme.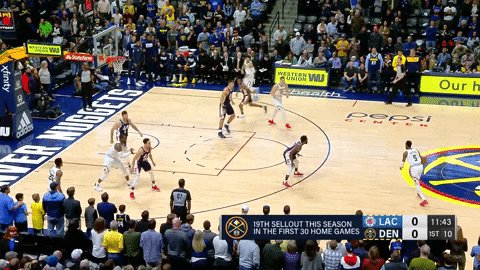 Beverley knew that his job in Doc Rivers' system in Los Angeles was to glue himself to the opposing ball-handler and to attempt to go above the screen in an attempt to push them into the paint — where the big man waited to eat. Here, as manifested effectively in the above clip, Beverley could allow the slower-footed big (Ivica Zubac) to retreat into the lane — drop — where it is his job, as Stotts puts it, to protect the paint. Largely due to the presence of Beverley (and, also, Shai Gilgeous-Alexander), the Clippers were able to format a defensive scheme that allowed Zubac, Marcin Gortat, Montrezl Harrell and Boban Marjanovic to all be dropping bigs last season.
Again, it is not known that Vanterpool will be demanding this type of scheme; a completely different system could be instilled.
At Saunders' introductory press conference in May, Saunders described working with his assistants to run a "modern NBA" defensive scheme, where "you will see more switching" and "double-switching." Saunders said he wants his team to be able to guard actions with the guys that are involved in those situations — without engaging a third wing that could leave the corners exposed.
In an easier-to-picture analog, the way the Houston Rockets have defended over the past few seasons — striving to have the point-of-attack defender and big man defender handle the pick and roll independently, with switches — is what Saunders was describing. In that system, Beverley has experience, too — literally.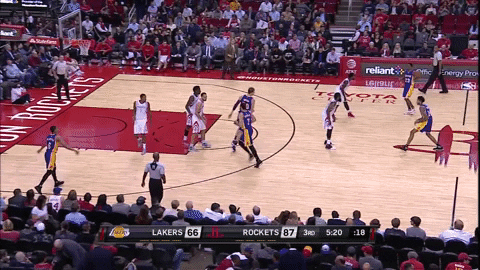 The biggest difference in the Houston scheme compared to Portland's is the level that the big is asked to play at. As you can see above, in Los Angeles' attempt at a pick and roll, Beverley is defending the point-of-attack but he has Clint Capela up at the same level as the screen.
The reason Houston asks Capela to play at this level is that it fits his skill set; as a fleet-of-foot big, Capela can scamper onto the perimeter, where he can hold his own if a full-on switch is needed. The logic is inverted for Nurkic whose skill set, as a taller and stronger player, better fits retreating towards the paint.
In Minnesota, what is unknown is what exactly Towns' best utility is. Perhaps the biggest question for Vanterpool and Saunders to answer: Is KAT more Capela or more Nurkic?
It's easy to dismiss the Nurkic-style because, well, it hasn't worked for Towns. But that is too simplistic because the context of his coach and who he played with is important. Using KAT as a dropping big could still be the best option. That said, the unseen is attractive when it comes to Towns, who has almost universally been shunned from switching out on the perimeter. I remember once asking Thibodeau about a play where Towns switched out onto Steph Curry and got a stop. Thibodeau responded, "It is always a breakdown if Karl is switched onto a guard on the perimeter."
Many coaches don't feel that way. The level at which the big plays falls on a gradient affected by the opponent and on his coach's personal preference. Thibodeau wasn't necessarily wrong to avoid using Towns in a dropping capacity, but the rigidity of his desire to keep him at a specific place on the gradient may have been misguided. Vanterpool could prefer to toggle up and down the gradient — sliding from Nurkic up to Capela. That seems ideal.
If a diversity of coverages is the preference for Vanterpool, Rosas and Saunders, then Beverley is perfect. What a weapon — and gift to Towns — it would be to be able to throw Beverley and Robert Covington at lead ball-handlers. Covington is the long, quick, you can't get past me-defender. Beverley is the pick you up at halfcourt, in-your-shorts, I'm gonna annoy the hell out of you-defender.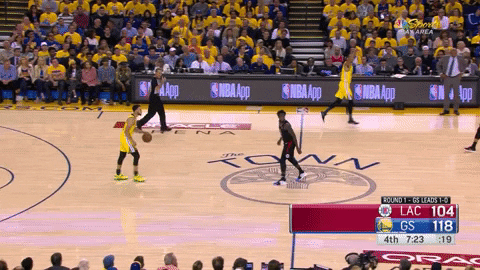 Most people think of Beverley as this point-of-attack bulldog, but that doesn't do him justice. As mentioned above, the Clippers often used Gilgeous-Alexander at the point, and then had Beverley play off-ball. Beverley thrived there too as a keenly aware, head-on-a-swivel help defender; off-the-ball, he frequently jumps into the space the ball-handler wants to get to before they know he is there — like this play against Kevin Durant.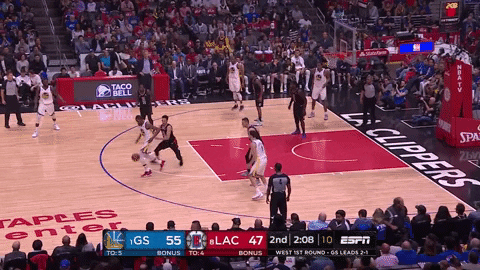 The above play reminds me of Andre Iguodala. Much like Beverley, Iguodala is thought of as the guy you put on the opponent's best scorer. But that is only part of his game. For Iguodala, there is no better example of this ability to make space evaporate than the final play from Game 5 of these recent NBA Finals. Iguodala brought help towards an isolating Kawhi Leonard that forced the ball out of Leonard's hands and into Kyle Lowry's. A win for the Warriors.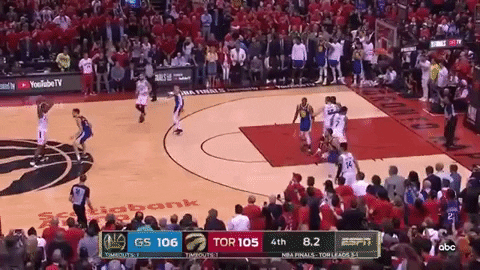 It isn't brash to think that Beverley could be the Wolves' version of Iguodala. Sure, they still need their version of Draymond Green and Klay Thompson to bolster Beverley's Iggy-value. (Maybe that is Covington and Josh Okogie?) Regardless, Beverley would be a step in the right direction, even if the steps Towns is asked to take are still backward — in a drop scheme.
A Capable Shooter and Competent Playmaker
On to Beverley's underrated offensive game. I think many picture Beverley's offense simplistically: the second guard who waits for spot-up opportunities in the corner.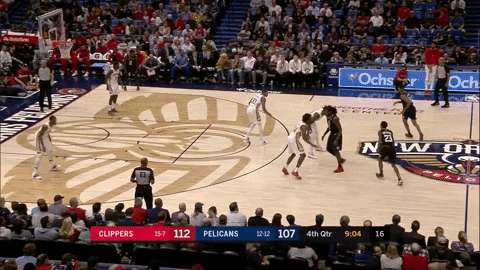 While this is certainly part of Beverley's offensive game, it is definitively only a fraction of his 3-point shot selection. This past season, Beverley did make 50 percent of his corner-3s, but he only attempted 60 from the corners. Nearly 79 percent of the 3s he attempted came outside of the corners; on above-the-break 3s, Beverley converted at a 37.1 percent rate on 221 attempts.
That's a lot of 3s. For context, Towns led the Wolves in total 3-point attempts at 355 — including both the corner and above-the-break. Beverley was able to get this volume up because he isn't just a catch-and-shoot guy. According to Second Spectrum's tracking data, 23 percent of Beverley's 3-point attempts came off-the-dribble last season. He's frisky off-the-bounce searching for 3s, and has a PG-13 version of James Harden's step back.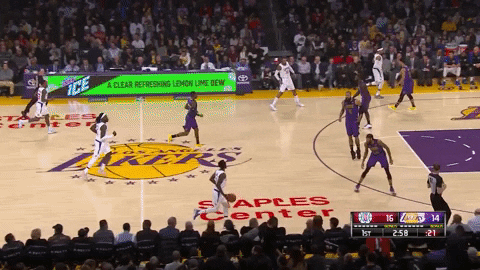 Beverley's comfort with shooting off-the-bounce allows him to create space that his stature doesn't naturally afford him. He effectively has the ability to swiftly re-set his feet after using a dribble. That skill is particularly valuable in transition opportunities.
Beverley's dribble-drive game is more of an adventure. He's just super short, and because of that is forced to use a combination of chaos and craftiness to get shots off amongst the trees. His favorite at-the-basket move is a sprint dribble into a pivoting fader away from the big.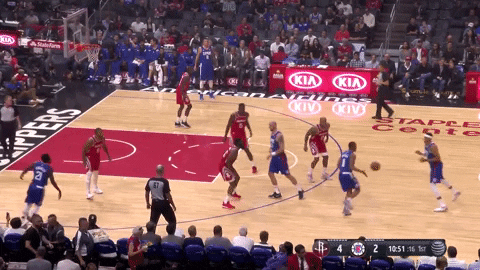 Sometimes it works. But it kind of feels like the book is out on his hair-on-fire style. Aware and under control defenders know not to fear him getting to the rim. Defenders who waited out the pivot, like Nikola Mirotic below, were rewarded with the block.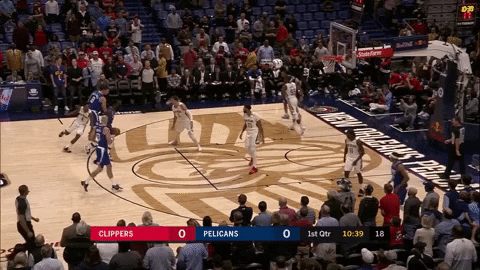 Beverley only converted on 35.5 percent of the shots he took in the paint last season. He just loses his mind going to the bucket a lot.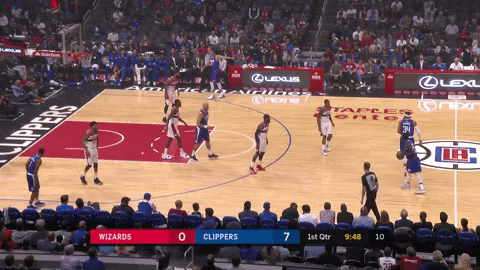 To put it simply, when Beverley is trying to playmake rather than score, things tend to go way better. It's certainly a more aesthetically appealing endeavor.
Beverley put together real nice chemistry with Danilo Gallinari last season. The perception is often that the Lou Williams and Harrell duo were the engine of the Clippers offense last season; those two were great — with an offensive rating of 112.0 when they shared the floor — but it was Beverley and Gallinari who had the best offensive rating (115.0) of any Los Angeles duo that played over 500 minutes together.
Gallo's smooth stroke was the sandpaper to the rough edges of Beverley's frenetic offensive game. Second Spectrum has Gallinari having hit 46.8 percent of his 3-point attempts that came off of a pass from Beverley — on a fairly fat 78-shot sample size. Tobias Harris also made 46.9 percent of his 3-point attempts off of Beverley passes before getting traded. Connecting a few links in the chain suggests similar effectiveness between Dario Saric and Beverley would be possible.
Beverley is well-rounded. He deserves the reputation of being a defensive warthog, but his offensive game also warrants merit.
The Wolves need both. Rosas confirmed as much when he addressed the media after Saunders' hiring. "The reality is if you want to be a playoff team you have to be a top-10 team on offense and defense and that's what our goal is going to be," said Rosas. "We've got to surround our team, our best players with personnel that will be complementary to them, and we need more defenders."
It's fair to glean that Rosas himself will take a well-rounded approach to rounding out the roster, but also one that when push comes to shove, prioritizes defense. That's Beverley in a nutshell. There may not be a better option on the open market that could be had for a $9.2 million gift card. If Beverley will come, Rosas, Saunders and Vanterpool should welcome him with open arms. And hell, Beverley's old teammate in Houston and Timberwolves new offensive coordinator, Pablo Prigioni, probably knows that Pat Bev is a jagged, warthog, shooter who could help the Wolves on both sides of the ball.