Ryan Saunders had to have a meeting with his assistant coaches before his team's most recent four-game homestand against the Clippers, Warriors, Sixers and Blazers. The meeting was inspired by how Karl-Anthony Towns had been playing over the past month and how his dominance was, well, sort of throwing off the plan.
The timing of the conversation with the coaches threaded the needle of this KAT boomlet and the reality that the playoffs were no longer a possibility. How would Saunders' Wolves continue to feed their beast while installing the style of play he and the coaching staff had committed to playing?
"I posed the question to the other assistants and I've looked at the numbers and we've done some studies," said Saunders of the conundrum. "[We] do want to play faster but the one thing is you can't have it every way when a guy like Karl is scoring (in the) 40s and 30s."
Those "40s and 30s" hadn't just tipped the scales away from playing with the pace and space Saunders prefers, no, Towns' dominance had drop-kicked that scale right off the whiteboard.
When Saunders took over the head coaching job vacated by the dismissal of Tom Thibodeau on Jan. 6, the 32-year-old made it abundantly clear to both his players and the media that this iteration of the team would be trying to do three things: compete, shoot more 3s and play faster.
There were, of course, other elements of change that would be enacted, but the trappings of the new identity would look more modern. That was clear. Imparting "philosophical things that you might look at differently," as Saunders puts it, was the plan. Numerous times since January, Saunders has mentioned his desire to run and gun. He frequently references the Sacramento Kings blitzkrieg offense, or the Denver Nuggets when he wants to highlight a team that zips the ball up the floor while still relying heavily on their center.
But in terms of prioritization, objective number one was competing. First, the plan was that the competition goal would manifest in a playoff push. And then, even once the playoffs became impossible, winning remained Saunders' goal. Tanking be damned. But the gap between the importance of competition and enacting those philosophical differences had shrunk; thus the meeting to find a balance between feeding the team's best player who had been thriving in the drag you down and beat you up in the post style and something a little more modern and analytically inclined.
In assessing the job Saunders has done, not only the order of importance he placed on the things he wanted to impart need to be considered, but the effectiveness of what has transpired in the key tenets need also be measured.
Easier said than done.
The level to which the Wolves have "competed" under Saunders lies in the eye of the beholder, and how much those eyes want to forgive injuries and the general chaos of the season. Saunders was handed a pretty broken team when Thibodeau was fired after 40 games and in the 38 games he has since coached the Wolves have only won 16 of them. In a vacuum, that's not great. Over that stretch, the Wolves rank 11th offensively, 28th defensively and 22nd in net point differential. So, use your own vacuum in assessing all of that.
The mathematical certainty that does not need subjective parsing is the fact that the team is neither shooting more 3s nor are they playing faster than they did under Thibodeau.
While Thibs was at the helm, 31.4 percent of the Wolves field goal attempts were from 3 (24th in the league frequency). Under Saunders, that number has dipped slightly to 31.1 percent (26th in the league). Additionally, they're making a lower percentage of those 3s, down from 35.6 percent under Thibodeau to 34.2 percent under Saunders. Definitively, the new Wolves are attempting fewer 3s and making fewer of the 3s that they are taking. And that wasn't the plan.
The slower pace is even more glaring. According to Inpredictable.com, whose tracking data measures the time of each NBA possession, the Thibodeau era Wolves of this season had quicker possessions after opponent's made shots, after defensive rebounds and after forced live-ball turnovers than Saunders group has. In the three key tenets of transition from defense-to-offense, the Wolves have begun playing with longer, and thus slower, possessions.
Here's the rub, though: The offense is scoring more effectively in all three facets of transition. That's worth something, too.
Perhaps Saunders was a bit overzealous in his initial goal of checking all three of the boxes: competition, 3-point volume and pace. It appears, instead, that in the midst of a relentless schedule that allows little time for practice, that Saunders may have miscalculated how realistic it was to turn those philosophical differences into actualized change.
Thus the meeting with the coaching staff once his team was eliminated from playoff contention.
"You do have to go inside some of the time, which is going to in turn slow the pace down a little bit so we have thought about it," said Saunders. "We're looking for more ways to get [Towns] the ball with pace, too. I think a big thing moving forward is going to be early rim runs as opposed to post-up plays (with Karl). That's something we're trying to emphasize."
A point of reference for longtime Timberwolves viewers is the (unforgettable) image of what Nikola Pekovic used to do while in offensive transition. When the possession arrow would change, the burly Pekovic would aim his widow's peak at the other end of the floor, put his head down — literally — and would sprint to the opponent's bucket.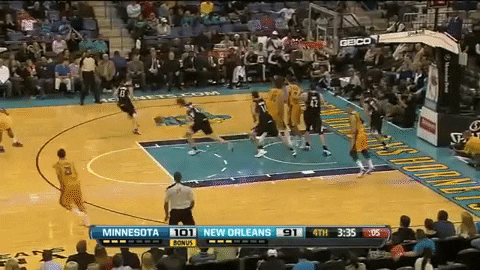 These type of actions can feed a center with a quick hit-ahead pass and have the ball in the post within the first seconds of a possession. To boot, and why it would be beneficial for the Wolves with Towns, it's very difficult to double-team a big man in these situations.
"Off makes, that's something that we've talked about," said Saunders, describing the optimal times to add pace to his team's game. "You see a lot of teams in the NBA, I think Sacramento has done it, they've done it well this year. Golden State has done it, Denver has done it. Getting the ball after makes, looking to move the ball up the floor. We've actually started getting a couple over these last few games, as you've seen. I think that's a way you can move the pace. Fastbreak points-wise we are pretty good."
As detailed in the above table, it is in more traditional fastbreak situations — after a turnover — where Saunders is correct, the Wolves have thrived. Scoring 1.37 points per possession after the opponent turns the ball over, as the Wolves have done under Saunders, is elite — second-best in the NBA over the 38-game span. The issue is that these transition situations are rare; only seven percent of Wolves' possessions under Saunders have come after turnovers, per Inpredictable, where 54 percent of their possessions come after made shots. Thus the need to focus on pace after those makes.
"I think it's something that every coach now has to balance," said Steve Kerr, who was in town last Friday, of wanting to feed bigs while also playing with a zip. "The days of two bigs are long gone. You have to play with a spread floor. You have to play with a lot of shooters. You just can't keep up in this league if you don't. And yet, if you have a guy like DeMarcus (Cousins), like we do, or Towns for them, you have to take advantage of that.
"So how do you do it? Every team is built differently. But that's one of the challenges for the modern coach, a blending of the old school player into new school basketball. … It's really more about just figuring out what works best for your own team and going from there."
As Kerr eludes to intelligently, the equation of playing with pace and space is about more than just the coach and the big man. Whatever a team's identity is, for that style to be successful, everyone has to buy in.
That buy-in has been a struggle for Saunders' team. Many of the players on the roster who have received heavy minutes under Saunders also played for Thibodeau last year. Thibodeau's Wolves played particularly slow — way slower than this season's team under Saunders or Thibodeau. With an offensive style more focused on highlighting the isolation prowess of Jimmy Butler, Wiggins, Jamal Crawford and Jeff Teague, the Wolves were tied fifth-longest/slowest possessions in the league after an opponent made bucket; after defensive rebounds their possessions were fourth-longest; and after turnovers 15th-longest. It's reasonable to say that there has been a classical conditioning that happened here that Saunders has not been able to break.
There's a conflation of styles from the players who were in the old group and those in the new group happening. Take the starting wings for example.
"I feel like we push the ball. I feel like we run," said Andrew Wiggins of playing under Saunders. "I feel like our isos and post-ups are more so mismatches or when we need a basket."
That's not even a dig on Wiggins for misconceiving. To his feel, this pace is, in fact, faster. He played over 7,000 minutes under Thibodeau's grind in two and a half seasons and that shaped his feel of what pace is (or isn't). But for someone like Josh Okogie, who only had a cup of coffee with Thibodeau, playing even faster makes sense.
"I think it's good to try and speed up the game as well, just to get everybody a little more touches and just to keep the game fast," said Okogie. "I think the biggest thing is just compromising. Sometimes run some plays in the halfcourt for the guards and then sometimes involving KAT (more) in the plays in transition."
Much like the overall effectiveness numbers, there comes a subjective line to draw when assessing Saunders of how much continuity within the group was expected to be manufactured. There are two polarizing lines of demarcation here. Side one forgives Saunders for not having had a training camp to instill his philosophical differences. And then there is the, also fair, critique that looks at what has transpired, pointing to the numbers asking, hey, what have you really changed?
I've asked a handful of coaches who have come to town, like Kerr, about what they've seen Saunders be able to do/change with the group. To a man, every coach brings up how making changes without a training camp is extremely difficult. But even those voices of wisdom require a grain of salt coming from other coaches who will look after their own in the coaching fraternity with a positive quote.
Jeff Van Gundy, anyone?
Saunders isn't big on making excuses but he too has recognized that breaking some of these patterns does simply take time.
"Missing Derrick and Jeff, pace-wise, does hurt us offensively. So, I think, that's why it's slowed down a little bit," said Saunders. "And then also, breaking those habits offensively you can only do so much on a day-to-day basis in terms of stressing transition 3s, stressing push the ball up the floor.
"We try and put a time stamp on getting the ball over at 22 (seconds on the shot clock). Doesn't always work that way, but we want to make sure that is in these guys' heads. It's just one of those things that is going to take time."
Assessments of coaches are always difficult, and an assessment of this interim coach, given the circumstances that have unfolded, is particularly difficult. But it's not impossible — it's just multi-faceted.
It's about pinning down what has happened, what hasn't happened and then defining a personal threshold of forgiveness. On a simple level, Saunders has lost more than Thibodeau and hasn't really done what he said he was going to do. That's not great, but if that's the only lens the coach is being assessed, that's just straight up incomplete.