The Minnesota Timberwolves' laundry list of power forwards became a bit of a running joke throughout the 2018-19 season. As the NBA continues to modernize and the possibilities at a roster's "four" spot broaden, the Wolves hoarded big men who didn't have the girth to defend an opponent's center nor the nimbleness to hang on the perimeter.
That included Dario Saric, Anthony Tolliver, Luol Deng — even Taj Gibson to an extent, though he played a lot of functional center for the Wolves. Now, though, all of those options are gone, with the exception of Keita Bates-Diop.
And in are Jake Layman, Noah Vonleh, Jordan Bell and Naz Reid. Layman is certainly more of a small forward, and Reid a center. But this is the front court swap that Gersson Rosas executed during his first offseason at the helm in Minnesota. He exchanged a large handful of relatively traditional power forwards — with a couple of burly stretch fours sprinkled in — for a crop of far less proven talent that nevertheless exudes some optionality.
It's likely that this was, to some extent, a financially driven outcome given the Wolves' proximity to the NBA's luxury tax line. But it seems possible that it was motivated by a desire to deliver schematic changes as well. After all, Rosas was pretty quick to trade Saric — a bonafide starter in this league — to move up and draft Jarrett Culver, a high-upside guard.
So, let's dig into what each of these newcomers may bring to the table; the single, most obvious way that they can help this Wolves team take a step forward despite having lost so many productive pieces from last year's efforts. We'll focus on Layman, Vonleh and Bell and then finish up by touching on Reid, an undrafted rookie from LSU who was given an NBA contract after his summer league success.
Jake Layman
Layman played the first three seasons of his career with the Portland Trailblazers before signing a three-year, $11.3 million deal with the Wolves in the offseason. It's important to mention that the 6-foot-9, 215-pound forward is the only one of this organization's myriad offseason acquisitions to garner a multi-year contract; he's the only one whose performance is certain to have long-term implications for this team.
The most obvious and immediate way that Layman can make his mark on the floor is by adding a dose of motion and purpose to an offense that's failed to elicit similar descriptors in the past.
Layman is very athletic, even as it relates to his NBA peers. With the Blazers, he took advantage of that fact to produce instances of great success as a peripheral threat in an attack that centered around ball-dominant players like Damian Lillard and CJ McCollum. He'd size up the game around him, identify seams in the defense and utilize his burst to get easy buckets cutting to the rim. He'd do things like this:
That's a skill set that can certainly translate to consistent productivity in an offense that runs through Towns. Even if the Wolves play faster and shoot more 3-pointers, the ball will end up with Towns in the post several times every quarter — it's just a safe and productive half-court set, especially when compared to this roster's other options.
Throughout the 2018-19 season, it wasn't uncommon for Towns to be suffocated by defenders in these situations, in part because the scheme around him was so stagnant and unimaginative.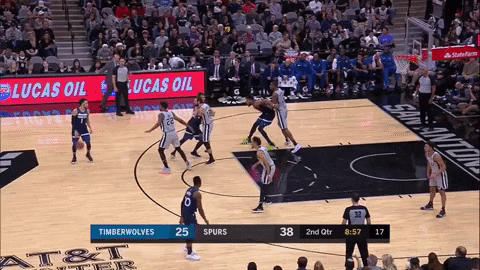 Here, no one moves after Towns receives the post-entry pass; he's left to his own devices. The Wolves need to put their all star in a better position to succeed if they hope that feeding him the rock is going to be a successful strategy. According to NBA.com, Towns produced 1.02 points per possession in the post last season; Layman produced 1.39 as a cutter. If he can be an outlet for the big-man — and for the Wolves' other ball-handlers during any number of play types — Layman can help provide a dimension to this team that was consistently lacking in 2018-19.
Jordan Bell
Even before former head coach Tom Thibodeau was let go last season, the Wolves were beginning to implement a more modern, switch-heavy defensive scheme. Maybe Thibodeau's Wolves never got to switch-heavy, but they were starting to switch more frequently, at least. And that was especially the case after Robert Covington was acquired as part of the Jimmy Butler trade in early November.
Thibodeau would often refer to "switch partners" when asked about any sort of defensive shift that was or wasn't occurring. Switch partners are groups of players situated next to each other within a given lineup. For example, when Josh Okogie is playing at shooting guard and Covington is at the small forward those two would be dubbed switch partners because both are capable of defending either position. So, instead of struggling to stay in front of an offensive player, Okogie and Covington have the luxury of switching and exchanging assignments when the opportunity is right.
To get to the point: 24-year-old Bell is an especially intriguing defensive option for a team that's new goal seems to be versatility on that side of the floor. Though his performance waned during two seasons with the Golden State Warriors, he has both the build (6-feet-9 and 225 pounds) and the quick-twitch athleticism to be a very switch-y defender. As part of those championship runs in the Bay, he was able to flash his abilities on the highest of stages.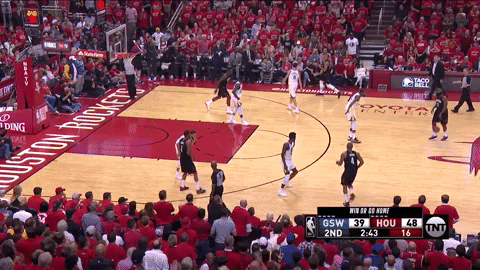 If the Wolves' new goal is schematic versatility on the defensive end — if they'd like to be able to drop the big man against the pick-and-roll with one opponent, then ask him to hedge or switch in a different matchup — then Bell could be an intriguing fit. A lineup that includes Okogie or Culver, Covington, Bell and Towns would be very long and athletic; depending on the situation, that group could feature plenty of switch-partners, and maybe even a couple of switch trios.
Noah Vonleh
Even though talking about movement around Towns' post-ups and switching on the defensive end can be a little bit more fun, "offense sells tickets, defense wins games, rebounding wins championships," as the great Pat Summit famously said.
And Vonleh can grab boards. As a member of the New York Knicks last season, he hauled in 7.8 rebounds per game in 25 minutes of action to post an impressive 16% rebound rate. More specifically, Vonleh's 26% defensive rebounding rate ranked 18th among 123 big men to see more than 1,000 minutes of playing time.
What's more, the 24-year-old has begun to develop a handle that can be serviceable; if it continues to improve, he can help the Wolves push the ball in transition offense. You wouldn't want him to grab a rebound and dribble the length of the court very often, but he can serve as the first leg of a fast offense when an opponent's missed shot lands in his hands.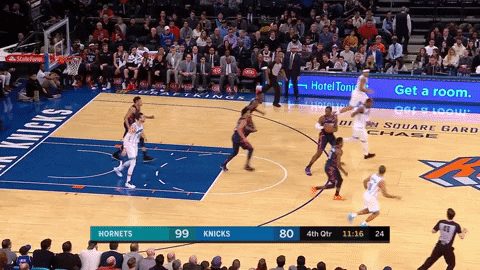 Vonleh's intuition and power as a rebounder, slotted alongside Towns, could be crucial for a Wolves team that ranked 27th by defensive rebounding rate in 2018-19. Consider the fact that Gibson — Towns' more paint-bound front-court partner from last season — held a defensive rebounding rate of 18%, nearly eight percentage points lower than Vonleh's.
Naz Reid
The Wolves and Reid — an undrafted rookie out of LSU — agreed to a two-way contract following the NBA draft in June. But after his successful showing at the Las Vegas Summer League, the team chose to dedicate one of their 15 roster spots to the 20-year-old center by offering him a four-year NBA deal. The catch, though, is that it's only guaranteed for the upcoming season.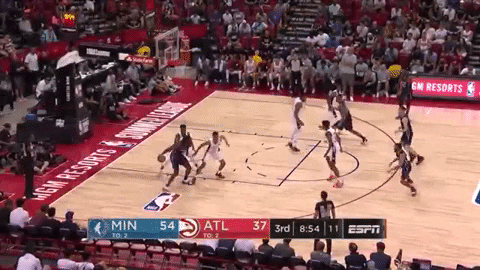 Reid is a savvy passer and he showed off a sweet stroke for the Las Vegas Wolves in knocking down 8 of 21 3-pointers (38.1%) over the course of seven contests. But outside of that, he demonstrated little poise on either end of the floor; the Wolves' new coaching staff will have to both improve his fitness and hone his basketball skills if they hope to turn him into a big man worthy of rotation status.
All in all, it's a contract that carries relatively little downside given that it can be either picked-up or declined by the Wolves before each of the next three seasons. Still, the decision to dedicate this much organizational capital toward an unpolished big man's development will almost always be lost on me when the trade market for similar players remains limited, Towns demands the vast majority of this team's minutes at that position and the Bells ($1.62 million) or Vonlehs ($2 million) of the world can be signed at such an appealing price point.