In what has now become a six-game losing streak, all we really have with the Minnesota Timberwolves is questions. As more changes to the roster sit imminently on the horizon, there are questions not only about who could join this team but what exactly it is that they would be joining.
The Wolves seem to have forgotten/lost what once made them a frisky team that, as Karl-Anthony Towns likes to say, "was catching teams slipping." Now they are the ones slipping, craving change to avoid a lost second half of the season. What changes can we expect? To try and answer that, let's do another Timberwolves Mailbag.
—
Question: What effective early-season trends are we no longer seeing — whether that is due to injury, lineup changes, etc — that you think need to return? – John Grooms
A real re-commitment to the pick-and-roll. That would be my answer.
Who are the three most important pieces on the roster, big picture? Towns, Andrew Wiggins and Jarrett Culver. Right? All three are capable of participating in ball-screen action, and their future best versions of themselves all likely include a high volume of pick-and-rolls. And better yet, they can run it together — Towns with Wiggins, of course; also Culver and Towns, more of that would be nice. Maybe even a little guard-guard action with Wiggins and Culver.
In my opinion, there should be just as much of a commitment to ball-screen action as there is to their five-out penetrate-and-kick style that serves as this team's offensive foundation. It feels like they've gotten away from those screening actions some.
Now, the Wolves aren't particularly good at running pick-and-rolls, so that's probably a factor. They're 13th in the league in the efficiency of pick-and-rolls finished by the ball-handler this season and 26th in ball-screen actions finished by the roll man, according to Synergy's tracking data. But that's okay. It shouldn't stop them. Because, well, they aren't particularly effective at drive-and-kick either. Right? The Wolves' effective field-goal percentage in spot-up situations this season (47.5 percent) is fifth-worst in the league, and they are 29th in overall 3-point shooting.
It just felt like the pick-and-roll was a critical part of the Wolves' offense back when they were rolling a little bit. Ball-screen actions used to seem to inspire their offense. Actions like this from Wiggins feel far fewer and further between:
One of the only truly encouraging elements of the Wolves' team offense this season has been their ability to get to the free-throw line. Only the Heat, Clippers, Rockets and Thunder get to the line at a higher frequency than the Wolves do, according to NBA.com/stats. And the pick-and-roll has been one of the Wolves' best paths to the stripe. Minnesota only trails Houston (and James Harden) in free-throw rate out off pick-and-rolls finished by the ball-handler — intuitively suggesting that an increased volume of pick-and-rolls could be a path to increased offensive efficiency.
But I don't think it's just about running the action; it's about executing it. And sometimes that's as simple as actually setting the screen in a screen-and-roll. Towns has a tendency to slip his screens before drawing contact, which often clouds Wiggins' path to the rim.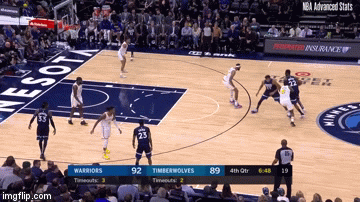 Other times, pick-and-roll effectiveness just requires actually using the screen. Wiggins has a strong propensity to reject screens in an effort to go the opposite direction, even when that isn't the path of least resistance.
Slips and rejections aren't universally a bad idea; they can be effectively tricky. Sometimes they work, like this screen-reject from Wiggins:
But their overall ineffectiveness in the action, to me, suggests that getting back to the basics might be wise. I think this could particularly benefit Wiggins, who has definitively become a high-volume pick-and-roll ball-handler. Only 15 players have initiated more pick-and-rolls this season than the 311 Wiggins has. (That says something when you consider that Wiggins has missed seven games this year.)
But of those 15 players who have initiated more pick-and-rolls than Wiggins, only Collin Sexton (who just turned 21 years old) has been less effective than when Wiggins conducts the action. Like Sexton, Wiggins probably needs more reps running pick-and-rolls to find improved efficiency. Running them in a traditional fashion could be a smart place to start, and that could lead the Wolves back to some of the better offense they were running earlier in the season.
Also: Why not get a little weird? I mean… they're 15-28; almost anything should go. What's wrong with messing around with a 5-1 pick-and-roll like the Denver Nuggets do with Nikola Jokic and Jamal Murray?
(Man, these are fun. Talk about an effective slip…)
—
Question: What point guards do you see the Wolves targeting outside of D'Angelo Russell? Any underrated players you've heard about? – MN Sports Fan
Another way to improve the Wolves pick-and-roll game would be to add a player who can run a pick-and-roll. The front office is definitely looking for one of those. Currently, Shabazz Napier (who is essentially on a minimum contract) and Jordan McLaughlin (who is on a two-way contract) are the only true point guards on the roster.
The ultimate goal of the front office, yes, would be to add a lead ball-handler who has star qualities, as D'Angelo Russell does. Maybe something will come together there. I don't know. I've previously written extensively about that path.
Finding an easier path to acquiring a lead guard requires lowering the talent bar. Along those lines though, it's unlikely the Wolves go out and acquire a veteran point guard on an expiring contract. They already had one of those; his name was Jeff Teague. So scratch those guys out of the player pool.
Finding players who fit the timelines of Towns, Wiggins and Culver is the priority. Because of that, when scouring the guard market, it probably makes more sense to focus on players who may have become young, depressed assets. A young player who is still on their rookie contract would line up with Towns, Wiggins and Culver, and would also better mesh with the Wolves' cap sheet given the cost-control of rookie deals.
Your guess is as good as mine on what player that could end up being. Below is a list of players who could be considered lead guards that are still on their rookie deals. (Not all of these players are "depressed assets," obviously.)
—
Question: After trading Jeff Teague, will Ryan Saunders adopt stretches without a traditional point guard? – Paul Hartman
The answer to this question so far has pretty much been no. Since Teague was traded three games ago, Napier has been playing 28.3 minutes per game and McLaughlin has played 16.8 minutes a night — leaving nine total minutes of non-Napier and McLaughlin time. They've been outscored by three points in the 85 minutes Napier has played and by six in 50.5 minutes McLaughlin has played over the three games.
It is a bit curious that the Wiggins and Culver backcourt has all but disappeared. In the 487 possessions the Wolves have played with Wiggins and Culver on the floor while Teague, Napier and McLaughlin sit (or play for Atlanta), they've outscored opponents by an impressive 3.3 points per 100 possessions, according to CleaningTheGlass' tracking data. To stop rolling with those lineup combinations feels like the organization showing their cards about how they really feel about the "Point Wiggins" experiment long-term, even though there doesn't appear to be a clear reason for that indictment.
From what I can gather, statistically, the success of the Wiggins and Culver sample was tied to the presence of Treveon Graham. Almost half of those possessions without a true point guard on the floor featured Graham next to Wiggins and Culver, with very good defense when those three were all defending on the wing (defensive rating of 103.2).
Graham is obviously gone, too. He also wasn't very good, so his presence unleashing Point Wiggins doesn't make a ton of sense to me. For now, it just looks like Wiggins and Culver will be flanked by Napier or McLaughlin, maybe just as a place holder because the future definitively holds a point guard next to them.
The trade deadline is right around the corner. We'll have more answers then. Something else will happen that shifts this. I'd bet on that.
Question: Can you please talk about the improvements we've seen in Jarrett Culver and what his numbers are for the past 10 games? Also, do you think these numbers will last for him? Because currently, I'm seeing a player that has the potential to be a star in this league. – Joseph Pellegrenne
I think the real shift for Culver came 12 games ago, beginning Dec. 30th in a win against Brooklyn. In that game, with 1:25 left in regulation, Culver stepped to the free-throw line (yikes!) while the Wolves were down by five. On media row, we took an impromptu poll of whether Culver would make one or miss both. With Culver shooting 41.4 percent from the line on the season entering that game, no one around me took "make both." As a semi-joke, I decided to say that Culver would do just that: hit both. And he did. The Wolves went on to tie the game in the final 85 seconds, forcing an overtime that eventually led to a win.
It was only a semi-joke by me because Culver — for one of the first times all season — was playing with palpable confidence. Something in him had seemed to shift that night. This play earlier in that fourth quarter, in particular, where Culver willingly took on the isolation matchup and won stood out to me:
In overtime, he showed more off the bounce prowess to get excited about (if you squint your eyes enough to ignore the not-so-great shooting form).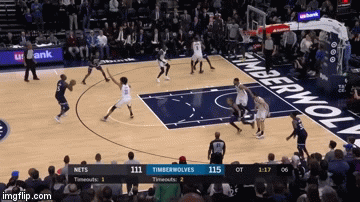 Including that game, this most recent 12-game run from Culver has been impressive. He's turned a bigger role (32 minutes a night over the stretch) into 15 points, 5.0 rebounds and 2.0 assists per game on 34 percent shooting from 3 and 51 percent shooting from 2. In those 12 games, the Wolves have outscored opponents by 34 points with Culver on the floor. That's 17 points better than Robert Covington's plus-17 (second-best on the team). By contrast, the Wolves have been outscored by 48 points in those 12 games with Wiggins on the floor (Wiggins played in nine of the 12 games).
For me, I'm not ready to go with "potential to be a star" for Culver, but color me encouraged. There's just a ton to be concerned with as it pertains to his shot's mechanics. That said, seeing him begin to overcome some of the mental hurdles he was clearly dealing with is a definitive reason for optimism.
—
Question: Do you have stats on the Wolves record based on the team taking 40-or-more 3-pointers in a game? It seems that when they are at a higher level, they lose, but I'm not sure. Is there a general target number of 3 pointers in a game? – Terp Hen
The Wolves shot a season-high of 50 3-pointers in their loss this weekend to Toronto. It was the ninth time this season that they had taken 45-plus 3s in a game, and their seventh loss in those nine games. To me, those super high volume 3-point games are the really ugly ones. And the numbers back it up: In those nine games, they've only made 116 of their 417 attempts (27.8 percent). In games they shoot less than 45 times from deep, their 3-point percentage is 34 percent. Here are their win-loss splits based on 3-point volume this season:
I asked Ryan Saunders about hitting the big 5-0 in the 3-point category after that Toronto game. This was his response:
"I'll have to take a look at the film. But in real-time, especially coming off a night like last night where we did shoot the ball well, I was OK with that. Obviously, the percentage (28 percent) was not something that we strive for. But I thought a number of our 3s were off very good drive-and-kick situations where we get to the paint, kick out and then make the extra pass."
To me, this signals that there really isn't an upper limit to the number of 3s they're looking to take. If the looks come within the flow of the offense, Saunders seems cool with it. For Wolves fans, this may become tiresome. Maybe the insertion of Allen Crabbe into the rotation will ease that sting. His first made 3 as a Timberwolf was fun, fast and effective.
—
Question: Which Timberwolves G-Leaguer/Rookie besides Jarrett Culver has the brightest future? – Jay Biwer
I'm gonna go in a weird direction here and say Keita Bates-Diop. He's not a rookie, but he was in Iowa with the G-League team for the Timberwolves' first 11 games of the season.
KBD's two greatest strengths are his intellect and his length. He seems to always know where to be — on both sides of the ball — and he utilizes his 7'3.25″ wingspan to pester defenders on the perimeter and to snake his way into finishes around the rim.
Another thing I've noticed this year is more and quicker spring. I think Bates-Diop's athleticism has really improved from Year One to Year Two, highlighted by this dunk all over Mason Plumlee on Monday: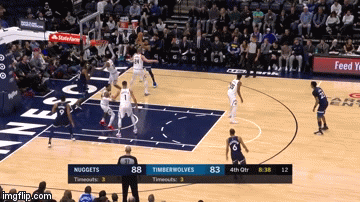 He's also probably the most technically-sound player on the team when it comes to reading how to space the floor. He's used this skill to free himself for 31 corner 3s this season, where he's made 48.4 percent of those attempts. This is a great example of him reading the shifting of floor balance following a Culver-Jordan Bell pick-and-roll: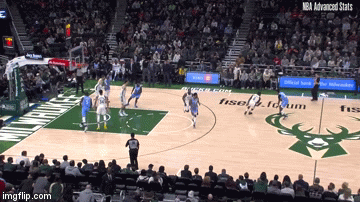 Jake Layman just got out of the walking boot that he has been in since suffering a turf toe injury on Nov. 18. Bates-Diop has been filling Layman's role in his absence. Is there room for KBD in the rotation once Layman returns? I'm not sure. Could he play alongside Layman or Covington in a super-long small forward-power forward combination?
Numbers suggest he shouldn't. Only McLaughlin — and Crabbe in one game — have a worse net rating than Bates-Diop does this season. To me, the eye test doesn't meet the numbers. For one, as I said above, Bates-Diop missed the first 11 games of the season — otherwise known as the best stretch as a team of the season. Remember when the Wolves were 7-4!?
(Side note: That means they're 8-24 in their last 32 games. Yikes.)
I also attribute a lot of the attrition that happens when Bates-Diop is on the floor to the players he has shared the floor with. The three players KBD has played with most this season are Teague (334 minutes), Culver (273 minutes) and Josh Okogie (237 minutes). He's played over 60 percent of his minutes with Teague and under 25 percent of his minutes with Towns.
That would do anyone dirty statistically.
Naz Reid and Jaylen Nowell, the Wolves two other non-Culver rookies on NBA contracts, have a skill set that could translate to the NBA game: shooting. Bates-Diop has shown he already has that, while also having a couple of other frisky elements to his game.