Minnesota sports fans are often reluctant to get their hopes up — understandably so for a state with the longest sports championship drought in America.
That reluctance goes double for Vikings fans, who have seen the team earn the fifth-most playoff appearances, yet have zero championships to show for it — only four consecutive Super Bowl losses followed by six consecutive NFC Championship losses.
So it makes sense if some fans are hesitant to hop on the Vikings bandwagon this year. After all, this was a team that missed the playoffs last year, and betting markets still believe will miss the playoffs again this year.
But after a successful offseason, the Vikings now look playoff-bound. Minnesota had a consensus top-10 draft, with the additions of Christian Darrisaw and Wyatt Davis leading Seth Galina at PFF to call the Vikings' offensive line the most improved unit in the league. The Vikings have had an even better free agency, adding Dalvin Tomlinson, Stephen Weatherly, and Sheldon Richardson to their defensive line and Patrick Peterson, Xavier Woods, Bashaud Breeland, and Mackensie Alexander to their secondary. And most importantly, Danielle Hunter, Michael Pierce, Anthony Barr, and others are coming back after missing almost all of last season.
Adding all those pieces to fill in the gaps on a roster already flush with All-Pro talents like Justin Jefferson, Dalvin Cook, Adam Thielen, Harrison Smith, and Eric Kendricks makes this roster — in my humble opinion — the best one Mike Zimmer has ever had. They may not be Super Bowl favorites, but with just a little bit of luck, they could easily be contenders.
---
Some of the Best Skill Players in the NFL
The biggest strength of the Vikings' 2021 roster is their offensive weapons. Between Jefferson, Cook, and Thielen, the Vikings have three All-Pro-caliber weapons on their offense, with C.J. Ham and Irv Smith Jr. rounding out a deadly offensive attack. The image below shows each of those offensive weapons and how they graded compared to other players at their position last year:
The 2020 Vikings had the best team receiving grade in the NFL and the second-best team rushing grade. Each of Jefferson, Thielen, and Cook graded in the top six at their position, and whatever regression may be in store as Thielen turns 31 should be offset by how much improvement we could see from Jefferson and Smith Jr. — each of whom is only 22 years old and stepping into an expanded role this year.
Jefferson in particular is coming off a year in which he ranked second only to Davante Adams in WR grade or yards per route run. Like Adam Thielen, he has already established himself as one of the NFL's very best route runners, with some of the best hands. Jefferson also boasts incredible talent after the catch, averaging the ninth-most yards-after-catch per reception among starting WRs and the 11th-most forced missed tackles. With his speed, he can threaten deep as well. At 22-years-old, he is just getting started.
Cousins may get underrated compared to some of the younger, flashier athletes or the bigger arms at the position, but the truth is he has the seventh-best PFF grade over the last three years and the eighth-best EPA/play over the last two years while ranking first in Completion Percentage Above Expectation. If Cousins continues to put up top-10 stats — which he should, given this supporting cast — this Vikings' offense could be deadly.
---
A Good-Enough Offensive Line
Next year's offensive line probably won't be great — Steve Palazzolo at PFF ranked it as only the 26th-best heading into this upcoming year. Davis should be a clear upgrade over Dakota Dozier/Dru Samia, and Darrisaw could be a slight upgrade over Riley Reiff. But both are rookies, and as rookies, they will likely need some time to adjust to the NFL.
The bigger reasons for optimism along the offensive line are not so much the new faces as the potential improvement from the old ones. As Timo Riske at PFF noted, centers usually take until Year 3 to make the leap in the NFL, while guards and tackles see big jumps in their second, third, and fourth years: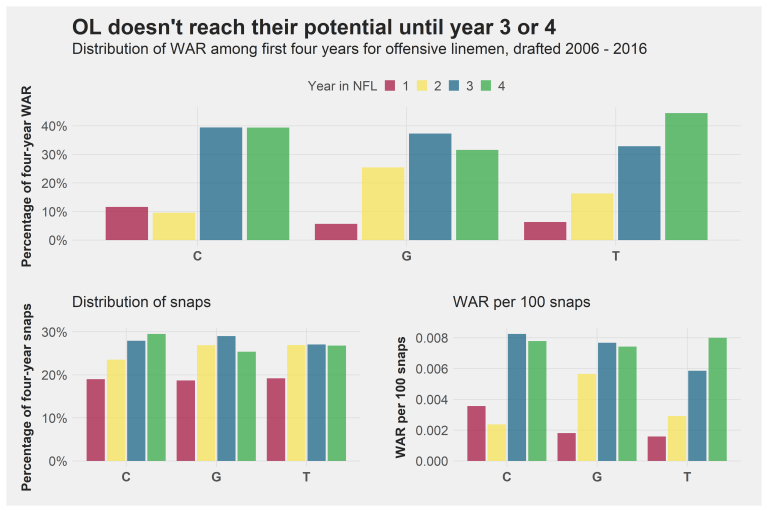 We've written recently about just how good Garrett Bradbury is in the Vikings' wide zone run scheme. Now heading into his third year with some stability at the guard spots around him, it shouldn't surprise anyone if Bradbury makes the leap as an excellent all-around starter next year.
Similarly, Ezra Cleveland was drafted in 2020 expecting to redshirt while he took the time to gain weight and adjust to NFL competition. Instead, he wound up thrown into the fire, much like Brian O'Neill was in his rookie season. And like O'Neill, Cleveland actually acquitted himself very well, grading as one of the better run blockers in the league while still being a significant upgrade in pass protection over Elflein, Dozier, and Samia. But there's plenty of room for improvement in Cleveland's game, and he'll be switching back to his natural left side where he played all through college with a full NFL season and offseason now under his belt, so it's reasonable to expect the young, raw super-athlete to start to live up to his incredible upside.
Last year, the Vikings had the worst pass-block grade along the interior offensive line in the last three years, ranking nearly 11 points lower than the 95th-ranked group pass-block grade (the 2019 Miami Dolphins). Much of that is thanks to Dozier, who ranked dead last in pass-block grade among starting guards last year. But some of it is thanks to Samia and Elflein, who ranked second-worst and fifth-worst in pass-block grade among rotational guards last year. Davis may be a rookie, but if there is one thing he excels at its one-on-one pass protection: He did not surrender a single sack or QB hit over the last two years at Ohio State in one-on-one protection.
Altogether, this is a young, athletic offensive line with some tantalizing upside in the long term even if the short-term outlook is mediocre at best. But mediocre is still plenty good enough, so long as one Samia-flavored apple isn't spoiling the whole bunch.
---
The Most-Improved Defensive Line in the League
Last year the Vikings had the worst defensive line in the NFL, with the fourth-worst team run-defense grade and a team pass-rush grade that ranked dead last. Their starters included Ifeadi Odenigbo, Jalyn Holmes, Shamar Stephen, and Jaleel Johnson, each of whom graded well below average at their position. Stephen, typically the weak link in Zimmer's defenses in the past, was their best player.
Fast forward to this year, and Stephen Weatherly is currently the worst-projected starter on the entire Vikings roster. And yet even he might have been their best defensive lineman last year.
Opposite Weatherly, Danielle Hunter is returning after missing the entirety of last season with a herniated disc. Hunter resolved his contract issues, passed his medicals, and is ready to pick up where he left off. In 2019, at 24-years-old, Hunter recorded the second-most pressures in the NFL while posting the sixth-best grade among all starting edge rushers. Along with Myles Garrett, he is perhaps the most athletically gifted edge rusher in football right now. With Andre Patterson's coaching, he should immediately return as an all-pro caliber talent.
Michael Pierce is also returning after opting out of last season. Pierce is an absolute black hole of a run defender, having posted the 11th-best grade at his position in 2018 and the fifth-best grade at his position in 2019. Pierce might be the single-strongest person in the entire NFL and is more than capable of two-gapping or walking interior offensive linemen straight into the backfield. Linval Joseph in his prime was a better pass rusher and more gifted athlete, but Pierce projects as an even better gap-plugger up the middle and should give opposing offenses nothing to work with when rushing between the tackles.
Dalvin Tomlinson was brought on as the Vikings' most expensive free-agent signing, and he's a tremendous player. Like Pierce, he is an exceptional run-plugging defensive tackle, playing with exceptional technique and leverage while posting a top-ten run defense grade in 2019 and back-to-back top-20 grades among all DTs over the last two years. And he's got some pass rush juice as well, with a devastating bull rush and a nice initial jab step to set up a variety of club, rip, or forklift moves — Tomlinson also posted a top-20 pass-rush grade among all DTs last year, and his 28 total pressures are more than Shamar Stephen has accumulated over the last four seasons, combined. He's not a flashy player, but he'll be an underrated and above-average starter.
Those two defensive tackles are both so talented that Sheldon Richardson — who would have been the best starter on Minnesota's defensive line last year — will not even be starting this year. Richardson is a talented, athletic defensive tackle who has consistently found ways to get to the quarterback, having posted 43 pressures last year — which would have led the entire Vikings' defense last year. Richardson has posted a top-25 grade among all DTs each of the last two years. And now that he's slimmed down to just 286 pounds (he weighed 294 last year) to specialize as a penetrating 3-technique, he can really wreak havoc as a pure rusher or on twists in Mike Zimmer's blitz packages.
On paper, the Vikings have a top-five run-stuffing defensive line, and, with Hunter and Richardson, should have a formidable pass rush as well. PFF may have called the Vikings' offensive line the most-improved unit in the NFL after the draft, but after free agency, it's the Vikings' defensive line that is the NFL's most improved.
---
Some of the Best Linebackers in the NFL
The Vikings have the best linebacker corps in the NFL, but you don't have to take my word for it — Mike Clay at ESPN ranked them as much. And in a two-starting-linebacker league, it's hard to name a better pair of linebackers than Eric Kendricks and Anthony Barr.
Kendricks was the NFL's top-graded linebacker in 2019 and the third-highest-graded linebacker last year. He's the highest-graded linebacker over the last two years by far, with the top coverage grade and the most interceptions and pass breakups. He's an incredibly smart player capable of handling multiple gaps in run defense, with the athleticism to match his quick instincts. He's a skilled tackler in space and valuable as a coordinator of Zimmer's exotic blitz looks.
Kendricks is in the same elite tier of linebacker as Bobby Wagner, Fred Warner, and Lavonte David, but I think Anthony Barr is a better player than Jordyn Brooks in Seattle, Dre Greenlaw in San Francisco, or even Devin White in Tampa Bay. Barr is a physical freak, at 6'5″, 255 lbs. with 4.41 40-yard dash speed. That gives him the reach and burst to go toe-to-toe with offensive tackles or guards in a way few other linebackers can, which is why opposing offenses have to account for him on every play in pass protection. But the most impressive aspect of his play is his intelligence, as he has been Zimmer's green-dot-wearing field general for most of his career. Barr's biggest contributions are the plays you don't see. The passes that don't get thrown because his huge frame mucks up throwing lanes. The free blitzers Barr enables by demanding an offensive linemen block him. The swing passes that don't get thrown because Barr can mug the A-gap and buzz to the flat in a blink.
Barr is not quite as good as his four-time Pro Bowl pedigree would suggest, but he's an above-average player. Together with Kendricks, they make up arguably the best one-two punch at linebacker in the league.
---
No Weak Links in Coverage
The Vikings' secondary has some bright spots — Harrison Smith remains an elite safety, and Cam Dantzler and Patrick Peterson make up one of the better boundary corner duos in the NFL — but perhaps what is most encouraging about the 2021 Vikings' secondary is not how good their stars are but how few holes this coverage unit has. A secondary is often only as good as its weakest link: two Pro Bowl cornerbacks won't keep quarterbacks from picking on a bad CB3. But after adding Peterson, Xavier Woods, and Bashaud Breeland, the Vikings should have a strong secondary with the depth to withstand the wear and tear of a 17-game regular season.
Smith continues his Hall of Fame-caliber career, having graded among the top-five safeties in the NFL for four separate years (including in 2019). Rumors of his decline have been greatly exaggerated, as he has posted the third-best grade among all safeties over the last two years. With top grades in coverage, run defense, tackling, and even pass-rushing, Smith continues to be the Swiss army knife of Zimmer's defense, with the versatility (and unpredictability) to do pretty much anything on any given snap. At some point, Smith's athleticism will start noticeably declining, but he may still have Terence Newman-like longevity given that his game is predicated not on elite range and athleticism but elite instincts, film study, and technique. Sam Monson at PFF ranked Smith as the second-best safety in the league heading into next year. Between Smith, Kendricks, and Hunter, the Vikings have All-Pro-caliber players at every level of their defense.
Woods will start at the other safety spot. He's a bit of a jack-of-all-trades, master of none, with good-not-great athleticism, good-but-risky aggression, and good-not-great grading in coverage and run defense throughout his career. Woods posted slightly above-average grades each of his first three years in the league. But last year Woods' strong instincts and a quick trigger got him in trouble on a bad Dallas Cowboys defense. Luckily, Zimmer has a knack for getting the most out of journeymen safeties, the same way he did with Reggie Nelson, George Iloka, Andrew Sendejo, and Anthony Harris, so it's hard to be concerned about Woods — especially after how much praise he's been getting this offseason:
Eight-time Pro Bowler Patrick Peterson comes to the Vikings after an apparent decline over the last two years with the Arizona Cardinals, but as we've written about at length before, there are plenty of reasons to believe Peterson will bounce back under Zimmer. Peterson is still a very good press-man corner with the physicality to bully receivers to the boundary in coverage and the instincts and technique to stick to receivers when capping routes — even in a down year, Peterson was the fifth-least-targeted starting cornerback in football. However, Peterson does seem to have lost some of his prime athleticism and particularly seems to lack the explosiveness to cover quicker routes underneath, especially out of the slot where he surrendered four of his five total touchdowns last year. Luckily for Peterson, he'll be playing under a head coach renowned for his ability to get the most out of veteran corners, who will put Peterson in a position to succeed. That means no more shadowing Stefon Diggs in the slot, no more pure man coverage where Peterson has to carry dig or over routes across the field, and no more pure Cover 1 where Peterson is on an island with limited safety help while shadowing the best WRs in the game. Peterson still has all the technique and ability to be a very good cornerback. The Vikings don't need him to be prime Darrelle Revis to contend — solid starting corner play would be enough, and there's every reason to think Peterson will be at least that good, if not better.
Starting opposite Peterson is Cam Dantzler, whose rookie breakout season saw him grade second only to Chase Young among starting defensive rookies last year. Dantzler's grade ranked 22nd among 80 starting cornerbacks, and Dantzler ranked as the third-best cornerback in the country over the latter half of last season. I personally don't think Dantzler's rookie season was quite as good last year as those grades suggest, but at just 22 years old, he could be poised for quite a sophomore leap after a full NFL offseason where he's been able to add some bulk. Dantzler plays with quick feet, good instincts, and great technique, which should all continue into his second year.
Mackensie Alexander returns to the Vikings as the projected starting nickel corner, and he should continue to be an above-average starting nickel after grading out as the 11th-best starting nickel over the last two seasons. Alexander sometimes struggles with miscommunications on defense, but he's an exceptionally sticky cornerback with good speed and great agility/fluidity, and he's improved markedly at reading and anticipating routes.
Bashaud Breeland rounds out the group, giving the Vikings more starting-caliber cornerbacks than they can field. Breeland's another cornerback who makes up for merely solid size and athleticism with physical, aggressive, sticky coverage. That's led to penalties in the past, but it also has led to shutdown coverage — Breeland recorded the third-best rate of catches allowed per coverage snap over the last two years and the 10th-best yards allowed per coverage snap in 2020.
This is a deep secondary group that can boast both blue-chip talents and the kind of depth necessary to go the long haul. The corners are sticky in coverage with shutdown potential, and the safeties have great instincts to make plays. Some questions remain, including if Peterson and Breeland can cut back on penalties, how the new players will gel, and how long Smith can stay elite. But this kind of talent and depth can take a team very far in the NFL.
---
Scheme Consistency
Of course, talent is only part of the analysis. Pro Football Focus ranked the Vikings as having the ninth-best roster in football, and ESPN ranked it as the seventh-best. But to truly contend in the NFL you need a great scheme and great coaching, and I believe the Vikings have that.
The NFL is an offensive league, so when we talk about the best play callers and smartest coaches in the NFL, we spend a lot of time talking about Andy Reid, Sean Payton, or Kyle Shanahan. We don't spend as much time talking about scheme on the other side of the ball, even though they're just as important. And it's there that Mike Zimmer truly shines.
Zimmer had the second-best third-down defense over his six years in Cincinnati. And since he arrived in Minnesota, he's had the best third-down defense in the NFL by far — nearly three standard deviations away from the mean! The difference between how good Zimmer's third-down defenses have been and the second-place-ranked New England Patriots' third-down defenses over the last six years is about equal to the difference between the second-best third-down defense and the seventh-best third-down defense. Even last year, with Shamar Stephen as his best defensive lineman and Kris Boyd and Chris Jones starting at cornerback, Zimmer had the third-best third-down defense in the NFL.
And Zimmer's red zone defenses have been even better:
Here, the difference between Zimmer's No. 1-ranked red zone defense and the second-place Kansa City Chiefs is equivalent to the difference between the second-place Chiefs and the 12th-place Washington Football Team. Again, Zimmer's defense is more than two standard deviations better than the mean. And even last year, with some of the worst injury luck in the league, Zimmer's defense still managed to post the second-best red zone defense in the NFL.
Zimmer is quite simply the best situational defensive play-caller in the league, and at least statistically on third downs and in the red zone, it's not particularly close. He still needs good players to succeed on early downs — scheme can only take you so far. But after this offseason, the Vikings' defense has the talent — Mike Clay ranked it the fourth-most talented defense in the NFL. With blue-chip players like Hunter, Kendricks, and Smith, plus above-average starters like Peterson, Dantzler, Tomlinson, Pierce, and Barr combined with Zimmer's scheming and Andre Patterson's coaching, this defense has all the ingredients to be not just good but elite.
On offense, little is known about Klint Kubiak's scheme other than it will have the same foundation as Kevin Stefanski and Gary Kubiak's scheme the last two years. That's a good thing, as the wide zone, play-action scheme has led to playoff success for virtually every team that runs it, including the Los Angeles Rams, San Francisco 49ers, Tennessee Titans, Cleveland Browns, and Green Bay Packers. It's led to career years for Dalvin Cook, who is particularly good at stretching defenses, setting up blocks, and making the right cut upfield — Cook earned the fourth-best rushing grade in 2019 and the second-best grade last year. It's also led to career years for Cousins, who has earned back-to-back top-10 passing grades. Last year, the emphasis on wide zone and play-action helped lead the Vikings offense to rank as the most explosive offense in the NFL (percentage of passes going 15-plus yards and runs going 10-plus yards).
So while it's unclear what kind of wrinkles Klint Kubiak will bring to the offense, the foundation is pretty foolproof, leading even some mid-tier offensive rosters deep into the playoffs. Once you add Dalvin Cook, Justin Jefferson, Adam Thielen, and Kirk Cousins to that scheme, the offense could and should be even better.
---
This Is a Playoff-Ready Roster
Earlier this week, Anthony Barr reflected on his career with the Vikings, saying:
I really do believe that we have a Super Bowl-winning team this year. Obviously there's a lot of steps to get to that point, and I've been through good seasons and bad seasons with this team. But every time we've had a tough year, we've always bounced back. I really feel like this year is going to be special.
I don't know if the Vikings will win a Super Bowl this year — there are still plenty of questions about special teams, the wide receiver depth, the pass rush, and how all the new players will gel.
But every team has questions, and if DE2 or WR3 are the only sore spots on your roster, chances are your roster is pretty darn good. On paper, I think this is the most talented roster Mike Zimmer has ever coached.
No question about it, I am ready to get hurt again.