Derrick Rose is a starter.
It's what he has done for the entirety of his career, for better and often for worse. Prior to the 2017-18 season, Rose had started in 469 of the 470 games he had played in his NBA career. The Minnesota Timberwolves' 114-110 victory Saturday evening over the Golden State Warriors was a return to normalcy for Rose, who was inserted into the starting lineup's void on the wing left by Jimmy Butler and his trade demand.
In theory, removing Butler — a top-15 player in the league last season — and replacing him with the frequently-maligned Rose would lead to a shift in identity.
As it turned out, and in hindsight, as maybe should have been expected, Tom Thibodeau didn't shift the shells of roles in his offense at all. It was truly a "next man up" approach. The keys of the offense were handed to Rose.
The very first possession of the game was quintessential 2017-18 Timberwolves: Slow to enter the motion; delay, delay; find the isolator; attack. A year ago, this would be Butler doing the attacking. This year: Rose.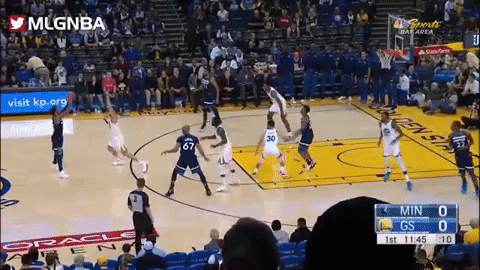 Rose was surrounded in the starting lineup by Jeff Teague, Andrew Wiggins, Taj Gibson and Karl-Anthony Towns, giving off the scent of a mid-January Wolves game from a year ago. The offense was the same; and so was the defense. The Warriors looked to attack the center of the floor — and thus Towns, the tentpole — with draws into the lane that would either lead to alley-oops to Towns' man or kicks to the plethora of shooters that littered the perimeter.
It was so, so much of the same. The 2018-19 Wolves identity: Let's run it back.
But then something changed.
A (New) Second-Unit Identity
Seven-and-a-half minutes into the game there was a shift.
Instead of Nemanja Bjelica checking in for Gibson, it was Anthony Tolliver — who went on to take 10 shots from 3-point land, making half.
Tolliver's substitution was quickly followed by a backcourt line change when Tyus Jones and Josh Okogie replaced Teague and Rose. This was another deviation from the season prior. While Jones did his low-usage, orchestrate the offense thing, Okogie was the inverse of Jamal Crawford: patiently waiting in the weakside corner for an offensive opportunity and committing to energy (with a capital 'E') on the defensive end.
Gorgui Dieng replaced KAT in what was an expected progression at the center position.
The biggest surprise in what was a crystalized 5-man bench unit was the inclusion of Keita Bates-Diop, who checked in for Wiggins. Not only was Bates-Diop's role a bit of a mystery entering the game, so too was his position. The substitution for Wiggins made it clear that Bates-Diop (currently) tops Luol Deng, C.J. Williams, and James Nunnally in the wing pecking order. Bates-Diop exclusively functioned as a big man in his experience with the Wolves during summer league.
The bench's utility was an extremely pleasant development. For a team that had the worst aggregated bench defensive rating in the NBA a season ago, to see continuity and communication was an out-of-body experience.
Okogie battled at the point-of-attack; Tolliver scurried laterally across the floor.
Jones lived in passing lanes; Bates-Diop played long as hell.
Dieng looked like a functional tentpole of an NBA defense.
Granted this was against the Warriors' second-unit and a team that rarely runs pick-and-rolls, but it was a positive first step. Wolves training camp only began on Tuesday but these five players have been practicing together for the past month at Mayo Clinic Square in Minneapolis — and it showed.
What the Wolves holistic rotation scheme will be once a Butler trade eventually happens is inherently a mystery, but these five looking like a functional group is a departure from the typical reality of the Wolves bench being a perennial mess.
 Three Odds And Ends
1. Increased usage for Towns with Teague/Rose compared to Butler
With DeMarcus Cousins sidelined to begin the season and Zaza Pachulia jettisoned to Detroit, Golden State started Damian Jones at center. Looking even stronger in the post than a year ago, Towns feasted on Jones (and Kevin Durant on one switch). This is the beginning of a pattern that will see Towns destroy undersized or inexperienced centers.
Towns just needs to get the ball.
That's where Teague and Rose come in. It appears the offense will continue to run through Teague, as it did a year ago. The second facilitator looks to be Rose, in place of Butler's role last year. For those aching to see more Towns touches, the ball being in the hands of Teague and Rose versus Butler is a good thing.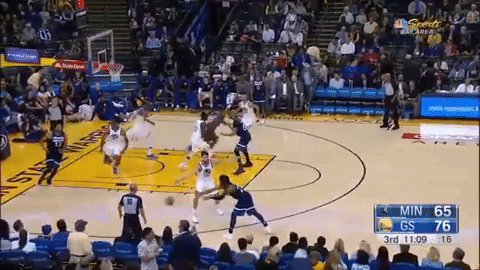 Teague was the most outspoken player on last season's playoff roster in his belief of Towns needing more touches. And Rose appears to be particularly keen on delivering the ball to Towns in those obvious mismatch situations. For Butler, this was a backup plan.
One thing to look forward too: More Towns and Teague/Rose pick-and-rolls. The PnR presents not only another action that guarantees Towns' inclusion in the offense but will also increase his 3-point volume through "popping" in the action. Using ball screen action also strokes Teague and Rose's strengths (north-south penetration and strength) while minimizing their weaknesses (jump shooting — particularly on the move).
2. Same role and same shot selection for Wiggins
The optimistic ideology is that the absence of Butler allows Wiggins to reacquaint himself with the more dynamic points of his game. More opportunities to create and get to the rim would seem plausible with no Butler.
This is arguably the negative externality of Rose attempting to Butler's doppelganger. Through Rose filling this role, Wiggins appears to still be the third banana — waiting off-ball for very specific and predictable opportunities.
After a slow start to the game, it was disappointing to see Wiggins reach into his bag for the dribble, dribble, 18-foot pull-up in an effort to get going. That said, this was one game. There is plenty of room (and time) for Wiggins' comfort level to grow.
3. What will the final roster look like?
Again, there were two clear units for the Wolves.
First unit: Teague — Rose — Wiggins — Gibson — Towns
Second unit: Jones– Okogie — Bates-Diop — Tolliver — Dieng
Later in the game, C.J. Williams — who is on a two-way contract that only allows him to spend 45 days away from the Iowa Wolves — was the 11th man into the game; ahead of Luol Deng, James Nunnally and Jared Terrell (the Wolves' second two-way player). It was somewhat interesting to see Williams play before Deng, but that seems somewhat explained by the fact that Williams is a wing and Deng is, now, a big. The real interesting piece was that Williams played over Nunnally, who didn't receive a single minute.
Odds are that a Butler trade brings back multiple pieces. With that, there could be a roster crunch. The structure of Nunnally's contract compared to Williams' two-way deal could make him the odd man out if the Wolves are forced to trim the roster. Nunnally's deal does not fully guarantee until Jan. 10.
Another variable in the looming trade is Dieng. For financial reasons, Dieng is the most likely piece on the current roster to be traded in conjunction with Butler. It is interesting to think about how the Wolves rotation would adjust if Dieng — who played 19 minutes in relief of Towns Saturday — is sent packing.
Does Taj Gibson shift into a backup center role through an adjusted rotation?
Is Anthony Tolliver then in line for a substantial role?
Does Keita Bates-Diop then shift away from the wing and into the frontcourt?
Many questions will loom for the Wolves until this Butler debacle is resolved. But for a Saturday night in September, it was nice to disconnect from the soap opera and watch the players actually on the roster play some actual basketball.
---
2019 Zone Coverage NFL Draft Guide
Get your Free Zone Coverage NFL Draft Guide for the best coverage in the twin cities
Get the Guide