With Jimmy Butler and Andrew Wiggins the only wings left under contract for the 2018-19 season — after Jamal Crawford officially opted out of his $4.5 million player option on Monday — the Minnesota Timberwolves enter Thursday evening's NBA draft with a clear motivation:
Acquire a wing.
There are a few ways the Wolves could execute this plan. In theory, they could attach their pick (20th overall) to a player already on their roster in the hope of bringing in a more veteran wing. Gorgui Dieng's name has been bantered about, but the pick likely wouldn't be enough compensation to shed the $50 million left on his deal. Perhaps a more realistic attachment is Justin Patton, the 16th overall pick in last June's draft, who finds himself at the end of a big-man logjam on the Wolves bench.
Another route is trading back from 20 in an attempt to land two picks in the top-35. But those theoretical moves are far less likely than the operating assumption of Tom Thibodeau simply taking the best available wing at 20.
If that is the case, the Wolves are in luck.
There is an array of "3-and-D" prospects who will be there when the 20th pick rolls around. But that labeling of 3-and-D is too broad; not all wings are created equal. Yes, outside of the lottery, there are a ton of players who will play shooting guard or small forward in the NBA next season but within that genre are subsets. It's not just about drafting a wing, for the Wolves front office, it is about forecasting what that wing's role will be this season and how that piece fits into futuristic plans.
For Thibodeau, Scott Layden and the entire Wolves front office, how Wing X will fit into the team is the most critical question entering draft night. Here are three of those X variables and the role they would most likely fill in the Thibodeau scheme.
The Scorer
Lonnie Walker, Miami (Fla.)
Age: 19
Height: 6-foot-4.25
Weight: 204 pounds
Wingspan: 6-foot-10.5
Latest ESPN Mock: 13th overall
An optimistic and not all that unrealistic forecast for Walker is that he will be the best isolation scorer of this draft class. The Donovan Mitchell comparison is lofty but, in style, not inaccurate. The Miami product has the physical tools and skillset to be a multi-faceted weapon. He is a more than capable shooter and, with some guidance, could be a very good perimeter defender. But it is his ability to use dribble penetration and the length that he possesses that defines him today.
On paper, this does not feel like a need for the Wolves. With two apt isolators in the fold (Butler and Jeff Teague) and a third starter who prefers dribble penetration (Wiggins), adding Walker would seem convoluting. But the presence of Derrick Rose and his relative effectiveness as an isolator indicated that there are more seams to be penetrated in the Minnesota offense. Particularly within the second unit.
If this were to be Walker's offensive role, he would emulate much of what Rose did when he played not as the primary ball-handler — which was the majority of the time. In the series against Houston, Rose illustrated his ability to punish a switching defense through the horizontal space that is created when an opponent — like Houston — opts to switch incessantly.
Here, Rose salivates before even receiving the handoff. He realizes there will be three Houston defenders on the weak side once the ball is in-hand, leaving him only James Harden to beat.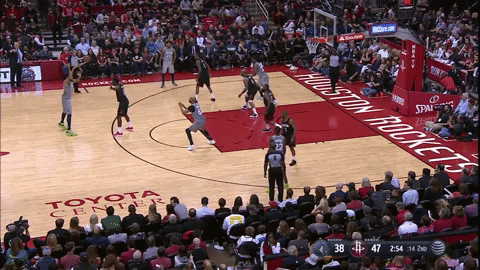 This is also the case here with Walker in Miami. When the floor becomes unbalanced, Walker smells blood in the water.
Understanding he has the first-step speed and finishing ability, Walker uses his burst to exploit the shift in the Louisville defense. With a head of steam before the floor has become re-balanced, it's game over. What makes Walker an even more dangerous penetrator is that he can force the defense to move on his own; he does not need ball movement to find an isolation opportunity.
That's something Rose no longer has in the bag of tricks.
When in possession of the ball, even in stagnant offensive situations, Walker is always one dribble away from attack mode.
Here, Walker distracts two off-ball defenders with one hesitation to his left. Once he has tricked the big into coming up to hedge the screen and convinced the weak side wing that he may be going left, all that is needed is one attack dribble to be at the rim. Couple that natural feel with his ability to finish at the rim and you have what could be a bonafide scorer. Yes, in ways Walker would be redundant to Rose — who seems highly likely to return for next season — but there is a need for a second creator on the Wolves second unit.
Especially with Crawford out the door.
The Shooter
Gary Trent Jr., Duke
Age: 19
Height: 6-foot-5.75
Weight: 204 pounds
Wingspan: 6-foot-8.75
Latest ESPN Mock: 28th overall
At his end of season press conference, when asked what his team's biggest needs were, Thibodeau said, "3-point shooting and the ability to defend multiple positions."
If the Wolves draft Trent, they will have done everything they could to address the former. By many draftniks, Trent is regarded as the best shooting prospect in the draft. His ability to defend even one position is, however, in question. While Trent appears to have the physical frame of a capable defender — he is almost identical in height, weight, and wingspan to Kentavious Caldwell-Pope — the speed of his feet and general athleticism takes a lot of flack.
But if Trent's name is called at 20, it will be because Thibodeau believes he can shape that frame into a capable defender and can bank on shooting ability, which is far more difficult to teach.
Diagnosing what role from last season's Wolves that Trent would fit into is almost impossible. Nemanja Bjelica was the team's only real spot-up option, but that came from the power forward position. Wiggins had a few good stints of catch-and-shoot play, but the other "shooters" — Butler, Teague, Crawford — all preferred to play, and shoot, even 3s, off-the-bounce.
To find a Thibodeau Timberwolf role comparison you have to spin the calendar back to 2016-17. During Thibs' first season, he started Brandon Rush 33 times out of desperation for shooting prowess. The team is similarly desperate today. As a rookie, Trent could fill that Rush role of a dead-eye shooter who has the intelligence to find his own space on the floor.
Rush was no boomlet that season in Minnesota but he did exist in the corner. And when he was asked to shoot 137 times from deep, it worked, Rush converted a respectable 37.4 percent of those attempts. While he may have lacked any real off-the-dribble game — or much of any game outside of a peculiar ability to block shots with a lumpish frame — he did know how to move along the perimeter without the ball.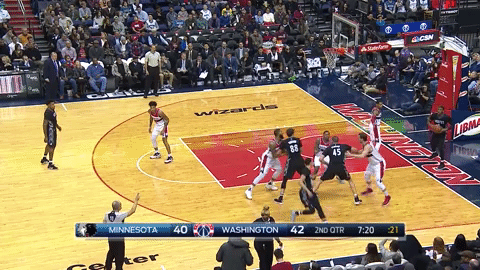 Trent has a similar shooter's IQ.
Many players classically condition themselves, when open, to run towards the ball. This is a mistake, particularly in the pace and space era of modern basketball. Few can, in the moment, realize that moving away from the ball is often what makes them more open. As a shooter deep to the core, Trent has that inherent trait within him, making his shooting aptitude all the more likely to transfer to the next level.
Here, off the baseline cut, Trent does the smart thing: he does not curl up all the way above the break.
This is wise for two reasons:
His point guard is moving at him; meaning if he were to curl and receive the ball, there would be little to no space after the catch.
He recognizes that his man is not trailing him but, instead, cheating by going over the screen. Through simply moving away from the ball — even though he is open — and to the corner, rather than curling, Trent receives a clean look.
These things seem obvious from 10,000 feet but in the spur of the moment, they are instincts not every player has.
Few players have shooter instincts at the age of 19 — but Trent does.
The Defender
Khyri Thomas, Creighton
Age: 22
Height: 6-foot-3.75
Weight: 199 pounds
Wingspan: 6-foot-10.5
Latest ESPN Mock: 30th overall
A low-maintenance player who recognizes the value of defense with a dogged desire to win is how Butler and Taj Gibson would have been described in the early stages of their careers. The two were also "old" draft prospects and pushed to the end of the first round due to that concern. Butler was 22 years old his rookie season after being selected 30th overall in the 2011 draft and Gibson, drafted 26th overall in 2009, was a whopping 24 years old in his rookie season.
All of those personality and age characteristics describe Khyri Thomas, the 22-year-old reigning Big East Defensive Player of the Year. If Minnesota decides to select Thomas 20th overall, the early-career play and impact Butler and Gibson had on the Bulls — that Thibodeau witnessed first-hand — will certainly be a factor. That shared ethos will certainly catch Thibs' eye and Thomas' 6-foot-11 wingspan could be Cupid's arrow, aimed directly at the heart of Thibodeau.
In addition to his defense, it is worth pointing out that, at Creighton, Thomas wasn't just some Andre Roberson. He showcased an offensive game predicated on a jump shot that you can almost tell began as a project but was buffed, polished and ran through the wash in countless gym sessions.
So much so that, at the college level, it became a real weapon. But, again, it is not his offensive game that will represent who Thomas is early on in his career. His teeth will be cut on the defensive end, whether that is in Minnesota or elsewhere.
It is through individual matchups that say, it is your job to slow Player X that will earn Thomas minutes if he is drafted by the Wolves. In functional theory, that role will look similar to Marcus Georges-Hunt's this past season. Like MGH, who relied on his fireplace of a frame to hinder players like Paul George or DeMar DeRozan from penetrating, Thomas possesses a bizarre wingspan that can be used to similarly hinder. But it won't just be the Georges-Hunt role. Even though Thibs' history of giving a short leash to rookies is well documented, it seems highly likely that Thomas would play far more than the mere 224 minutes Georges-Hunt received this season.
That expanded role could look like a second on-ball defender against teams with larger lead ball-handlers. The most recent example here would be how the Wolves defended James Harden in the playoffs. That job was, naturally, handed to Butler who actually did a very good job against isolation wizard. However, when Butler was resting or when Thibodeau began using him as a small-ball four, the job had to go elsewhere. And that did not go well. Wiggins became the de facto option at the point-of-attack.
While Wiggins certainly took some strides on the defensive end this season — tallying a string of highlight blocks and steals — his true defensive improvement came from his engagement off-the-ball. Wiggins began to see the floor and utilized his length in passing lanes. However, he did not become a strong on-ball defender. And that was exposed against Harden so much that Thibodeau turned to the 6-foot-1 Rose for reinforcements.
Having a player like Thomas would allow Thibodeau to more often go to those small-ball lineups without placing an onus on Wiggins or Rose.
Wiggins has the strength and length to defend a Harden-type of player but does not know how to utilize both of those skills in unison. He often, to no avail, relied on the lesser of those two features — his length. Despite being almost four inches shorter, Thomas has the same wingspan as Wiggins. He also has shown an ability — granted, at the college level — to utilize that length more effectively. In theory, Thomas is a player who not only leans on wingspan to defend but also has more comfort getting into the space between himself and the ball-handler.
Butler will always be the preference in these situations but Thomas playing even just the 12 minutes per game when Butler sits will be a windfall considering those would come in place of Crawford. At worst, it is easy to see Thomas being a stalwart of the second unit that needs an invigorated focus on the defensive end.
—
Whether it be Walker, Trent, Thomas, or someone else not listed, the idea of new blood on the wing is exciting for the Wolves. Tilting from exciting to nerve-wracking is the question of specifically what type of wing Thibodeau chooses as that is the first domino of a crucial offseason filled with many questions.
For example, if Walker somehow falls to 20 and the Wolves nab him, then the likelihood that they pursue an isolation specialist like Tyreke Evans or Will Barton in free agency falls. If a shooter like Trent (or Kevin Huerter) is the plan, then a Wayne Ellington- or Rodney Hood-type becomes less likely. If they reach a bit for a lockdown defender in Thomas, then Avery Bradley or Kentavious Caldwell-Pope may not happen.
But none of those will be missed opportunities if the Wolves hit on this pick. Find what is desired out of the first-round pick and a path to addressing a new part of the wing rotation in free agency becomes possible. This isn't the most important pick in recent Wolves history, but it is the first time they will be drafting for need.
---