With respect to Tuesday night's loss to the Orlando Magic, the lowlight of the Minnesota Timberwolves season came on Dec. 16 against the Phoenix Suns.
Draped in lime green Sharpie costumes, the Wolves cratered 108 points to a Devin Booker-less Suns team in a losing effort. Any loss hurts, but that defeat at the hands of the league's fourth-worst offense held a particular sting through the suggestion that this season's Wolves team was again trending toward mediocrity.
To that point of the season, the Wolves offense was thriving but faith in the Minnesota defense ever figuring it out had started to wane. The Thibs Dust had been given plenty of time to percolate beneath the additions of Jimmy Butler and Taj Gibson but the Wolves still found themselves near the bottom of the league in defensive rating.
Last season — Tom Thibodeau's first in Minnesota — raised many questions on the defensive end, as the woes transcended the stat sheet and met the eye test.
If you were to pull up any YouTube game recap from a 2016-17 Wolves game, there would be little waiting before finding an opponent breaking down the Minnesota defense with a pick-and-roll that led to a dunk.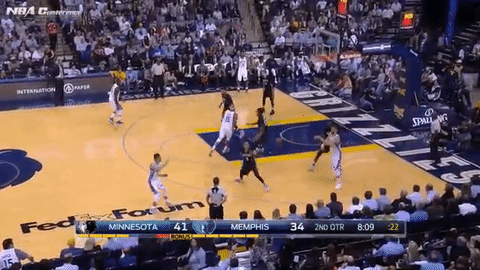 Under the tutelage of Thibs — famous for his ICE-ing of sideline pick and rolls while in Chicago — the Wolves were nothing like his Bulls teams of yesteryear.
To be brief: last year's Wolves team never got it.
In the above clip, Ricky Rubio and Gorgui Dieng — undoubtedly the team's two best defenders a season ago — simply look clueless. This is because ICE-ing a ball-screen action is not an individual quest, it requires a unit. Most notably, there were four things the 2016-17 Wolves never figured out in pick-and-roll defense:
Recognition
Communication
Recovery
Trust
Early-Season Defensive Woes
This folly spilled over into 2017-18 all the way to that fateful Highlighter Game against the Suns. Whenever an opponent injected a ball-screen in the midst of other moving parts, the Wolves were (still) slow to recognize, communicate, recover and trust.
Here, Jamal Crawford is preoccupied with his man (No. 23, Danuel House) who is clearing the far slot so Isaiah Canaan and Alex Len can run a side pick-and-roll. Crawford can be best described as distracted when, in sound practice, his job is to play with his head on a swivel; recognizing the ball screen. With earlier recognition, Crawford would have been able to "tag" – essentially bump and slow – the roll man.
Had Crawford done this, Karl-Anthony Towns would have had more time to "drop" — keep both the ball and the roller in front — and recover.
Below is an effective tag. Andre Roberson sinks into Domantas Sabonis and his presence deters the pocket pass back to Sabonis. (h/t @DylanTMurphy)
Of course, Crawford is not Roberson defensively but the ability to tag is not limited to elite defenders. A tag is an elementary action that does not require speed, athleticism or strength; it requires awareness.
Lacking awareness is where communication comes in.
Towns — perhaps the team's biggest defensive issue early on in this season — is not timely with his communicating of the screen.
By announcing screen or pick, Crawford would have been made aware. Earlier communication by Towns would also benefit Tyus Jones, who is on the ball. Without notice, Jones is forced to scramble.
The dropping big man is the quarterback in defending a pick-and-roll action — audibling before the play unfolds. Without his communication, recognition and recovery become nearly impossible.
These breakdowns had become an epidemic in what was then 112 games into the Thibodeau-era. A negative externality of consistent breakdowns is a team-wide lack of trust.
Without that trust, the defense devolves from a shell into five individual pieces going rogue, focused on their individual assignment. The Defensive Turning Point
The loss to Phoenix dropped the Wolves to 17-13 on the season. While that was an objectively good record – on par with expectations – that positive sentiment did not echo around the team. Looking back on that Phoenix game, Crawford describes the 48 hours that followed as a "moment of truth" before facing off against the Portland Trailblazers.
"Coming off a tough loss, we could have splintered and went one way," Crawford told Zone Coverage. "But we found a way to win that (Blazers) game and from there I think we just kind of steamrolled.
"I think when the season's, you know, over with or close to an end, we'll look back, like, that win triggered certain things, for sure."
"Steamrolled" might be putting things lightly.
Minnesota won 12 of its next 15 games and by a sizable margin have become the NBA's most effective team in the month that followed.
Efficiency Ratings Last 15 Games
| | | | |
| --- | --- | --- | --- |
| Team | Net Rating | Offensive Rating | Defensive Rating |
| Minnesota Timberwolves | +10.4 | 114.3 (1st) | 103.9 (5th) |
| Golden State Warriors | +6.6 | 112.6 (2nd) | 106.0 (12th) |
| Toronto Raptors | +5.5 | 110.5 (6th) | 105.0 (10th) |
| Boston Celtics | +5.3 | 104.8 (19th) | 99.5 (1st) |
| San Antonio Spurs | +5.1 | 104.8 (21st) | 99.7 (2nd) |
| LA Clippers | +4.7 | 110.3 (8th) | 105.6 (11th) |
| Oklahoma City Thunder | +4.4 | 111.9 (3rd) | 107.5 (17th) |
| Philadelphia 76ers | +2.7 | 105.2 (17th) | 102.5 (3rd) |
| Miami Heat | +2.6 | 106.0 (14th) | 103.4 (4th) |
| New Orleans Pelicans | +2.4 | 110.7 (5th) | 108.3 (21st) |
*Numbers entering Jan. 16
Having a balanced attack is the reason for the boon.
Complementing an offense that has been in the top-five for the majority of the season with a real defensive unit is the reason for acclaim.
Being in the top five of both offensive and defensive efficiency — as the Wolves have been this past month — is a rarity. Over the past five seasons, only five teams have completed that feat over the course of a season.
Golden State: 2014-15, 2015-16, 2016-17
San Antonio: 2015-16
Oklahoma City: 2012-13
Those three franchises were led by future Hall of Fame Coaches and/or future Hall of Fame players. However, if the clock is rolled back two additional seasons there is one more team that fits in this bin, a team absent of Hall of Famers on the sideline or the court:
The 2011-12 Chicago Bulls, coached by Thibodeau.
While this most recent 15-game stint from the Wolves should not be confused with the season-long dominance of those above franchises, the effectiveness does suggest that Thibs may be tapping into his ways of old.
How To Quantify Defensive Success
If you point out the statistical successes to Thibs, he is quick to brush it off.
Prior to a Jan. 10 meeting with the Oklahoma City Thunder that finished as the seventh-straight game Thibodeau's squad held an opponent under 100 points, Thibs dismissed the defensive models that paint the Wolves as elite.
"I haven't seen an accurate defensive rating system yet," said the Minnesota head coach. "I think there's a lot of things that go into it. I've seen most of the defensive rating systems and I know it's something that a lot of people talk about but I still haven't seen one that is very accurate."
For Thibodeau, his sentiment was that those metrics focus on team success (or failure). He quantifies defense differently — taking a micro and player-by-player approach.
"It's containment of the ball. (It's) challenging shots," Thibodeau listed. "Can you defend your position? Can you defend multiple positions? Do you read situations?"
This essentially describes the inverse of everything that happened on that play against Phoenix a month ago. If there is an explanation for the turnaround since that moment of truth, it is that the Minnesota defense is now emulating the above quote.
The "New Wolves" are different. They contain the ball, challenge shots, defend multiple positions, and read situations.
Containing The Ball More or less, ball containment can be thought of as applying pressure while keeping the ball in front of you. A college coach recently described effective ball containment to me through anecdotally referencing a youth basketball team that succeeds in running a full-court press.
Over the course of the past month, Tyus Jones has surprised many with his ability to contain the ball after being drafted with the labels of undersized and defensive liability. Outside of Butler, Jones has been the team's best defender at the point-of-attack.
Much has been made of the Tyler Jones Dunk over LeBron, but what can be overlooked on this play is Jones' defense. Even before he picks one Hall of Famer and dunks on another, Jones' stance is sound.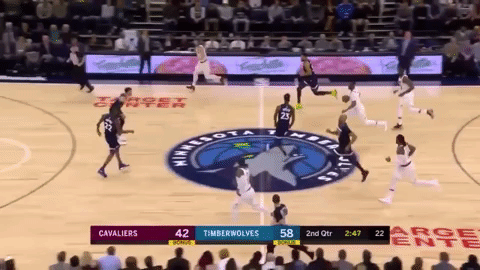 With Dwyane Wade moving at full speed, Jones knows his job is to stop the ball. His feet are parallel and his shoulders are lined up directly above his knees. This creates a one-man defensive wall.
Tyus may not be pestering in the ways a guy like Houston's Patrick Beverley – a master of this – was but this too is effective ball containment.
With a Steal Percentage of a ridiculous 35.9, Jones is the league's third-most prolific thief, but he is not a gambler. Jones relies on sound defensive placement and active hands for his thievery.
While starting in Teague's place for much of the past month, Jones has been a catalyst to the defensive boon. His buy-in to effective ball containment can be thanked.
Challenging Shots While Dwight Howard has his issues, he is this generation's premier shot-challenger. On the above play, Howard showcases a blocked shot but, more importantly, he displays patience in this contest.
Following the Gibson ball screen on Teague's man, Howard almost welcomes Teague to the lane where he is waiting to time the shot. Anyone can flail at a field goal attempt, few can effectively challenge.
Towns was a flail-er for much of his first two seasons in the NBA, and the beginning of this one. Through this propensity to overpursue, he entered this season a net-negative on the defensive end.
This habit was created at the University of Kentucky where Towns was a heat-seeking missile told to pursue field goal attempts at will. At the collegiate level, Towns exploited physically inferior opponents.
Once in the NBA, Towns' "block shots at will" mentality did not change, and it was exploited by opposing pro offenses. With bigger and faster opponents, Towns too often missed his block attempts at the next level. This over-pursuit led to easy buckets.
After hearing the noise about his porous defense through his first two seasons, Towns (mistakenly) reverted back to what led to success at Kentucky. He suggested he was going to rely further on his "instincts" and, well, that did not go well.
His shot-blocking pursuit became out of control. Plays like this uncontested weakside rebound by Bam Adebayo were a nightly occurrence. The team defense was cratering and Towns was to blame.
Then this month happened and Towns pivoted 180 degrees. The Wolves big man has found a discipline that has made him the two-way defender he was once projected to be. His shot pursuit tempered as he ditched Karlito and embraced a Dwight-like patience.
Towns is still an erratic player but that fury, when controlled, is powerful.
For this month, the discipline has been there. He has played with a hand on his man and an eye on the ball. This allows him to effectively help without disregarding his primary objective: his man. The center is the tentpole of the defense. You can contain the ball all you want but without a solid tentpole, defenses falter. Through patience — and just some deep breaths — Towns has been sturdy challenging shots on the interior.
Defending Multiple Positions This play, by Draymond Green, isn't really a play at all; and that's why it is impressive.
If you look at the four teammates Green is surrounded by, you can deduce he is clearly his team's de facto center. This, at face-value, means: C.J.McCollum has a center switched onto him and has the entire right side of the floor available for penetration, yet, McCollum backs it out.
For Green to be switched to a player three positions lower than him and not be exploited is an invaluable coup for the Golden State defense. The goal of an offensive possession is to prod for opportunities or mismatches. Green — able to defend five positions — is never a mismatch.
The more positions a player can guard, the less likely they are to be exploited. While the Wolves have no Draymond Green on their roster — no one does — they have begun to showcase some positional versatility of late.
I would be remiss to not mention Butler and Gibson here — as they are two of the closest analogs to Green the NBA has to offer — but it is Wiggins who has burst over the past month to not only be a solid defender but also versatile.
The first steps of the long-awaited tap into the size and athleticism that was supposed to make him a defensive stopper involved him doing two things:
Guarding his position. And guarding bigger players. Even a season ago, Wiggins would have shied away from a defensive matchup against Kevin Love. This season, or at least this past month, he has become one of Minnesota's players who can (successfully) defend multiple positions.
Reading Situations
Containing the ball, challenging shots, and defending multiple positions are individual objectives. Succesful defense takes individual jobs and applies them to the team-wide concepts of recognition, communication, recovery and trust.
"Reading situations" is diction for putting it all together. And in a late-December game, against the Denver Nuggets, it came together on this play:
Here; Teague's recognition of ICE, Towns' ability to move his feet against penetration, Teague's active hands, and Butler's awareness are three examples (all in this one play) of how this #twolves defense is taking massive strides forward. #AllEyesNorth pic.twitter.com/aR2kuI8TDX

— Dane Moore (@DaneMooreNBA) December 28, 2017
A year ago, those plays weren't few and a far between; they simply did not happen.
Ever.
Things have changed in Minnesota. Players are doing their individual job.
Through a micro understanding of their role, the macro is figuring itself out. The players have stopped concerning themselves with the dysfunction of the team defense as a whole as their understanding has been inverted to understand their specific job whilst playing aware.
Thibodeau describes this as playing "on a string."
The Thibodeau defensive system was never complex in its X's and O's, the complexity was largely mental in its reliance on others. Thibodeau's predecessor Sam Mitchell blamed AAU ball for the mental aspect; the new coach has opted to do something about it.
That something is instilling the importance of trust.
Finally, the Wolves are doing just that. With five players doing their job while also trusting in each other the results have played out. This new Minnesota defense jumps out on the stat sheet, on the tape, and has led to results in the standings.
Since that "moment of truth," Crawford described, The Thibs Dust appears to have sunk in.
---