It's been the bane of the Minnesota Timberwolves defense three years running. If you're playing the Wolves, have a point guard with distribution abilities off the attack and can flank him with a formidable rim-rolling big man, you might as well run high pick-and-rolls all day.
Time and again, for years, the Wolves have illustrated an inability to consistently defend high ball screen actions with their dropping defensive scheme.
It's the Tom Thibodeau gift that keeps giving.
On Wednesday night against Atlanta, it was Trae Young instigating and his big man running mate — often John Collins — puncturing the Wolves underbelly with the action repeatedly. The Wolves defense was, yet again, wrecked by an inability to handle ball-screen action. Young tied his season-high in points with 36, scoring all six of his first half buckets off of ball screens or dribble hand-offs. And in the second half, Young tallied five assists on pick-and-rolls — dropping four off to Collins, who scored 34 points on his own.
The action is simple: have the big set a high screen… let the point guard read the floor… wait for the defense to give you too much space… eat. This has been a standing problem for a Timberwolves team still covered in Thibs dust. Thibodeau instilled a defensive system that begs opposing guards to do just that — make the read. In theory, Thibodeau's "drop" and "ICE" defensive schemes pull the big pedaling backward, deterring the ball-handler from getting to rim — isolating them from the rest of the action. It's a strategy that worked wonders a decade ago in Boston and shortly after that in Chicago. But in a league that has changed immensely — the first and second year Young and Collins as newbie examples — many teams crave the dropping of the big. Against players like Young and Collins, the drop — unless executed to perfection — allows modern duos to do their favorite things: pull-up, penetrate or lob.
It's a bad scheme and one that is fading from existence because even poor teams like the Hawks can punish it. The teams that still utilize a drop scheme frequently do so to cover up for a slow-footed center that can't skedaddle on the perimeter. Portland is an example with Jusuf Nurkic and the classic example is Boban Marjanovic while he was in Los Angeles and now Philadelphia. For so few teams dropping is preferential. In a league where fluidity is now king, this defense often drowns a little more with each step the big drops backward.
The Wolves inability to effectively slow the opponent's pick-and-roll actions is an epidemic that Ryan Saunders has not found the antidote for — and is becoming one of the greatest stains on his otherwise formidable resumé. In Saunders' 21 games as interim coach, the Wolves have been picked apart by pick-and-roll ball-handlers. To name a few: Luka Doncic and JJ Barea fileted the Wolves in Saunders' second game as interim coach… Donovan Mitchell and Rudy Gobert in Saunders' 10th game… and more of the same Wednesday versus Atlanta.
Defending with a dropping big is conservative, it is a reactive counter. When the Wolves are proactive, attacking the ball-screen with big, the results haven't unilaterally been better but the way it engages the players is night and day different. Jumping out to "show" or "trap" after a screen is like blitzing in football — a definitive risk but for those three seconds after the snap, your hair catches on fire. I know this sounds silly, but defending a pick-and-roll aggressively is more fun. Especially for Towns, this seems to matter.
My favorite defensive game of the season — as I've written about before — came right before Robert Covington got dinged up, a game against Charlotte. (Long time ago!) Against one of the league's premier pick-and-roll mavens, Kemba Walker, Thibodeau channeled his inner Coach Yoast from Remember the Titans and the Wolves blitzed… all… night!
With his hair on fire, I've never seen Towns more engaged than he was that evening. The Wolves seven-footer does not have synapses that fire at full-blast on the defensive end, but his feet can. He's not Boban.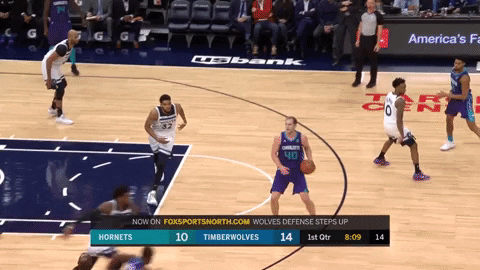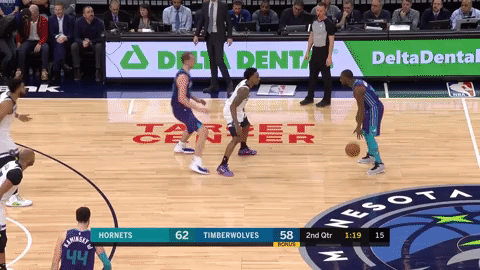 However, when you slow KAT down, he does become Bobanesque. So don't do it — begin taking opponents flogging you with pick-and-rolls personally. To do that, they need the freedom to fight. Let them switch, show, gamble, battle. This long division that is the drop system appears to be breaking their brains and slowing them down.
Even when the Wolves do slow the initial pick-and-roll attack with a drop — as they did a few times against Atlanta — they aren't out of the woods. Apt point guards are still going to shrink the floor against the drop and find ways to pick apart a spread floor. Spotted up on the weak side of the floor, Vince Carter — who hit three 3s Wednesday — waited for Young to pepper him with kick outs when the initial pick-and-roll didn't render an easy bucket.
Here, Dario Saric is so preoccupied with snuffing out the roll man (Collins) that he has sacrificed nearly 20 feet of space off Carter. More eating for Atlanta.
And then in overtime, the Hawks went to another option against a shifted floor, following a high screen: DeAndre Bembry. The Hawks made four buckets in overtime, three by Bembry and one by Carter. It all starts at the point-of-attack and what you ask the big man to do when his man comes and sets a screen. Slide back into a drop and you're reacting. When a team gets rolling, as Atlanta did on Wednesday night, they feed off of that reaction.
We've heard time and again how making schematic changes from one coach to another is a major undertaking. But with the Wolves and their pick-and-roll scheme, it is known that this isn't working. Too often they are the nail to the offense's hammer. Too often they opt for conservatism over proactivity. And too often they lose to teams like the Hawks — teams who see the blood in the water of a fatal defensive flaw. If the Wolves don't shake off the Thibs dust and find a new defensive identity their season will end like Thibodeau's: cut short.
Think You Know Your Minnesota Sports?
Take the Minnesota sports quiz and test your twin cities sport knowledge.
Take the Quiz