Before Karl-Anthony Towns hobbled to the Minnesota Timberwolves bench Saturday evening with the grace of The Wizard of Oz's Tin Man, the Wolves big man had done it again: A 13th consecutive game with 24-plus points while shooting at least 50 percent from the field.
Word around the team Sunday is that Towns' knee sounds like it's fine even though he did miss the back-to-back for some precautionary rest to that sore right knee. With that information, don't plan on Towns' emergence in February and early-March to stop any time soon. Since the calendar flipped to February, Towns has tallied per game splits of 32 points, 13 boards, 4 assists and 51 percent shooting from deep, which has thrown him smack dab into the middle of the All-NBA conversation.
For the Timberwolves (and Towns) that is a $32 million proposition. With Anthony Davis waving the white flag post-trade deadline, the third and final All-NBA spot is up for grabs. If Towns can find his way on to one of the three All-NBA teams alongside Joel Embiid and Nikola Jokic (likely locks for first- and second-team honors), his contract extension that starts next season swells from five years, $158 million to five years, $190 million.
"He's a monster… He is one of the most versatile guys in this league," New York Knicks coach David Fizadale said Sunday afternoon. "He's in the top tier of centers, no doubt about it… He's got all of the ingredients. Ryan is doing a heck of a job moving him around and using him in different ways and the numbers show he's really performing at a high level."
Towns made the All-NBA third team last season but the way he started the season put him well behind the 8-ball to earn this $32 million incentive. Fizdale is right though, Towns is putting up numbers that, now, aggregate in a way that puts him in a tier with Embiid and Jokic.
Before we dig into why this potential salary boost comes with the baggage of even less future financial flexibility for the franchise, let's give KAT his due, touching on what Towns has done to get here. The Cowardly Lion Butler days are so far behind him that suggesting Towns is the best offensive center in the league no longer seems hyperbolic.
Yes, Jokic is the best distributing center in the NBA but Towns is a superior shooter, comparable in the post and is more prolific in the roll portion of the pick-and-roll. For the second consecutive season, Towns is making over 40 percent of his 3-point attempts while Jokic has made just 32.4 percent of his 3s on only 79 percent of KAT's volume. Further, Embiid is only shooting 29.5 percent from deep this season on 82 percent of KAT's volume.
Of the 140 players who have attempted 250 field goal attempts outside of 15 feet this season, Embiid (40.5 percent) ranks 138th in effective field-goal percentage on those shots, Jokic (44.9 percent) 126th and Towns (56.5 percent) 17th. The only "big men" who are hitting at a higher rate from that distance than KAT are Davis Bertans (67.4 percent) and Tobias Harris (59.5 percent).
It is in post-up situations that Towns slips a little — impacted by his very poor start to the season. Embiid is the gold standard here, scoring 1.04 points per possession, according to Second Spectrum's tracking data. Jokic is third at 1.03 and Towns fifth at 1.00.
But to continue fawning over Towns (and to make more excuses for why his numbers are a tad lower here than the other two), it is important to acknowledge the disparity in the quality of surroundings — from teammates to the offensive scheme — that KAT plays in compared to Embiid and Jokic.
Dario Saric would know a thing or two about Embiid's surroundings and I thought his comments earlier this month were informative to the differences in the two team's different infrastructures.
"They don't have short plays, like here," Saric said of the offense in Philadelphia compared to Minnesota. "KAT is amazing. And he really, when he scores 30 points, you can see he scored 30 points. You can see, sometimes with Joel, he's scored 30 and he's got a lot of easy buckets."
The best example of short plays the Wolves run is the straight post-up for Towns. The lack of ingenuity in the action makes it easier for opponents to send a double-team Towns' way. Against Washington on Saturday, Tomas Satoransky functionally served as a quarterback spy on every Towns post-up — bringing top-side doubles all night.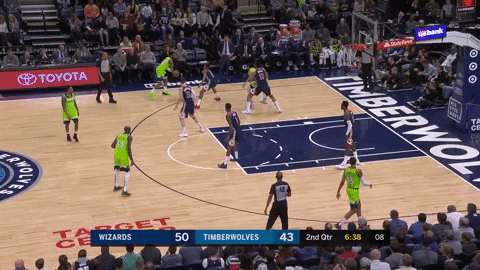 It's not as if Jokic and Embiid don't receive similar attention, it's the quality of the players who surround them who increase their effectiveness. Cam Reynolds, who hits the 3 in the above clip, seems like a hard-working, great kid but he's definitively a fringe NBA player on a 10-day contract. And even when it's the "normal" wings out there around KAT, those guys aren't exactly Jamal Murray or JJ Redick.
Josh Okogie has made 27.6 percent of his 3s this year.
Andrew Wiggins, even in catch-and-shoot situations, is below league-average — only converting 162 of 463 (35 percent) of his spot-up 3s over the past two seasons.
Jeff Teague is remarkably hesitant to fire from 3.
Derrick Rose has made one 3 since the Wolves were blown out by Embiid and the Sixers on Jan. 15.
The only real action that KAT thrives in that involves a teammate is the high pick-and-roll. And it is here where he is lightyears ahead of Jokic and Embiid in terms of effectiveness. Only Montrezl Harell and Rudy Gobert have been the roll man on a higher quantity of possessions than Towns while doing so more efficiently. Of the 41 players who have been the roll man for over 100 possessions this season, Embiid is 40th in efficiency (0.89 points per possession) and Jokic is 35th (1.04 points per possession). After scoring 1.16 points per possession as a pick-and-roll roll man last season, Towns has jumped up to 1.21 points per possession this season, per Second Spectrum.
Why Towns is so dynamic here goes back to the shooting element of his game that is on another level.
"He's been good in both the roll and the pop situation," Ryan Saunders said of Towns. "He's also becoming better at picking his spots — knowing what defenses are doing. There's a lot of analytics out there to see what opponents are going to be doing, or what their trends are in terms of guarding high pick-and-rolls. We've tried to put some actions in where Karl has some options to pop and roll based on how the read is."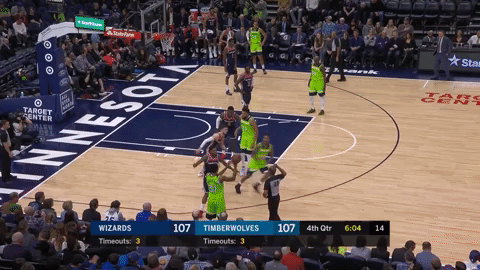 Of players who pop with any regularity in pick-and-roll situations, Towns (63.1 percent) only trails Dewayne Dedmon (65.3 percent) and Dwight Powell (63.9 percent) in effective field goal percentage during those actions, per Second Spectrum.
If Towns is recognized as the league's premier offensive big man — or at least close to — he makes a strong case to snag the third spot from the defensive-minded Rudy Gobert. For Wolves fans, this is, unfortunately, something they should cheer against. The extra $32 million Towns will earn with the award will greatly affect the pieces the Wolves can put around their star this summer.
As it stands today, assuming KAT does get the boost, the Wolves have $114.1 million in salary dedicated to eight players next season.
With the 2019-20 salary cap projected to come in at $109 million, the Wolves are already over the cap, limiting their spending power under the luxury tax line ($132 million) to just under $18 million this summer. Subtract somewhere around $3.5 million for the Wolves first round pick and that flexibility shrinks to $14.5 million with (at least) five spots left to fill.
Tyus Jones, Taj Gibson, Derrick Rose, Anthony Tolliver, Luol Deng and Jerryd Bayless are all free agents this summer, meaning anyone who is retained would need to split that $14.5 million pie. Theoretically, two of those guys could be brought back for that much pie but doing so would all but preclude the possibility of bringing any outside free agents.
The Wolves will have the midlevel exception that they can spend up to $9.2 million on one or multiple free agents, but that would cut into that $14.5 million pie — potentially pushing out the possibility of re-signing any of those team's current free agents. This is just the tightrope the Wolves walk if Towns makes All-NBA.
Now, this isn't KAT's fault; going all in on a four-year, $64 million contract to Gorgui Dieng and a five-year, $148 million deal for Wiggins all but crippled the financial flexibility with or without Towns' All-NBA presence. If it isn't abundantly clear, Towns is worth it at $158 million or $190 million.
So what's the move?
Towns isn't going to shelve himself with this knee injury and Saunders, like KAT, is incentivized to pursue wins over the NBA lottery's ping-pong balls. This is just the reality: a tight financial picture further squeezed by KAT's ascension to Jokic and Embiid levels.
"I understand that everybody probably knows what he could get by getting a certain nod," said Saunders. "But he's so focused on doing what's best for this team. And what's best for this team is Karl playing at an All-NBA level."