At halftime of the Minnesota Timberwolves nationally televised matchup against the Los Angeles Lakers, TNT's Kenny Smith skipped a step. Smith didn't even bother going to his big board to breakdown film from the first 24 minutes of the Wolves-Lakers game. Neither the Timberwolves nor the Lakers were worth it, Smith opined to his massive audience. His rationale was simple: Neither team has an identity. So what's the point?
In a tone slightly less pejorative than his counterparts, Smith (astutely) pointed out that LeBron James wasn't playing for the Lakers and because of this truth there was nothing worth deciphering, he explained.
Insert Charles Barkley, who, per usual, did not veil his thoughts. Chuck proceeded to spew all over the Wolves, who he similarly suggested lacked identity. Shaquille O'Neal and even Ernie Johnson chimed in, referencing the Sacramento Kings — The Kings! — as a team with more of an identity than Minnesota.
But let's parse through this a bit. Sure, the Kings run a lot; they're second in the league in pace.
But let's not crown them for that, the 15-32 Atlanta Hawks lead the league in pace and the 21-61 Phoenix Suns led the league in the same category a year ago. Also, yes, Sacramento is third in the league in 3-point percentage (38.8 percent). Great, but they don't shoot many from beyond the arc; their pace skews the perception. Sacramento has shot the ninth-fewest 3s per 100 possessions in the league this season, essentially on par with the Wolves (eighth-fewest).
Having an identity isn't just unilaterally a good thing. Great, you say you're the fastest wide receiver — can you catch, though? Your breaking ball has great movement. Cool. Does it hang over the middle of the plate half the time?
Success is about having an effective identity; one that empowers your roster's greatest strengths. And that's what made the comments the TNT crew directed towards the Wolves just noise that, at least in part, missed the mark.
Perhaps Chuck, Shaq, Kenny and Ernie haven't been watching the Wolves since they traded Jimmy Butler because Minnesota does have an identity. His name is Karl-Anthony Towns; a player who should be headed to his second consecutive All-Star game despite being incubated by a shit-storm for half of the season. Since trading Butler, Minnesota has progressively leaned into a Towns-based system. The Wolves have also won 20 of their past 35 games. By comparison, Sacramento is under-.500 since knocking off Butler in his final game as a Timberwolf.
Identities, like people, shouldn't be static. They should evolve dependent on their environment; ideally, for the better. Which brings us to Ryan Saunders and Andrew Wiggins, the two individuals who defined Thursday night's identity.
Point Wiggins Unleashed
Jeff Teague missed his second-straight game Thursday and Tyus Jones missed his fourth in a row. This left the Wolves thin at the point, with Derrick Rose starting and only Jerryd Bayless and Jared Terrell — a G-League player on a two-way contract — as the backups.
Unfortunately, Rose aggravated his ankle in the first half, leaving Bayless to start the second. Bayless, who is in the midst of conditioning himself after his own injury sidelined him for half the season, performed admirably but tired quickly. This left Saunders in a situation for invention, even if forced by necessity. After spending approximately three years in hibernation, Saunders freed Point Wiggins.
First, we should start by pointing out that this was a scary proposition and not a no-brainer. Not only has Wiggins failed miserably in the past but Wiggins is still of the mind that it is OK to dribble the ball up at his sternum. (It's not OK.) However, when the other options were exhausted — figuratively and literally — it made sense to try Wiggins out at the point. Like, really lean into it; not an occasional pick-and-roll here-and-there but a consistent commitment to a diet of Wiggins-led high ball-screen action. A specific identity, if you will.
They did, and it worked.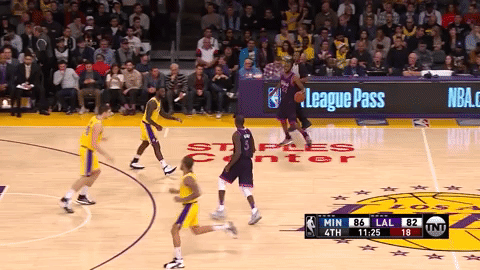 After Bayless went to the bench at the end of the third Wiggins, at the point, took over. Which really, if we think about it, makes sense. As Saunders has said numerous times since taking over for Tom Thibodeau, "a good Andrew Wiggins is an engaged Andrew Wiggins." How better to engage him than to put the ball in his hands. Literally, it makes it impossible for Andrew to treat the 3-point arc like a cloud to be floated upon.
Also, this placement forces Wiggins to engage from north-to-south — the best type of engagement. When a 6-foot-8 player of Wiggins' athletic aptitude is pressing into a defense, it is almost impossible for him not to create a gravitational pull. And, to Wiggins' credit, at least for a night, he was a willing and pointed distributor once that gravity set in.
Watch here as Wiggins turns all five Lakers' heads, providing the opportunity for Gibson to flood the cutting lane: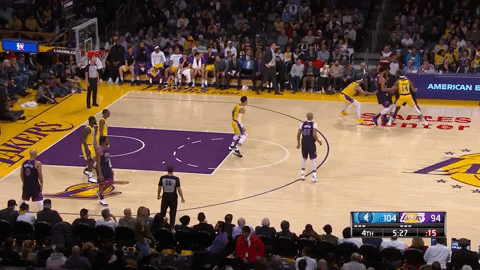 "I feel very comfortable," Wiggins told the Minneapolis Star Tribune after the game when asked about playing the point. "Because I feel like it helps me stay locked into the game. It helps to do other things than just score, create for others."
But Wiggins at the point is a multi-faceted tool. In addition to distributing, he can attack and look to score himself. Set the screen, give him room to get going — Giannis Antetokounmpo-style — and there is too much speed and space for a switching big to handle him.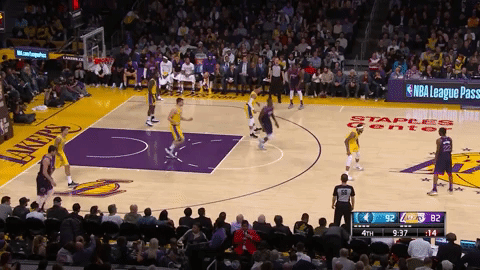 The action taps into multiple tenets of Wiggins' athleticism, unlike an isolation jumper that simply relies on his verticality. Simply put: multiple things can happen. Like, here, a tip dunk — a move that Wiggins is uniquely capable of converting given his "second-jump" proficiencies. (And look at that little one-arm celebration after the dunk. A pulse!)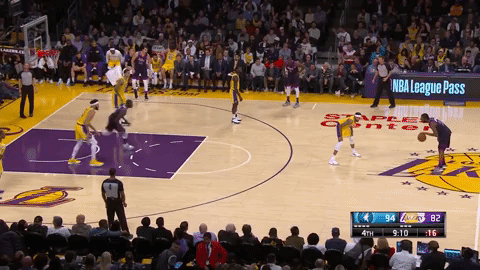 One game, and more specifically one quarter, should not completely shift the utility of Wiggins. The track record is still the track record. However, for a start, these are actions can be used situationally. It's definitely not the time to go full-blown identity shift, for Wiggins or the Wolves. But he can embolden certain lineup groupings.
The TNT guys weren't totally off in their analysis. There are nights where it's very hard to look back at 100 points scored by the Wolves and not ask yourself, well, how did they get there? One night it is 20 from KAT on the block and others it's 20 from him on the perimeter. That's a bit confusing, and it's my belief that in that confusion is where Wiggins' propensity to float comes from.
When the Wolves identity floats, so does Wiggins.
However, again, in specific groupings, or simply when it feels like Wiggins needs engagement, a good ol' high pick-and-roll with KAT is worth toying with. Not only can this create cleaner scoring opportunities for Wiggins, but it can also break Towns out into the three-level scorer he is capable of being.
These instances have popped up here and there over the course of the year. Shift the defense for KAT and it's extremely difficult to close out on him.
They also have given Towns some of his cleanest 3-point looks because, again, Engaged Wiggins has that gravity.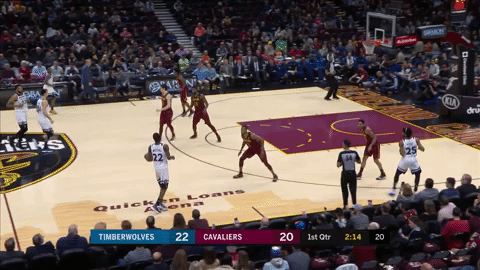 Plays like these or nights like Thursday don't need to be blips in the radar; they can be part of the Timberwolves' identity. If Teague, Jones and Rose are to continue to miss time — and their track records (particularly Teague and Rose) suggest they will — Wiggins at the point doesn't need to be a "break glass in case of emergency" option. No, Point Wiggins can be something casual observers, like the TNT crew, think of when they think of Timberwolves basketball.
---
How Well Do You Know The Twins?
Take the Twins quiz and test your knowledge!
Take Quiz