Jimmy Butler hummed a country music ditty as he strolled past the visitor's locker room on Jan. 15. The Minnesota Timberwolves were in town to face The General and his new Philadelphian soldiers that evening. It had been just over two months since Butler had left a Minnesota ship taking water and he was out to sink it that evening in the City of Brotherly Love. He did. The Sixers won by 42 points.
At that moment in the hall, just as he had countless times in Minneapolis, Butler assessed the room and found an opportunity to draw the attention to himself. He muted his country tune and sprawled out on a table — Jack, I want you to draw me like one of your French girls style — not five feet away from the Wolves locker room. With his sweatpants tucked into his socks and donning what had to be a size medium white Sixers t-shirt, Butler began chopping it up with Timberwolves and Sixers staffers alike. Jokes flew and all eyes were on Jimmy; everyone was just lucky to be in his presence. That was the vibe.
It wasn't but five minutes prior to that where Dario Saric, who was acquired from Philadelphia in the Butler package, occupied the same hallway, talking to the same people. His interaction was different because he is different. The 6-foot-10 Croatian rested his palm on the table that Butler used as his pedestal and the group's conversation was closed off, forming a circle. No single person was dominating the Saric conversation.
—
In the time before and, still, after that game in Philadelphia, the Timberwolves locker room collectively works to bail out whatever seeped into the organization when Butler demanded out in late September. In tandem with holdover veterans the likes of Taj Gibson and Luol Deng, Saric, Robert Covington and Jerryd Bayless — the latter three comprising the Butler return — lead a new group of personalities in Minnesota these days. Like the Saric conversation, this group functions more like a circle; there is no singular, distinctive voice.
"I just feel like we're all happy," said Andrew Wiggins after a victory against Charlotte in early December, the Wolves' ninth win in their first twelve post-Butler games. "We all play well together and we want to win. We dug ourselves a little hole earlier in the year with the losses and now we're trying to fight back to get in new position. Especially with the new guys that came on our team, they're giving us great effort and they're game-changers."
Of course, it hasn't been all rainbows and butterflies since the trade. Since Ryan Saunders took over, the Wolves have lost more games (seven) than they've won (six). But catch one of the veterans after a win and they'll open up, telling you things are different now. Everything appears more enjoyable, even if they don't explicitly name Butler as the antagonist.
"We gel well," Jeff Teague said of the new group. "I think the guys like each other."
"Being around these guys, you can just tell they're happier," said Derrick Rose who joined the team mid-Butler stream a year ago.
The team's leader, though he won't publicly acknowledge it, has become Karl-Anthony Towns. KAT's egalitarian leadership style is welcomed, even by those most loyal to Butler.
"He's the guy," said Gibson while turning to Towns after that victory over the Hornets. "I believe he's the guy, especially with the loss of Jimmy. And especially with having that role of being vocal and big shots late. I think KAT's been doing a great job of not bailing out."
But yes, in fairness, Jimmy, the man who "just cares about winning" is getting his, too. The Sixers enter the trade deadline 34-20, and 26-14 since Butler joined the group. They are winning. And they're doing so at a better rate than Butler's old teammates who are 21-19 since the trade was first reported on Nov. 9.
However, the Sixers are running the 100-yard dash — as further evidenced by their Wednesday morning acquisition of Tobias Harris, yet another star on an expiring contract — where the Wolves are finding their pace, now back in marathon mode.
Like all trades, the Butler deal will take time to grade. What we can do now is look at what has transpired for the Wolves in the 40 games post-iceberg.
Robert Covington
Covington has now missed 16 consecutive games since suffering a bone bruise on New Year's Eve. The Wolves have fared admirably in his absence — eight wins, eight losses — considering that Covington had quite clearly become their second-most valuable player prior to his injury.
Injured Robert Covington (Jan. 2-Feb. 5): 8 Wins, 8 Losses
But that whole definitively average stretch as a team isn't the fun part of the story. Let's wind back to the beginning, starting with a home game against New Orleans on Nov. 14 where Covington was an overnight revelation.
The Wolves defense changed its face, you might say. With Covington locking down opponents at the point-of-attack and a granted freedom to switch onto just about anyone, the previously mythical unlocking of the Timberwolves defense was there.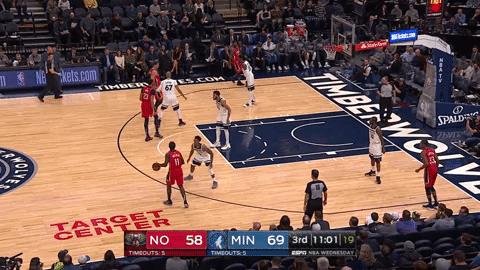 That game was only the beginning. With Covington apparently a skeleton key of sorts, the defense continued to improve. Perhaps of greatest note, Covington's presence re-coded something in Towns. The change in KAT didn't necessarily make you forget about the warts he had accrued but it made you believe they could be exonerated.
The Wolves sported a sparkling defensive rating of 100.7 over those first 11 Covington games, outscoring opponents by 9.4 points per 100 possessions with Covington on the floor.
Healthy Robert Covington (Nov. 14-Dec. 5): 8 Wins, 3 Losses
Whether Covington ran out of gas after that month or it was normal wear and tear is unknown. But after those first eleven games, things changed. On Dec. 8 Covington sat out the first game of a four-game road trip in Portland and was never himself for the rest of the month.
As Covington gritted his teeth through eleven games, the Wolves faltered. With him dinged up, the defense gave up nearly 13 more points per 100 possessions than they had in the skeleton key games. Worse, the Wolves were flat-out better with Covington off the floor. He was breaking down.
Dinged Up Robert Covington (Dec. 10th to Dec. 31st): 4 Wins, 7 Losses
Without Covington at 100 percent, the Wolves are an average team, teetering on just being bad at defense. They miss Covington's ability to slow opposing point guards and his ability to recover to shooters on the perimeter. The defensive scheme has become increasingly conservative since he went down, and opponents know it.
The safest thing to run against a Covington-less Timberwolves team is a high pick-and-roll. Ryan Saunders doesn't have the personnel to counter the action and his adjustments aren't being executed by the players who are on the floor.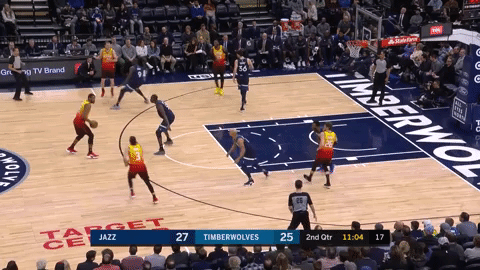 "I will say this about Robert: there's a reason he's a first-team All-Defensive guy," Saunders said after a recent Timberwolves practice. "You can put him on different size players. We put him on a lot of point guards. That's because he's got a nose for the ball, he's got quick hands and he moves well. And his length bothers people. So having him does make a difference."
Saunders has never been the head coach for a game Covington has played in. He's not the cure-all but the dismal defensive rating of Saunders' tenure will receive a boost when Covington returns.
Injured Robert Covington, Under Saunders (Jan. 8-Feb. 5): 6 Wins, 7 Losses
But that all is a hyper-focused assessment of the now. Part of what made Covington as appealing of a chip as he was had to do with his contract. The 28-year-old Covington is under contract through the 2021-22 season, making only $36.4 million over the next three years — just a hair over the midlevel exception in an environment with a salary cap growing exponentially.
Dario Saric
We'll start with Saric's performance Tuesday evening against Memphis, because good vibes. Right?
There was a moment late in the second quarter where Saric's navy blue jersey had turned black and stuck to his body. Almost single-handedly, the Wolves backup power forward had willed the Wolves back into the game. He was soaked in sweat.
It's easy to point to Saric's efficient 22 points that evening on 11 shots but sometimes grit and engagement are better showcased on the defensive end — even if the result doesn't go your way.
Watch Saric on this play as he understands he has been switched onto the only player who has a respectable chance at scoring. Mike Conley has essentially removed himself from the play, and Josh Okogie is hugging him, leaving three fringe NBA players and Jaren Jackson Jr. (Saric's new man) to create something. Saric understands the gravity of his duties and is willing to work to complete his job.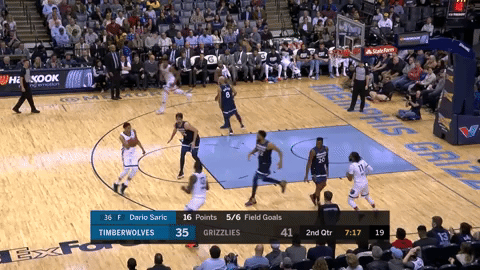 Jackson scoring here doesn't fall on Saric's shoulders, and neither does the woeful loss. This play was analogous to the story of the game: no one was there to support Saric. There is no reason Towns shouldn't have blocked this shot or at least helped to contest it. Towns' man, Ivan Rabb has relocated to the corner where he literally — literally! — has never made a shot from in 51 career games. Leave him there.
Unfortunately for the Wolves, the Memphis game was a recent exception to the Saric Experience. Saric's only consistent run of success this season came when Covington was fully healthy. During that first 11-game stretch, the Wolves walloped opponents by 10.3 points per 100 possessions when Saric was on the floor and by 14.5 when both Covington and Saric were out there together. The defense was particularly stellar.
But once Covington was no longer himself, neither was Saric. In the 15 games that followed the first run, the Wolves were demonstrably better with Saric off the floor. A complete polarization.
Dario Saric with Healthy Robert Covington (Nov. 14-Dec. 5): 8 Wins, 3 Losses
Dario Saric with Dinged Up Covington, Before Thibodeau Firing (Dec. 8-Jan. 6): 6 Wins, 9 Losses
The Wolves were better with Covington healthy, of course. That helped. But Saric has proven to be a player who thrives on continuity. After Covington started playing hurt, and after he was out injured, Saric has been thrown in seemingly millions of different of lineup combinations — including a few where he is one of three or even four power forwards playing together.
Saric is not a superstar. He can't raise all boats by his presence alone. It appears, instead, that if he isn't catered to that he can be the leak himself. That's not a problem, that's a role player. Which is fine.
The Wolves would do well to better structure not only Saric's minutes but his usage in the offense. Saric started 122 of the 172 games he played as a Sixer. And moreover, he started possessions with the ball in his hands — often.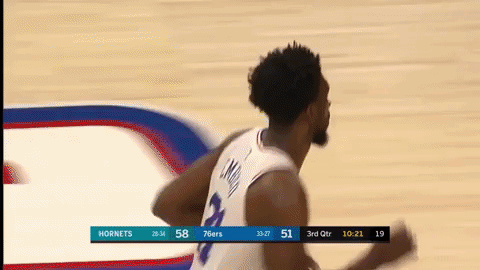 Saric has been a casualty of the Minnesota ruckus and they need to begin catering to him so as to make up for lost time. After all, Saric was every bit the asset Covington was coming back. At nearly four years Covington's junior and 17 months KAT's senior, Saric is critical to the future's prosperity. He's the only good asset ever traded for or signed that actually fits the Towns and Andrew Wiggins window.
Hopefully stability comes. But beyond this season, protecting the Saric asset starts this summer. With only one year left on his rookie contract, Saric is extension-eligible this summer; just as Towns was last season and Wiggins the season before. To frame the market a bit, we can turn to the five players who signed rookie extensions this past summer:
Karl-Anthony Towns: five years, $158 million ($190 million if Towns makes an All-NBA Team)
Devin Booker: five years, $158 million
Miles Turner: four years, $72 million ($80 million if Turner hits certain bonuses)
Larry Nance: four years, $45 million
Justise Winslow: three years, $39 million (team option for the third year)
Perhaps the blessing in disguise, for the Wolves, of Saric's volatile play thus far is that he may find himself closer to the Nance and Winslow price tag (~$10 million annually) than he would to Turner (~$20 million) had he been more consistent. The negotiation process will be both fascinating and impactful for the Wolves. Saric's representation will know the Wolves will not want to punt on an asset they acquired for Butler, and that could serve as strong leverage.
Saric's extension wouldn't kick in until the 2020-21 season. The Wolves need a good deal that year; between just Towns, Wiggins, Gorgui Dieng, Covington and Okogie, the Wolves already have $91 million on the books for that season — $97 million if Towns makes All-NBA this year. Receiving balanced performances and balancing the cap sheet is the next step in the Saric Experience.
For good measure, and if you're wondering how Saric has performed under Saunders — perhaps his coach for this next window — here are Saric's splits of the first 13 Saunders-led games:
Dario Saric With Ryan Saunders As Head Coach (Jan. 8-Feb. 5): 6 Wins, 7 Losses
Jerryd Bayless
Because Covington's deal is so cheap and Saric is still on his rookie contract, the Wolves needed to take back salary cap filler, as they call it, in the Butler trade. Insert Bayless, who was in the final season of a three-year, $27 million contract he signed with Philadelphia.
I'd be willing to wager that had this deal happened in February rather than November that Bayless would have never set foot in Minnesota, reaching an immediate buyout. Instead, with over three months before the buyout deadline (March 1), Bayless dawned a Wolves jersey at the Covington and Saric press conference. Towns even bought him a coat.
What has played out is wild: Bayless, who sat out the first 17 games of his Wolves tenure with a knee injury of his own, has played in 16 games for the Wolves — only six fewer than Covington. To boot, he's been pretty good, and a godsend for a team that lost their first-, second- and third-string point guards to injuries.
Think about it like this: Nothing against Isaiah Canaan — who is currently on a 10-day contract with the Wolves — but the Wolves would have been screwed had they needed to rely on Canaan (or another 10-day guy) to orchestrate the offense this month.
Over the past seven games, the Wolves have the 10th-best net-rating in the NBA and Bayless has played an average of 36 minutes per night in those games.
Jerryd Bayless Last Seven Games (Jan. 22-Feb. 5): 3 Wins, 4 Losses
I wouldn't say Bayless has been spectacular in his run, and I think he's still lacking quite a bit of his old explosiveness, but the Wolves have desperately needed his play and professionalism. In what can still be a very immature group, Bayless has nailed the role of wise uncle visiting for the month.
Who knows if Bayless is long for this team but the value he has brought probably exceeds the (probably trash) 2022 second round pick the Wolves also received from Philadelphia in the trade.
—
Again, these 40 games that have followed the Butler the trade are but a snapshot — actually a few snapshots — of the overall grading process of the deal. The one thing that seems certain in a post-Jimmy world is that everyone is happier. The Wolves slowly appear to be approaching something close to normalcy. They're no longer sinking. And that, for now, is a win.