Ryan Saunders was munching on a bag of potato chips Friday afternoon at the NBA's pre-Draft combine in Chicago. Two seats to Saunders' left sat Larry Bird and a few seats further down the way to his right sat Rick Carlisle, Frank Vogel, Tim Hardaway, David Griffin and Peja Stojakovic, along with hundreds of other NBA coaches and league executives.
Perhaps it is only natural that a narrative of nepotism would formulate when the son of one of the league's most well-respected coaches is given a head coaching job at 32 years old. It isn't uncommon in today's corporate world for Succession to occur — advancing the careers of underqualified candidates that receive opportunities based on their last name.
But watching Saunders interact with legends like Bird and Carlisle and the rest of the NBA fraternity this past week was a good reminder that Saunders is not one of those nepotistic succession stories. To a fanbase that has been burned by "the country club" a few too many times, questioning Saunders' credentials makes sense. But for the larger NBA community, Ryan Saunders not only fits in but is clearly well-respected.
Part of that community — and a highly-connected cog in it — is Saunders' new boss, Gersson Rosas. By removing the interim tag from the job title and empowering Saunders to be the leader of the coaching staff going forward, Rosas has put his stamp of respect on Saunders. On Tuesday morning, just a few days after Saunders was munching chips in Chicago, Rosas publically affirmed that respect and swore to the gathered media that neither Glen Taylor, the Saunders name or any sort of pressure "clouded" his hiring decision.
"I can confidently say, 100 percent there was no clouding going on in terms of the decision," Rosas said in what was probably his most serious tone of the morning. "It's my job in my role to make hard decisions. And if Ryan wasn't the best option for us, we would have the best candidate here. Fortunately, the process worked out and Ryan is here. But it was for the right reasons."
It's impossible to know exactly what Rosas feels about Saunders as a head coach. Does he see Saunders as definitively one of the 30 best basketball coaches in the world? Or does he believe the continuity element and intangible factors on Saunders' résumé make up for the gap between 30 and wherever he actually falls? No one knows.
What can be gleaned from Rosas' decision to hire Saunders — and his comments Tuesday morning — is that he feels the question marks that surrounded Saunders' performance last year are either excusable, correctable or both.
"To be fair, (with) no training camp, no practice days in the middle of the season, it was not a fair evaluation," said Rosas of the data points compiled last season. "What I had to do was not only talk to Ryan, but talk to the staff, talk to the players, and really understand what that process was like in the building, outside of the building and how he was able to handle those responsibilities."
Had Saunders ripped the Wolves out of the rubble of the Tom Thibodeau and Jimmy Butler dysfunction that left the team at 19-21 when Thibodeau was dismissed, it would have been very difficult for Rosas to craft an argument for moving on to another coach other than I want to hire my own guy. The Wolves, of course, did not make the playoffs, only winning 17 of the 42 games Saunders coached. So, the next step of the assessment for Rosas — as it pertains to on-the-floor impact — came from asking why did Saunders only win 17 games?
Answering that question is about understanding what Saunders was trying to do and what elements of the plan didn't come to fruition. During the season, Saunders laid out a plan about being prepared to play faster offensively, shoot more 3s and to improve the team's ability to defend modern offenses. On Tuesday, he acknowledged that did not fully happen: "Our numbers were not exactly where we wanted them to be in terms of pace and outside of the 3-point line."
Statistically, under Saunders, the Wolves did play slower (longer possessions) than they did under Thibodeau, they remained one of the league's least frequent 3-point shooting teams (26th in the league) and the defense fell apart (27th in the league).
The sentiment from Rosas Tuesday in what his first public forum discussing Saunders as head coach was that last season the lack of pace increase was excusable, the lack of 3-point volume was correctable and the deteriorating defense was both excusable and correctable. If Rosas did not believe all three of these tenets were either excusable or correctable, again, the removal of Saunders' interim tag would not have happened. Both Rosas and Saunders discussed pace, 3-point shooting and team defense Tuesday, along with laying out their vision for what is going to change.
Excusable Lack of Pace
According to the tracking data provided by Inpredictable.com, a Wolves offensive possession in 2018-19 lasted for 14.3 seconds under Tom Thibodeau and 14.5 seconds under Ryan Saunders. Particularly after securing a defensive rebound or when the Wolves forced a turnover, the team played noticeably slower during the 42 Saunders-led games than they did during the 40 Thibodeau-led games.
"You don't want to just say, 'play fast to play fast,'" said Saunders. "[Gersson and I] feel there is little things we can add that will allow us to play faster. Things that, as we move forward, will be a little more obvious to people."
The pace the Wolves did play with under Saunders last season requires some context. Contrary to his reputation, Thibodeau actually had the Wolves playing much faster in 2018-19 before he was let go. The average of 14.3 seconds in time of possession under Thibodeau was the 13th-fastest rate in the league during that first half of the season. Yes, the 14.5 seconds Saunders had the Wolves slowing down to 15th-fastest, but that isn't exactly slow.
"You go back to Mike D'Antoni in Phoenix and the 7 Seconds or Less, that was a different roster," said Rosas asked how he measures and assesses pace. "You go to Houston currently now, they're not playing fast. It's more of a full possession, isolation, strategically placing guys in positions to be offensively productive. That's why I've said it often, we're different. We're going to play fast because our roster is going to allow us to play fast."
If Rosas gave Saunders positive marks on how he controlled his team's pace, he likely compared the speed of the 42 games Saunders coached to 2017-18. That season, Thibodeau had the Wolves playing with the league's fifth-slowest pace in the league (15.3 seconds per possession). Two areas Saunders was focused on playing faster were after made shots and defensive rebounds, and his group did move much faster in both of those areas of offensive transition.
"Houston will confuse you a little bit," said Rosas. "The modern NBA game is about maximizing your best players."
Along those lines, Rosas noted that the slight dip in pace from Thibodeau in the first half of the season did not come at the expense of offensive effectiveness. Under Saunders, no element of transition offense got worse — an impressive feat given that Robert Covington (42 games), Jeff Teague (25 games) and Derrick Rose (23 games) all missed the majority of Saunders' tenure.
Correctable 3-point Woes
Under Thibodeau, the Wolves were 24th in the league in 3-point frequency, shooting 31.4 percent of their shots from behind the arc. That number only nudged up slightly to 31.6 percent under Saunders. (The nominal nature of the uptick is illustrated by the Wolves falling to 26th in the league in 3-point frequency during the timeframe that spanned the Saunders-era. The league literally started shooting more 3s as the season progressed.)
Rosas sees this as more of a correctable issue than as an excusable one.
"A guy like Karl-Anthony Towns in the open floor and his ability to change the game, we're going to maximize that," said Rosas. "You'll notice our philosophy is going to be an open-floor, faster pace and more efficient play overall."
While Towns had the second-best field goal percentage (54.5 percent) out of post-up situations in the league during Saunders' tenure, only trailing Kevin Durant, there is a strong argument to be made that Towns should have been shooting more 3s. Despite shooting 42.2 percent from 3 under Saunders, the frequency with which Towns attempted 3s decreased from when he was playing under Thibodeau.
Rosas, who believes in philosophical alignment between the basketball operations side of the organization and the coaching staff, will look to work with Saunders to correct the trend of many of the team's best 3-point shooters shooting those shots less frequently under Saunders than they did under Thibodeau.
While these sort of tables are never going to shape a perfect pyramid — many factors go into the calculus of shot selection — Rosas and Saunders believe a balance can be struck through strengthening philosophies.
"It's gonna be a balance," said Saunders "And I wanna make sure to say that I think people talk about the modern NBA and they automatically just think 3-point shooting and they just think fast pace. Well, there can be a lot of other things that go into that. How you approach the offense philosophically but also how you can blend having a guy like Karl, who is very good just with the ball in the post (where) he commands a lot of attention."
Beyond Towns, there is a balance to be struck with Andrew Wiggins and Josh Okogie. Wiggins shot better from 3 (33.9 percent) than he did from 15-to-19 feet (31.7 percent) this season, per NBA.com, suggesting a fairly simplistic correction on placement on the floor and shot selection. With Okogie, if he is going to play, Saunders is going to need him to shoot 3s — even if Okogie does not, yet, shoot a high percentage. Rosas could work with Saunders to correct this issue by having more of Okogie's 3s come from the corner where he shot 29.9 percent versus above-the-break where he shot 27 percent this past season, per NBA.com.
Saunders said Tuesday that the offense led to defenses loading up on Wiggins that forced him into isolation situations that led to more midrange shots. The new offense will have less of that, according to Saunders.
"Having a more free-flowing, almost read-and-react type game, where he's reading defenses will allow him to not have to let defenses get set," said Saunders of Wiggins. "And (it won't) allow teams to load up on him where he becomes an isolation player."
Whatever the balance ultimately shakes out to be, a clear message from both Rosas and Saunders — that hasn't always been the case — is that the scales are going to tilt towards Towns. This has officially become KAT's team. The ridiculous rate at which he played after the Thibodeau firing has cemented the notion, not only to Saunders and Rosas but to Towns' teammates, that it has become time to find a style of play that further exponentiates his dominance.
"He's a big man, and he plays like a guard," said Wiggins, who was the first player to show up Saunders' press conference. "There's not a lot of stuff KAT can't do. He's very talented. He's one of the best shooting big men in the league, very agile, durable … he can do it all. He can bring the ball up the floor. So I feel like a modern NBA scheme would fit perfect."
Excusable and Correctable Defensive Shortcomings
Saunders addressed the defense as being his team's greatest weakness last season. While he did not explicitly note the Wolves defense in 2018-19 allowed 5.9 additional points per 100 possessions under his watch compared to under Thibodeau's — dropping the team from 17th in defensive efficiency to 27th. Saunders, also, did not specifically point out that opponents made 38.3 percent of their 3s against his group, a full percentage worse than the league-worst 3-point defense under Thibodeau. But Saunders is well aware of these breakdowns; he spoke about the defensive trials on record and at length during the season.
The defense is one of if not the biggest areas of focus for the franchise this offseason — both in development and player acquisitions.
"To be fair to Ryan," said Rosas. "I think part of it is we talk a lot about the modern game and now, in this current era, it's offense, offense, offense. The reality is, if you want to be a playoff team, you have to be a top-10 team on offense and on defense, and that's what our goal is going to be. If you want to be a championship team, it's got to be top-5 on each end.
"But I've got to help him. We've got to surround our team, our best players with the personnel that will be complementary to them. And we need more defenders. So whether that is the draft, whether that is free agency or trades, there's a certain way we want to play. Part of that is a responsibility on me to give Ryan the players that align to execute that vision."
This felt like Rosas acknowledging the excusable portion of the defensive woes. Likely noting that on pretty much every layer of the defense that the 2018-19 Wolves suffered injuries and simply that Saunders inherited a roster with strengths that were more easily recognizable on the offensive end.
Saunders spoke more to the correctable elements of the defense. It sure sounds like a full-philosophical uprooting from the Thibodeau defensive style is coming.
On a very simple level, Thibodeau's defensive scheme was willing to use three defenders against screen actions set by the offense. Saunders wants to cut that down to two. This will manifest in a greater willingness to switch but will also just lead to an aggression that theoretically prevents opponents from entering the lane — where a third, stunting defender would be required to counter the attack. Under both Saunders and Thibodeau, the third defender breakdowns were arguably the greatest foible in the Wolves 3-point defense last season.
"Ultimately, (we want to) just guard situations with the guys that are involved in those situations," said Saunders of philosophical changes that will be coming next season. "We don't want to help off of the corners. We understand our 3-point defense needs to improve. So we have ideas and we have things we want to put forth, and that is going to start in the summer."
As far as switching goes, Saunders described a larger toolbox of switching tactics prevailing next season. Last year, the Wolves really only threw the full switching gamut at opponents when Covington was healthy.
"Philosophically, we would like to see more in a modern NBA developing the best possible schemes with our staff," Saunders continued. "But you see more switching, you see more double switching. And what I mean by that is when a guy switches out, you got a smaller guy in the paint, we're gonna scram a guy out into the corner."
It's safe to say that the Wolves defensive coverages will begin looking less and less like this play from 2017-18 — where Towns is barrelling back, not switching and "dropping" in the paint.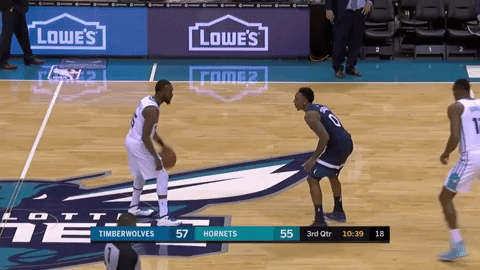 Instead, what Saunders is describing will look more like Towns doing what he did here in this play from 2018-19 — with Towns aggressively, showing, switching, switching back and trailing the play for a shot contest.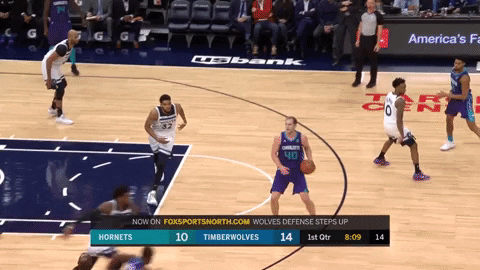 Just as much as Rosas emphasized the need to have a modern offense to unlock Towns, he made it clear that the front office and coaching staff need to cater to Towns on the other side of the floor.
"Defensively it is how can we maximize Karl-Anthony in every sense of the word to make him the best player he can be," said Rosas.
The not so hidden secret about Towns is that Saunders is the third (of three) coaches that he has played for in which the team's defense has performed better with him off-the-floor. While the differential shrunk under Saunders, Towns lack of defensive impact is an absolutely critical element of schematic and player development that needs to happen.
The assessment of Ryan Saunders is over and now a whole new process begins. Gersson Rosas believes that Saunders not only belongs in the NBA's coaching fraternity but that he is the best coach to this team. As Rosas has stated numerous times since taking his post, it's time to "let actions speak louder than his words." Action one is complete; Ryan Saunders is the head coach of the Minnesota Timberwolves.
---