For what has shaped up to be a multitude of perhaps unforeseen reasons, pursuing D'Angelo Russell early and often this summer was the smartest thing Gersson Rosas could have done. The pursuit was one of two things: brilliance or a brilliant stroke of luck. Either Rosas and his new front office backed into a meandering path that seems to have, oddly, appeased the fanbase or they are playing three-dimensional chess when all the Minnesotan layman (pun intended) can understand is checkers.
Think about it: Rosas' franchise's superstar was openly super–down with the pursuit of his friend, Russell… A 23-year-old All-Star point guard who came with the perception of a stout pedigree… Who possessed a set of skills that would cover-up two of the Wolves greatest needs: playmaking and shooting… Yet it was a pursuit that no one really understood because Russell was going to cost a boatload of money that the Wolves did not have.
It was the perfect four-fold box-checking that would curry favor with a fanbase still scarred from three years of Tom Thibodeau stompings — even if in the end Russell would decide to instead do Steph Curry a favor by not signing in Minnesota.
This isn't to say the pursuit of Russell was fake. The contrary; the Wolves did appear to go all-in, performing a full-court press in their pursuit of Russell that included Rosas being open publicly — numerous times — about his desire to acquire a "high-level talent." There were also credible reports that the Wolves were "up to something" — with their name consistently popping up amongst other teams who had the more traditional means for pursuing a star. (You know, cap space.)
It was real, but maybe only to an extent. Maybe Rosas and company knew Russell was far more of a distant possibility than the wake forming behind the perception of their message of aggression was suggesting.
And if so, that's not their fault. What were they supposed to do? Say, well guys, slow down, this actually only has, like, a 12 percent chance of happening…? No; quelling excitement from the consumers of your product is a Business 101 no-no.
Again, pursuing Russell made sense for these four reasons:
Reason 1: Russell is KAT's friend, and doing anything that makes KAT happy without a clear downside makes sense. And KAT sure seems happy…
Reason 2: Russell, like Andrew Wiggins, fits Towns' age window while also carrying one big difference: a positive public perception.
Reason 3: If Derrick Rose and Tyus Jones were never going to be brought back, the Wolves only had Jeff Teague (on an expiring contract) left at the point guard position. Playmaking and shooting were the Wolves' two greatest weak spots on the offensive end last season, and Russell is a better playmaker and shooter than all three of those other guys.
Reason 4: No one really understood how exactly Russell was going to be acquired. They just knew the Wolves were pursuing him. Again, a nearly unanimous perception victory.
That fourth bullet point is where Wolves fans tricked themselves into thinking this is happening when that just wasn't what was happening. Intentionally perpetuated by the front office or not, fans peered through the veil of the actual process of landing Russell and allowed themselves to see D'Lo next to KAT — clad in those black uniforms with the green pine trees, just like Steph and KG back in the day.
But the actual process of acquiring Russell proved to be far more net than veil. In perception speak, pursuing Russell was confused with the likely acquisition of Russell.
The reality of the situation, with the Wolves well over the salary cap, was that Rosas would have needed to dump nearly $34 million in salary to free up the necessary $27.3 million to sign Russell to the maximum contract he eventually netted with Golden State. Alternatively, there was the (more likely) sign-and-trade route, which would have required the Wolves sending approximately $22 million in outgoing salary to meet league rules so as to "match" Russell's $27.3 million of incoming salary. That too would have been tricky, and, again, was something not totally understood by those in the fanbase who (understandably) do not know the inner workings of the NBA's collective bargaining agreement that detail the machinations of sign-and-trades, cap holds, and so on.
Which is all to say, making it known that they were in pursuit of Russell — and actually getting on a helicopter with him — was wise by Rosas and crew. It was a low-risk proposition that would, at worst, excite a dormant fanbase that was just recently released from the persecution of the Thibodeau regime.
Further, fans will eventually forget that acquiring Russell would have likely cost the Wolves two future first round picks — as that is what Golden State paid to acquire his services (one to Brooklyn for facilitating the sign-and-trade and one to Memphis for absorbing Andre Iguodala's salary to make the money of the deal work) — and, perhaps even more meaningful, that Russell wouldn't have necessarily been a value on a deal that will pay him $117.3 million over four years. Nope, simply pursuing Russell was a win for the Wolves new front office, and by proximity a victory for Ryan Saunders and Glen Taylor — who live on lukewarm seats/thrones of their own, in the eyes of the fanbase.
The fanbase is far more into Timberwolves basketball today as the offseason comes to a close because the front office tried — regardless of whatever the value proposition of actually acquiring Russell may have been. Had that medicine not been administered, the actual shrewd and logical offseason maneuverings by Rosas, given the cap pinch, that led to the signings of Jake Layman, Noah Vonleh and Jordan Bell and the acquisitions of Shabazz Napier and Treveon Graham would have been far less palatable.
Which is all just a bizarre backdrop to Tuesday afternoon's introductory press conference of Layman, Vonleh, Bell, Napier and Graham. Timberwolves fans enter the press conference with their heads spinning just enough from the lingering hangover of The Jimmy Butler Experience and ensuing high of The Russell Pursuit to believe in what Rosas is selling: A franchise that is always going to pursue stars, but also a franchise that, most of the time, by the laws of attraction, will just land players that are aesthetically underwhelming — because they are 'smart' acquisitions.
Until the Next D'Angelo Russell, the Timberwolves Have Shabazz Napier
Napier is one of those smart acquisitions. He also, arguably, is the most meaningful addition of the quintet.
Sure, juxtaposed against the idea of KAT running pick-and-rolls with D'Lo, that is an underwhelming assertion. But Russell didn't happen, and given the combination of the construct of the Wolves roster, with positional scarcity at the point guard position, and given the skillset Napier possess, his impact will be felt this season. Like, you know, he will actually play for the Wolves — unlike Russell.
Before going into the player Napier is and is not, there is an important opportunity cost context to be considered with him. Specifically, Napier should be financially lined up against Russell, who carries a price tag of $27.3 million for this season. And also against Tyus Jones, who will earn $9.3 million this year. Napier's salary of $1.85 million puts him just a hair above the veteran minimum — and at 1/14th of what Russell will earn and at a fifth of Jones' salary.
Further, acquiring Russell would have cost the Wolves production elsewhere on the roster and/or future assets. (Again, Rosas would have had to shed $34 million in salary to outright sign Russell, or $22 million — plus two first-round picks — if they would have acquired Russell via the sign-and-trade route.) As for Jones, matching his contract would not have had a negative opportunity cost in terms of ousted assets, but it would have sacrificed future financial flexibility. In addition to $9.3 million in 2019-20, Jones would have cost $8.8 million in 2020-21 and $8.4 million in 2021-22. Napier comes with almost zero opportunity cost; he was acquired — along with Graham — for cash considerations (read as: nothing) because Brooklyn was simply looking to dump his salary.
Napier may be a fraction of the player of Russell and Jones. But at his price point, it's hard to argue the scales tip against the Wolves in that value proposition. This is particularly true when you consider how Napier fits the style of play Rosas and Saunders want to implement.
If there is a team the Wolves are trying to emulate offensively, it's the Brooklyn Nets.
"I think that's fair," said Rosas in a scrum after the presser when asked if the Wolves plan to embrace the ethos Brooklyn played with last season. "Golden State is the same way, Houston is the same way… That's faster, open floor, smaller."
Napier is certainly smaller — over an inch shorter than Jones, weighing ten pounds less and with a wingspan nearly two inches shorter. But Napier is a scoring weapon that Jones is not. Napier has far more aptitude and experience playing with that Brooklyn style of play that leans on pace in transition and on the pick-and-roll in the halfcourt.
Not that Teague and Wiggins are exactly high watermarks for pick-and-roll prowess, but there is a strong argument to be made that Napier comes in Day One as the most proficient pick-and-roll ball-handler on the Wolves new roster.
Over both of the past two seasons, statistically speaking, Napier has been at least one tier ahead of both Teague and Wiggins in pick-and-roll efficiency when compared to other lead ball-handlers that are frequently utilized in ball-screen actions (200 possession per season). Napier is a gunner by nature. But in the pick-and-roll, he is a more judicious distributor than Teague and Wiggins, and certainly more willing to get all the way to the rim than the other two have been of late.
"You've got Shabazz who is a guy who can handle in the pick-and-rolls," said Ryan Saunders. "He played within a system where the floor was open, the court was spaced. So we like the decision-making he has out of that. And then him just being able to shoot the ball off of ball screens. It gives us a little bit of a different dynamic."
Over the past two seasons, Teague's pick-and-roll possessions have been painful in their deliberation. And Wiggins in those settings has been more individually-focused. Wiggins attempted a shot himself in over 80 percent of his pick-and-roll possessions over the past two seasons, according to Synergy Sports's tracking data.
Napier as the pick-and-roll initiator will be deliberate; sometimes too deliberate. He doesn't hesitate; it's read-and-react. Again, he's a gunner.
"I've always been," said Napier when asked if he's a pull-up shooter. "That's who I was since my mother put a basketball in my hand. I've always wanted to score the ball."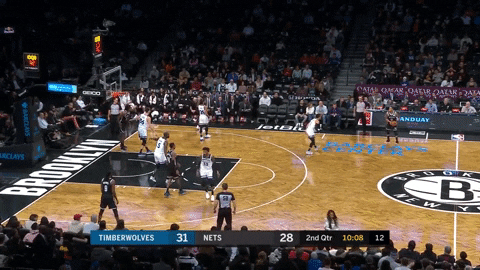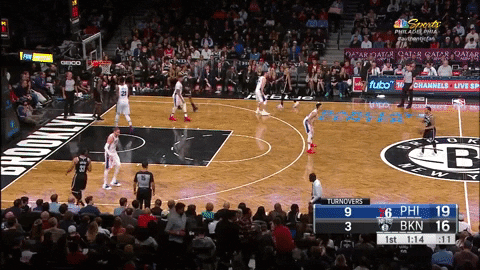 While Teague and Wiggins are Napier's main competition for pick-and-roll opportunities, there is less standing in his way in terms of simply receiving point guard minutes. As the roster is currently constructed, it's really only Teague. Playing without one of Napier or Teague on the floor seems very unlikely at this juncture.
Additionally, if Napier's track record from Brooklyn and Portland stays intact, he'll also be sharing the floor with Teague. Napier may be small but he has ample experience functioning as the two guard — alongside a ball-dominant point guard. Last season in Brooklyn, Napier shared the floor with Russell for 32 percent of the minutes he played. And the season before that, when he was in Portland, 37.8 percent of the minutes Napier was on the floor came alongside Damian Lillard.
"I don't know if there is a minutes cap that he could play at the two," said Saunders of Napier playing as the de facto shooting guard. "It'll be a thing where if he's in there with Teague, whoever rebounds the ball, whoever gets the ball outlet-ed to them, we want to play more in a read-and-react open set… For that reason, positions can be interchangeable, especially along the perimeter between the one, two and three."
If there is a stat to get excited about with Napier, it is his numbers in those dual point guard sets. In Brooklyn last season, the Nets outscored opponents by 0.2 points per 100 possessions with Russell on the floor. But when Russell shared the floor with Napier, Brooklyn outscored opponents by 5.9 points per 100 possessions — good for a net-rating greater than what Russell was able to compile with any of the six players he shared the floor with most.
When Napier shared the floor with Lillard in Portland during the 2017-18 season, his numbers were even stronger than they were with Russell. Of any player Lillard shared the floor with for over 500 minutes that season, Lillard had his best offensive rating, defensive rating and net-rating in his pairings with Napier. Portland outscored opponents by a whopping 12.3 points per 100 possessions when both Lillard and Napier were on the floor.
One way or the other, there will be a great irony to whatever it is Napier does or does not do this season. His ties back to Russell, both literally and hypothetically, are unavoidable.
It's weird though, the parallel feels like it will eventually be lost because this is just an overall bizarre scenario. The reviews of this offseason seem to carry a largely positive tenor in the public eye; not because of the shrewd managerial moves the Wolves did make, but because of the potentially costly — yet shiny — move they did not make. It's just odd that Russell and Napier were teammates last season, and that they are now defining characters in one of the most underwhelming yet oddly satisfying offseasons in Minnesota Timberwolves history.