Karl-Anthony Towns used the past two games to assess what is working and what is not working for his Minnesota Timberwolves. Sidelined as punishment for his altercation with Joel Embiid, Towns had a different perspective watching those games from his hotel room.
"I'm just a highly-educated fan watching," said Towns of the viewing experience.
Through the first three games of the season, with Towns in tow, the Wolves were rolling; they were 3-0, with the fourth-most efficient offense in the league and 13th-best defense — all marks that exceeded expectations. But without Towns in Washington and Milwaukee, the offensive efficiency dropped by 0.66 points per possession and the defense surrendered an additional 0.40 points per possession than they were previously averaging.
Correctable slip-ups, according to Towns.
"The system works," Towns said of the offensive and defensive scheme. "We've shown in this season already that if we do it with discipline and we do it the way we're supposed to, we can be really good."
Towns is fully bought into the new offensive layout that Pablo Prigioni has installed; he enjoys the opportunity to more frequently punish opposing defenses with his 3-point shooting ability in a system that asks him to play on the perimeter more often. And while he feels plenty capable of getting out on the perimeter and chasing around guards, Towns is also down with David Vanterpool's defensive setup that asks the center to drop back closer to the rim. Vanterpool has installed a defensive drop scheme that Towns refers to as "beautiful." He really seems to believe in all of it — something his body language certainly did not imply while playing under Tom Thibodeau.
But that isn't to say the Wolves' best player is content with everything they're running. In his time off, Towns took the time to analyze what elements of both the offense and defense that need work. In what is becoming a frequent occurrence these days, Towns broke down some Xs and Os for gathered media at practice on Monday. Let's dig through what he said needs to be tweaked so the next handful of games look more like the first three games of the season.
defense: 'containing the dribbler'
When breaking down what he saw go wrong in his absence, Towns specifically cited the inability to contain Giannis Antetokounmpo at the point-of-attack. And this highlights a broader problem that has punctured the Wolves' defense all season. Controlling the opponent's best offensive creator, whether it was Kyrie Irving dropping 50 in the season opener or Kendrick Nunn hanging 25 in the home opener, has been a prevailing issue.
Naturally, Giannis was the most pervasive. The difference here, as Towns aptly notes, is that Giannis not only put pressure on the heart of the defense by getting to the rim but also by finding teammates on kick-out passes.
"Giannis, when he sees two people in the paint, he's already not even looking to score anymore," Towns explained. "He's looking for the pass in the corners. We have to be able to stunt at them, make them believe we're coming, but never coming, so when he throws that dart into the corner, we'll just steal it right off the pass like Champ Bailey at cornerback."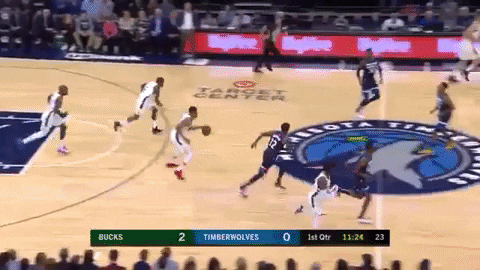 Again, Giannis is an absolute monster in these situations but there are better ways to defend him. Caught in a transition scram in the above play, the Wolves have four players in the paint — and probably five players within five feet of Giannis — when he makes the pass to a wide-open Brook Lopez in the corner. The "stunt" Towns is referring to has to come from Gorgui Dieng, who should faint rim protection only to a degree that allows him to still recover to Lopez.
It's a very difficult cover, particularly for a center, but it's one that the best team defenses make.
"Fives are used to helping out and protecting the rim," said Ryan Saunders of the corner breakdowns. "So when the ball is driven at them, it's starting out, coming in, then they have to go back out, and then you got a guy like Brook Lopez, who's a very good three-point shooter with a quick and high release, makes it tough to guard."
Sometimes this is just simply about transitioning back on defense faster. By not needing to scramble, there isn't an overcommitment.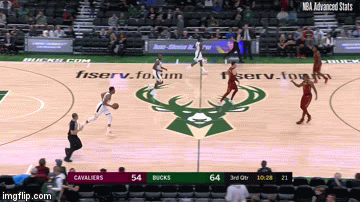 Lopez's defender on this play (Kevin Love) doesn't do anything special, but Love (and the rest of his teammates) are back and set when Giannis begins torpedoing to the rim. With a stout container like Tristan Thompson on Giannis at the point-of-attack, there is less need for Love to stunt, which inherently closes off passing windows with his presence alone.
Players like Giannis, Kyrie and Nunn are always going to put pressure on the Wolves. The reaction needs to be three-fold: commit to transitioning back on defense; containing the ball to whatever degree is possible; have help defenders stunt in only as necessary.
Offense: 'our pace has to be great'
The Timberwolves currently lead the league in pace through six games, according to NBA.com. But what exactly does pace mean? Or better yet: What is the best way to measure pace? NBA.com's pace measurement is simply a tallying of total possessions per 48 minutes. That's an incomplete measurement. Playing with pace is only advantageous when it is dynamic.
"Our pace has to be great," Towns said before explaining exactly what that means. "Everyone thinks pace is running and up and down the court fast. That's not the case — it's actually when we're in our half-court sets, really moving in that set, handoffs, pass ahead, chase, whatever it may be, everyone has to run into their spots.
"When we run into our spots and we do the play with the intention of scoring and with intensity and energy, it usually works out really well for us. And the times we don't, we put ourselves in a deficit, because now we're playing more into their hands."
Take this play from the season opener as a positive example of playing with pace within the half-court. This possession was slow; it took 19 seconds to develop. But it was decisive once in action. All five players are crisp when their call to action arises.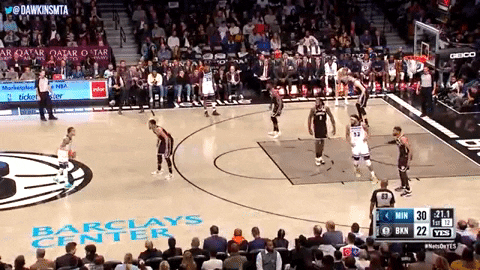 For Shabazz Napier, his action call is simply engaging Towns in a high-screen and then ripping back out for the swing pass to Jake Layman. For Towns, he knows he has two screens to set (one fake and one real), and he knows he has a limited amount of time to hit both. For Jarrett Culver, he has to time his motion to the corner in a way that convinces both his defender and Layman's that he is, in fact, the launch point of the set. For Layman, he needs to pay attention to Towns so as to time his back screen on Culver's man at the same time Towns sets his first screen, and then he needs to launch to the top of the key for the shot. And lastly, for Josh Okogie, he is the lone crasher that simply needs to bide his time before attacking the glass. All five of those players working their spots of the action timely creates a half-court set that has pace — even if it takes 19 seconds to develop.
The Wolves got away from that without Towns, particularly in the Milwaukee matchup.
"Watching from afar," Towns continued, "everyone was getting so caught up in pace, meaning running up and down in 2.7 (seconds). And that's cool, when we get down there in 2.7. That's great. But now, when we're there, we've got to be having pace in our plays with our screens, with our rolls, with our pop-outs, with our decision making. That all has to do with pace.
"We've got to move the ball, we have to move bodies. When we did that, we looked really good on offense, regardless of if I was on the court or not. But when we didn't do that, it looked a little uncoordinated. We didn't look the same."
Too often against Milwaukee the Wolves prioritized sprinting into the half-court over crispness within a set. Their lack of moving the ball and moving opponent bodies with screens led to stagnant sets. Without motion and with an internal clock on the mind, "hero ball" can be a negative externality of playing fast. Against Milwaukee, there were too many plays like this errant Napier drive to the bucket.
Again, getting across the half-court line in 2.7 seconds — as Napier did — is only advantageous if it forces the defense out of position. When the defense transitions back effectively, the offense has to pivot to a pace within the restrictions of the halfcourt. There has to be a decisiveness to the actions. It's that pace that needs to return — and become even more frequent than it was previously — when Towns is back in the fold.
"There were little things I saw in the game," said Towns. "And that's good that we had something like that. Everyone wants to look at it as a loss, and I look at it as a great learning opportunity for us to look at in ways that we can see how different people are going to approach us."