The Vikings drafted Justin Jefferson using the very same first-round pick they received as compensation for trading away Stefon Diggs. That leaves the LSU rookie with some very big shoes to fill, both in terms of talent — Diggs is often called the best route runner in the NFL, and we have written before about just how good Diggs is — and in terms of production, as Diggs accounted for more than 30% of the Vikings receiving yards last year.
But Jefferson is more than ready to step up, coming off a year in which he ranked…
First in the entire FBS in receptions with 111 (breaking LSU's single-season catch record)
First in the FBS in first down receptions with 72
Second in the FBS in touchdown receptions with 18
Third in the FBS in yards with 1,540
Fourth in the FBS in missed tackles forced after the catch with 24
Fifth in the FBS in passer rating when targeted with 147.9
First in the FBS in contested catch percentage with a 92% contested catch rate
And as Jefferson's talent extends well beyond the stat columns — despite his youth (he won't turn 22 until January), he's a very advanced, shifty route runner. He's a great athlete and dangerous with the ball in his hands. And as that league-leading contested catch rate shows, his ball skills are incredible.
All that said, Cordarrelle Patterson and Laquon Treadwell were highly touted prospects as well — what makes this late-first-round Vikings wide receiver different from those others? What does Jefferson bring as a rookie to Gary Kubiak's offense — is he merely a slot receiver or can he be more than that? Does any of this matter after Jefferson was placed on the Reserve/COVID-19 list? And in the long term will Jefferson merely be a solid WR2, or could he eventually develop into just as much of a star as the receiver he was drafted to replace?
---
CATCH POINT DOMINANCE
Justin Jefferson is good at a lot of things, but if there's one thing he's elite at, it's dominating at the catch point. That's true in multiple ways: he rarely ever drops the ball, he's excellent at plucking poor throws out of the air and he will ferociously attack the ball to consistently reel in tough catches. His acrobatics at the catch point make for some amazing highlights:
Jefferson's hands are very reliable. He only dropped 5.8% of his passes, well below the FBS average of 7.8%. And even the passes he did drop were understandable, like this pass that's so outside Jefferson's frame that he's lucky to get both hands on it. Jefferson can be a little too loose with the football when transitioning from a receiver to a runner, but his overall ability to catch the ball is well above average, and his ball security is excellent — Jefferson did not record a single fumble last year despite having 111 opportunities to do so.
But more impressive than Jefferson making his catches is how he makes them. Jefferson may only be 6'1″ tall, but his huge 33-inch arms are the same length as Demaryius Thomas or Alshon Jeffery. And Jefferson's play is certainly reminiscent of those bigger receivers at the catch point, as Jefferson knows how to use every inch of his catch radius:
And Jefferson's not just a high-point specialist, as he's also great at adjusting to passes low and away, either in front or behind of him. He's an inaccuracy eraser who will snag pretty much anything you throw in his general direction.
And nowhere is that more evident than on contested catches. Jefferson's contested catch rate of 92.3% was easily the highest in college football of receivers with at least 50 catches — and was more than double the college football average of 42.3%. That kind of dominance at the catch point led to some of Jefferson's biggest plays:
You can see why Jefferson had the second-most touchdown receptions in college football: His acrobatic jumping ability, combined with his long arms and strong hands, allows him to box out and bully defenders at the catch point. Jefferson's roughly 80th-percentile arm length and jumping ability come in most handy on deep receptions, where safeties can make a break on the ball, and especially in the red zone, where space is much more constricted. That talent bodes very well for Jefferson's ability to continue to put up gaudy touchdown numbers.
---
ANKLE-BREAKING ROUTES
But make no mistake — just because Jefferson can dominate at the catch point doesn't mean he has to. Sure, Jefferson reeled in a leading 92% of his contested catches, but less than 10% of his catches were contested. Only three drafted receivers had a lower rate: Jerry Jeudy, Brandon Aiyuk and K.J. Hill.
In other words, Jefferson gets open:
Like, really open:
Like, knock-corners-onto-their-butts open:
And that's not even the only example of Jefferson leaving a defender on the ground with his route running.
Jefferson has a unique style of route running: He takes "patient but sudden" to another level, often looking like he's in slow motion before exploding out of his break. He's very crafty as a storyteller with his routes, and he loves to get right on a defensive back's toes before unleashing a full arsenal of jab steps, rocker steps or hesitation moves that he synchronizes with his head and shoulders to consistently get separation:
At the same time, Jefferson also knows when to keep it simple and rely on his 4.43 speed and sharp cuts to win with his athleticism rather than with window dressing:
Jefferson does have some work to do in terms of his releases and in the stems of his routes, and he might need to dial back the slow-motion hesitation moves a bit at the NFL level just due to the speed of the game. And with merely good hip sink, he'll probably never be able to stop on a dime or explode out of sharp break the way Diggs or Amari Cooper can.
But that won't stop him from already running routes reminiscent of Keenan Allen or Davante Adams. And as you can see above, it certainly won't stop him from making defenders look silly.
---
HIGHLIGHT-WORTHY YAC
But Jefferson doesn't just make defenders look silly before the catch — he's got quite a penchant for posterizing defenders after the catch too. Just look at what Jefferson did after the catch to third-round safety Tanner Muse in the national championship:
And that's not a one-off event for Jefferson, who forced the fourth-most missed tackles after the catch in the FBS. And that's not just a volume stat for Jefferson either — Jefferson forced a missed tackle once every 4.6 catches. The only receivers drafted with a higher rate are CeeDee Lamb, Laviska Shenault and Jauan Jennings. In fact, Jefferson beat out several highly-drafted receivers whose ability after the catch was their biggest selling point, including Aiyuk and Bryan Edwards.
But while some analysts might not have realized just how good Jefferson is after the catch, LSU certainly knew all about it, and they made it a focal point of their offense to get the ball in Jefferson's hands, whether through quick hitches, bubble screens, tunnel screens, sweeps, even lining Jefferson up like a running back and having him sprint out to the flat. Whatever the play, LSU found ways to get Jefferson the ball, and Jefferson found ways to make guys miss:
An underrated aspect of what makes Jefferson so good after the catch is his ability to run right through tackle attempts. You would not guess it just by looking at Jefferson, with his long, thin physique and the limited physicality in his routes, but Jefferson has an exceptional amount of contact balance and leg drive that he uses to shrug off contact, barrel through initial tackle attempts and churn forward for extra yards:
As you can see, Jefferson finds a way to maximize the yards after each catch, whether by making defenders miss him entirely, stiff arming them into the ground or carrying them on his back into the end zone.
On top of all that, Jefferson has 4.43 speed, and more importantly, he knows how to use it. Rarely does Jefferson get too cute with the ball in his hands, and he understands when to take the yards given to him, when to put on the moves, and when to just outrun the entire defense:
Jefferson recorded the second-most yards after the catch of any rookie in his draft class (just five yards shy of Devin Duvernay), and when you consider just how elusive, balanced and fast Jefferson is, it shouldn't be too much of a surprise.
---
A COMPLETE DEEP BALL SKILLSET
And speaking of how fast Jefferson is, that 4.43 speed makes him very dangerous as a vertical threat. Some analysts were surprised when Jefferson ran the 40-yard dash as fast as he did, but Jefferson is so deceptive with how he varies his speed in his routes, like a pitcher who throws a lot of change-ups and breaking balls, reserving his flamethrower of a fastball for only when he needs it for the biggest impact. When Jefferson turns on the jets, whether after the catch or on vertical routes downfield, it shows:
But what makes Jefferson so dangerous as a deep threat is that he's not just fast — he has a complete deep ball skillset. Jefferson tracks the ball downfield very well, and he's a natural at positioning his body to secure the catch by stacking and boxing out the defender through the stems of his routes. He brings all his route running savvy to vertical routes as well, retaining his speed through post or corner routes and selling the fake on switch concepts. He has late hands, meaning he'll wait until the very last second to put his hands out for the ball, making it very difficult for defensive backs to disrupt the catch process. And perhaps most impressively, he has a precocious, veteran-like ability in how he uses his hands and arms throughout the route to neutralize defenders by using arm bars to gain positioning and swiping or clubbing defenders' arms to keep his path clear. It's reminiscent of what makes Adam Thielen so dangerous downfield, as we've written about before.
The one critique that continually shows up in Jefferson's deep targets is that he does not seem quite as comfortable tracking the ball on his outside shoulder. It's especially an issue on slot fades, where Jefferson will often end up turning the wrong way inside towards the ball. Jefferson is so acrobatic and strong at the catch point that he will often reel in the catch anyway, but his reluctance to catch the ball over his outside shoulder often slows him down, preventing him from catching up to the ball, or allowing defenders to make the catch a lot more difficult than it needs to be.
It's a minor, correctable issue, as Jefferson has several examples where he tracks and catches the ball on his outside shoulder well; he simply needs to learn to do it more consistently. But that one issue aside, he can be a complete downfield threat that Kubiak will be able to deploy for explosive gains in much the same way as Diggs last year.
---
VETERAN SAVVY
And Jefferson looks like a veteran in more ways than just his route running and his hands fighting. He has exceptional instincts for finding soft spots in zone coverage — a big reason Jefferson was so dominant from the slot at LSU, and also a big reason why Jefferson was as open as he was, as often as he was:
You can see Jefferson has a really good feel for what coverage a defense is playing and what spots the hook defenders and safeties are dropping to. It's a subtle skill, being able to adjust the angle of your routes on the fly or knowing where to sit in the middle of the field, and it's certainly not easy to do mid-route. But it's a huge reason Jefferson can be so effective from the slot, as he has both the physical ability and the mental awareness and instincts to find success in the middle of the field.
And that ability to find green also shows up big on scramble drills:
Jefferson just has natural, backyard-football instincts, which help him just as much within the structure of a play as they do outside that structure. He shows great spatial awareness, both in how he always seems to know where he needs to go to get open and in how he can always tell when he's breaking wide open and calling for the ball. While Kirk Cousins might not be much of an improv artist compared to Joe Burrow, Cousins certainly gets flushed from the pocket often enough, and when he does, Jefferson has a good chance to be his favorite target when the play structure breaks down.
---
GRITTY BLOCKING
Jefferson might struggle with more physical cornerbacks in his routes, but that lack of physicality doesn't show when Jefferson is tasked with blocking on runs or screen plays. Jefferson's a tough, gritty blocker who relishes contact. He shows good technique with his punch, aiming his hands inside the shoulders of his defenders and understands how to get low and win the leverage battle to push defenders back:
You can see Jefferson doesn't settle for stalemates: he keeps his mitts locked on, rolls his hips and drive his legs until he's pushed his defender as far back as he can go. Jefferson does have a couple things to clean up as a blocker — he'll want to speed up his punch timing, as he's often beaten to the punch, and he'll want to add some strength if he wants to have much success against NFL linebackers. But his technique and attitude are really far along for a young rookie.
Jefferson's blocking prowess also enables him to line up all over the field: because Jefferson was capable of blocking safeties and linebackers one-on-one, LSU could line him up in tight splits or near the offensive line or in the backfield like an H-back. This further allowed LSU to give Jefferson favorable matchups in the passing game, because the defense had to respect his prowess in the running game. That versatility is clearly something the Vikings hope will transition to the NFL. Kubiak's offense is based so heavily on being multiple, so being able to show the defense the same look, run or pass, and having the personnel to do it effectively either way is a strength.
---
STRUGGLES WITH PHYSICALITY
All that said, as physical as Jefferson might be in the run game, he can get straight up bullied in the passing game.
Almost all of Jefferson's weaknesses as a receiver can be boiled down to one criticism: Jefferson struggles to separate from more physical coverage. That's true of Jefferson's release off the line of scrimmage, where he can give up his chest and get thrown off his route against press coverage. That's true in the stem of Jefferson's routes, where he can get held back and pushed around. And that's true of Jefferson's unimpressive separation against physical man coverage.
That said, there is more good than bad with Jefferson's release. Jefferson lined up predominantly in the slot for LSU in 2019 and only ran 99 routes against press coverage (mostly from bunch sets). But Jefferson saw plenty of press coverage as an outside receiver in 2018, and he proved plenty capable of punishing press coverage that year, leading the team in receiving yards and receiving touchdowns by a wide margin. Jefferson brings the same arsenal of jab steps, rocker steps and hesitation moves that he deploys at the top of his routes to his releases, and he can also flash good swipes and swats while bringing the burst to stack defenders in a blink:
But if you're looking for the biggest reassurance that Jefferson is capable of handling press coverage, look no further than the game in which Jefferson saw the most press coverage last year — the bowl game against Oklahoma. Oklahoma gameplanned for Jefferson by thinking they could slow him down with some press coverage. It didn't exactly go as planned:
Jefferson recorded a record-breaking four receiving touchdowns and 186 receiving yards in just the first 21 minutes of that game. And were it not for a couple overthrows from Burrow, it could have been six touchdowns. It was an absolute catastrophe for Oklahoma's coverage, and it was in no small part due to Jefferson punishing press coverage with his footwork off the line of scrimmage and burst to stack and separate downfield.
But while Jefferson knows how to beat press with his footwork, he's inconsistent with his hands, and he has a bad tendency to give up his chest early in the route:
Savvy cornerbacks were able to jam Jefferson at the line when he lined up outside, and even when they were unable to punch his chest plate, they were often still able to redirect Jefferson off his line. But Jefferson's lack of physicality is most troublesome in the stems of his routes, where simple arm bars would prevent Jefferson from catching up to an accurate pass, or where normal mid-route jostling could force Jefferson far off course.
Jefferson can learn to more consistently use his hands to keep his chest plate clean, as he's already shown the ability to neutralize arm bars once he has the defensive back stacked, and his long arms should give him an extra advantage here. And Jefferson can hopefully also learn to lean into contact to prevent physical coverage from moving him off his line.
But technique can only get you so far. First and foremost, Jefferson needs to add muscle to have the play strength to deal with physical NFL coverage. That's not an easy fix, but Jefferson is young and has a long, wiry frame that can hopefully support some additional muscle mass. He may never be a bully in his routes the way DeAndre Hopkins is, but in time, with some added muscle and refined hands technique, he should be able to hold his own. Until then, though, Jefferson might struggle to separate from physical cornerbacks who can get their hands on him mid-route.
---
JACK OF ALL TRADES BUT MASTER OF NONE?
Perhaps the most damning criticism you can levy against Jefferson is that while he's an all-around solid receiver, he might not ever become more than that. He doesn't have the size or physicality you want in a No. 1 possession receiver. He doesn't have the speed to change the geometry of a defense. He can rack up crazy production in the slot against college defenders on a wider field, but he'll have less space to work with at the NFL level.
His route-running may be very good, but he'll need to cut out wasted footwork and speed up his process at the NFL level. And with limited hip sink, he'll likely never be able to stop on a dime or explode out of sharp breaks:
These aren't bad routes by any means, but Jefferson requires extra footsteps to throttle down in the middle of the field and can round his routes, particularly on sharper cuts. He may be very technically proficient as a route runner, but he lacks the elite physical traits to create separation at the top of his breaks with his change-of-direction ability alone. That will hardly keep him from being a good player, but it does place something of a ceiling on how much separation he will be able to generate at the next level.
---
FIT IN KUBIAK'S OFFENSE
The first thing Kubiak said to Zimmer when the head coach asked Kubiak for his thoughts right after drafting Jefferson was, "Love him. He's well-versed in our offense already. He can play a lot of places." Even amidst a pandemic with a shortened offseason, Jefferson should be ready to hit the ground running given how much overlap there is between what LSU asked Jefferson to do in 2019 and what the Vikings will ask Jefferson to do in 2020.
And as for what the Vikings will ask Jefferson to do, Kubiak covered that in detail on The Minnesota Vikings Podcast:
I think [Jefferson] has the ability to play wherever we ask him to play. But we can move guys by how we call formations; we don't necessarily have to say "You're a slot player." He'll go out there and operate where Diggsy just left. He'll work at X as he learns our offense. But as I start to call plays obviously I'm gonna put him in the positions he's most comfortable and where I think he does his best work.
In other words, in training camp and practice, Jefferson will learn the offense by lining up everywhere, but when it comes to game day, Kubiak is going to put him where he's most comfortable and most dangerous. And given how dominant Jefferson was in the slot in 2019 compared to his occasional struggles on the outside in 2018, it seems pretty clear that Kubiak plans to use Jefferson predominantly in the slot for 2020. That is where Jefferson's knack for finding soft spots in zone coverage and hanging on to tough catches will be best deployed, and should allow the rookie to continue to rack up catches and yards in the middle of the field.
That move would also make the most sense for Thielen. While Thielen does some of his best work from the slot, he is one of the more physical receivers in the game right now and has arguably the best release in the NFL. He's also a great deep threat, with very good speed, great route running and savvy hands-fighting, which also makes Thielen ideally suited for the deep role that Diggs took on last year. While the Vikings are sure to move the receivers around plenty, given Kubiak's comments and the player's own strengths and weaknesses, my best guess is that Jefferson takes the lion's share of the slot snaps while Thielen takes on No. 1 corners on the outside.
---
FANTASY OUTLOOK
And for that exact reason — Thielen will likely face opposing No. 1 corners on the outside while Jefferson is schemed easy yardage from the slot — I think Jefferson is a pretty underrated fantasy asset. In 2017 and 2018, when Diggs and Thielen were both healthy, Diggs may have been the more talented receiver, but that left him being shadowed by opposing team's No. 1 cornerbacks, with additional help from safeties. That left Thielen to rack up all the fantasy production, ranking as the No. 12 fantasy WR in 2017 and No. 7 in 2018 in standard scoring, while Diggs ranked No. 17 and No. 12, respectively.
In a very similar way, most analysts would say Ja'Marr Chase was the best receiver on LSU's 2019 roster, but it was Jefferson who led the team in receptions. I think that same pattern will play out again on the 2020 Vikings' roster — Thielen will be the more talented receiver in 2020, and indeed like Chase, Thielen might end up leading the team in yards and in touchdowns, but Jefferson should not be far behind at all given how many easy throws will be schemed for him. In a PPR league, Jefferson should be valued even more highly, as the Vikings will likely scheme Jefferson plays to get the ball in his hands the same way LSU did.
In dynasty leagues, Jefferson's long-term upside is a little more in question, but I still think Jefferson will be a focal point of the Vikings' offense for years to come and offers a lot of fantasy upside. In a redraft, I would take Jefferson before any of the other rookie receivers. Jeudy and Lamb are both better prospects than Jefferson, but Jeudy will be fighting for targets with Courtland Sutton, KJ Hamler and Noah Fant in a run-first offense. And while Mike McCarthy might be more pass happy in Dallas, Lamb figures to be the WR3 behind Amari Cooper and Michael Gallup as a rookie. Jefferson, meanwhile, has a floor as the Vikings' WR2 with an outside shot to be the Vikings' leading receiver based on his usage and matchups.
The departure of Diggs leaves nearly 1,000 snaps and over 30% of the Vikings' receiving yards up for grabs, and while some of those snaps and yards will go to Thielen, Irv Smith Jr., Olabisi Johnson or Tajae Sharpe, Jefferson figures to slot in as the Vikings' starting wide receiver from the get go. And on top of that, Kubiak's offense figures to be a good deal more pass-happy than Stefanski's was last year, if history is any indication. So now might be a good time to buy low on Jefferson before folks realize what a focal point he will be for the Vikings' offense.
---
IMPACT OF COVID-19
But the 900-pound gorilla overshadowing this entire conversation is that Jefferson was just placed on the Vikings' Reserve/COVID-19 list. The NFL prohibits teams from disclosing whether a player has been placed on the COVID-19 reserve list because they have contracted the virus itself or if they have merely been exposed to the virus, so we cannot say if Jefferson himself has tested positive.
If Jefferson tests negative after coming in close contact with the virus, he can be immediately activated off the COVID-19 reserve list, provided he also remains asymptomatic. If he tests positive for COVID-19, then he will be sidelined for at least five days, and more likely at least 10 days. A detailed breakdown for activation procedures can be found below: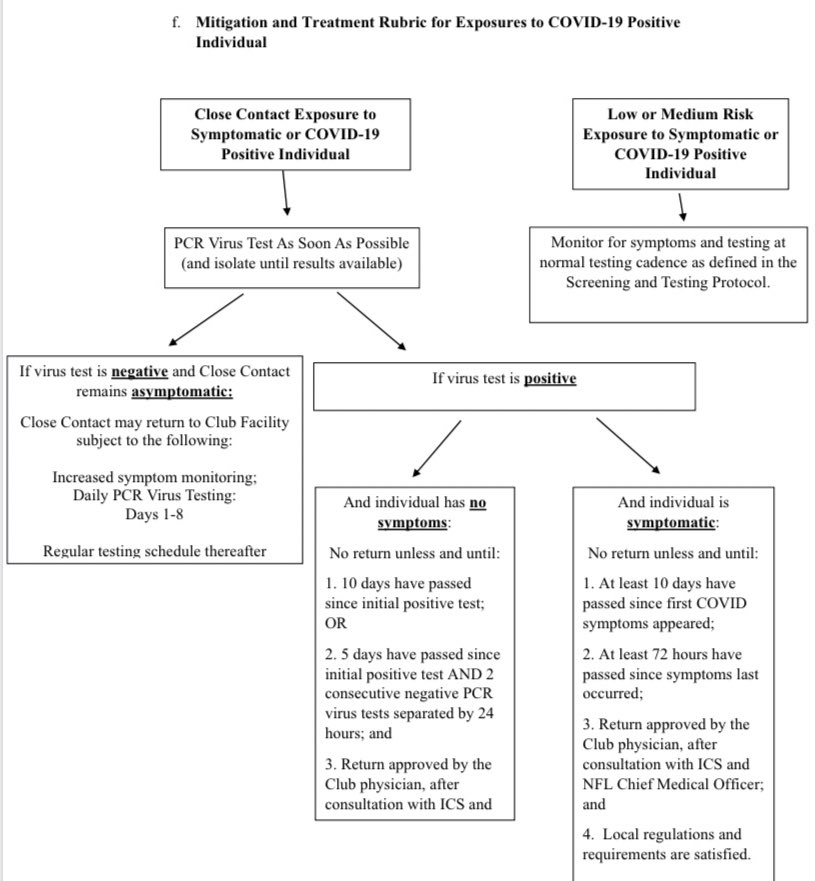 Symptoms of COVID-19 can certainly linger well beyond 10 days, which would result in an extended absence for Jefferson, not just to return to 100% health but also to return to being able to perform at 100% athletically (which could take much longer). Given that Jefferson is only 21 years old and is physically very fit, there is some hope to think that even if he contracts the virus, he will very likely be asymptomatic or only experience mild symptoms. But at the same time, there remains a non-negligible risk that he experiences more severe symptoms and/or that he experiences long-term adverse consequences to his cardiovascular health.
So while this might end up being nothing, and there are some reasons for optimism in Jefferson's particular case, there are also very real risks in the short and in the long term, and there remains so much about COVID-19 that we simply don't know yet. Jefferson being placed on the Reserve/COVID-19 list puts any analysis of his football or fantasy impact in a holding pattern, and all we can do is simply hope he's OK, now and in the long term.
---
JUSTIN JEFFERSON WILL BE A VERY SOLID RECEIVER — BUT CAN HE BE MORE THAN THAT?
COVID-19's impact aside, Justin Jefferson is an exciting prospect who checks all the boxes on the scouting report: he's big, he's fast, he's smart, he's tough, he's got great hands and a big catch radius, he's electric with the ball in his hands, and he's one of the best route runners in his draft class. He should be a quality starter from the get-go after breaking records at LSU.
But can he be much more than that? He lacks the physicality to beat press or sticky physical man coverage in his routes, and he lacks elite hip sink to send defenders flying at the top of routes. He's good at a lot of things, but does slightly above average at a lot of things add up to a difference maker at the position, or just another guy?
As a rookie, assuming Jefferson returns from COVID-19 reserve in full health, I'd wager Jefferson will flash plenty of talent and put up good numbers. And in the long term, if he stays healthy and can put on some muscle, I think he can be a Robert Woods-type player, or maybe a faster Keenan Allen in the best-case scenario. If the Vikings are lucky enough to see Jefferson follow that development, I don't think they'll be missing Diggs for long at all.