"We wanted that point guard."
Those were the emphatic words of Gersson Rosas as he nodded toward D'Angelo Russell at Russell's introductory press conference in early February. Many looked at that statement by the Minnesota Timberwolves' chief decision-maker as a strutting of sorts. A flex after shipping off the team's three worst contracts (Jeff Teague, Gorgui Dieng and Andrew Wiggins), and doing so while staying fairly draft asset neutral in the trades (one outgoing first-round pick to Golden State and one first back from Brooklyn). Proud that he strung it all together while still landing that point guard.
But those words mean something else, too.
It means he wanted a point guard who plays the way Russell plays, which is not exactly normal. Russell may have been an Eastern Conference All-Star last season, but his game is very different than the other six point guards who made the East and West All-Star teams that year. Russell's game is nowhere near as established as Steph Curry, Kemba Walker, Damian Lillard, Kyrie Irving, Russell Westbrook or Kyle Lowry.
Put simply: Russell isn't a no-brainer star point guard in this league. He's a work in progress who is just as flawed as he is tantalizing.
For Rosas to crave Russell specifically then implies a fascination with something specific in his game — an efficiency not yet tapped. Even though Russell has only shared the floor with Karl-Anthony Towns in one game since being acquired, this first month in Minnesota has afforded the opportunity to begin to glean what those specifics that Rosas saw might have been.
If the Timberwolves under Rosas and Ryan Saunders have an identity, it is that by hell or high water they will pursue playing an analytically-sound brand of basketball — even if they don't have the personnel to execute that vision at a high level.
This is complicated but the most cut-and-dry example of the commitment to that identity is in the team's shot profile. It started back in the fall when the team completely inverted their offensive scheme from last season, decisively changing the types of looks they would pursue. Perhaps more impressive, though, in the face of massive personnel change, is how Minnesota has sustained that shot selection since the trades went down.
Both before and after the deadline, the team's shot profile has not changed.
For Minnesota to functionally be getting the exact same shots with a completely different roster says something. And whatever it says is meaningful because how they are getting those shots has changed just as much as the personnel has.
For the first 50 games of the season, the Wolves' offense was run through Towns and Wiggins at the top of the key. The main driver of 3-point volume within the offense came from the 10 shots Towns was taking from deep per game — 90% of which came from above the break.
It was also about the presence of willing shooters surrounding Wiggins in his downhill penetration game.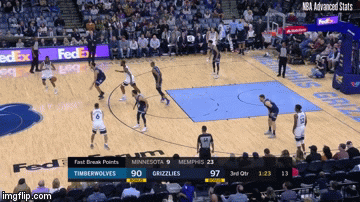 The high volume of shots at the rim in addition to the high volume of 3s were often a product of those Wiggins penetrations.
When Wiggins didn't face additional defensive resistance that would force him to kick out the ball to the perimeter, he could get all the way to the cup. For example, in the above play, Brandon Clarke leaves Jake Layman in the corner to help on the Wiggins drive. But later in that same game, when that second defender stays home, Wiggins adjusts by getting all the way to the rim for a layup.
The other main course for at-rim shot selection was Towns post catches. The Wolves would target empty-side — no help-defender — post-ups for Towns where he could make light work of 1-on-1 matchups on the block.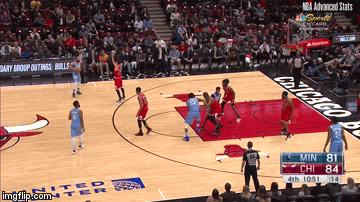 As far as midrange looks go, before the deadline, those almost always came from broken sets. The floor would still look similarly spaced around a top of the key action, but when the defense had the action snuffed out, the shot clock would necessitate invention. Midrange shots were a break-glass-in-case-of-emergency option.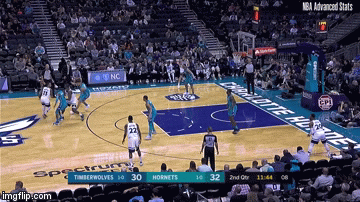 Since the deadline, everything has changed. How the Wolves create 3-point shots, rim looks and midrange attempts has all been altered completely. That the shot selection is able to remain heavily-focused at the rim and beyond the arc is so much about Russell.
And that they ever take midrange shots is also about Russell — because, well, he's the one who shoots them.
In ways, Naz Reid approximates some of the top-of-the-key quarterbacking duties that were previously Towns'. And in other ways, Malik Beasley functionally serves as the high usage wing option, replacing Wiggins. But because Reid cannot create looks for himself beyond the arc the way Towns can and because Beasley does not have the wiggle in penetration that Wiggins did, for those players to get looks from beyond the arc and at the rim, they need Russell's presence to unlock them.
As far as 3s go with the new group, it's pretty simple: Russell is a high-level distributor out of the pick and roll, often generating clean perimeter looks for his teammates. He weaponizes Reid in the two-man game through sucking in multiple defenders after a screen that leaves Reid in that Towns position above the break. Now alone, Reid does not need to create space for himself.
When Russell passes him wide open, Reid can just pull.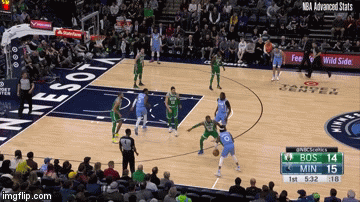 As for Beasley's 3-point production, he can create a bit of space for himself but is most dynamic when functioning as a wrinkle of a Russell-inspired action. When the defense comes to expect Russell-led high pick and rolls, Beasley can take advantage as a disguised flurry.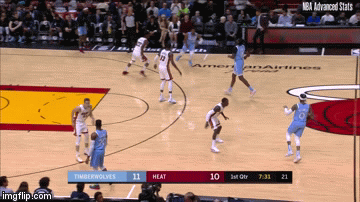 With looks at the rim, Russell individually cannot approximate Wiggins' ability to get downhill. He doesn't have the strength or athleticism to consistently move through defenders on straight-line drives. But again, if you put him in a pick and roll, he can lead the offense to a look at the rim. James Johnson has been particularly helpful here. When he finds Johnson on the short roll, Russell does not need to go through the trees himself.
Even though Russell has only taken 28 shots at the rim since the deadline (14.3% of his shot mix), the Wolves volume of shots as a team from that area have not only increased (up from 31.4 per game to 34.2 per game) but become more potent (up from 61.8% to 62.9%).
In other words, they have not needed Wiggins' penetration ability or Towns' post-up ability to be able to be a team that gets a lot of good looks at the rim.
The added presence of more pace to the game has been another jolt that often fosters the looks this team desires. Before the deadline, Minnesota was seventh in the league in terms of pace and has become the fastest-paced team in the league since the trades took place.
Here's the rub, though: Those are all just highlights of pick-and-roll actions led by Russell that worked.
In the aggregate, Russell has been an inefficient pick-and-roll player since coming to Minnesota. In the 11 games Russell has played in, he has run 11.3 pick and rolls per game as the initiator, per Synergy's tracking data, and those actions have rendered a dismal 0.80 points per possession. For context, there are 29 other players in the league who have initiated seven-plus pick and rolls per game this season, and every one of those players has been more efficient in the action than Russell has been in Minnesota.
This would be easy to dismiss in the name of transitioning to a new environment or simply just as a small sample size anomaly, but the issue is that Russell was also inefficient as a pick and roll initiator last season in Brooklyn.
In 2018-19, Russell also initiated more than 11 pick and rolls per game. And of the 11 players to run eight-plus pick and rolls per game that year, he again was the least effective in the action of the group, generating 0.89 points per possession. Russell also only generated that same 0.89 points per possession in 340 pick and rolls (10.3 per game) when playing for Golden State this season.
A critical question for Minnesota to resolve is the "why" behind that number persistently being so low.
It's not all about the midrange, but the volume of shots Russell takes from the midrange out of pick and rolls is part of the problem. It always has been.
In Brooklyn, 20% of Russell's shot selection was midrange jump shots. In Golden State, 20.4% of his shots were from the midrange. And in Minnesota, again, he's taken more than a fifth of his shots from the midrange (22.4%). Of the 478 midrange shots Russell has taken in those three stops, he has made 45.2% of them. Run that out per possession and you're again looking at that 0.89 points per possession number.
It's not so much that Russell needs to altogether stop taking that shot, but he does need to cut back. It's the exact same impasse the franchise was at with Wiggins a season ago. In 2018-19, 26.4% of Wiggins' shot selection came from the midrange, and as a result, his overall effective field-goal percentage was (an atrocious) 46.1%. After changing his shot selection under the guidance of Rosas and Saunders, Wiggins only took 13.3% of his shots from the midrange in Minnesota this season, and as a result, his effective field-goal percentage rose to 50.2%.
The question is if Russell will similarly be willing to adjust. After Minnesota's home loss to New Orleans on Sunday, Russell made it sound as if that adjustment will be quite the process.
"I'm going to do that regardless," said Russell of using the midrange as major part of his offensive profile. "Coach is going to have to [pauses] … we'll have to communicate about it. I'm going to play my game."
Since Russell was brought into the fold, Saunders has frequently been asked about Russell's track record of being a high-volume midrange shooter. Saunders' responses always acknowledge that there will be a balance to strike there but that it is extremely important to him and the team's identity that the players abide by an analytically-driven shot selection process.
"It's a lot of in-game coaching," said Saunders of finding the balance. "We're not changing what we want. But if he scores in the midrange, you might bite your tongue a little more as opposed to saying, 'Hey, let's try and get you to the rim, let's try and get a pass to the corner, get a 3.'
"That's something I do want to make clear after the game or the next day in practice. Even if a guy makes 55 midrange shots, we'll still talk about what we value for this team going forward. It's not just because they make it. We still want the process to be right on how we get to that outcome."
To my knowledge, there has not been any sort of clashing between Russell and Saunders in this philosophical gap. If anything, the constant flow of games that have followed the deadline have made it difficult for specifics to be addressed in practice.
There just isn't a lot of practice time. Not just for Russell but for all of the new acquisitions, Saunders has made it clear that he doesn't want to impose too much change onto them in midstream.
Instead, Saunders is controlling what he can reasonably control: the outlines of the offensive system. Again, a system that prioritizes pace, shots at the rim and looks from beyond the arc. The players have been given the playbook, but they have not been punished for deviating from it.
"He's a scorer. I'm not concerned about him," Saunders said of Russell's recent dip in production. "He's going to score, and he's going to find his spots. We'll continue to watch film with him and help him in those situations. I'll do a better job of helping him in those situations in the game, too. It's not just on D'Angelo. It's on me. It's on our group."
The plan is to attack the minutia in the summer. These post-trade deadline games are about laying down the tape. The summer is about breaking it down.
"Ideally, you'd like to have a summer to talk about and to work on all these different reads and all these different shot values," Saunders continued on Monday. "But we don't have that. We have a couple of days in between games.
"So he has a challenge. One that he didn't ask for, by having to learn it on the fly. But I do think he's doing a good job with learning."
All in all, the offense has improved. In no small part, that is about Russell. He's the straw that stirs the drink.
Since the deadline, Minnesota is 15th in the league in offensive efficiency, scoring 112.0 points per 100 possessions. That is up nearly six points from where the Wolves' 23rd-ranked offense was at before the deadline. Given that Towns — unequivocally the team's most potent offensive weapon — played in 33 games before the deadline and has only played in two games since, what this offense has been is not a primary concern. As has been the case every season of Towns' career, the expectation should be that Minnesota will have an above-average offense next season when Towns is again healthy.
The post-deadline defense has been the problem.
With Minnesota ranking 28th in defensive efficiency since the trades went down, the personnel that came in at the deadline has done nothing to inspire the notion that this group will be able to be average on that end next year. Every team Towns played on in his first four seasons in the league has ranked in the bottom six of the league defensively. As this connects to Russell, who has never been viewed as a competent individual defender, it is his defensive decision-making that is of far greater concern than his shot selection.
If Rosas is correct in his steadfast belief that Russell is that point guard for this team, it stands to reason that he has considered every angle of this. Offensively, Rosas is likely more pleased with the shots that his team is generating out of the pick and roll than he is concerned about Russell's individual efficiency within the action. Again, Russell was not efficient in those actions in Brooklyn either. Rosas knows he didn't trade for an elite pick-and-roll point guard.
He traded for a player who he thinks can become one.
And on the other side of the ball, as I've theorized before with my comparison of Minnesota to the Houston Rockets, reinforcements on the defensive end could be coming down the line. As Houston used the trade and free agency markets to insulate James Harden with high-level defenders — like Trevor Ariza, Luc Richard Mbah a Moute and P.J. Tucker — it's my assumption that similar measures will be taken in Minnesota.
Russell has not yet proven to be some sort of dream come true at the point guard position; he has only hinted at what he could become. Those who continue to sleep on the Timberwolves have not been proven wrong. But baked into the minutia is a plan that is clearly percolating. Even in Towns' absence, we are beginning to see with the added presence of Russell that the Timberwolves are still loading.