At practice the morning after Ryan Saunders suffered the worst defeat of his coaching career, a four-point overtime home loss to the Sacramento Kings that saw his team blow a 22-point fourth-quarter lead, he was asked what the identity of his team is.
"I know what our team wants our identity to be," Saunders responded. "That's a team that plays fast. We want to be a team that takes high-value shots at the rim and gets to the foul line. And (shoots) 3s. And we want to defend with intelligent aggression."
Because his team, now — nearly 50 games into the season — measures somewhere between mediocre and awful at all of those elements of the game, that answer explicitly details why the Minnesota Timberwolves are currently on an 11-game losing streak for the second time this season and why they are 15-33 overall. Choosing that identity without the personnel to execute it is why the Wolves are on pace to win 10 fewer games than they did a season ago (36) and 21 fewer than they did in 2017-18 (47). That answer also explicitly reaffirms the franchise's commitment to be bold; to remain steadfast in their belief of putting together an analytically-driven process for implementing a new system.
"We're going to do what we do and be who we are and live it every day," Saunders continued, boldly. "I know that sometimes that might sound like not a fun idea when everything doesn't match up.
"Some nights we'll have rough shooting nights, sometimes we'll have great shooting nights. Some nights we'll have tough defensive nights, some nights we'll have positive ones. But we're committed to this. We're finding out what we need, moving forward, to do as a group and to do as individuals."
Saunders and his president of basketball of operations, Gersson Rosas, aren't dumb. They are well aware that their personnel is not well equipped to shoot 3-point shots at a high volume. It's not beyond them that their team is third in the league at taking 3s and 29th at making them. They also know that the shots they're asking opponents to take are the shots their personnel is poor at defending. Saunders and Rosas know their team allows fourth-most mid-range shot attempts in the league and that no other team allows more of those looks to be made than the Wolves do.
For now, on both sides of the ball, Saunders and Rosas are more concerned about where shots come from and less so about the result of the shot. In the aggregate, the numbers say that this is the right identity. They believe in the numbers, the analytics. They look at many of the best offenses taking shots from the most profitable spots on the floor and they see many of the best defenses forcing shots from the least profitable zones. This leads them to believe that their lack of efficiency on both sides of the ball will one day turn.
Rosas takes solace in the notion that his team stacks up in league rankings, in terms of volume, right next to Houston and Brooklyn in many facets of the game. He spent 17 years working for Daryl Morey in the Houston front office and filled out much of his own front office, coaching staff and roster with personnel that comes from Brooklyn. Rosas' assistant general manager is Gianluca Pascucci, who was a part of Brooklyn's front office before being hired away this summer. Pablo Prigioni is Saunders' assistant coach and was on Brooklyn's staff last season. Three of Rosas' few roster additions since he took over — Shabazz Napier, Allen Crabbe and Treveon Graham — all played in Brooklyn's system last season. They are all familiar with and believe in an analytically-driven process, so they fit Rosas' vision.
Rosas wants to recreate the success Houston and Brooklyn have had in not just developing a winner but creating a sustainable one. He wants Saunders to serve as a conduit to replicating what head coaches Mike D'Antoni and Kenny Atkinson have done with the Rockets and Nets.
When Atkinson was in town to face the Timberwolves earlier this season, he spoke of the challenge a team faces when completely recreating their identity. Atkinson is familiar with this type of transition. Much like Saunders has been tasked with shedding Tom Thibodeau's approach, when Atkinson was hired by the Nets, he had to transition his roster away from the approach of Lionel Hollins — one that the Brooklyn front office saw to be antiquated.
"It's really a big part of coaching today to get them to believe, to understand what the optimal shot profile is. (That belief) can waver," said Atkinson. "In the beginning, it sounds great, and you can show them all the shot charts and all the numbers. When the shots aren't going in, or you go through a rough patch, to keep that belief in the process in what you're trying to do, that's a heck of a challenge for the coaches because the players will start to doubt."
Saunders didn't only show his players what an optimal shot chart looks like, he had it emblazoned on the floor of the team's practice facility. The question his team and his organization is now facing pertains to doubt. Broadly, the Wolves roster has stuck to the system but frustration is clearly starting to creep in, and therein lies the "heck of a challenge." Having 33 losses on Feb. 1 has a way of letting frustration slide in the door, and frustration is the cousin of doubt.
After Saunders re-affirmed the team's identity to the media on Tuesday, a clearly perturbed Karl-Anthony Towns came over to the scrum. A reporter, straight up, asked Towns how frustrated he was. Towns' response: "What do you think?"
It was a wildly frustrating loss to Sacramento — not only in result but in process — that Towns was coming off. The Wolves stacked 20 made 3s on Sacramento in the first three quarters of that game, mounting what became a 27-point lead before watching it all slip away clank after clank.
Thinking of the Wolves up-and-down path to defeat that night, I asked Towns if it was fair to say that the system they're running has high highs and low lows.
Gulping, Towns said: "Ah, the system works. That's really it. It works. We've just got to fix it."
FIXING THE SYSTEM ON OFFENSE IS NOT ABOUT KAT
For Towns, Saunders and Rosas, the options for fixing the offensive system are limited:
Relent on the formality of the construct.
Add and develop players better at playing within the confines of the construct.
Houston was in town to play the Wolves a few days before that loss to Sacramento. When he was here, D'Antoni described how Houston's addition of Russell Westbrook has forced him to relent some on their system — in an effort to maximize Westbrook within his current roster.
"You can tone it back some and try to exploit other things," said D'Antoni when asked if strictly abiding by shot values is the best choice regardless of personnel. "I mean, Russell doesn't shoot 3s but we're a 3-shooting team. That's not his game, and we want him to play his game."
What D'Antoni means is that Westbrook doesn't shoot 3s well — he's only made 23.4% of his 3-point attempts this season. Instead, Westbrook has been given the autonomy to attack from the perimeter and thus he's made 59.3% of his shots within five feet of the rim. In that pursuit of the rim, Westbrook is also afforded the freedom to stop short and pull-up from the midrange when the rim attack is not there. D'Antoni believes the effectiveness of Westbrook's attack game is, at least in part, tied to having the freedom to pull-up. He believes those two elements of his game stack on top of each other.
The 41.0% Westbrook shoots from the midrange is not independently efficient. But when coupled with the times he gets all the way to the rim, he is efficient. Overall, Westbrook shoots over 50% from 2-point range on heavy volume. That leads to efficiency because he adds nearly seven free-throw attempts per game, and makes 79.1% of those free looks.
The Wolves' system is far more black and white. Jarrett Culver is a good example. Culver, similar to Westbrook, cut his teeth in his basketball upbringing as a penetrator who also frequently operated from the midrange. Yet, at the NBA level, only 4.7% of Culver's shots have come from the midrange.
When Culver was operating as more of a primary offensive weapon when Towns and Andrew Wiggins were sidelined in early-January, I noticed what, to me, appeared to be a higher level of confidence in Culver, seemingly fueled, in part, by taking a handful of shots from the midrange. It reminded me of what I had seen of Culver's game in college. In turn, I asked Saunders if this was by design. Saunders' response was telling: "No, not by design."
It's not that a mid-range shot is a bench-able offense in the Wolves scheme; it's just clearly not a priority. Instead, they prefer Culver — or Wiggins, for that matter — to heavily abide by the construct of shot values in the name of growth. It's why Culver continues to bomb 3s (nearly four per game this season) in spite of shooting a Westbrookian 27.3% from distance.
"If you've got all non-shooters that are taking all 3s, you can make an argument (against the analytics)," said D'Antoni. "But, if you do it the other way, you can get beat, too."
Would Culver be a more efficient offensive player if he had the shot selection autonomy Westbrook does? Maybe. But that's not the bet Rosas and Saunders want to make. They prefer to bet on his development within this construct — believing if development does happen, that Culver's game will be maximized. Not just with Culver but with every player on the roster, it's abundantly clear that Rosas and Saunders are taking path two: Add and develop players better at playing within the confines of the construct.
"If you wanna establish the identity of how you want to play and get players to buy into it — establish this guy can do it, this guy can't — then you know who to move, who not to move," said D'Antoni.
That's what the Wolves are doing. They're conducting tryouts — determining which players on the current roster can do it, or at least assess who they believe they can develop into a player who will eventually be able to do it.
With Towns in the fold, it makes plenty of sense to construct an offensive style of play that best fits him specifically. They're betting that if there is a very good Timberwolves team out there in the future, this is the way they play offense. Broadly, that seems like a fair bet. The defensive system the Wolves have implemented, however, has far more questions to be answered. What they're running defensively is not the clear and obvious fit for Towns that it is on the offensive end.
FIXING THE SYSTEM ON DEFENSE IS ABOUT KAT
Again, the reason the Wolves' system makes sense offensively is that it makes sense for Towns. We can easily paint a picture with competent shooters and slashers around Towns in this five-out construct that would produce a dynamic offense. The question, defensively: Can we picture this working with better defensive personnel surrounding him? That is way up for debate.
Since Thanksgiving, the Wolves have played 30 games. Towns has played in 15 of those games, and the Wolves have lost all 15. In the other 15, the Wolves are 5-10. The team's defensive effectiveness has been the difference between some winning and no winning. In the 513 minutes Towns has been on the floor since Thanksgiving, the Wolves have given up 122.7 points per 100 possession. That's a massive 6.2 points worse than the defense rate of the worst defensive team in the league (Washington). In the 952 minutes the Wolves have played with Towns either sidelined or on the bench since Thanksgiving, that defensive rating improves to 104.5 points per 100 possessions. That's defensive efficiency at the level of the Toronto Raptors (the second-best defense in the NBA this season). This very clearly illustrates ill-fitting personnel in the defensive unit when Towns is on the floor.
The 15-game stretch that Towns was altogether sidelined for provided a valuable data point for this new Wolves regime as it pertains to the defensive scheme. It proved that this scheme can work. Gorgui Dieng did a commendable job of manning the middle in Towns' place — playing with the "intelligent aggression" Saunders wants his bigs to identify with. What it did not prove is that this scheme can work for Towns.
We should define what that system is. Nearly 50 games have made it abundantly clear that the Wolves are running what many would refer to as an aggressive drop scheme defensively. Within that scheme, the four players surrounding the dropping center have the freedom to handle their coverages interchangeably. Depending on the opponent, the likes of Robert Covington, Wiggins, Culver, Josh Okogie and Napier are permitted to switch. They can be switch partners.
The center does not have that option — outside of breakdowns and late-game situations. They don't have switch partners.
The more restrictive duties the center is tasked with are justified by the importance of defending the rim. Layups are the most efficient shot in basketball, and it is the center's job in this scheme to limit those attempts. This comes with a heavy burden. It demands precise positioning, high-level communication and the ability to read the floor, particularly in pick-and-roll situations. A critical tenet to the Wolves' defensive system, as it pertains to pick-and-roll coverage, is the team's clear desire to defend ball-screen actions with only the two players involved in the action — the point-of-attack defender and the dropping big. There's no meaningful help.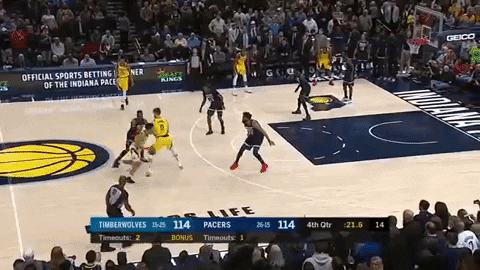 Defending a pick-and-roll with only two players is very effective when executed properly because it allows the other players on the floor to stay home on the shooters they're defending. When executed, the rim is properly defended and so too is the 3-point line — the two most profitable parts of the offensive floor. What is sacrificed, even during effective execution, is the midrange. The Wolves defending in this manner is why they allow more mid-range shots than any other team in the NBA. A theoretical system win.
"Defensive shot profile, that's the first thing we tried to install," said Atkinson of Brooklyn's analytically-driven scheme. "Like, what type of shots do we want to force the other team into. And that's a tough one to convince the players."
The problem the Wolves have had here is not convincing their players that those are the best shots to allow; the problem comes from the personnel they are employing. They're clearly not putting up the necessary resistance within that area of the floor.
If the guard isn't scrambling back to the ball-handler for a rear-view shot contest and if the big is dropped back a hair too far back, that midrange look becomes clean. The Wolves personnel struggles with the execution there, illustrated by the team allowing a league-worst 44.6% of non-paint 2s to be made.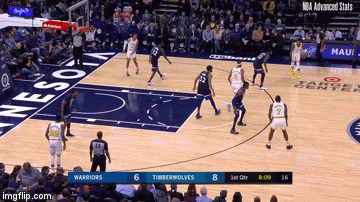 Now, if those were the only shots the Wolves allowed, they would be cool — 44.6% on a 2-point shot is fine. But it's much like the Westbrook comparison on the offensive end — those mid-range shots are the backup plan for the offense. When opponents aren't taking mid-range shots against the Wolves, they're often getting to the rim. The Wolves have allowed the ninth-most shots in the league that have come from the restricted area this season (30.0 per game), according to Second Spectrum's tracking data, and opponents are making 62.3% of those looks. That's a problem when your system is specifically put together to limit those looks. It's the one area of the Wolves' holistic shot selection plan that doesn't line up with the numbers. And it seems to directly connect to Towns, the rim defender.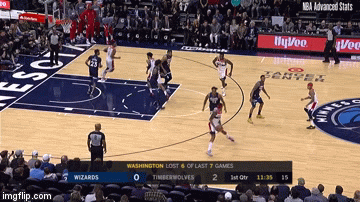 The bet Saunders and Rosas are making within this scheme is similar to the wager they are placing on offense: once they have better players the overall efficiency will improve. Sure, that makes sense. Here's the rub, though: Towns will always be one of those players. Just like they may be able to eventually acquire better 3-point shooters for offense, they may be able to eventually acquire better point-of-attack defenders. But what about Towns? He's always part of that equation if he is playing center, right? If Towns can not effectively hold his side of the bargain of defending the pick-and-roll as one of those two defenders, the defensive efficiency will never be there.
This is why, to me, the bold commitment to this defensive scheme is a far greater gamble than the commitment to the offensive scheme.
On the bright side, outside of what appears to be a key issue within the teeth of the Wolves defense, the system is effectively limiting 3-point shots. Only Philadelphia, Detroit and Utah allow fewer 3-point attempts than the Wolves do, per Second Spectrum. You might notice a theme there with those teams: a big, imposing rim-defender such as Joel Embiid, Andre Drummond or Rudy Gobert. Like Minnesota, the Sixers, Pistons and Jazz drop their center defensively. This scheme is especially effective in limiting corner 3s from even being attempted. Only Philly and Utah allow fewer corner 3s than the Wolves do. This is another example of the volume meeting the plan.
But is this fool's gold for the Wolves? Embiid, Drummond and Gobert are elite rim defenders, and critical to those teams' overall defensive plan. Isn't schematically planning for Towns to become an elite rim defender just as big of a gamble as it is to plan on, say, Okogie or Culver becoming knockdown shooters?
If this year is, in fact, as Saunders says, about figuring out what this team needs moving forward, what do they do if they determine what they need is an elite rim-defender? What then do they do with Towns?
FIXES ARE USUALLY ABOUT ADJUSTMENTS
With the importance of every individual Wolves game decreasing by the day, the rest of the year will be about assessing development. This year, however, that assessment shouldn't be limited to looking at how a rookie or sophomore player grows; it should be about seeing how the system can develop.
On both sides of the ball, these final 34 games could be a trial run for tweaks to the very black and white system the Wolves are running. They can dip into the gray.
As I said above, the offensive system makes plenty of sense because of Towns and his skillset. But are there tweaks that could be toyed with that help assess if there is are better ways to get effective offense for their other mainstays? Is the future's best version of Wiggins at the point guard position? I don't know. But they could look into it more. Does the future's best version of Culver include him being a pick-and-roll initiator? I don't know. It could use more of a look, though.
If there are fair questions to be asked about how Towns fits in this defensive scheme, could they toy with tweaks on that end? Does Towns need more help within the teeth of the defense? Sure seems like it. Why not see what defending the pick-and-roll looks like within this scheme with a third defender involved in the action (a tag man)? Or, very basically, is it just worth testing out what Towns would look like as the power forward within the construct of this defensive scheme? Maybe he can be part of an effective team defense if not in the drop spot.
We've just really hit a point where strictly abiding by the system seems to be producing diminishing returns — both in the immediate and the future. What will we really learn if the second half of the season is just a carbon copy of the first half? Will running 15 minutes a game of tweaks to the system really lead them to forget what the core principles of the system are?
Fixing problems in sports and life is usually about dynamic problem solving — a willingness to try to differentiate things. We know this new regime has boldly embraced developing an analytically-driven system. They've done that. Point taken. Can they be bold enough to be dynamic, though? Can they self-recognize what isn't working? Asses what they've bet on that might not work in the future? The opportunity cost of implementing this system and this identity in the vacuum of just this season is clear: losses — lots of losses. But what is the opportunity cost of putting blinders on and not acknowledging that the initial plan may not have been perfect? The best-laid plans often end up being the ones not yet made.