When the Minnesota Timberwolves start the second half of the season at home against the Boston Celtics on Friday evening, they will do so with Karl-Anthony Towns sidelined for an unclear amount of time while he recovers from a left wrist injury.
Towns sat out the team's final game before the break against Charlotte on Feb. 12 and then was out of town for most of the team's time off. The unfortunate timing of the break has delayed the process of evaluating his injury.
When the team returned for their first post-break practice on Feb. 19, head coach Ryan Saunders was asked about how his best player was recovering. Saunders said that Towns is "still being evaluated with things. He went through the All-Star break. We'll get back in touch with him right here."
Asked by reporters if Towns would practice on the 19th, Saunders responded with a one-word answer of "no."
Asked if Towns would miss games once the team returned to action, Saunders responded with a one-word answer of "yes."
The next day, Feb. 20, Saunders was asked how the evaluation went. Saunders said, "I don't have any update. We're still gathering information, still looking into it."
There are rumblings around the organization that Towns will be seeking a second opinion on the wrist that will be able to provide context on what a timetable for the recovery may be.
"We're obviously still looking, getting opinions that are out there," said Saunders. "You want to make the best decisions possible for him, and also for the organization. Like we said, we'll give an update when we gather all that information."
Finding What Works For Russell Offensively
The injury and the ambiguity that surrounds it provides a cold dash of water onto a franchise that was seemingly reinvigorated after completely reconstructing its roster at the trade deadline. Any amount of missed time for Towns is a real missed opportunity for the Wolves. On both sides of the ball, Towns is the fulcrum of the team's system.
But some of that is changing.
After the acquisition of D'Angelo Russell, the hub of this team now has two parts. How the axis that is Russell best functions can still be assessed, to a degree, without Towns. And according to Saunders, that assessment process will be a major focus of this Towns-less run.
"We need to do a good job of finding what works for D'Angelo here in these games," said Russell's new head coach. "He's had a lot of success in a lot of different actions, whether it be Brooklyn, Golden State, the Lakers, so you want to try to keep him in things that he's comfortable with."
One thing Russell is definitely comfortable with is something the Timberwolves as a whole have not been comfortable with this season: shots from the mid-range. This season, Russell has taken fewer non-rim shots from the paint than he has from the mid-range, according to Second Spectrum's tracking data — a distinction very few players in the league have. Theoretically, this presents a bit of a conundrum for Saunders, whose team this season has taken 49.5% of their shots from the paint, 43.2% from beyond the arc and only 7.3% from the mid-range.
Only three teams in the NBA have taken fewer mid-range shots than Minnesota this season.
"There's a fine line of making those shots you take, trying to relieve the pressure off coach eliminating those shots from me," says Russell. "I think you can't put guys in a box when that's their thing or whatnot, but that's something we've got to talk about if it comes to that."
To Russell's credit, he has made 50% of his 140 mid-range looks this season, an elite rate compared to the rest of the league. Still, shooting 50% on a 2-point shot is only the equivalent of shooting 33.3% from distance. Minnesota is the second-worst 3-point shooting team in the league, and they've still made 33.2% of the 3s they've taken this season. So really, Russell's "elite" mid-range numbers are only beneficial if those shots help free other clean looks at the rim or from beyond the arc — for himself or for his teammates.
"We have the analytic background and research to figure out what they need to shoot that at for it to be a positive shot," said Saunders of his team now potentially having players more wont to take mid-range shots. "But we will still say that if we can work on those higher efficiency shots as a whole — at the rim or focusing from 3 — that we feel that can take them to an even higher level. So we'll continue to stress that."
Not quite at the volume of Russell, but Russell's new backcourt partner, Malik Beasley, is also a relatively high volume shooter from the mid-range — taking 12.6% of his shot attempts over the past season and a half in Denver. Beasley describes the mid-range shot as a piece of his offensive puzzle.
"A lot of teams nowadays don't like the midrange shot," said Beasley. "But it's an efficient shot if you get downhill, and then open up other things… To have something at all three levels is important to me. That's just my opinion on that."
When expanding on his motivation behind taking those looks, Beasley described the mid-range being a tool that can force the opposing big to come up out of their comfort zone near the rim. On this play, you can see Beasley take advantage of a dropped back Gorgui Dieng by pulling up for a clean mid-range shot.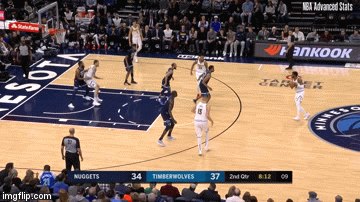 Then, later in that same game, Dieng comes up to poke at Beasley in the mid-range only to have Beasley buzz by him to the rim.
The logic seems sound from Beasley, but it breaks down a bit when connected to Russell, who, again, rarely gets all the way to the bucket. In Golden State, Russell only attempted 48 shots at the rim compared to 130 from mid-range. Before the trade, Beasley took 52 shots at the rim this season in Denver compared to 44 from the mid-range.
"You've got to take what the defense gives you, no matter what the circumstances are," says Russell. "It may not be a layup or at the rim or something, so you've got to take what they give you."
It will be interesting to see how malleable Russell's philosophies are and how much Saunders tries to impose his own philosophies onto Russell. In Russell's defense, he's coming from a team in Golden State that did not play with the same emphasis on shot values. He was playing for Steve Kerr, whose Warriors teams have taken more mid-range shots over the past year and a half than every team in the league other than San Antonio.
Taking what the defense gives you was cool in Golden State. The system Saunders has had his team running has been rigid. Will "finding what works for D'Angelo" include telling him what works in this system?
Or maybe, crazy as it sounds, will the Wolves' system shed some of its dogmatic nature? The coach and point guard's philosophies currently appear to be conflicting. So maybe the jury is still out on all of this. Maybe the answer is that Russell and Saunders find a balance as they go.
"We'll be continually hitting on the points per possession and the shot values because that is something we will believe in and always will believe in here," said Saunders. "But for right now, I don't want to overload these guys too much."
What Is The Plan of Attack With Russell Defensively?
In the two games Russell has played in thus far against Toronto and Charlotte, Saunders has tucked Russell away off the ball defensively. To be blunt, Russell has been hidden; they're asking him to cross-match defensively, often with Josh Okogie or Jarrett Culver taking the assignment of defending the opponent's primary creator.
"We need a guy who has a defensive mindset, who puts defense first in that group," said Saunders of shifting Okogie or Culver onto the ball. "We put Josh in there, and figure that out. And when James (Johnson) comes off the bench, we like Jarrett playing with James."
In this play, you can see Okogie taking Devonte' Graham at the point of attack and chasing him around the perimeter while Russell is tasked with checking Charlotte's least threatening offensive weapon, Jalen McDaniels.
Similarly, this play features Culver checking Fred VanVleet, with Russell in more of a free safety role while matched up with a player in OG Anunoby, who is less of an off the bounce threat than VanVleet.
Determining whether or not this has to be Russell's defensive role will be worked through for the rest of the season.
"Naturally [Russell] is going to get more reps, too," says Saunders. "Because most teams don't just have one primary ball-handler; they have multiple ball-handlers."
On one hand, the notion of having Okogie or Jarrett Culver check the opponent's primary creator definitely makes sense. Controlling the point-of-attack is critical in the Wolves' defensive scheme, and those two are just objectively better at it right now than Russell is.
But, on the other hand, opponents that have wings who are more dynamic creators than McDaniels or Anunoby — like Boston with Kemba Walker, Jayson Tatum and Jaylen Brown on Friday — will seek out Russell in his free safety role, so it makes sense for Russell to work on the on-ball part of his game as well. It would be the same line of logic that led Saunders to exclusively play Towns at center even though Dieng was a better rim-defender. Saunders believed Towns would eventually need to be able to fill that role, so he prioritized getting Towns reps in that role.
In Brooklyn, Russell received plenty of experience defending at the point of attack. During his last year there, the Nets were 14th in the league in terms of defensive efficiency, surrendering 109.0 points per 100 possessions. When Russell was on the floor, the team's defensive rating was 107.9. In other words, Russell has been part of a successful team defense before, and he's done so without always being hidden.
"I think he was very committed to navigating ball screens with a guy like Jarrett Allen in a drop," said Saunders of Russell's time in Brooklyn. "I think he was very committed to that."
The operative word here is committed. Russell did not show that same level of defensive commitment in Golden State. The Warriors are 24th in defensive efficiency this season, allowing with 112.4 points per 100 possessions. With Russell on the floor this year, that number swelled up to a team-worst 114.1 and dipped to 109.4 when Russell was off the floor.
Brooklyn was a winning team, Golden State was not. On another losing team in Minnesota, can Russell commit to defense? Saunders and Gersson Rosas need the answer to that question to be yes. They need to find a fair estimate of Russell's defensive capabilities because that is critical to understanding what this roster needs going forward.
It's similar to the assessment that has been going on all year with Towns. This season has clearly illustrated that Towns needs defensive support on the backline. Specifically, finding a frontcourt partner with better rim-defense chops than Robert Covington had feels like a need — given that Towns and Covington surrendered 117.0 points per 100 possessions when the two shared the floor (KAT's worst defensive rating of any of the 11 teammates he played with most this season). Towns doesn't just need a good defender next to him (like Covington), he needs the right archetype of good defender next to him.
Along those lines, does Russell most need a defensive partner molded like Okogie? Or would Russell more benefit from the team investing in a different archetype of defender next to him? As it is with Towns, the roster needs to meld with both Russell's strengths and weaknesses. These final 29 games, with or without Towns, will be prescient in providing context that can help answer those questions.
"It's a balance between learning a system and what coach wants and what you can do to be reliable in what he wants on the court," said Russell. "I think that's the process, for sure — just learning our system and what we're trying to achieve."