Statistically speaking, the Minnesota Timberwolves have been a more effective defensive team every season of Karl-Anthony Towns' career when Towns is on the bench than when he is on the floor. That disparity has never been more jarring than it is this year.
In 33 games this season, the Wolves have allowed 101.8 points per 100 possessions when Towns has been off the floor, and when Towns plays their defensive rating spikes to 114.5. For context, that 101.8 number falls between the efficiencies of the top two defenses in the NBA this season, the Milwaukee Bucks (101.2) and the Toronto Raptors (103.9). The 114.5 number falls between the league's bottom two defenses this season, the Cleveland Cavaliers (113.7) and the Washington Wizards (115.9), according to NBA.com.
The only other time in Towns' career his on/off disparity numbers have been this incongruous on the defensive was in Tom Thibodeau's first year as the Wolves head coach. That's an important piece of context because, in that 2016-17 season, Thibodeau completely overhauled Sam Mitchell's defensive system. This adjusted the role Towns was asked to fill during his sophomore season.
Another schematic change is taking place this season with Ryan Saunders as the head coach. Saunders and his defensive coordinator, David Vanterpool, have not necessarily changed Towns' duties; he still is the tentpole of a conservative defensive scheme that asks the center to prioritize rim defense over perimeter aggression. But still, it's a new staff, new terminology and a different plan. The stats say the learning curve here has again been steep for Towns.
That said, on/off numbers can be wonky; they don't take in the context of who the opponent is, and, more specifically, what players are on or off the floor for that opponent. Having a clean break — game missed in their entirety — clears up a lot of that confusion in on/off splits. Up until these last three weeks, there had never really been a clean break for the Timberwolves and Towns.
In his first three seasons in the league, Towns played in every game. Last season he missed five games, but never more than two in a row. This season, Towns has already missed 10 games; two for his early-season suspension and then the last eight games with a right knee sprain. Those eight games give us an eight-game "clean break" sample.
In those eight KAT-less games, the Wolves are losing a lot — they're 2-6. But that is largely a product of terrible offense. Only the dismal Atlanta Hawks have had a lower offensive efficiency since Towns went down than the Wolves, who are scoring 97.1 points per 100 possessions during the stretch — down from 108.3 before Towns' injury (16th in the NBA). The defense in Towns' absence, though, is almost completely making up for that drop-off. Prior to the injury, the Wolves were 22nd in the league in defensive efficiency (111.4 points allowed per 100 possessions). Since the injury, the Wolves are third in the league in defensive efficiency (101.4 points).
In somewhat of an effort to avoid putting Towns on blast, Saunders suggested that this added defensive boost is a product of improved play from the wings.
"I think our physicality has improved, on the wings especially," said Saunders after the Wolves win over Brooklyn on Monday. "I think our wing players are doing a good job of being aggressive on catch-and-shoot players, and doing a good job of how we talk about contesting everything. That makes a difference. When you have a high deflection game, like we have the last few games, you're usually able to force teams into tougher shots or force them into turnovers."
None of that is untrue, but it does undersell the importance of the center within this defensive scheme. Defensively, the wing, particularly the point-of-attack defender, is often connected to the center. The actions of the backline defender impact how the point-of-attack defender handles his man, particularly when there is a screen.
"The thing with defense is you gotta understand what you're good at and what you're not good at," said Josh Okogie when asked about the difference for him when it comes to playing with Towns versus the backup bigs, Gorgui Dieng, Noah Vonleh and Jordan Bell. "A guy like J-Bell, he's a smaller big, but he's very quick so he can be up on a ball screen. A guy like KAT, who is a rim protector, G who is a rim protector, they can be further back to protect the rim. A guy like Noah, who is kind of big but kind of small, it's kinda weird, he can kind of play up and also play back and be an in-between guy."
Okogie has played 370 of his 751 minutes this season alongside Towns. In those minutes, the Wolves have allowed 114.1 points per 100 possessions. In the 202 minutes he has played alongside Dieng, that defensive effectiveness improves to 96.1 per 100 possessions. The number falls all the way to 94.0 in the 142 minutes Okogie has shared the floor with Vonleh. With Bell, it pops back up to 108.6 in 91 minutes — but 47 of those minutes also feature Towns on the floor with both Okogie and Bell, where the number bubbles up to 117.9 in the three-man lineup. Okogie has inarguably been a far more effective defender this season when Towns sits and he is flanked by a different big on the backline.
"It's just different," Okogie continued. "It's like you knowing your personnel, knowing if KAT or G is in the game, let me be extra aggressive and force him to the rim to the shot-blocker. Or if J-Bell is in the pick-and-roll, I can kind of try to get over the screen and take my time because J-Bell is going to be there. Then Noah, you just pick and choose your spots."
It's interesting that Okogie puts Towns into the same shot-blocker phylum as he does Dieng. That's more theoretical than anything because opponents have an effective field goal shooting percentage of 53.2 percent when Towns is the shot-blocker next to Okogie and 43.9 percent when it is Dieng in the shot-blocker role next to Okogie. For Okogie and the other Timberwolves wings, they can rely on the high-level recognition skills of Dieng that put him in the right position in the lane, sometimes extinguishing the offensive attack altogether.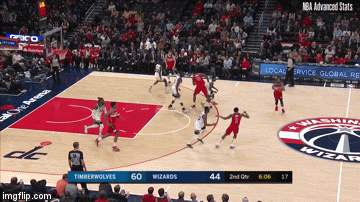 Towns is slower to react, and oftentimes he prioritizes something different than his wing partner. On this play, he is the theoretical rim protector but he allows his mind to prioritize staying with Dario Saric rather than defending the rim. That's what Phoenix wants, and it's not what Keita Bates-Diop is expecting.
In ways, Towns is more of an "in-between" guy, like Vonleh. But he often struggles with his decisiveness in these situations. This can put him a step behind in his stunt toward the ball-handler, often leaving his man open for a drop-off.
Conversely, Vonleh prioritizes his man during in-between situations, particularly when he knows that the player is a lob threat. He stays home but is always cognizant of stunting just enough. In the below play, when Vonleh recognizes Okogie has not been clipped by the screen, he knows there is no need to over pursue ball-handler. A contested floater is something he is willing to live with.
"I just thought that Noah did a great job with Thompson," said Saunders after the Cleveland game. "In terms of what we call stunt-contests in support, guarding both the dribbler and then guarding the roll man… I think he had four breakups at the rim. He did a good job of trying to take care of that lob, which is part of the Cleveland offense."
As far playing "up on a ball screen," as Okogie describes Bell can do, Towns is rarely afforded that opportunity within this scheme. Saunders and Vanterpool want Towns on the backline. The up situations by Bell often feature Towns behind the play as the last line of defense. Really, Bell is proving to be more of a power forward than he is a center.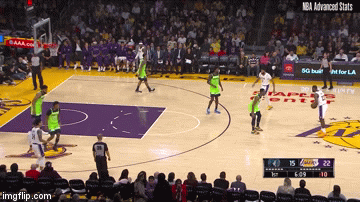 Perhaps someday it will be this type of role as a pseudo-power forward that frees Towns to find his best self as a defender. But on this roster, and within this scheme, Towns needs to focus on emulating the play of Dieng and Vonleh, true backline fives.
Saunders says Towns has been with the team every day during his rehabilitation process. He hasn't been participating in the practices over the stretch but he has been there on the sidelines. And in the film room, Towns has been tasked with learning.
"When a guy is injured, we don't tell them, 'hey just go do your rehab during practice, just go do your rehab during film,'" said Saunders. "We want them to be a part of everything, whether it be the film session, whether it be watching practice because there is teaching going on. That's something that in our organization that we stress a lot: make sure that we're correcting."
In particular, Saunders referenced Towns learning from the way Vonleh has illustrated how to effectively handle the drop against a pick-and-roll. "When you have a guy who is pretty good playing both the dribbler as well as the roll-man, he's able to teach KAT some things," Saunders explained.
It's also should be noted that Towns' on/off splits likely wouldn't be so staggering if he'd been able to play during this lighter stretch of competition within the schedule. Sure, Vonleh did a good job against Cleveland, but it's the Cavs… It's unlikely the defense would have completely cratered with Towns on the floor against such a poor team. And while the defense played well with Dieng on the backline against Brooklyn, part of that defense success was just the product of a short-handed Nets team continuing to struggle with their shot. Brooklyn was the only team in the league to convert a lower percentage of their 3-point attempts during the month of December than Minnesota. It's unlikely Towns' presence would have all of a sudden heated them up.
The team as a whole has been playing far more connected defensively. They put together perhaps their best defensive effort of the season as a team against Milwaukee on Wednesday night. The wings swarmed around Giannis Antetokounmpo all night, alleviating the pressure of the one-on-one matchup Dieng and Naz Reid took on. If they got away with Reid on Giannis, it's very unlikely that it would have been worse with Towns out there.
Still, Towns has to do more on an individual level defensively. That's just a fact. Without a commitment to improving on that end of the floor from their best player, the Wolves aren't going anywhere this season, or ever. The next great Timberwolves team, if that ever materializes, features Towns playing great defense. That's not an option in those greener pastures; it's a requirement.