The Wolves, and their defense, refused to lose three games in a row.
Even despite being fresh off a pair of losses on road-road back-to-backs, the Timberwolves returned to Target Center on Thursday and appeared to re-discover the energy that got them the top-four spot in the first place.
Their 108-89 victory over the Milwaukee Bucks wasn't just a blowout, it was an example of how good this team can be defensively.
"We want to build the right habits. We want to build winning habits," Timberwolves head coach Tom Thibodeau said after the game.
The habit they've fallen out of most the past couple weeks is their defensive effort. For a three-week stretch that ended two weeks ago, the Wolves were a top-five team in defensive rating.
Ever since their loss to Orlando on Jan. 16, this team has not been the same on the defensive end.
That changed Thursday.
The Bucks shot just 37.6 percent from the field and 20.7 percent from 3-point land, with none of the typical Bucks options making their usual impact. This happened for a couple reasons.
The first was the individual defensive effort – spurred by an increasingly apparent development – of both Karl-Anthony Towns and Andrew Wiggins.
Towns' development has been fairly well-documented, but the progression Wiggins has made on that end is just as – if not more – impressive.
He showed active hands throughout; this hasn't often ended with much in the box score, but it did on Thursday. He finished with three steals and six rebounds, many of which occurred because of a hustle Wolves fans hadn't seen much of through the majority of his young career.
His on-ball defense was veteran-like on some plays in this one.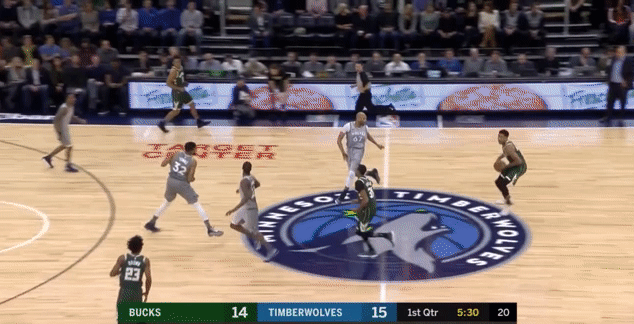 Despite a bad shooting night – which included some iffy-to-bad shot selection – this might have been the best defensive performance of Wiggins' season thus far.
"To play when well you aren't shooting it as well as you can is important," Thibodeau said. "I think he did a lot of things to help us win. He gave Jimmy an opportunity to move off Giannis at times, and I thought he did a good job."
Of course, Jimmy Butler and Taj Gibson – the role models of the defense Wiggins and Towns are starting to employ more often – came with that same level of defensive intensity.
But that is part of the bigger point; the Timberwolves played their best team defense in a long while on Thursday. It came on a good night; a night when Giannis Antetokounmpo was in town.
They did a fantastic job closing out shooters, rotating as the ball swung around the perimeter, and collapsing any time Antetokounmpo attempted to drive the lane.
His stats might not suggest a brilliant team defensive performance on him specifically – he still had 17 points, 15 rebounds and six assists – but he rarely looks this frustrated against a statistically-average defense.
"Just make them work for everything," Butler said of the opposing All-Star. "Not letting them get any easy ones in transition, challenge all of his shots. He's a great player."
Take this play for example. While Gibson may have come away with the block, four guys got in Antetokounmpo's way on this play. For most players, this is a bad layup attempt. For the Greek Freak, it's one he can generally get away with.
The Wolves made plays like this extremely tough for him.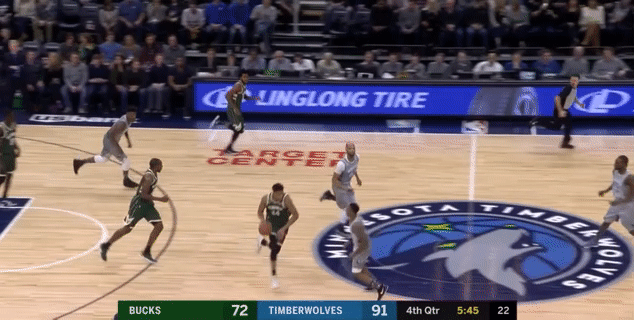 It was mostly a night to remember for the starting lineup, but the Wolves got good production from their bench in this one as well.
Jamal Crawford had one of his famous 4-point plays, Tyus Jones gave them a good 17-minute stint — which might be a sign of a slightly-changing minute distribution for the point guards, or an overreaction — and Nemanja Bjelica was part of one of the prettier plays in the game.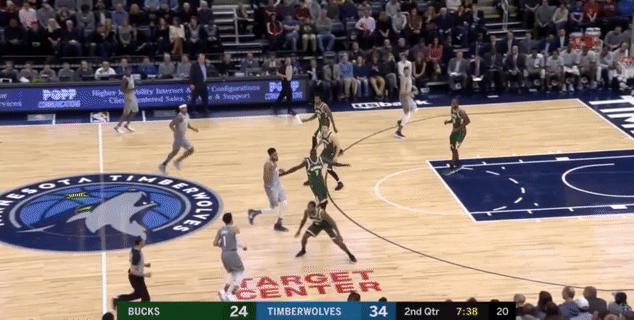 For a team that went on a seven-game streak of holding their opponents under 100 points just a couple weeks ago, the Timberwolves hadn't looked like that recently. After that streak ended, they gave up at least 100 in 10 of their next 11 games, a stretch where they not shockingly went 5-6.
This was more of a revert back to the way they looked during that seven-game streak, one that included major wins over Cleveland, Oklahoma City and a DeMarcus Cousins-included New Orleans.
Even in the moments Milwaukee made a push, the Timberwolves would fight back. When the defense – consistently good as it was – had lapses, the offense would ensure the lead didn't get away from them.
"I don't know how many fast-break points we had, but we looked like a fast break team tonight, setting good screens and kind of really pushing the pace against them who are a very paced team," Towns said in the locker room.
The Timberwolves aren't a perfect defensive team by any stretch, but they are improving. Thursday night's game was more an example of what they could be down the road than what they've been in the past. In the 11 games prior, it was the former.
Speaking of 11, Thursday's win was the 11th straight win at home for the Timberwolves.
Thibodeau and the Wolves will continue to work towards making Thursday's defensive stand the norm, no matter how long it takes.
---