In many ways, Jimmy Butler got the Timberwolves to the spot they're in right now.
On a number of occasions, especially early in the season, he put the team on his back for wins. He'd keep his teammates accountable on defense. He set a culture that helped give his team good position to finish with a spot in the playoffs.
But then he went down with a torn meniscus.
The Wolves won their first two games against tanking competition — Chicago and Sacramento — without Butler, but have looked lost without him since. Against strong competition — Utah, Portland and Boston — they had moments but ultimately looked like a team destined to lose without their star.
When the Golden State Warriors came to town, even without Steph Curry and a number of key reserves, recent history suggested a blowout was looming.
But quickly, the Timberwolves showed a level of resilience they showed in their recently-close loss to Portland. They had contributions from all over the place.
"You need everyone. We have to keep scratching," Tom Thibodeau said after Sunday's game. "It's going to be a long hard fight."
The Warriors have played without their stars before. In fact, they beat the Wolves without MVP candidate Kevin Durant early in the season by 24 points.  When adding on the lack of Butler, it seemed like a game the Timberwolves couldn't win.
But then Karl-Anthony Towns showed up.
Towns is an All-Star, a stat sheet-stuffer and there's no telling what his ceiling could be. He could also be what makes this team going down the stretch, even after Butler gets back.
In Minnesota's improbable win over the Warriors on Sunday, the game went along as Towns dictated. When he was on the floor, they were on-point — he was a plus-15 in the game. When he was off the floor, they struggled mightily.
"Karl stepped up, knocked them down and I thought he played with a lot of tenacity the whole game," Thibodeau said.
But it was the fourth quarter when he really took over. He had 14 points that quarter — all while being guarded be reigning Defensive Player of the Year Draymond Green — and hit the dagger that put the game away for good with 37 seconds to go.
In the spots where Butler would have gotten the ball, Towns got it and took advantage.
"Obviously it's humbling, just that they respect the work I put into my craft," Towns said after the game. "I'm blessed, I'm blessed with the opportunity to catch the ball with that kind of situation and be able to capitalize."
This season, the Timberwolves have almost exclusively gone to Butler in situations like the one they ran into on Sunday. Without him, there was a clear lack of direction in terms of who should do what.
But on Sunday, it was clear.
Thibodeau employed a number of high screens from Towns for Jeff Teague, who immediately tried to find Towns on the pop or the roll.
But the screens didn't result in too many buckets. Even when that wasn't working, Teague did a great job looking for the hot hand.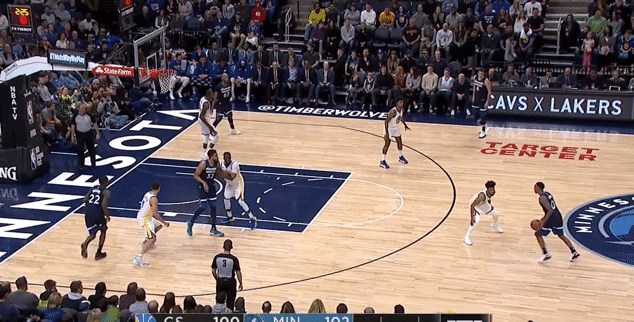 While Towns has shown an ability to come up in the clutch in the past, this was the first time we've really been able to see it. Before Sunday's game and since Butler's injury, Towns had great effective field goal and true shooting percentages respectively, but was only taking 3.4 shots per game down the stretch.
When considering that all three losses in Butler's absence came down to single digits, that makes that figure much more frustrating to deal with. But Towns got his opportunities on Sunday, taking 10 shots in the final frame and hitting six of them.
And while Towns was the clear hero down the stretch, this game wouldn't have been won without other key contributions. Nemanja Bjelica had a great start shooting the ball and played some of the best defense of his NBA career. Andrew Wiggins shot an efficient 23 points on 16 shots and had a key 3-pointer in the final frame. Taj Gibson guarded all five positions at different points and held his own in every situation.
Most importantly, perhaps, the Wolves held Durant and Thompson — the obvious No. 1 and 2 options in Curry's absence — to a combined 19-of-54 shooting from the field and 8-of-24 from deep.
"This team is elite, if not the best," Wiggins said after the game "So if we can play good against them and win, play good defensively, rebound the ball how we did
tonight, we can play anybody. Our guys can stay consistent with it."
While some of the misses were dumb luck, the Wolves did a mostly good job closing out and recovering off screens from Golden State's bigs. The Wolves did a lot of switching, which killed them during a stretch in the second quarter with the second unit, but mostly worked with the starters in the game.
Even when they effectively collapsed the defense, the defense was able to get back out to the perimeter quickly and contain the defending champs' deadly 3-point shot.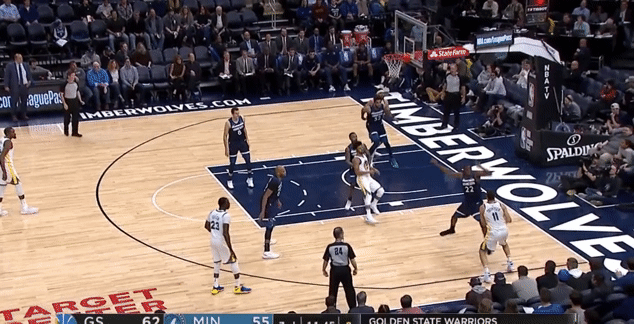 But down the stretch, Bjelica cooled off and Wiggins lost his mojo. This would have been a situation where Butler might have taken over, but with him out, Towns took over.
When the Wolves were at their best — between mid-December and mid-January — Towns was at his best on both ends. They were beating good teams by wide margins, and Towns was a major factor defending inside and scoring from all over.
On Sunday, the Timberwolves beat the defending champs, and did so with good defense and a dominant performance from their young All-Star.
Butler might have gotten them into playoff contention, but Towns might be the key to the next step.
---