With 13 games to go, the Timberwolves' place in the Western Conference remains up in the air.
And while the road ahead is going to be tough for obvious reasons — both the schedule and the lack of Jimmy Butler to blame — there is hope within the organization that they can finish on a good note.
But in order for that to happen, Nemanja Bjelica, starting on a temporary basis, is going to have to perform in Butler's absence.
He has done that, and it's gotten better each game.
Five games into his (temporary) new stint as the starter, he put up a career-high 30 points and shot 6 of 9 from deep. The Wolves lost that game — to the Boston Celtics, who were firing on all cylinders — but Bjelica's performance and high shot volume was the game's silver lining.
The best part of his night was his willingness to shoot from deep. He's adamant to say he's "more than a shooter" whenever he can, and it often results in cringeworthy pass-ups from deep.
That can be especially frustrating when looking at the team numbers.
For the Wolves — who sit 29th out of 30 in 3-point attempts — a trigger-happy Bjelica might be necessary, even if it isn't a natural mindset for him yet. That's why it was so nice for so many to see the nine 3-point attempts against Boston last week.
It even included something we have almost never seen from Bjelica since he joined the Wolves — an unassisted deep ball.
That's mostly because, while he has all the confidence in the world to take a shot from deep, his natural inclination is still to put the ball on the floor and create.
But Bjelica's role as a professional basketball player has changed so much over his career that it's been hard to keep up. He was an MVP in Europe, a spot-up shooter in Minnesota, and is now asked to do some combination of both as a temp starter.
"I like to put the ball on the floor to create for my teammates," Bjelica said last week of his current role. "I was confident because when you play, I can wait for the ball to come to me, and be in a good rhythm."
When he played for Fenerbahçe Ülker of the Turkish Basketball League, he was the point forward, and didn't have time to wait.
This wasn't a by a necessity of an otherwise ailing roster, either. He won the 2015 Euroleague MVP playing this style of basketball — a style he's rarely been asked to display under Tom Thibodeau — while his team made it to the Turkish League title game and finished fourth in the Euroleague.
With shot creators like Butler, Karl-Anthony Towns and Jeff Teague on the roster, Bjelica's fit makes more sense — in theory — as a spot-up shooter.
In Turkey, his job wasn't to sit at the 3-point line and wait for the point guard to set him up. He shot plenty of treys, but was primarily the one there to set up his teammates.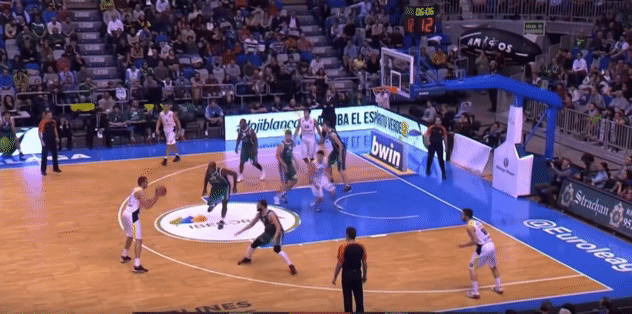 In the extended minutes he's gotten in Minnesota since Butler went down, he's been able to show off his playmaking ability a bit more. He showed off that skill the most in their last game — a win over the Wizards in Washington.
He dropped seven assists, most of them of the 'drive-and-dish' variety that became a normal thing during Bjelica's peak in Europe.
Bjelica has the ability to drive and kick to the perimeter — and does so frequently — but Taj Gibson has become his favorite target over this recent stretch. Of his last 15 assists, nearly half of them have been to Gibson, often while both of them are moving towards the basket.
The added minutes Bjelica has gotten is likely the main factor in his improvement, but it didn't happen immediately. When he first re-entered the starting lineup in replacement of Butler, his numbers weren't an improvement from his numbers as a starter.
In fact, even now, his field goal, 3-point and true shooting percentage are all better as a reserve. Not shockingly, though, his assist percentage has increased with the new teammates, even if his usage has gone up by less than 1 percent.
Part of that is probably the combination of the roles he's played over his career. In Europe, he was "the guy". He was the one in charge of making decisions with the ball, and was the main cog in crunch time.
For the majority of his time with the Timberwolves, he's the role player. He's rarely been asked to create, and is more often asked to wait for shots to come to him.
So far, he seems comfortable with that.
"In my career, I've played so many positions," Bjelica said last week. "So I'm good with whatever coach wants me to do."
His flexibility has made it easier for Thibodeau to put him in several different positions and situations on the floor. Commonly used as a power forward this year, Bjelica has proven to be able to handle the small forward position offensively.
And while it's been tough for him to consistently close out on 3-point shooters and stay with more agile offensive players, it hasn't impacted the team's defense too much.
Through his most recent stint as a starter, the Timberwolves have the 16th-best defensive rating in the league — a major jump up from its general bottom-six status.
Even better, the Wolves have a 104.9 defensive rating with Bjelica on the floor since his first start post-Butler injury. When compared to the rest of the league during that stretch — keeping in mind that Bjelica is playing 37.8 minutes per game in this timeline — the Wolves would be in the top 10.
Bjelica's man-to-man defense can be improved, there's no doubt. Thibodeau has managed to find ways to use him defensively that benefit him and his team.
And Bjelica's general smarts have made him a good team defender in his career, even if they aren't always in-your-face moments that make up that fact.
Perhaps the most fun display of defense from Bjelica was in their recent win over the Golden State Warriors. He didn't have his best game statistically, but it might have been his best two-way eye test game of his NBA career.
The best part was a momentum-shifting blocked shot in the fourth quarter on Zaza Pachulia. This came moments before Bjelica was called for a foul on a similar-looking block attempt. This was the first of two blocks for him that quarter.
Eventually, of course, Butler is going to come back. And when Butler comes back, Bjelica will have to return to the bench.
It can be argued that Bjelica has shown that he can start in the NBA, and that his role next season can be as a starter. But on this team, it's going to be hard to find him a spot like that.
But that doesn't mean he can't get bigger minutes when the rotation becomes healthy again.
Butler will get — deservedly and rightfully so — big minutes when he gets back, but Bjelica could very well see his minutes increase from his last stint as a bench player. So far this year, he's averaged just 14.1 minutes per game as a reserve, but with the newfound confirmation that he can hack it as both a small forward and a power forward, new avenues open up for Thibodeau to tinker with the rotation.
Because while he's shot the ball well in limited minutes as a backup power forward, he's shown how much he can do with more time on the floor.
He may never have a role with the same level of importance that he had in 2015 in Turkey, but he's proven how much he can be used on an NBA floor, even if he does come off the bench.
It's not the shooting that makes Bjelica who he is, nor the playmaking, nor the ability to play multiple positions. It's the ability willingness to adapt to whatever his team needs from him.
The last few weeks have made that abundantly clear.
---