The last time the Minnesota Vikings squared off with the Dallas Cowboys, it was a banner victory that helped propel them to the playoffs. In the process of picking up a rare primetime win for Kirk Cousins, the Vikings controlled the clock, ran the ball well, and held Ezekiel Elliott to 47 yards rushing in a 28-24 win.
For everything that went right, the one thing that went wrong was the Vikings' pass defense. Dak Prescott torched Mike Zimmer's unit for 397 yards and three touchdowns as the Cowboys drove down the field and had a chance to win the game late. If the Vikings want to pick up another season-changing win on Sunday, they'll have to do a better job at keeping the Dallas passing attack under wraps.
The first thing you'll notice about this year's matchup is that the Cowboys are drastically different than they were in the last meeting. Prescott suffered a season-ending ankle injury in Week 5, and Dallas has been playing roulette wheel of bad quarterbacks between Andy Dalton, Ben DiNucci and Garrett Gilbert. While Dalton is the best quarterback of this group, the results haven't been there — Dalton grades 35th out of qualifying quarterbacks per Pro Football Focus.
While there is instability at the quarterback position, there are no such issues at wide receiver. Amari Cooper (28th among qualifiers at receiver), CeeDee Lamb (61st) and Michael Gallup (83rd) have combined to be one of the better receiver duos in the league on paper, but they haven't lived up to their expectations.
The biggest standout performance from a year ago was Cooper taking Mike Hughes' soul on national television. Cooper lit up the 2018 first-round pick for 11 catches, 147 yards and a touchdown in defeat, winning his matchup thanks to a slew of highlight-reel catches.
Cooper won in this game by lighting up Hughes and Xavier Rhodes repeatedly, who were left in man-to-man coverage. Early in the game, Cooper wins on a comeback route against Hughes for a 14-yard gain: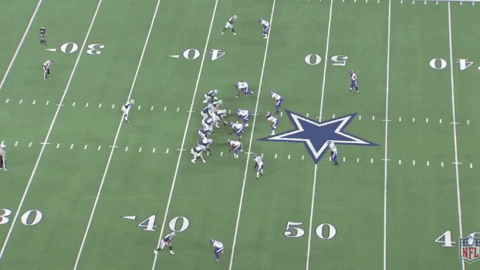 Hughes had major issues with Cooper's route running in a man scheme, and Cooper burned him on another comeback route for a 12-yard touchdown in the third quarter: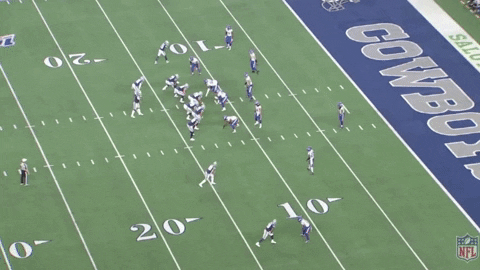 While Cooper was able to take advantage of the younger player in a man scheme, the Vikings have a couple of things going for them this time around: Hughes will not play after being placed on IR with a neck injury, and the Cowboys will not have Prescott's mobility.
In this play, Prescott buys time as the Vikings defense has coverage downfield before finding Cooper at the last second for a sideline catch: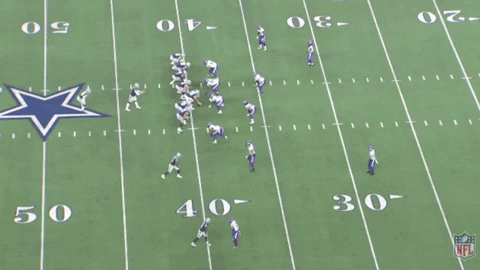 The other factor in the Vikings' favor is that the Cowboys have used Cooper on more quick-hitters since making the switch to Dalton. In their Week 6 loss to Arizona, Cooper compiled seven catches for 79 yards and a touchdown by using his route running to get open quickly. This could also be due to injuries to the Cowboys' offensive line.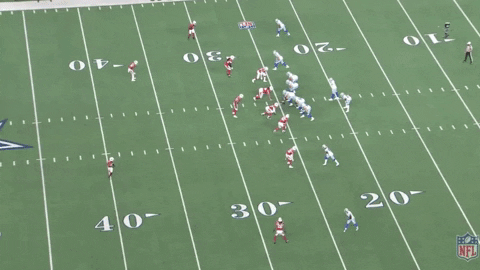 While Cooper dominated against man-to-man in last year's meeting, he should see more zone due to the Vikings' switch to a Cover 2 scheme. With Minnesota dropping back, Cooper will still see his share of targets underneath, but the Vikings should be able to limit the damage he creates on those targets.
Another area where this should play into the Vikings' favor is against Gallup. After posting a 1,100-yard season a year ago, Gallup has fallen off, not only due to the change at quarterback, but the addition of Lamb. In last season's meeting, Gallup was more of a factor in the passing game, generating 10 targets, but Prescott only found him four times for 76 yards.
While Cooper saw more man-to-man coverage, the Vikings kept Gallup in check for most of the game by using zone coverage. On a target in the first quarter, Gallup is lined up across from Rhodes, who drops back into a deep zone. As Gallup flashes open on a crossing route, Anthony Harris makes an aggressive play to break up the pass: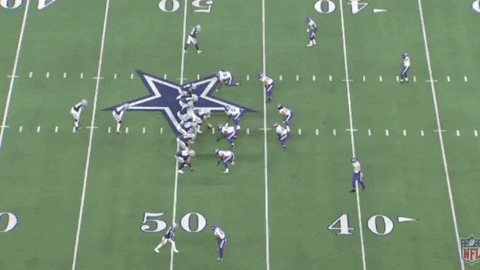 Later in the game, the use of zone works to the Vikings' advantage. Although Hughes is matched up with Gallup in man coverage on the outside, the Vikings dropped Harrison Smith back in coverage to take away another long gain:
That's not to say a zone defense is a way to completely neutralize Gallup. In the Arizona game, Gallup gets open against a Cover 3, but Dalton can't make a throw that Prescott normally does, resulting in an incomplete pass: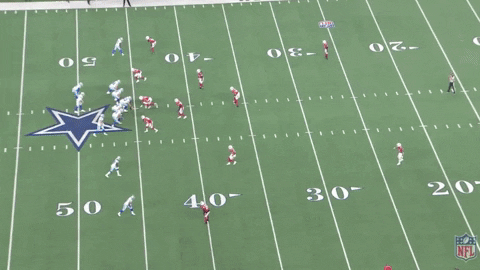 Gallup and Cooper can both hurt the Vikings if they're not careful, but the wild card in this matchup could be Lamb. The 18th overall pick in last April's draft has had a solid rookie season, but he has disappeared after Prescott's injury. Still, Lamb is second in the league with 557 total yards from the slot and 17th with 1.92 yards per route run.
A lot of this has to do with Lamb's ability to create after the catch. In this play against the Cardinals, Lamb takes a hook route, breaks a tackle and turns it into a 27-yard gain: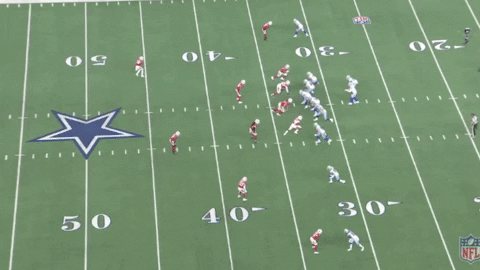 Plays like this could conceivably happen against the Cover 2 scheme, but they could also play into the Vikings' hands. Jeff Gladney has played the most in the slot for the Vikings since the bye, and he is seventh among qualifying corners since Week 7 with 0.73 yards allowed per route run. With Gladney also ranking 25th among qualifiers with 12.8 attempts per missed tackle, Gladney could be the one to make a difference in this meeting.
This is not without a caveat. Lamb and Gladney regularly battled in the Big 12 where Lamb routinely got the better of Gladney in an explosive Oklahoma offense. In a 2018 meeting with Gladney's TCU squad, Lamb starred with five catches for 91 yards and a touchdown. A lot of that damage occurred when Lamb moved into the slot.
Gladney would get revenge the following year with two catches allowed for 18 yards in their 2019 meeting.
Since the Vikings have returned from the bye, they've had the look of a strong defense, but they have also had a little luck along the way. While Davante Adams stung them for three touchdowns in their win over Green Bay, the Vikings also allowed over 400 total yards before dominating an inept Chicago Bears team on Monday night.
Still, the Vikings have the scheme to slow down a Cowboys passing attack that destroyed them a year ago. If they can keep the play in front of them and make the tackles they need to make, it's possible they should have enough to win this game — especially with Dalton under center.